Smart lighting brand Nanoleaf has announced a raft of new lighting products at CES – all of which have been Matter-certified. New and existing products will work together to create a complete smart lighting system, complete with TV screen mirroring, music visualisation, dynamic lighting and automations.
Nanoleaf was one of the first smart home companies to debut Matter-compatible products, which it did at the Matter device launch in November 2022.
Its new products will all be available to buy in 2023, although their releases will be staggered throughout the year. Nanoleaf has also announced that its popular modular decorative light sets – Shapes, Elements, Canvas and Lines – will receive a software update later in the year to make them Matter-compatible, which is good news for anyone who's invested in their wall display and wants to upgrade their smart home system to Matter.
Shapes, Elements and Lines lights will then be able to function as Thread border routers, which allow other smart devices to connect to your smart home system.
Meanwhile, here are the new products on offer. At this stage, prices have not been announced.
Essentials Bulbs and Lightstrip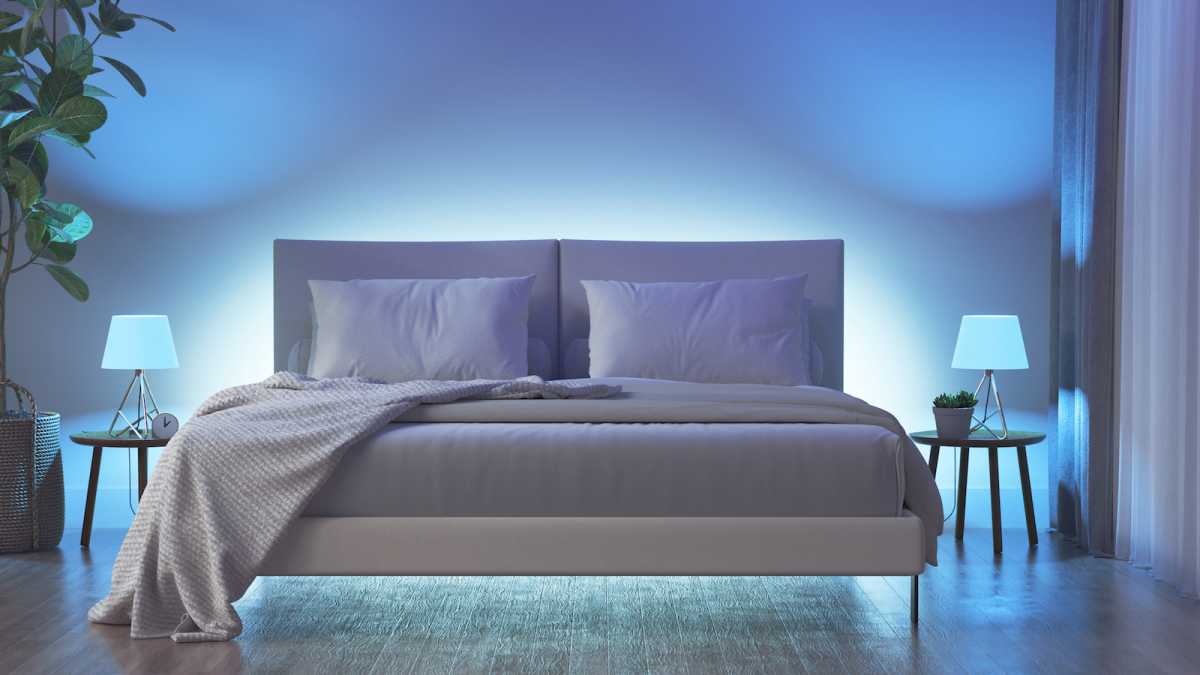 Nanoleaf
First up, and available in Q1, are four bulb types: A19, BR30, GU10 and a recessed downlight, all with white and colour functionality. All are capable of dynamic lighting and can work together in scenes.
Nanoleaf 4D TV Starter Kit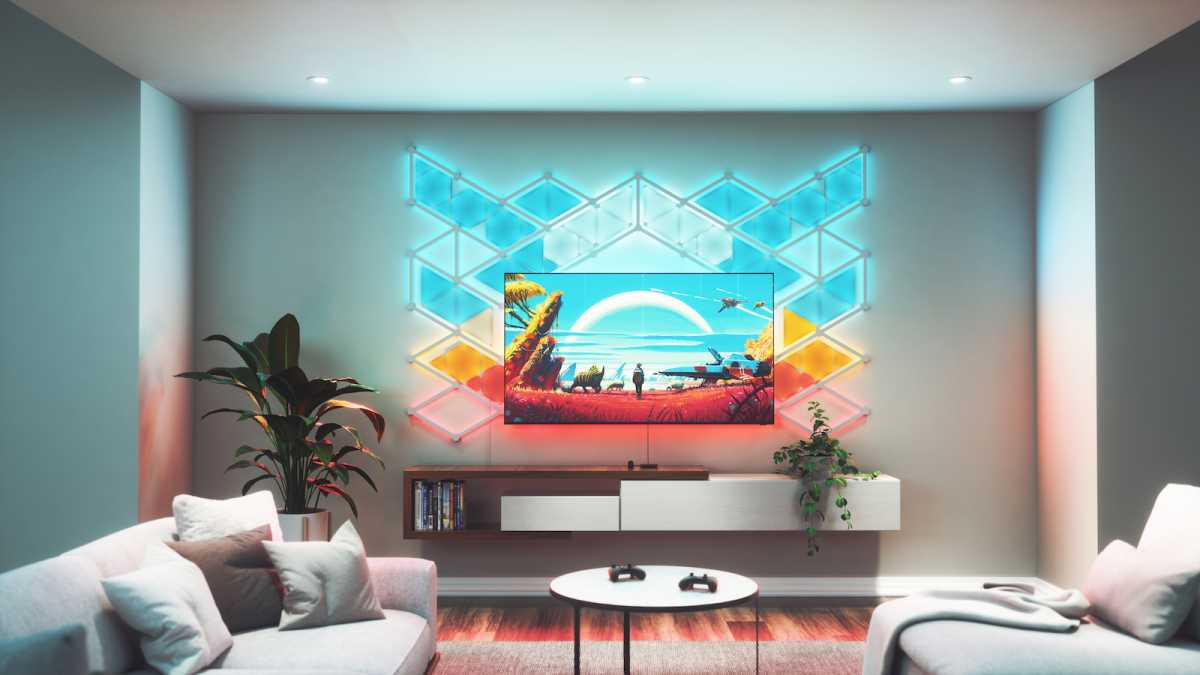 Nanoleaf
Launching in Q2 is the Nanoleaf 4D TV Starter Kit. It comes in two length options: 55in-65in and 65in-85in.
The Starter Kit comprises a screen mirror camera and a Matter-compatible smart lightstrip. The kit uses Nanoleaf's new Sync+ technology not only to mirror the action on your TV but to synchronise with your Nanoleaf sets, so that all your lighting in a room acts as a screen mirror or plays out a scene such as "Aurora Borealis" or "Vibrant Sunrise".
Nanoleaf Skylight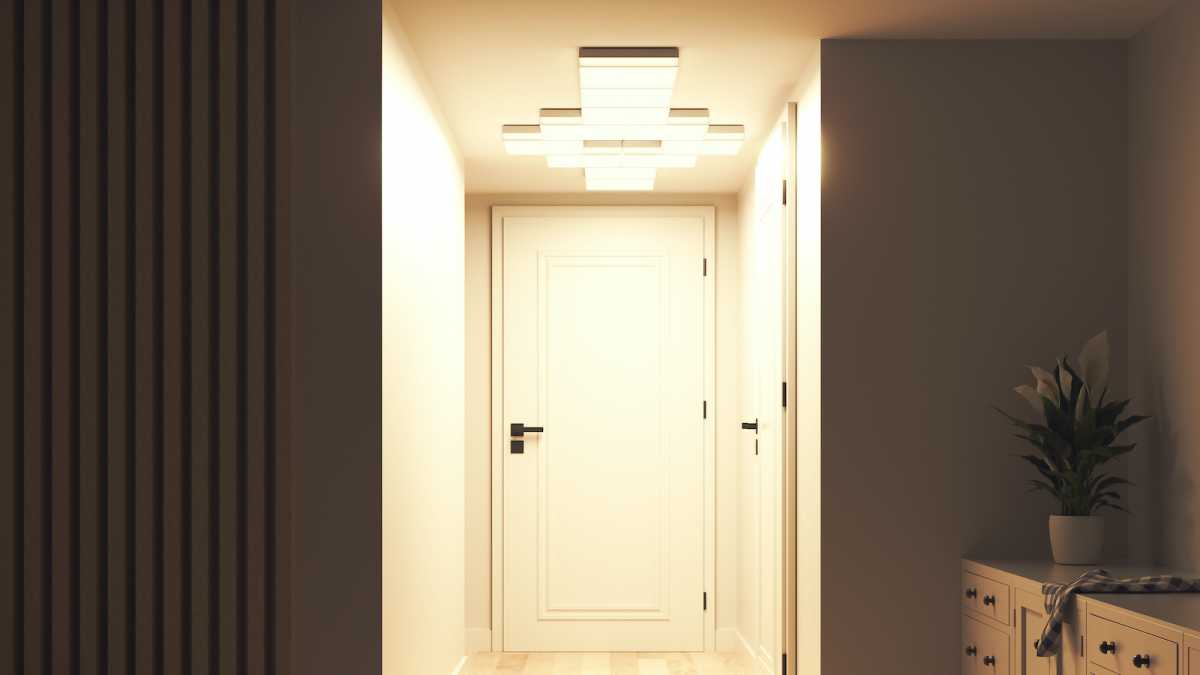 Nanoleaf
The Skylight is a first-of-its-kind, Matter-compatible, modular ceiling light. The Skylight is made up of square modular RGBW LED panels that can be arranged in different designs. It's also fitted with Sense+ sensors for motion detection and to enable further lighting automation.
Like other Nanoleaf lights, it's smart controlled, connecting via Wi-Fi, and has all the same functionality as existing Nanoleaf sets, including the Rhythm Music Visualiser, screen mirror, dynamic lighting scenes and group scenes.
It can also act as a Thread border router.
Sense+ Controls and "Nala" Automation Learning Assistant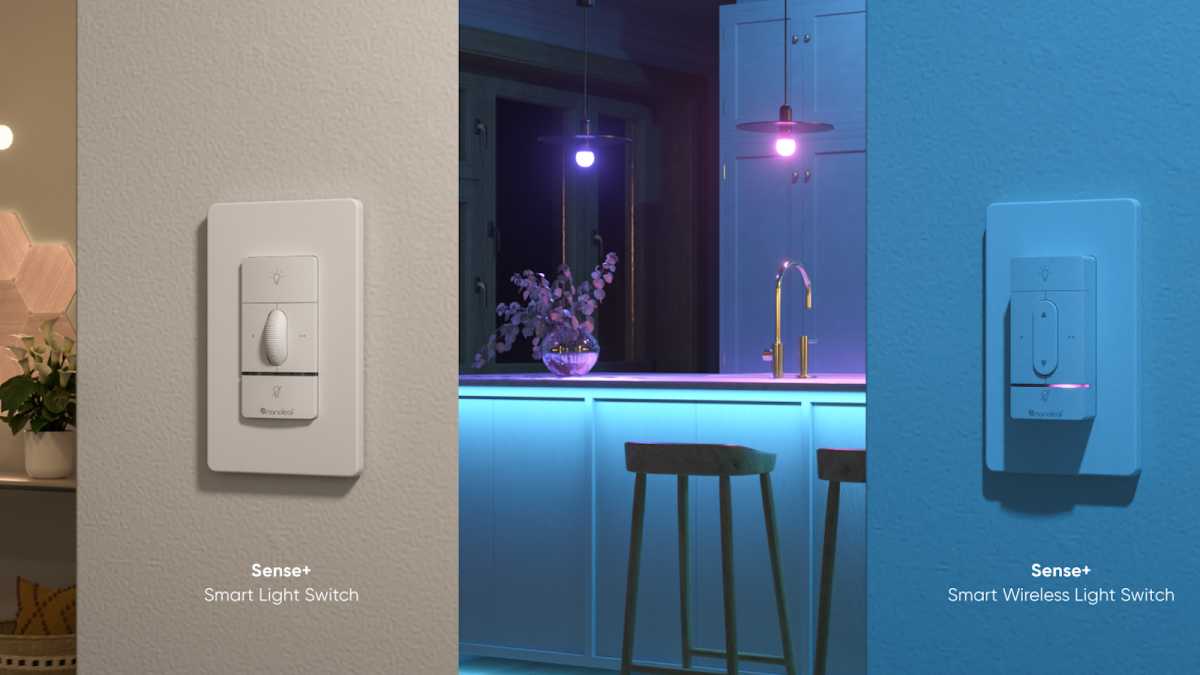 Nanoleaf
Finally, Sense+ controls and Nala will be launching in Q3. This line includes a wireless smart light switch, a wired smart light switch and the Nala Learning Bridge (although the wired light switch won't be available until 2024 in Europe). These products work together to create a personalised and automated smart lighting system.
Nala, Nanoleaf's new Automations Learning Assistant, will learn your preferences from your routines and implement them when it comes to switching lights on and off, creating scenes, and choosing brightness and colours.
All three products contain motion and ambient lighting sensors. The Learning Bridge also acts as a Thread border router and colour changing night light.
We'll update this article when pricing information becomes available. In the meantime, you can find out more about Nanoleaf's modular smart lighting sets in our round-up of the best Nanoleaf sets available.