Nvidia's RTX 40 Series isn't without its dramas; as well as the issue with the RTX 4090's melting power cables, the company faced backlash around the announcement of two variants of RTX 4080 with 12GB and XXGB of GDDR6X RAM respectively.
Gamers and press alike complained that the branding wasn't clear, and there was also the argument that a graphics card with just 12GB of VRAM can be considered an '80' model. Within weeks, Nvidia "unlaunched" the graphics card, with nothing else said on the matter.
That was until now, with Nvidia re-revealing the graphics card as the Nvidia RTX 4070 Ti, and it's set to be released later this week at a more tempting $799 price tag.
That means the specs are the exact same as it was when it was the RTX 4080 12GB at the original announcement back in September 2022, with key features including 12GB of GDDR6X RAM clocked at 21Gbps, a 192-bit memory bus with 504 Gb/s maximum bandwidth and a 285W TDP.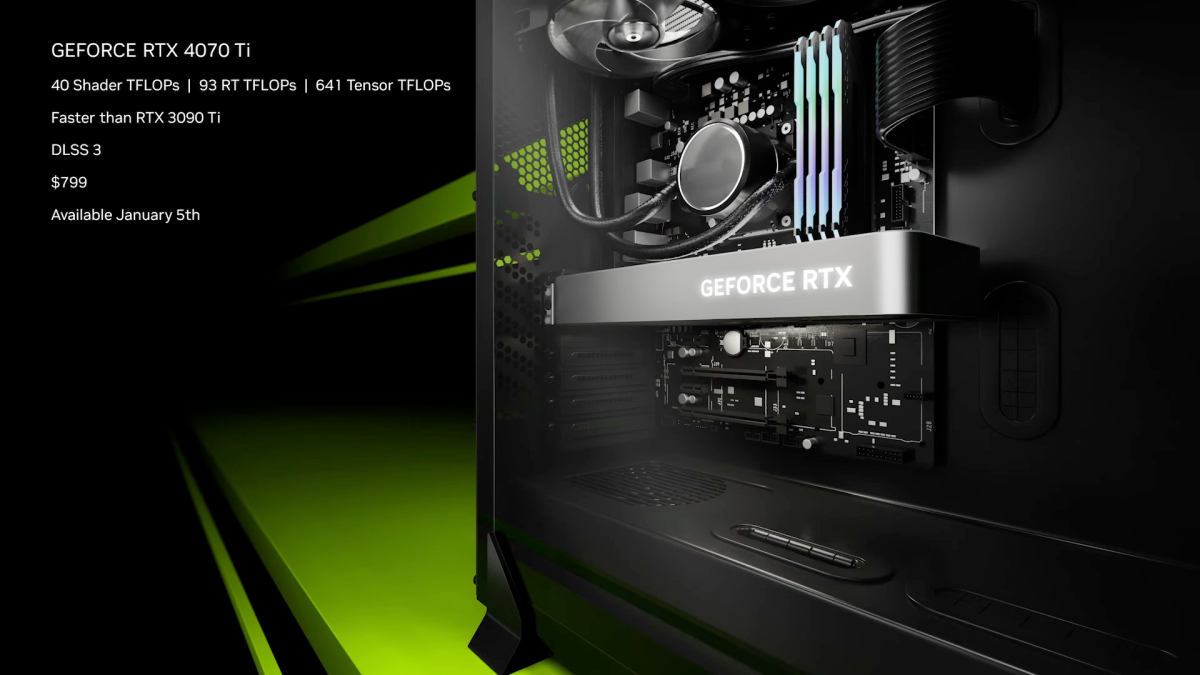 Nvidia
Interestingly, the 192-bit memory bus means the RTX 4070 Ti is actually 104 GB/s slower than the RTX 3070 Ti, though that's likely not that noticeable in everyday gameplay with a claimed 3x boost in performance.
There's also the DLSS 3 support to consider, which uses AI to generate new frames in gameplay for up to a 4x boost in fps, and even CPU-based games like Microsoft Flight Simulator can see a 2x boost in performance.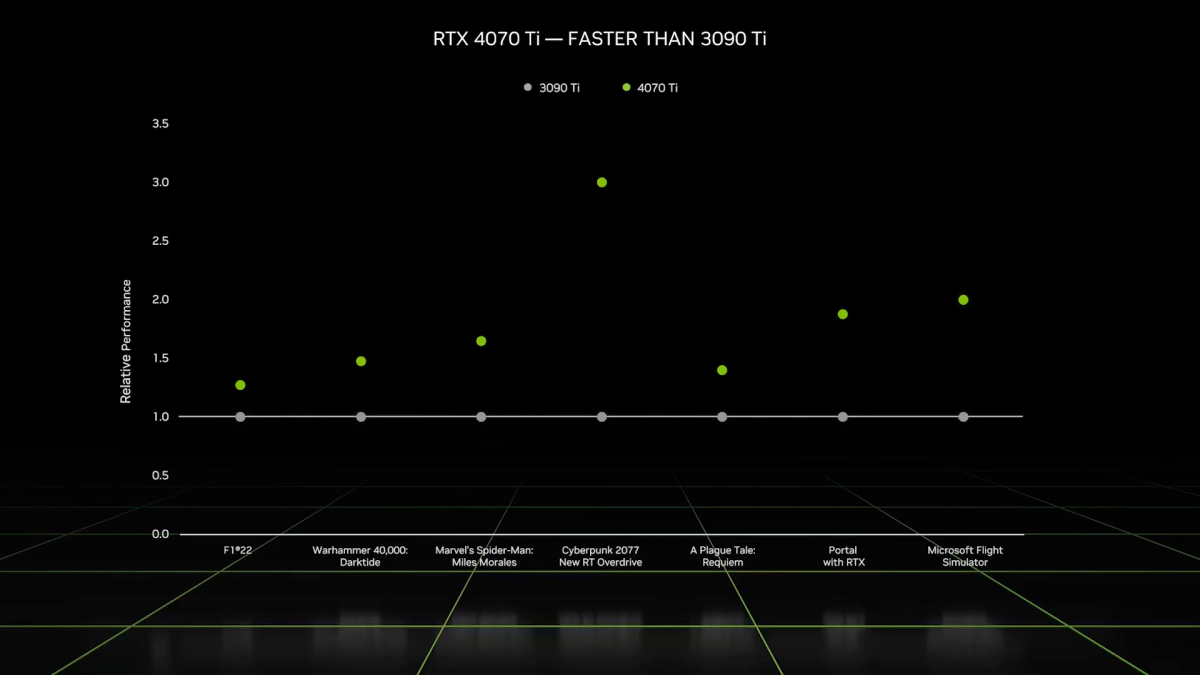 Nvidia
There's also good news for laptop gamers with the announcement of the GeForce RTX 40 series for laptops in the form of the RTX 4090, RTX 4080, RTX 4070, RTX 4060 and RTX 4050.
The new chips bring a boost not only in performance but battery efficiency too, with Nvidia claiming a 3x boost in efficiency and a 4x jump in what it deems the "most demanding apps".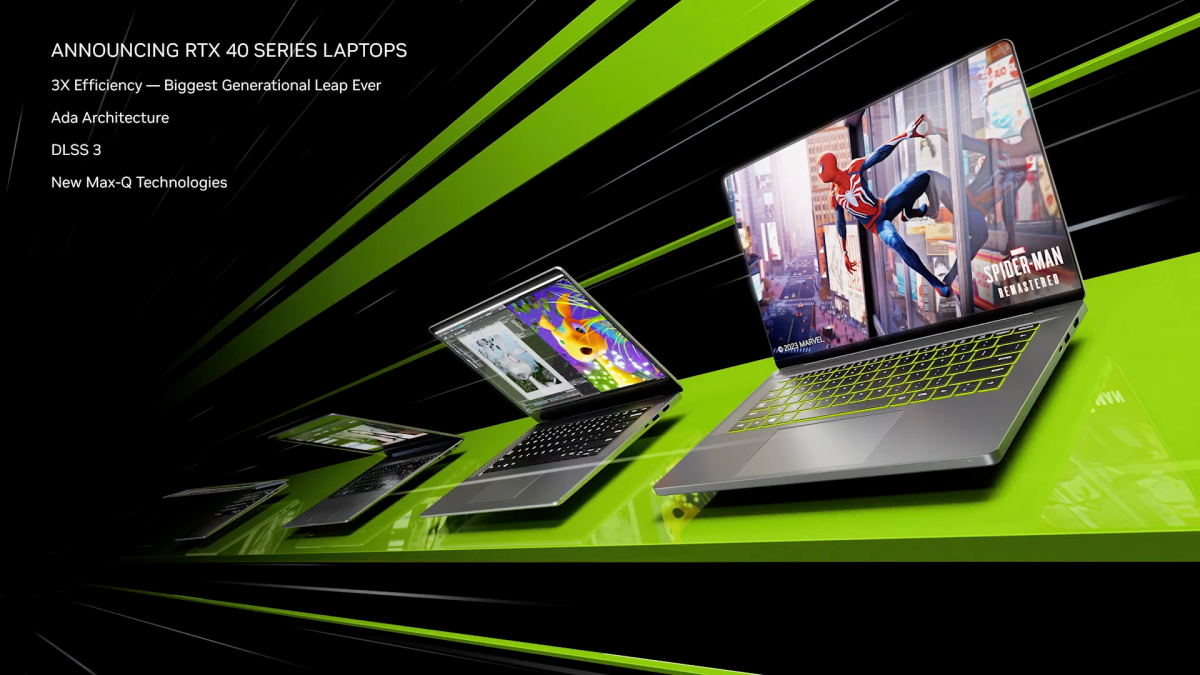 Nvidia
It's also designed for creatives with impressive performance in 3D rendering apps like Blender as well as video editing apps like Adobe Premiere, and you'll also benefit from gaming features like DLSS 3 and full ray tracing as RTX 40 Series laptops are released in the next few months.
It wasn't just new hardware on offer during the show either; Nvidia took the opportunity to showcase new RTX gameplay from upcoming titles including Witchfire, Warhaven, Throne and Liberty and the hugely popular Division-esque open-world zombie shooter The Day Before, with the latter confirmed for release on 1 March 2023.
There's also an upgrade to Nvidia's cloud game streaming service GeForce Now in the works, with RTX 4080 superpod promised to deliver 64TFLOPs of power -5x that of the Xbox Series X – to GeForce Now, along with support for DLSS 3 and Reflex 240Hz mode with a new 240fps streaming option.
It'll be a part of the new GeForce Now Ultimate membership – replacing the RTX 3080 tier – and it'll be available starting in late January with a rollout across Q1 2023. All existing RTX 3080 tier members will automatically receive the update, so there's nothing you need to do if you're already a top-end subscriber.