If performance is the most important aspect of a gaming laptop, the screen is a close second. Asus recognised that in 2022 with the launch of its ROG Nebula Displays, high-end mini-LED panels that aim to maximise the gaming experience – and they're now coming to more devices.
At CES 2023, the company announced that Nebula screens will be available on eight more ROG laptops (Flow X13, Zephyrus G16, Strix G16, Strix G18, Flow Z13, Zephyrus G14, Scar 16, and Flow 16), while the Zephyrus M16 has been upgraded from a standard Nebula panel to an HDR one. It means there's now at least one Nebula device in each of the main ROG laptop lines.
So, why should you go with the Nebula Display instead of a regular OLED screen? The key here is mini-LED tech, something you'll now find on Apple's MacBooks and the iPad Pro. It takes the LEDs from regular LCD displays and makes them much smaller, giving developers a lot more control over the final image.
Asus
Not being able to control each individual pixel like OLED is a disadvantage in some scenarios, but it means the display offers deeper blacks, higher brightness and a reduced risk of issues such as screen burn (where an area of the panel is permanently discoloured). Our mini-LED explainer focuses on TVs, but it's also relevant to laptops.
However, not all ROG Nebula displays are created equal. The regular version (found in the Flow X13, Zephyrus G16, Strix G16, Strix G18 and Flow Z13) offers 500 nits of max brightness, a contrast ratio of 1200:1 (the difference between minimum and maximum brightness) and Dolby Vision HDR.
But ROG Nebula HDR screens (available on the Zephyrus G14, Scar 16, Flow 16 and Zephyrus M16) increase this to 1100 nits and offers a contrast ratio of 100,000:1, adding HDR certification from VESA in the process.
All Nebula displays are colour accurate (with claims of full DCI-P3 gamut coverage), offer a response time of 3ms or less and can reach refresh rates of 240Hz.
But, of course, the display specs you end up getting vary significantly by device. The Strix lineup has arguably seen the biggest changes this year, with the brand-new Strix G18's 18in screen making it the largest ROG laptop to date.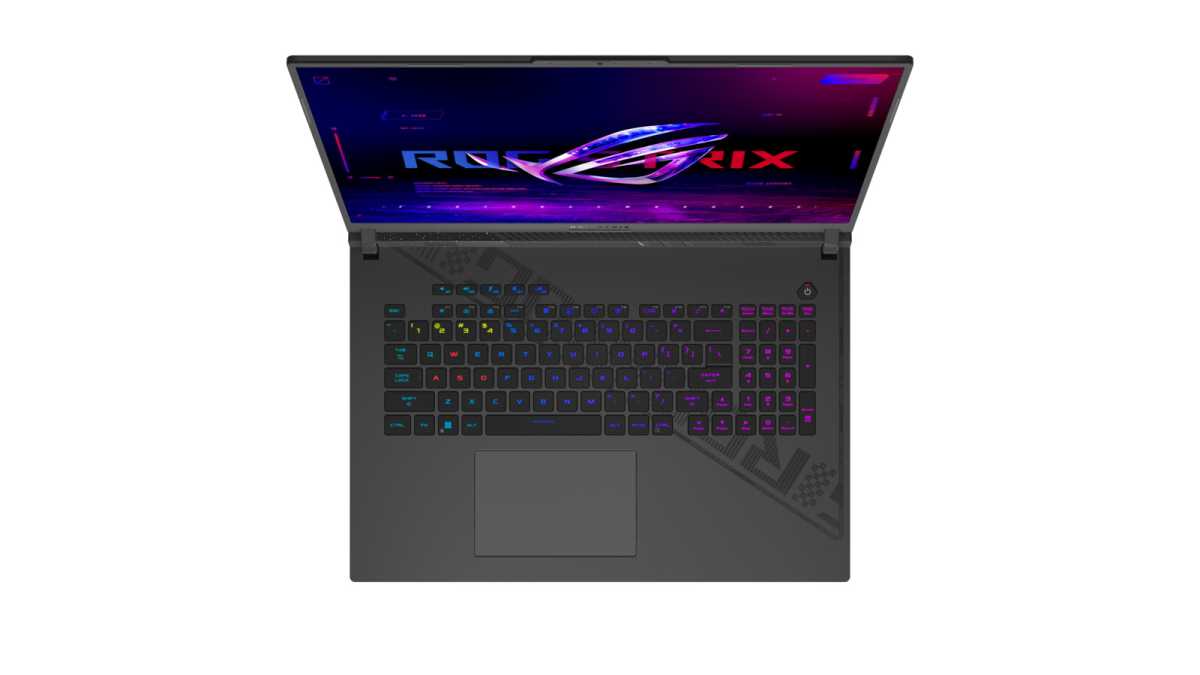 Asus
It starts at £2,599, but features Intel's new top-spec 13th-gen processors, Nvidia RTX 40 Series GPUs and up to 32GB of DDR5 RAM. The 16in Strix G16's more basic specs are reflected in its lower £1,499 starting price.
But 2-in-1 devices are also worth exploring. Another 16in laptop, the Flow X16 (from £2,199), is a gamer's take on a modern convertible. It offers the versatility of a 360° without significant performance compromises, although you do drop down to Intel's 13th-gen H-series (up to Core i9) alongside one of the next-gen Nvidia GPUs.
An alternative is available in the updated Flow Z13 (from £1,999.99), which offers similar specs within a 13in tablet and detachable keyboard form factor. Like last year's original, you can connect to an external mobile GPU for better graphical performance, but there have been no improvements to the heavy, bulky design – despite the increased starting price.
It's impossible to discuss all the new ROG devices here, but it's worth noting that no pricing outside the UK or availability has been announced yet for any of the new products. Don't expect Nebula machines to be affordable, though, with the TUF Gaming range your best bet for a sub-$1,000/£1,000 Asus gaming laptop.
Related stories