Acer has refreshed its gaming laptops for 2023, with upgrades to its high-end Predator Helios range, as well as the more affordable Nitro line-up.
Tech Advisor got a first look at the new laptops, along with new Swift models.
All three ranges are kitted out with the latest 13th Gen Intel Core Processors along with NVIDIA GeForce RTX 40 Series GPUs.
If you're after a laptop for seriously long gaming sessions need a device that's happy to be stretched to its limits, then the Predator Helios range is the one to look at. You can either opt for the Predator Helios 16 or 18 – the latter is the biggest version – with an 18in screen – in the family so far.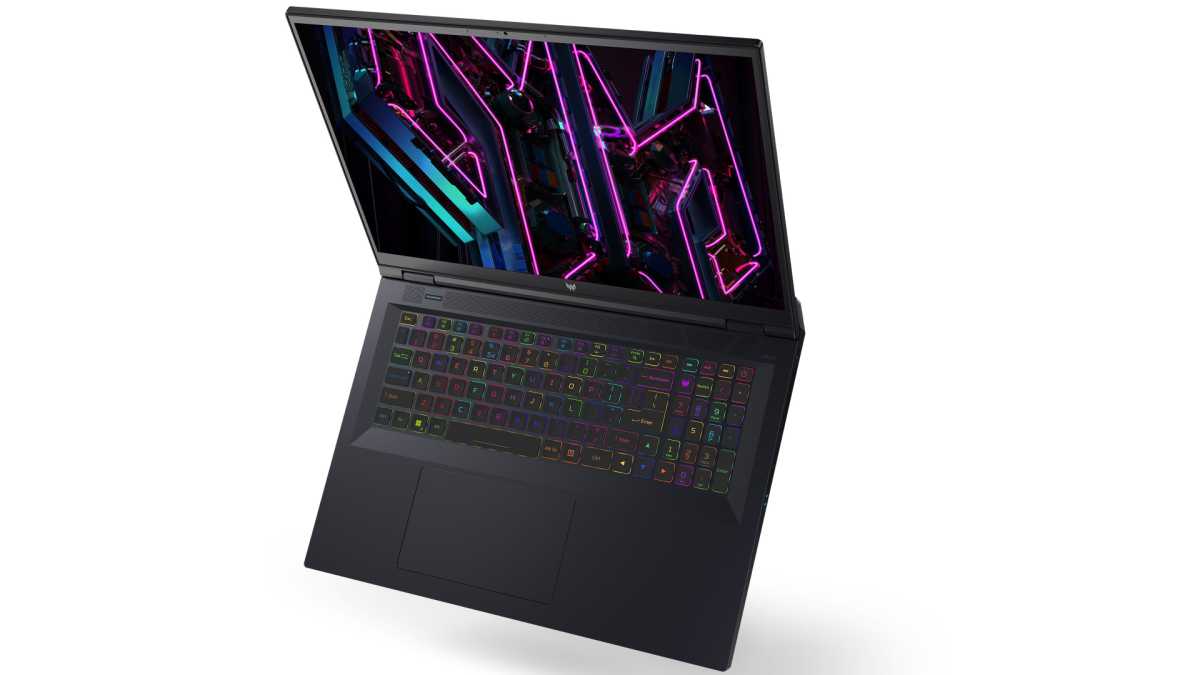 Acer
You get up to 32GB RAM and a 2TB SSD, offering space for installing many of the biggest titles out there. The laptops are available with a range of displays, with up to 260Hz refresh rate and the option of a mini-LED panel.
Processor-wise, you can choose between an Intel i9 or i7 HX processor, with up to NVIDIA GeForce RTX 4080 GPU. These GPUs use the NVIDIA Ada Lovelace architecture, with better ray tracing, higher quality frames with DLSS 3 and improved latency than the RTX 30 series GPUs.
For staying cool, the Predator Helios 16 and 18 have 5th Gen AeroBlade 3D metal fans and vector heat pipes with a rectangular shape for optimised heat transfer.
Along with the customisable RGB keyboard (which offers per-key customisation) and an RGB light bar along the back, there are removable exhaust vents included which can be painted any colour, making the laptops more unique. Spares are included in the box, so you can have a few options at your disposal.
If you're more of a casual gamer and can't justify spending a lot on the Predator Helios, then the Nitro 16 and 17 are more suitable options.
For context, Predator Helios prices start from £1,899/$1,699/€2,399 and go on sale in February, while the Nitro range will be available from May onwards, with prices starting from £1,299/$1,199/€1,499.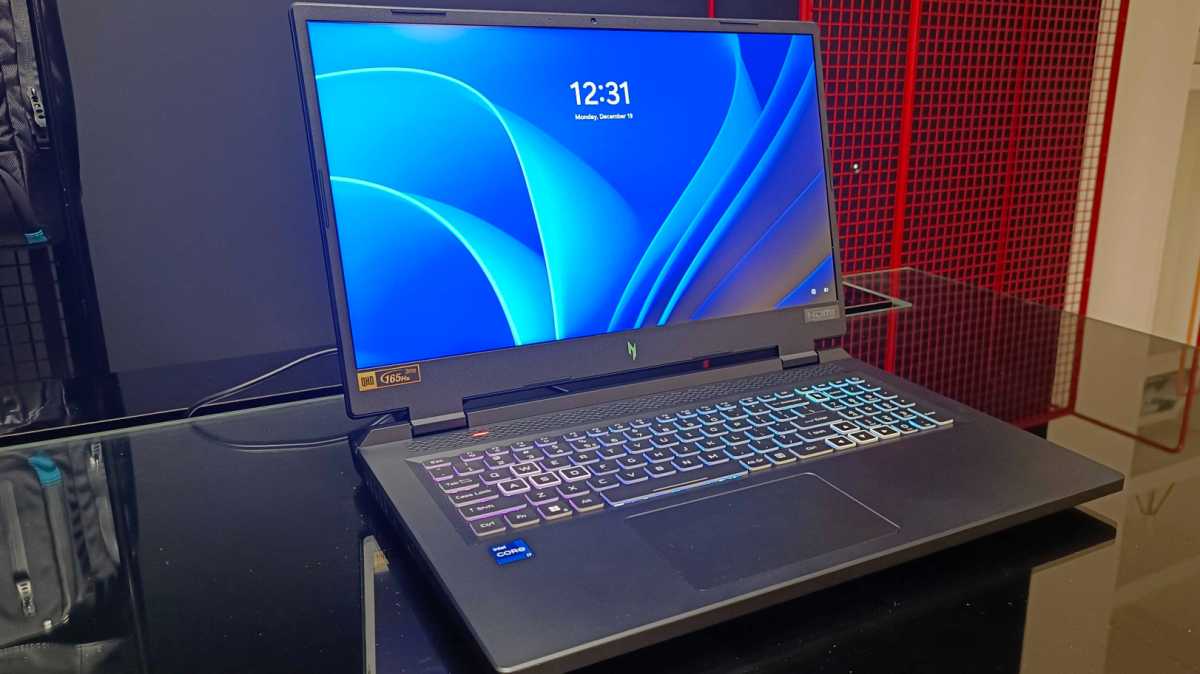 Hannah Cowton / Foundry
As you might have guessed, options are a 16in or 17.3in display with up to Quad HD resolution and refresh rates of up to 165Hz. You'll have plenty of room to store your games as, again, there's the option of a 2TB SSD. You get one month of Xbox Games Pass or PC Game Pass to stream titles from the cloud – an offer also available with the Predator laptops.
The Nitro also offers a customisable RGB lit keyboard – though only the Nitro 17 has 4-zone control. The laptop features pink and blue accents that replicate the shape of brand new 'N' Nitro logo. Where the more expensive Predator has a metal chassis, the Nitro makes do with plastic.
A spokesperson for Acer stated that the team was going for a less aggressive design with the Nitro, and as someone who isn't a fan of the spaceship looks of many gaming laptops, I think they've pulled it off well. However, a fair warning: the Nitro is no featherweight, and nor is the Predator. Weight-saving was not the aim here.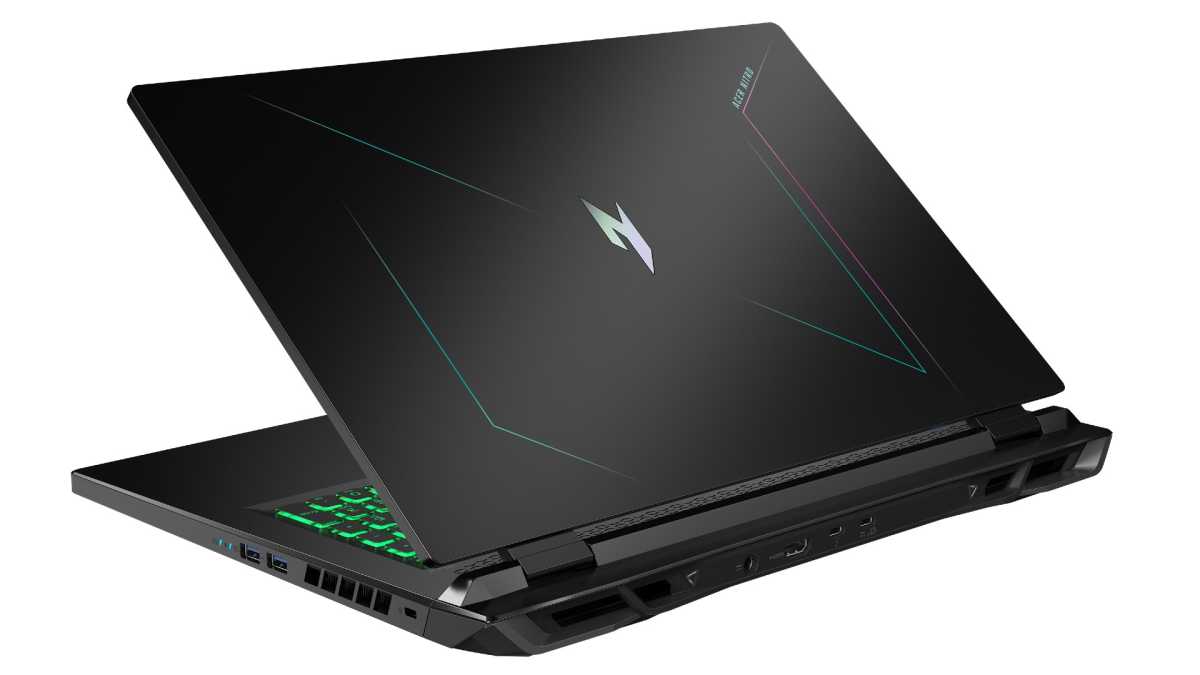 Acer
To keep cool, the Nitro 16 and 17 are fitted with dual fans, four fan outlets and liquid metal thermal grease. Audio should also be impressive, with the inclusion of DTS:X Ultra audio software.
If you'd like to see what the competition is like, check out our roundup of the best gaming laptops.