Passwords are an necessary evil of our modern digital lives. They protect our accounts from unauthorised access, but at the same time they drive us crazy by forcing us to remember complicated combinations of letters, numbers and special symbols.
The human brain isn't very good at this job, especially when websites and services require different criteria for what constitutes a viable password. So, rather than trying to make anagrams out of your favourite TV shows or simply putting in the name of your pet, plus its birthday, a better solution is to find software that can auto-generate random, strong passwords.
Here we'll recommend some good password generators and show you how to use one.
What is a password generator?
As the name suggests, this tool will create random combinations of characters that you can then use as a password for your account. Password generators are easy to find and are usually free to use.
One thing to bear in mind: if you find one that wants you to log in or enter your email address, DON'T! There's no point in generating a long, complicated password if the site providing this service can then use it to log into the account itself. Of course, it won't know which account you're generating the password for, but it's an unnecessary risk to take.
This advice doesn't apply to password managers that have built-in password generators: only website-based generators, as these shouldn't require you to sign in.
Can't I just create a strong password myself?
Although you might think you can, there's been some research that suggests our own minds tend to associate patterns when we try to be random, making it possible that the passwords we come up with can somehow be linked to stuff hackers may be able to find out about us. After all, we're trying to make something we can remember.
This is why it's a good idea to use a dedicated password generator. Obviously, no password is 100% impervious to attack, but passwords generated by software should be more secure than those we might think up ourselves, and the longer they are, the more secure they are.
Where can I find a password generator?
There are loads of password generators available online. A simple Google search for 'password generator' will provide a selection, but you can also go to the websites of password manager apps such as LastPass, Dashlane or 1Password where you'll find a free password generator ready to use.
For the sake of this example, we'll use LastPass's Password Generator.
How to use a password generator
Once you've found a generator, it's time to create your password. Most of them work in the same way, so the steps below should be applicable to whichever one you're using.
1.
Open the password generator
Foundry
Click the Use Password Generator option to begin the process.
2.
Copy new password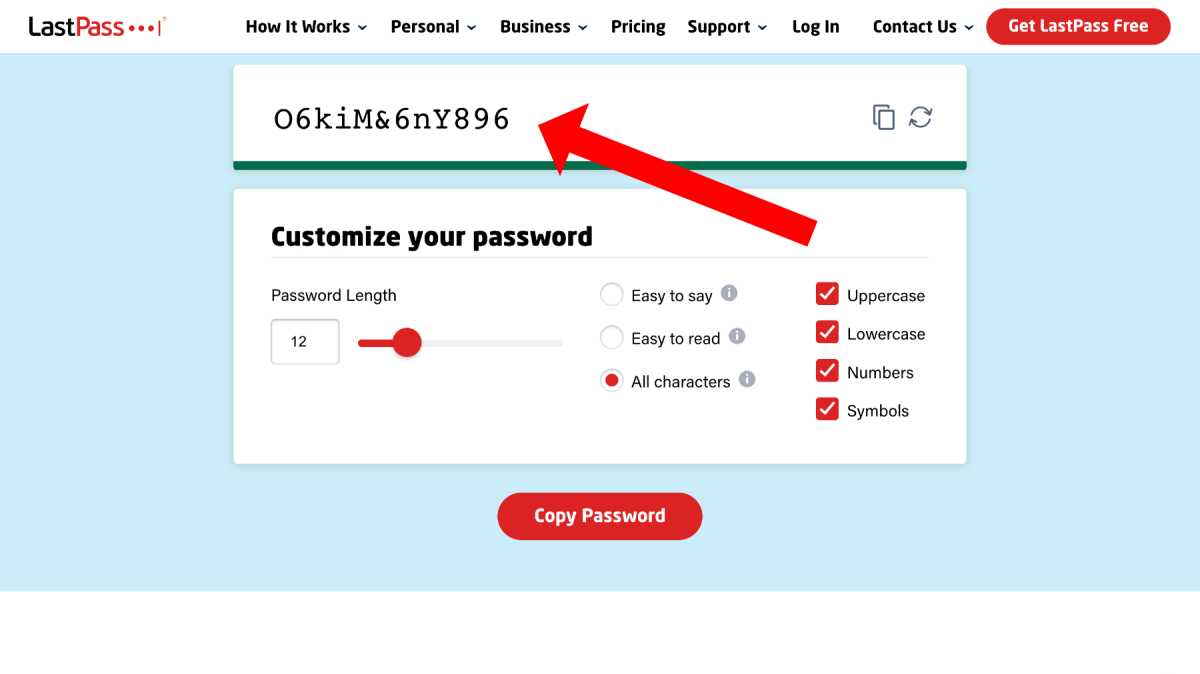 Foundry
In the main box you'll see an autogenerated password. You simply copy and paste this or customise if to better suit your needs by using the menu below.
3.
Change password options
Foundry
The menu below contains various options for the kind of characters the password will use and the length it will be. If you're creating a password for a specific site or app, check what it requires, as some require an upper-case letter, number and special character, such as an exclamation mark. As you change the options, the password will update to a new one that incorporates your choices.
4.
Copy amended password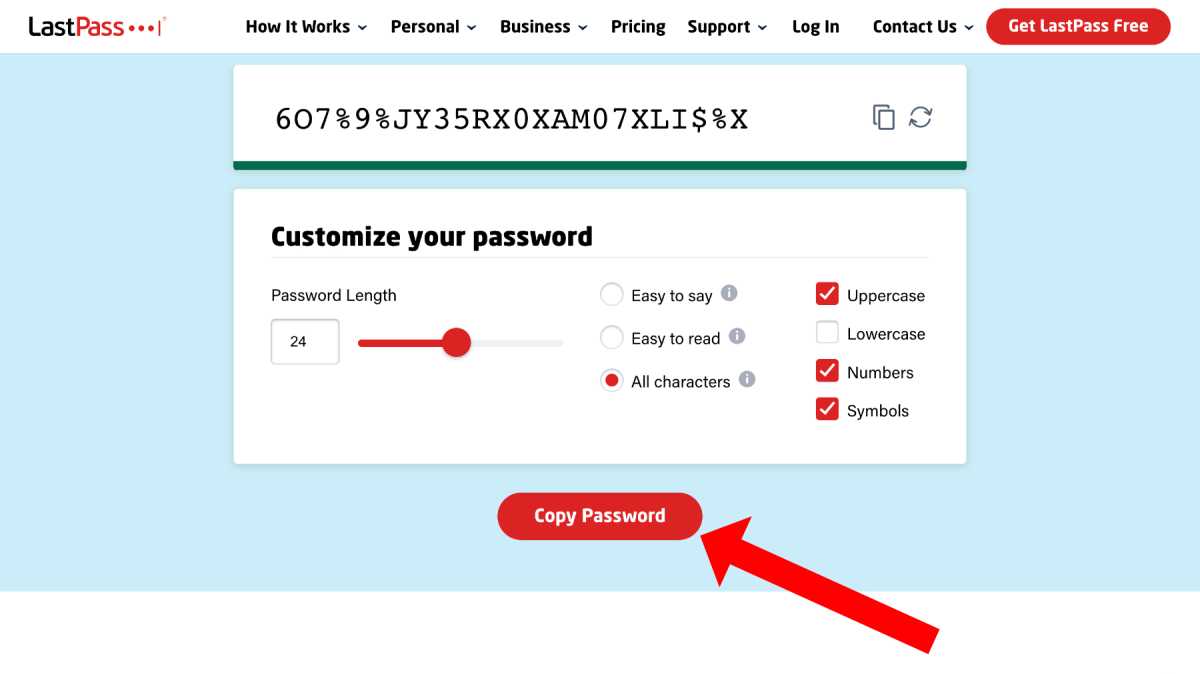 Foundry
When your changes are complete, simply copy the password and paste it into the account on which it is to be used. Of course, you'll need to note it down somewhere (it's best to use a password manager, of course) as the password generator won't store it for you.
Of course, managing passwords yourself can become tiresome if you have lots of accounts. Then there is the problem of where you keep the details that contain these passwords.
To have the best experience, and arguably the safest, we recommend you use a password manager service such as those mentioned above. These will store all your passwords in a secure vault, autogenerate new ones when you need them, monitor your accounts for any data leaks that could compromise your details, and work across any device. The only thing you need to remember is one master-password, which is a lot easier on the brain. You can find out more in our how to use a password manager guide.
Password managers are an excellent way to beef up security without straining your memory. Most cost a small amount per month, but there are free ones (such as Bitwarden) and there are often deals available, as well as family plans so one subscription can cover your whole household.
It might sound like another expense, but we'd say that this one is well worth it. You can check out our current recommendations by reading our roundup of the best password managers.