Oppo has unveiled the Find N2 and Find N2 Flip, a pair of new foldable phones that are launching now in China – and one of them is coming to Europe next year too.
The Find N2 Flip is a compact rival to Samsung's Galaxy Z Flip 4 and the Motorola Razr 2022, and it's this model that Oppo will launch internationally – with the larger, book-style Find N2 set to stay China-only "for now."
The Flip will make its way to international markets including "most countries in Europe" in Q1 2023, though it's unlikely the phone will make it as far as North America. An Oppo rep gave Tech Advisor a simple explanation for giving the Flip an overseas launch: flip phones are "super popular."
Samsung's Z Flip 4 has outsold the company's own predictions, reportedly leading it to re-shuffle production targets for 2023's foldables to produce four times as many Z Flip 5 models as it will Z Fold 5 units. Oppo is hoping to share in that success, while also acknowledging that the Flip's simpler software makes it easier to adapt for a global market than the regular Find N2.
Oppo
Compared to Samsung's latest flip phone, the Find N2 Flip packs a significantly larger external screen, vertically oriented to better resemble the main display. Oppo argues this makes it more intuitive, and better suited to doubling as a viewfinder for the phone's cameras.
Speaking of, the 50Mp main camera here, with a Sony IMX890 sensor and optical image stabilisation (OIS), should outpace the Samsung rival's shooter. It's joined only by a single ultrawide, with a punch-hole selfie camera built into the internal display.
Similarly the bigger battery and faster 44W charging will give Oppo's flip phone an edge, though questions remain over whether the custom MediaTek Dimensity 9000+ chipset used here can prove as efficient as the Snapdragon 8+ Gen 1 favoured by the Korean company.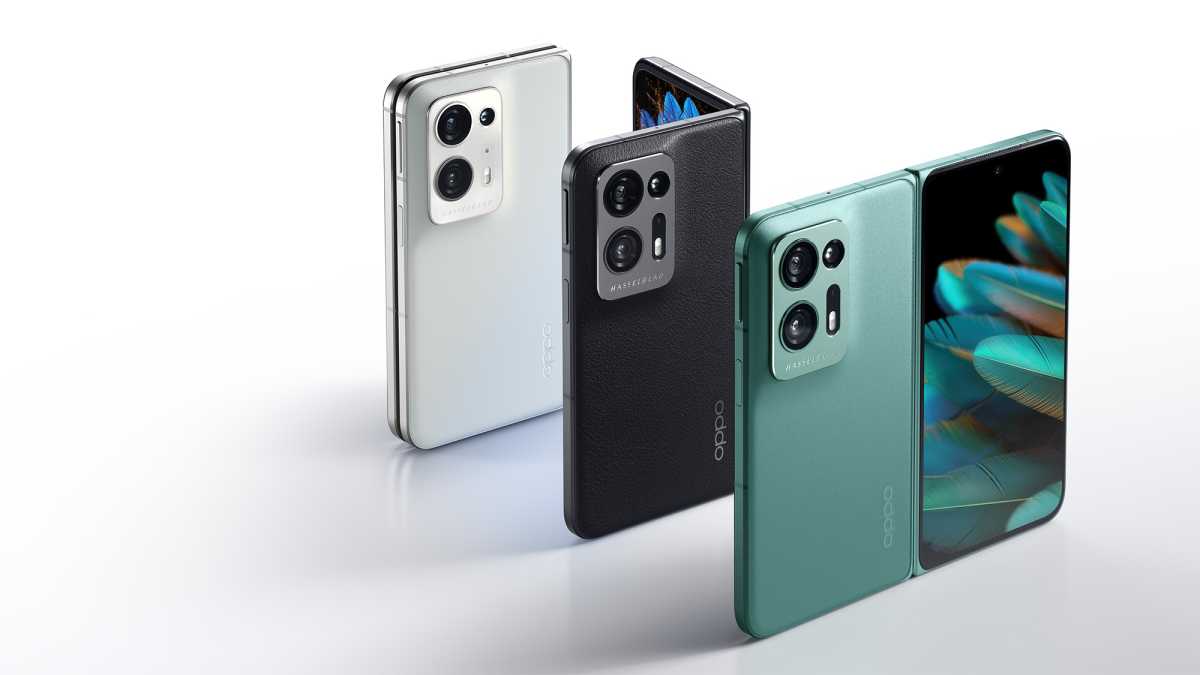 Oppo
Strangely it's that chip used in the regular Find N2, which also packs a bigger battery and even nippier 67W charging. It shares its main camera with the Flip, but its 48Mp ultrawide and 32Mp 2x telephoto cameras make this comfortably the better option for photography.
Arguably the biggest appeal of the Find N2 is its overhauled design though. Oppo's first foldable was already one of our favourites for its lightweight yet sturdy build and hinge that allowed it to close with no gap.
Now Oppo has updated that Flexion hinge to improve durability and make the display crease "practically invisible," while new build materials have made the Find N2 an impressive 42g lighter than its predecessor – and, as Oppo was keen to emphasise, even slightly lighter than the iPhone 14 Pro Max.
The Find N2 will face stiff competition in China, where Samsung's Galaxy Z Fold 4 is joined by the likes of the Xiaomi Mix Fold 2 and Vivo X Fold, not to mention foldables from Huawei and its former subsidiary Honor.
Oppo is only the fourth company to launch a foldable flip phone so far though – after Samsung, Motorola, and Huawei's P50 Pocket – so it's easy to see why the lighter competition and clear consumer interest made it the better choice for an international debut.
Still, the company will have to overcome the combination of Samsung's first-mover advantage and strong brand presence overseas if it hopes to make a dent in the burgeoning foldable market.
The two phones were unveiled at Oppo's annual Inno Day event, where the day before the company revealed the MariSilicon Y – a Bluetooth audio chip designed to bring high resolution lossless audio to wireless headphones and speakers – along with a second generation of its Air Glass augmented reality glasses.