At a glance
Expert's Rating
Pros
Gorgeous design and screen
Great keyboard and pen experience
Excellent webcam with extra ARM features
Impressive battery life
Cons
Underwhelming ARM performance
Not all apps are compatible with ARM
Poor port selection
Expensive, with keyboard still sold separately
Our Verdict
The ARM-based Surface Pro 9 combines superb battery life with extra webcam features and 5G, but a clear drop in performance and reduced app compatibility means the Intel version is better for most people. It doesn't stand out on the same way, but delivers a great all-round experience.
Price When Reviewed
From $999.99
Best Prices Today: Microsoft Surface Pro 9
When most people think of a Windows 2-in-1, the Surface Pro is the first device that comes to mind. More than after it was first introduced, Microsoft's flagship 2-in-1 is now better than ever.
After several years of iterative updates, wholesale changes arrived with 2021's Surface Pro 8. The upgrades are more modest this time around, but the new ARM-based model made plenty of headlines.
It delivers improved battery life, new video calling features and 5G support for the first time, replacing the Surface Pro X in the process. But unfortunately, performance and battery life are a big step down compared to the Intel model, making the latter the one most people should go for. Here's my full review.
Design & Build
Same premium design as Surface Pro 8
Impressive ARM video calling features (when they work)
Lack of ports
If you've ever used the Surface Pro 8 before, the Pro 9's design will be extremely familiar. The device has an identical look to its predecessor, although that's hardly surprising given the big changes that were introduced in 2021.
It's also not a bad thing. The Pro 9 is a seamless blend of glass and aluminium that feels very premium, helping to justify its high price tag. However, this choice of materials is reflected in the weight – at 878g for the tablet alone, it's uncomfortable to hold for more than a few minutes.
But that probably wasn't in your plans for a 13in device, anyway. Microsoft helpfully continues to build a kickstand into the device, which extends across the back of the device and makes it feel very sturdy. Some budget devices make compromises in this area, but it's one of the key strengths of Surface tablets.
Aside from that, there's not much else to report on the back. Microsoft keeps things very simple here, with just a minimalist Windows logo and single 10Mp camera.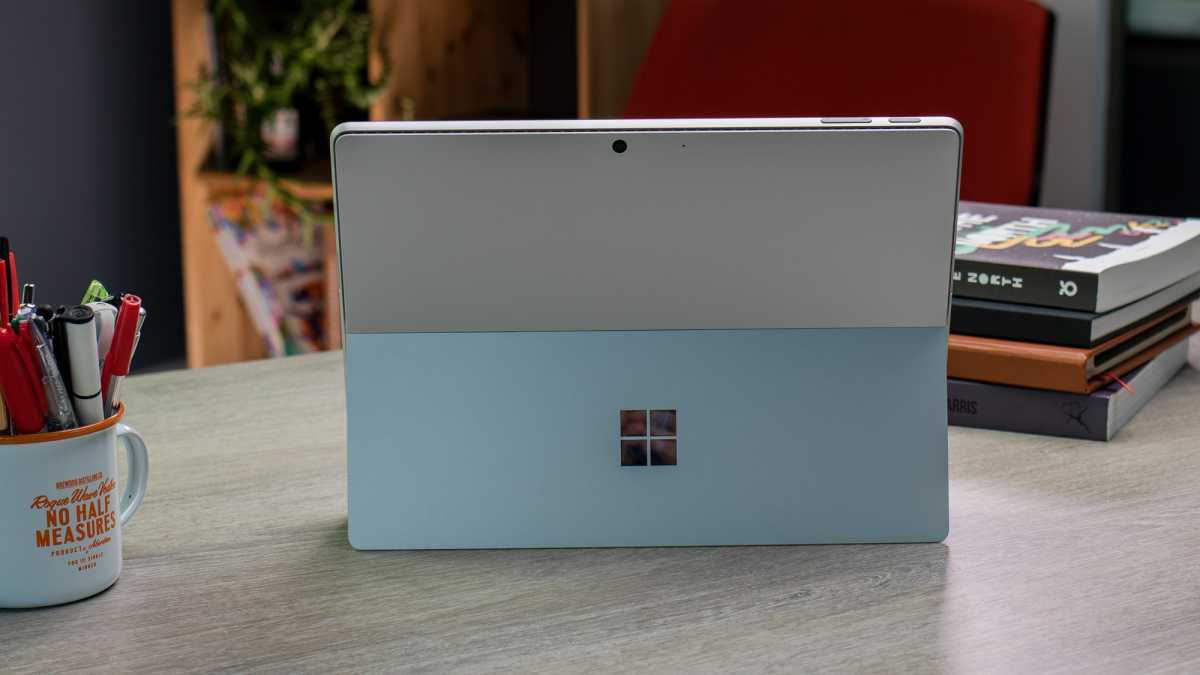 Dominik Tomaszewski / Foundry
The latter offers a decent level of detail, making it a useful option for document scanning or the occasional snap at home. But please, don't try and use this for serious photography.
Frustratingly, the ARM-based model is only available in Platinum. Intel versions have options for Sapphire, Forest and Graphite too, but all are minimalist and understated. If you're looking for something which instantly stands out from the crowd, this isn't the device for you.
It's a similar story when you flip the device over, but that 1080p front-facing camera is worth exploring in more detail. The sensor itself hasn't changed, but there was no need: it remains one of the best built-in webcams you'll find on any Windows device.
However, if you buy the ARM version, Microsoft has added new video calling features via a separate NPU (Neural Processing Unit) chip. It means the ARM Surface Pro 9 has three extra features you won't find on the Intel version (or most other Windows tablets), but they're not entirely effective.
Automatic framing (where you're automatically kept in frame and focus at all times) and eye contact (where your eyes appear to be looking at the camera, rather than screen) sound great in theory, but I couldn't get either to activate during my testing time.
Frequent Windows 11 software updates means that's likely to change, but I can't comment on how effective they area. It's a different story for background blur, though, which takes the feature available on most video calling apps to another level. You can choose between a heavy 'standard blur' or lighter 'portrait blur', with both doing a great job of edge detection.
Voice Focus is similarly impressive – it can pick out your voice clearly in noisy environments, meaning any sounds you don't want to hear are barely audible.
None of these features are reason enough to go for the ARM-based Pro 9 rather than the Intel version, but they're certainly nice to have. But even without them, the device is one of the best options for video calling – you probably won't need to connect a separate webcam or microphones.
Next to the webcam is the usual IR sensor, meaning you can unlock the Pro 9 with your face via Windows Hello. But Microsoft still doesn't include the option for a fingerprint sensor – I don't understand why we can't have both.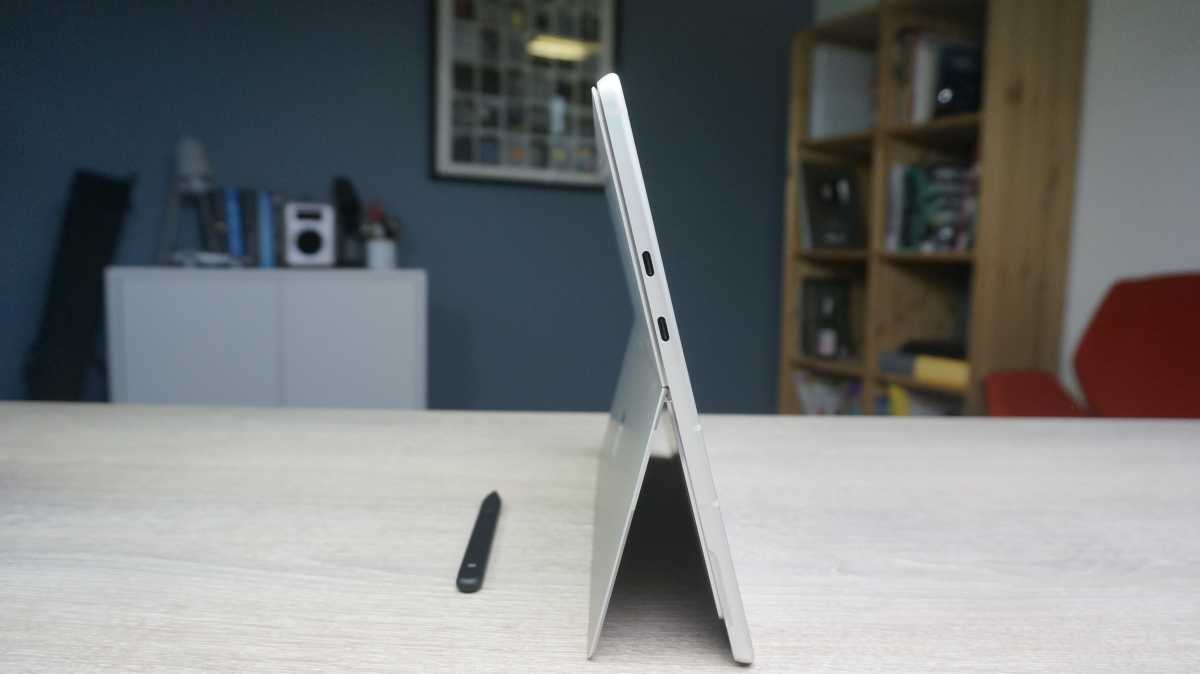 Anyron Copeman / Foundry
It's also worth talking about ports, which have actually been downgraded compared to last year. The proprietary Surface Connect still feels clunky, although you can use either of the USB-C ports for charging instead.
Intel's Thunderbolt 4 certification for fast data transfer doesn't make its way to the ARM model, while Microsoft has decided now is the time to ditch the 3.5mm headphone jack. You can connect wired headphones via USB-C, but it feels like an unnecessary move.
Accessories
Excellent keyboard, trackpad not the best
Impressive stylus experience
All accessories sold separately
Before exploring the accessories that transform the Pro 9 into a genuine productivity device, it's worth remembering that they're all sold separately. The prices you see quoted by most retailers are only for the tablet itself, which significantly limits the device's potential.
I tested the Signature Keyboard, which includes the Slim Pen 2 stylus and a dedicated storage location for the pen. However, Microsoft does sell more affordable options, and all existing Surface Pro 8 accessories are compatible with the Pro 9.
But if you are willing to stump up the extra cash, you're unlikely to be disappointed. The Signature Keyboard delivers one of the best typing experiences with any tablet, despite offering relatively limited key travel.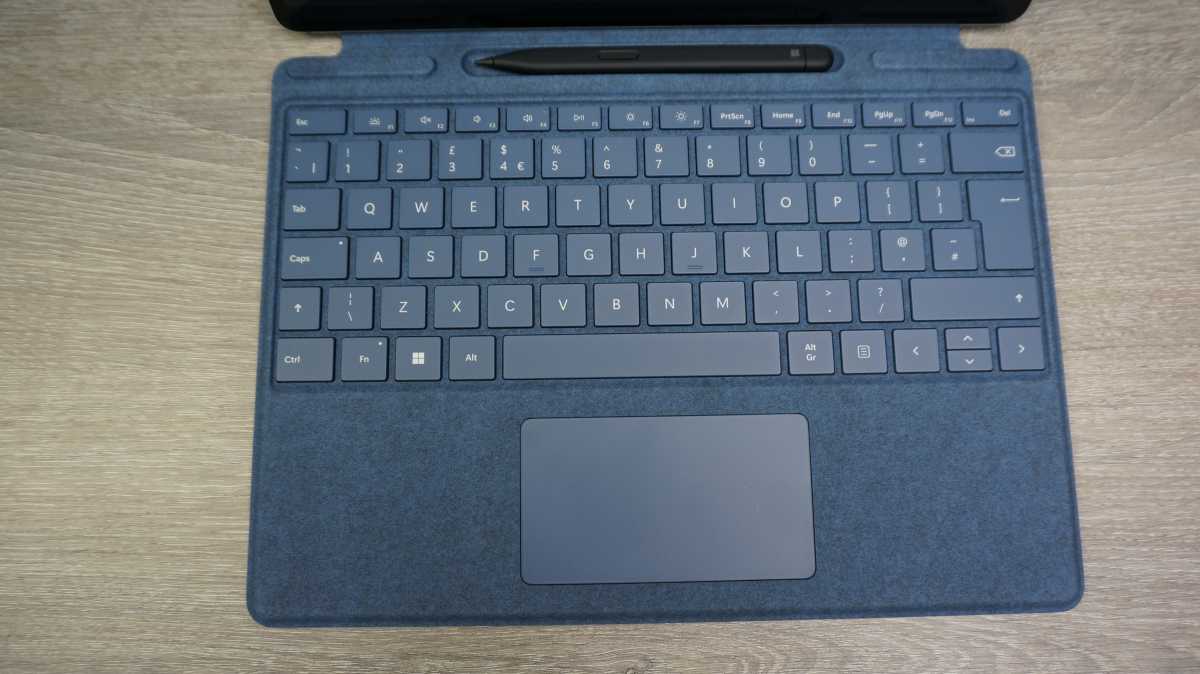 Anyron Copeman / Foundry
A 13in screen means there's plenty of room for full-size keys without it feeling cramped. There are also three backlighting settings for low light situations, something many keyboard covers sacrifice.
You'll still notice a difference compared to most laptops, but I found long typing sessions a breeze. It helps that this version is coated with soft-touch Alcantara fabric, making it very comfortable to rest your hands either side of the trackpad.
The latter is the one area without Alcantara, although the glass coating makes more sense here. It supports the full range of Windows 11 gestures, but being so narrow makes navigation difficult at times. I occasionally found myself having to select something twice or accidentally clicking, so I'd recommend connecting a mouse for longer sessions.
But Microsoft has clearly put a lot of thought into the cover's design, with a dedicated slot for Slim Pen 2 stylus above the keyboard.
This pen is same version we saw introduced alongside the Surface Pro 8, but there were no need for any upgrades. A flatter design than many digital styluses makes it more comfortable to hold, while the advertised 4096 levels of pressure sensitivity mean it's impressively close to a pen-on-paper like experience.
The pre-installed Microsoft Whiteboard app makes full use of it, with a customisable physical button and end which doubles as a rubber. Most third-party apps don't offer the same level of support, but it remains a good option for note-taking or digital art.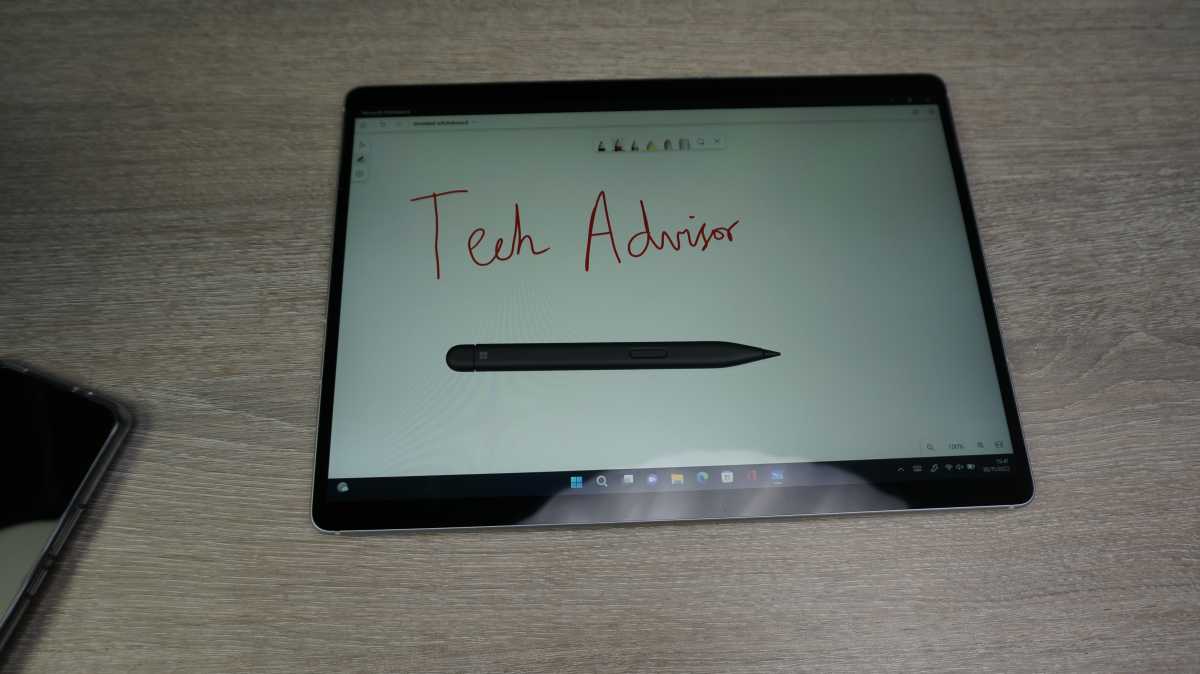 Anyron Copeman / Foundry
However, I can't verify Microsoft's claim of 15 hours of battery life for the pen, as it charges seamlessly when docked into the keyboard cover. If you also go for the Signature version, battery life isn't something you'll need to worry about.
Screen & Speakers
High-quality 120Hz LCD touchscreen
Excellent in a variety of situations
Impressive speakers
Despite being a tablet, the Surface Pro 9 has a screen that's as big as some laptops. The good news is that the quality of this 13in panel is higher than many rivals.
That's despite Microsoft persisting with an LCD (PixelSense) display rather than OLED. A 2880×1920 resolution ensures great detail and gives it a boxy 3:2 aspect ratio – that's something we see on most Surface devices these days.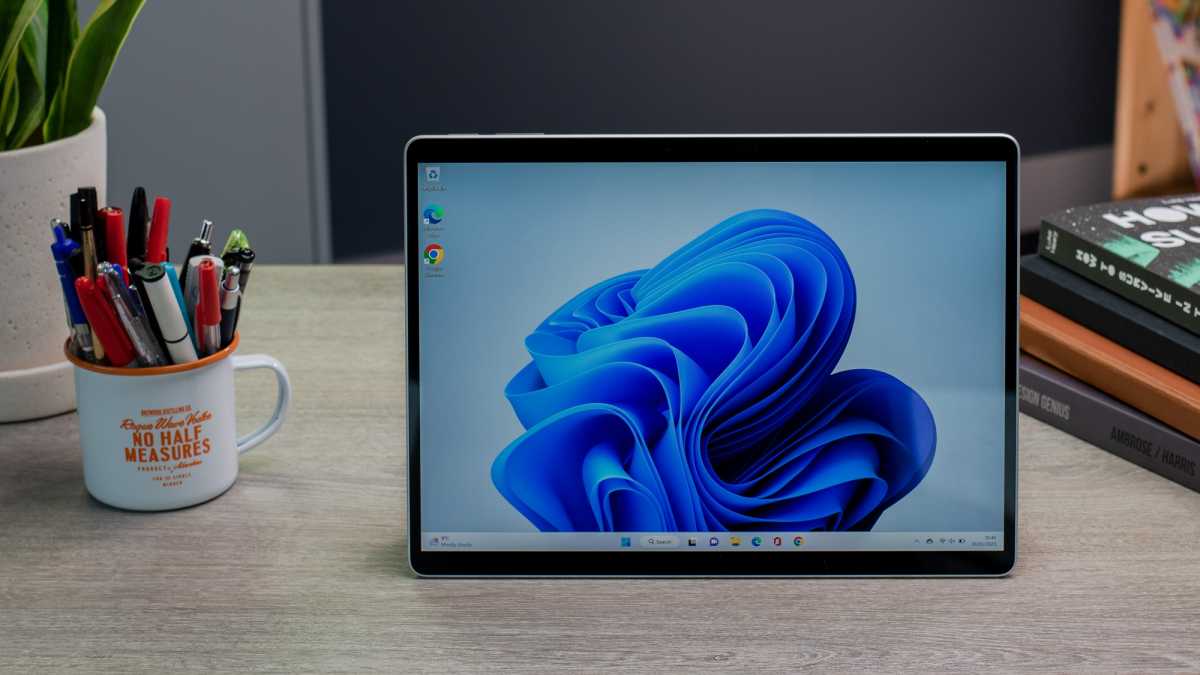 Dominik Tomaszewski / Foundry
You can also expect a vivid colour scheme, which helps content to really come alive. Testing via the SpyderX Pro calibration tool suggests colours are accurate, with the Pro 9 supposedly covering the full sRGB colour gamut, plus 86% of DCI-P3 and 83% of AdobeRGB.
It also gets impressively bright, hitting a maximum of 465 nits in testing. That makes outdoor use a realistic prospect, although visibility will still be an issue on sunny days.
We also shouldn't forget about 120Hz refresh rate, which makes moving across Windows 11 feel more fluid and responsive. You can manually drop to the regular 60Hz or automatically switch between the two, but it doesn't offer the same benefit to everyday use as on gaming machines or even smartphones.
Dual stereo speakers are another area Microsoft decided against upgrading, but I continue to be impressed by the sound they produce. The Pro 9 offers clear, crisp audio, with minimal distortion – even at high volumes.
There's even a decent hit of bass, making them some of the best speakers you'll find on any tablet. Audio enthusiasts may still want to connect headphones, but they're excellent for casual listening.
Specs & Performance
Intel 13th-gen or ARM-based SQ3
Intel much better for performance and app compatibiliy
SQ3 adds 5G for the first time
Performance is the area where you'll see the biggest difference between the two versions. The Intel model gets the regular upgrade from 11th to 12th-Intel CPUs, although the latter is no longer the latest generation following the release of Raptor Lake.
Specifically, you can choose between the Core i5-i5-1235U and Core i7-1255U. I tested the latter, with delivers subtle improvements to the already excellent Surface Pro 8 performance.
I used it as my main tablet for a week, which included lots of web browsing, watching videos and multitasking. The Pro 9 handled it all with ease, although option for integrated Iris Xe graphics rather than a discrete GPU means it's not suitable for the most demanding tasks. But as an everyday device? It ticks all the boxes for most people.
Unfortunately, the same can't be said for the ARM version, which is equipped with Microsoft's custom 'SQ3' chip. It's been designed in collaboration with Qualcomm, and is based on its Snapdragon 8cx Gen 3 platform.
It's much more power efficient than the Intel version, but there's a big decline in performance. I wasn't expecting it to cope with the likes of video editing or gaming, but there's a noticeable drop-off during everyday use, too.
The most noticeable effect is on multitasking, where the device often hesitates and stutters when moving between two or more apps. It makes using them side-by-side – one of Windows 11's key strengths – something I'm reluctant to do.
Despite the high refresh rate and 16GB of RAM on the model I tested, basic tasks such as opening apps or scrolling menus also feel sluggish. It's definitely still usable, but I was expecting much better from the ARM version, especially given how expensive it is.
The benchmarks show the Intel version has the upper hand, but the day-to-day effect is even more significant than it suggests. It wasn't possible to run our usual PCMark 10 test on the SQ3 model, with the app stating it's not designed to work with ARM devices.
However, it's also worth recognising some of the other benefits that the ARM model brings. Alongside the video calling features mentioned above, it's the first ever Surface tablet with 5G support. The device supports both regular NanoSIM and eSIM cards, and it's a welcome addition if you're somewhere with coverage.
Internal storage is another concern on the SQ3 version. While customers in the US can configure up to a 512GB SSD on SQ3 models, you're limited to 256GB in the UK. Intel versions go up to 1TB, so you'll need to rely on cloud storage services if you opt for ARM.
By contrast, you can find SSDs ranging from 128GB to 1TB on the Intel model. These can get expensive, but it's nice to have the option.
Battery Life & Charging
47.7Wh battery
Superb ARM battery life, Intel still solid
65W charging not particularly fast
If there's one main reason to buy the ARM version of the Surface Pro 9, it's battery life. It supposedly only has a 47.7Wh capacity, but Microsoft claims you can get up to 19 hours of 'typical device usage' on a single charge.
It wasn't far off in our 720p video loop battery test, with a time of 17 hours and 40 minutes. That's one of the best scores we've ever recorded, beaten only by other ARM-based devices.
However, don't expect it to last as long in everyday usage. The test was performed at a relatively low 120 nits, while other tasks will deplete the battery much more quickly. Allowing battery saver mode to turn on automatically (it was off for this test) will help, though.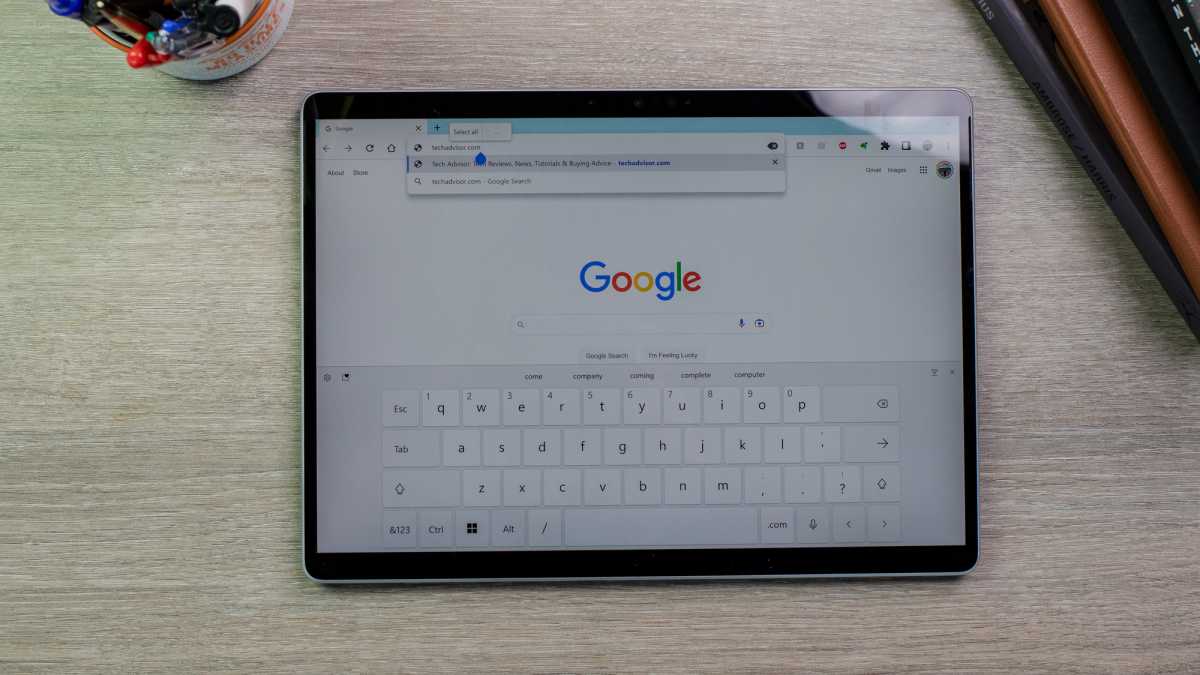 Dominik Tomaszewski / Foundry
But in general, you can still expect the Pro 9 to last a full day and have battery to spare. This could even be extended to two with lighter usage, something you can't say for many tablets or laptops.
You'll have to compromise on battery life if you opt for Intel, but not by a huge amount. A score of 11 hours and 1 minute in our 720p video test is still above average, and I had no problem getting a full day of usage on a single charge.
When you do run out, both models include a 65W adapter in the box. It still connects via the company's Surface Connect port (you can use a USB-C charger if you prefer), but speeds are underwhelming.
From off, I recorded 33% by the half-hour mark on ARM and 34% on Intel. A full charge takes over two hours.
Software
Runs Windows 11 Home
Few apps can run natively
Performance issues with others
The Surface Pro 9 runs Windows 11 Home out of the box. Manufacturers rarely make big changes to Windows, but this is as close to the 'stock' experience as it gets.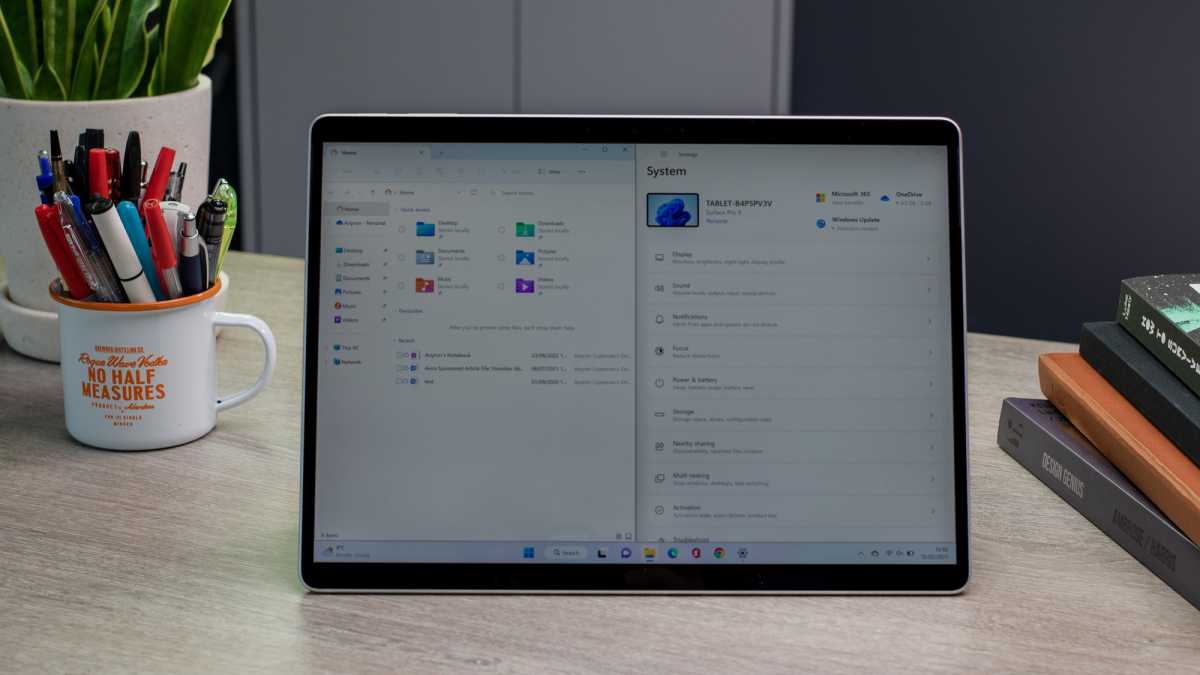 Dominik Tomaszewski / Foundry
I noticed only two pre-installed apps you won't find on many other devices: Microsoft Whiteboard for handwritten notes and sketches, and the Surface app for tips and customisation. Both are genuinely useful for most people.
I tested the Intel version without a keyboard cover for an article on the Windows 11 tablet experience, and I believe it's now good enough to replace your iPad.
However, the same can't be said on the ARM version, which can still only run a handful of apps natively. Microsoft software such as Edge, Word and File Explorer work fine, but many third-party apps still rely on emulation, which lets the Pro 9 behave as if it was powered by Intel or AMD.
None of these run as smoothly, which helps to explain some of the performance issues. You'll have to deal with emulated apps in order to get the most out of the Surface Pro 9, which makes it much less appealing.
Price & Availability
The Surface Pro 9 is a premium device, and it certainly doesn't come cheap.
ARM-based models will set you back at least $1,299/£1,299 when paying full price, but this can be configured up to $1,899/£1,599. Intel versions range from $999.99/£1,099 to $2,599.99/£2,599.
There are often discounts available, but remember this will only get you the tablet itself. The Signature Keyboard costs an additional $179.99/£159.99, or $279.99/£259.99 if you'd like the Slim Pen 2 too. I'd also recommend a mouse – if you haven't got one already, Microsoft's Surface Arc Mouse is $79.99/£79.99.
As you can see, the costs can quickly mount up for a device that's already on the expensive side. Plenty of alternatives in our best 2-in-1 chart offer better value for money, including Huawei's MateBook E and even the 2021 Surface Pro 8.
Verdict
The introduction of ARM is a significant moment for the Surface Pro, but it's not ready for the mainstream yet.
Undoubtedly the main issue is the effect on performance, with some noticeable slowdown and less than seamless running of some apps. Alongside a port selection that's worse than the Pro 8 and that high price tag, it's hard to recommend.
However, the move to ARM isn't without its benefits. Battery life is truly excellent, and it's great to see 5G support. The video calling experience is also among the best you'll find on any Windows device – even before all the new effects.
But ultimately, most people will be better off with the Intel version. It's far less exciting, with new Intel processors the only upgrade compared to the Surface Pro 8. But it's fast, reliable and runs everything you need it to. If you can afford it, the Intel-based Pro 9 remains the best Windows 11 tablet and finest 2-in-1 you can buy.
Specs
Display: 3:2 PixelSense LCD touchscreen, 13in (2880×1920)
Processor: Intel Core i5-1235U, Intel Core i7-1255U, Microsoft SQ3
Graphics: Intel Iris Xe, Microsoft SQ 3 Adreno 8cx Gen 3
Memory: 8/16/32GB (Intel), 8/16GB (SQ3)
Storage: 128/256/512GB, 1TB SSD (Intel), 128/256/512GB (SQ3)
Ports: 2 USB-C 3.2, Surface Connect, nano SIM tray
Camera: 1080p front-facing with Windows Hello support, 10Mp rear-facing
Wireless: WiFi 6E (802.11ax), Bluetooth 5.1, 5G (SQ3 only)
Operating system: Windows 11 Home
Colours: Platinum, Sapphire, Forest, Graphite (Intel), Platinum only (SQ3)
Weight: 878g (tablet only, Intel), 879g (tablet only SQ3)