When Samsung revealed the Odyssey OLED G8 gaming monitor this summer at the IFA trade show in Berlin, it quickly turned heads including ours – our reviews editor's first thought when he saw it was "Wow, that's awesome."
After a long wait it's finally available to buy, and thanks to a limited time launch offer it's already discounted – and comes with extra storage on the side.
Pick up the 34in curved gaming monitor from Samsung's official UK store between now and 20 December and the company will throw in a 1TB portable SSD hard drive for free while stocks last.
It's not just any portable SSD either. You'll get a T7 Touch, which is normally worth £135 by itself. It not only uses the speedy USB 3.2 standard for file transfers at up to 1,050 MB/s, but also features AES 256-bit encryption and a built-in fingerprint sensor so you can trust your data is secure when you move it between devices.
Want even more? Use the code OLEDMON2 and Samsung will give you a meaty 10% discount on the monitor itself too, saving you almost another £130 from the £1,299 asking price for the G8.
That'll still leave you paying £1,169, which may sound like a lot – but for the Odyssey OLED G8, it may just be worth it.
PROMOTION
Buy the new Odyssey OLED G8 Gaming Monitor and get a free 1TB Portable SSD worth £134*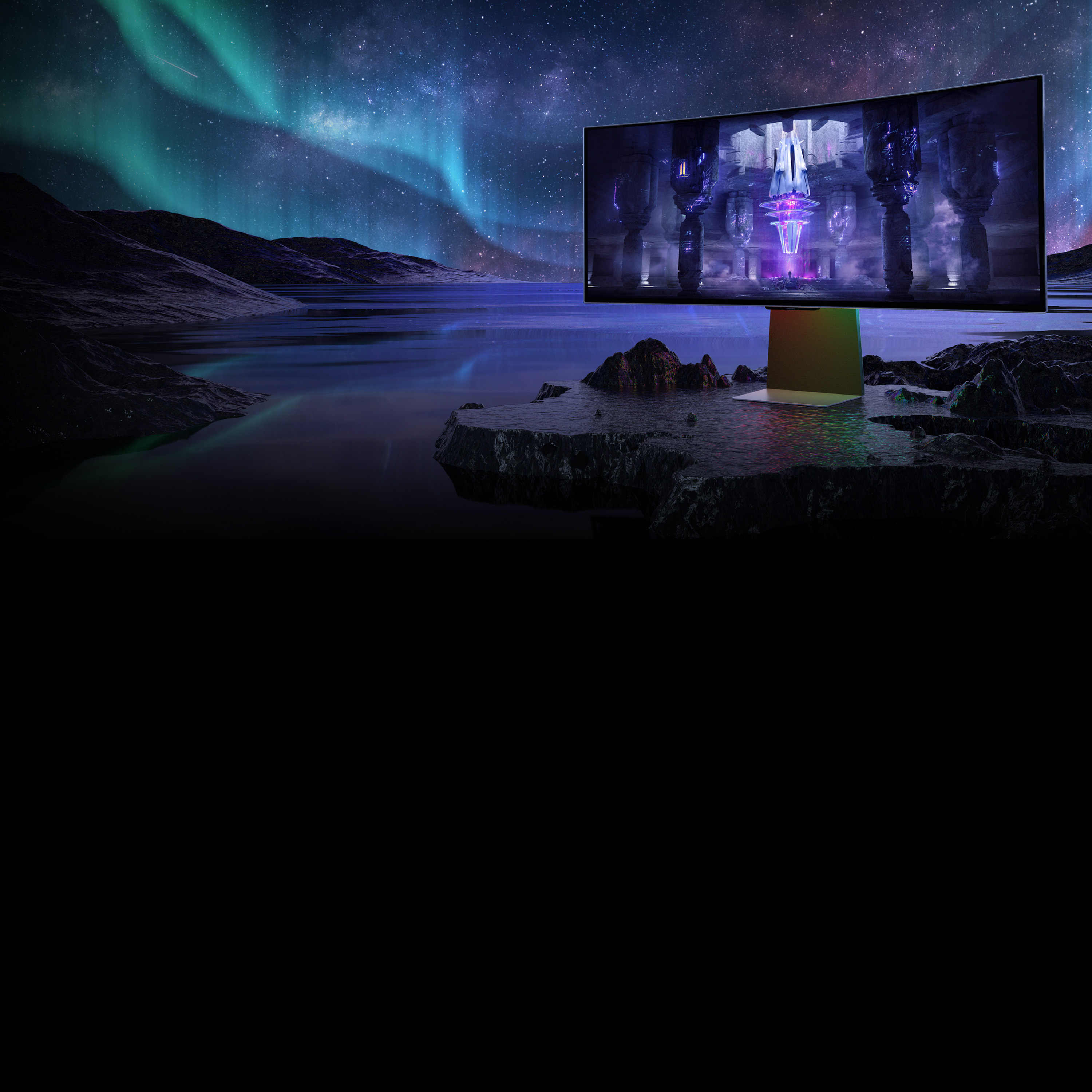 *Purchase from Samsung Shop Online by 08.01.23. Free portable SSD automatically added at basket when qualifying product added.
First up, you get a massive, bright OLED panel that wowed us with its "sheer quality" when we saw it at IFA. Samsung's Neo Quantum processor tunes image quality dynamically, bolstered by deep contrast and high dynamic range, including support for the HDR10+ standard.
The 21:9 aspect ratio gives you plenty of space for multi-tasking while you work, but just as importantly gives you room for the huge FOV that's ideal for games from driving sims to Call of Duty, while the curved design adds to the immersion.
Speed shouldn't be a problem, with the 0.1ms response time guaranteeing lag-free gaming – so long as your rig is up to the task – and the 175Hz refresh rate should push the limits of the framerates you can drive at 3440×1440, with AMD FreeSync Premium there to keep your picture smooth and stable.
Big as the display is, the monitor itself is about as small as it can be thanks a slim body and compact stand, which is adjustable by both height and tilt for extra flexibility. You get a range of ports too, with Micro HDMI (2.1), Mini DP, and a pair of USB-C connections for power and connectivity.
There are some extra smarts behind the scenes as well. Samsung's Smart TV and Gaming Hub software let you use the Odyssey OLED G8 as a dedicated hub for streaming TV, movies, and even games over Xbox Game Pass, all without firing up your laptop or desktop at all.
And of course, it wouldn't be a gaming monitor without some RGBs. Like the rest of the Odyssey line, the OLED G8 features a ring of lights on the back of the display, which Samsung's CoreSync tech can synchronise with the colours of the game you're playing to connect your real-world space with the virtual one.
The Odyssey OLED G8 looks like the complete gaming package, with top-end display quality, great connectivity, and loads of smart features to boot. Grab it from Samsung before 20 December to take advantage of the 10% discount and get the free 1TB portable SSD too with the code OLEDMON2.