Have you been searching for the perfect games console bundle for Christmas?
Look no further, as from now until 31 December you can get Mario Kart Live: Home Circuit (Mario or Luigi Edition) or The Legend of Zelda: Skyward Sword HD thrown in for free when you purchase the Nintendo Switch OLED directly from Nintendo UK.
get switch oled with free game
Mario Kart Live: Home Circuit is usually worth £99.99, whilst Skyward Sword costs £49.99 – so there's a big saving to be had, even though the console itself is still at full price.
The offer is only available on the Nintendo website, and both are for physical game copies rather than digital downloads. Nintendo has also confirmed that this deal is for UK customers only.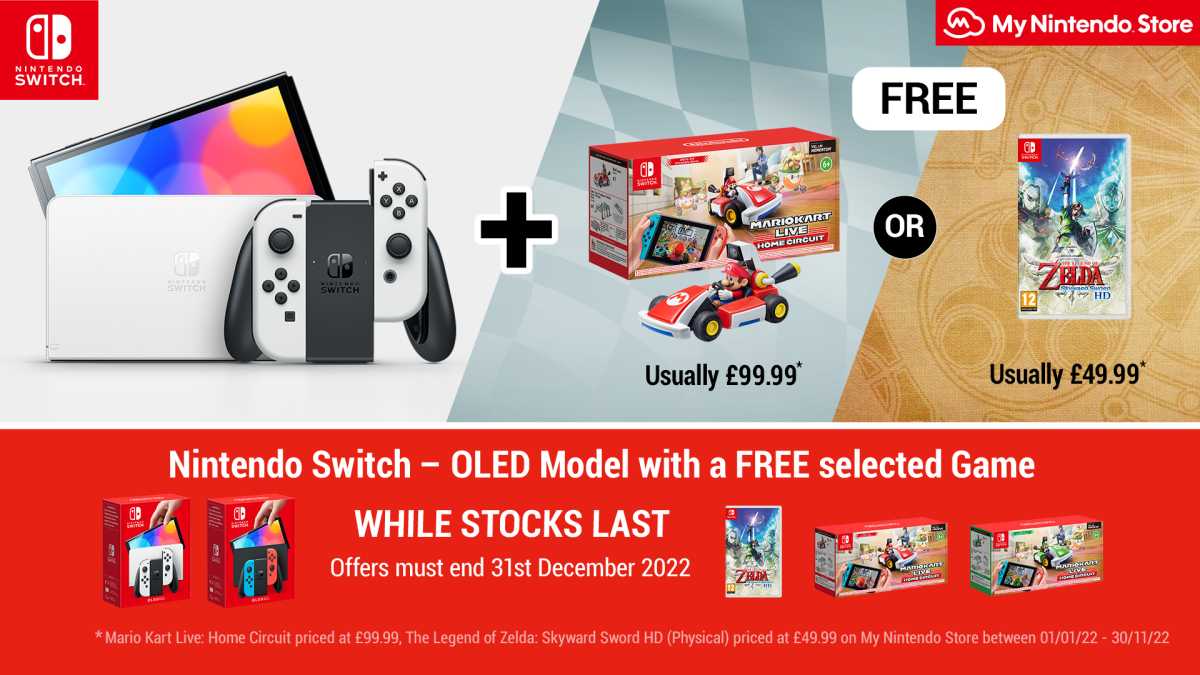 Nintendo
The Switch OLED is the top console in the range, coming with a large and bright 7in display, a robust kickstand, and 64GB worth of storage – double the amount that's on the regular Switch.
This bundle is available on both the white or red and blue versions of the console, which only launched a little over a year ago. You can find out more in our Nintendo Switch OLED review.
Mario Kart Live: Home Circuit (not to be confused with Mario Kart 8) allows players to use the Switch to drive a remote control kart themed after either Mario or Luigi, so you can create a real-life Mario Kart race at home.
The game comes with props so you can create a physical racetrack, and then drive your character around your home by using the camera feed on the Switch to navigate.
The Legend of Zelda: Skyward Sword HD is a remastered version of the 2011 title for the Switch. You play as the young knight Link as he searches for Zelda whilst battling against an ancient evil force.
Players have the option of using thumb sticks and buttons for controlling Link, or enhanced motion controls with the Joy-Con controllers.
You can read up on what other games to get in our list of the best Nintendo Switch games, which includes other instalments from both Mario and Zelda such as Super Mario Odyssey and The Legend of Zelda: Breath of the Wild.
For more bundles and offers, take a look at our list of the best Nintendo Switch deals.