In late 2020 Google started rolling out its new VPN service, called VPN by Google One. It's part of the Google One subscription service, which also includes cloud storage.
However, it's only part of the more expensive 2TB or 5TB tiers: those on the Basic 100GB or Standard 200GB plans don't get it.
The other way to get access is to have a Google Pixel phone and Google has started rolling out the VPN to Pixel 7 and Pixel 7 Pro.
There's no cost to use it – it's completely free – and there are no data limits as you usually find on free VPN services.
But there are limitations, regardless of whether you pay or not. The biggest one is that you can't choose your location, which means you cannot unblock websites or video streaming services.
Google's VPN service isn't intended for that: it's aim is to protect your privacy and identity online by replacing your real IP address with another and encrypting the data sent from your device – in this case a Pixel 7 / Pro – to the internet.
This helps when you're connected to public Wi-Fi in cafés, airports, hotels and other places which don't require a password.
It's still part of the Google One app, but you'll find shortcuts to connect, disconnect and snooze the VPN in the quick settings on your Pixel 7.
Those familiar with VPNs might expect to find some settings, but currently all you can do it choose which apps bypass the VPN. That's split tunnelling and is useful for apps which don't work properly when the VPN is connected, such as banking apps which use their own encryption.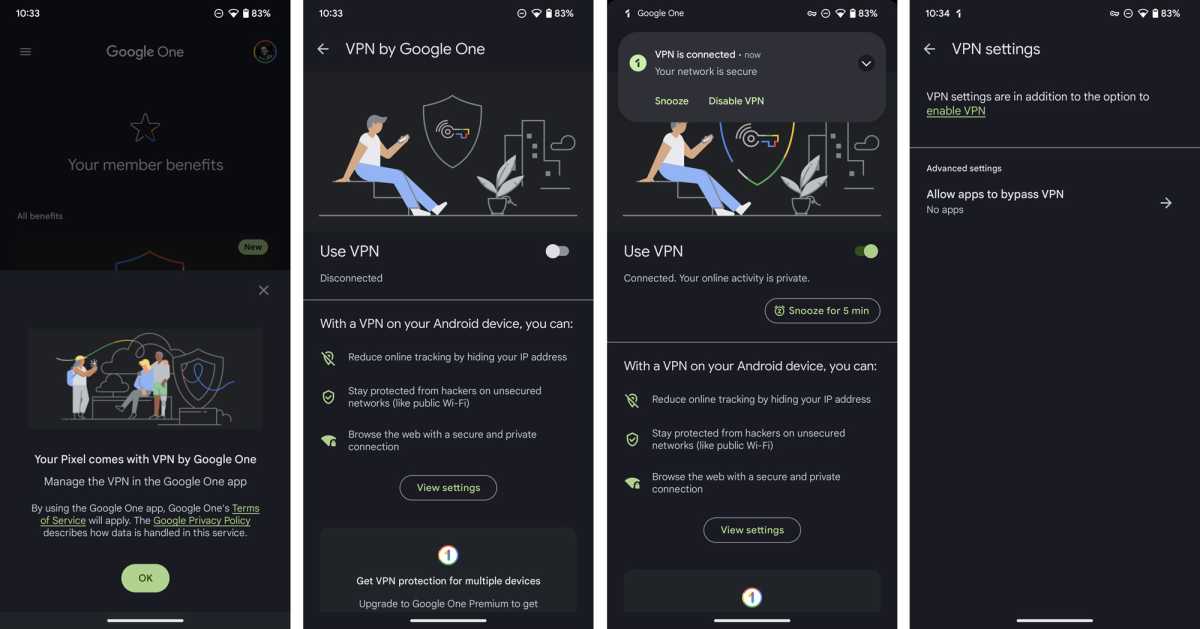 Henry Burrell / Foundry
Even with its drawbacks, this is a nice bonus for Pixel 7 and Pixel 7 Pro owners.
You can use the VPN in these countries:
Austria
Australia
Belgium
Canada
Denmark
Finland
France
Germany
Iceland
Ireland
Italy
Japan
Mexico
Netherlands
Norway
South Korea
Spain
Sweden
Switzerland
Taiwan
United Kingdom
United States
Unusually, Google is using its own proprietary encryption protocol for the VPN, which means you can use it only on devices it chooses to support. It added iOS support in February 2022.
You can find out more about how it works on Google's website.
The idea is that you leave the VPN on all the time: Google says it won't affect your internet speeds and you won't even notice it's connected.
Related stories