At a glance
Expert's Rating
Pros
Plenty of volume
Good separation of sound
Waterpoof
Can be paired with a second unit for stereo
Cons
A little mid/treble focussed
No Microphone
No AAC or aptX codecs
Our Verdict
The MUVO Go can knock out some very pleasant tunes at impressive volume levels. The addition of waterproofing makes it an ideal outdoors speaker, but also means it could be equally at home in the kitchen or bathroom. Tonally, it does lean towards the higher end of the frequency spectrum, but still delivers a balanced sound.
Price When Reviewed
$79.99
Best Prices Today: Creative Muvo Go Bluetooth speaker
Summer may well be a distant memory at the moment, but there will come a time once more when we can hang out by a pool enjoying music on a waterproof speaker like the Creative MUVO Go. Until then, there are still plenty of duties that this Bluetooth device can perform.
Here's the full Tech Advisor review of the Creative MUVO Go.
Design & Build
Simple controls
IPX7 Waterproofing
Various colours
The MUVO Go is a neat package. The cylindrical plastic chassis features a large wrap-around grill to protect the two 45mm full-range Neodymium micro driver speakers, with two additional passive radiators at either end bearing the Creative logo. There are built-in rubber feet if you want to use the speaker lying down, but it's just as happy standing tall.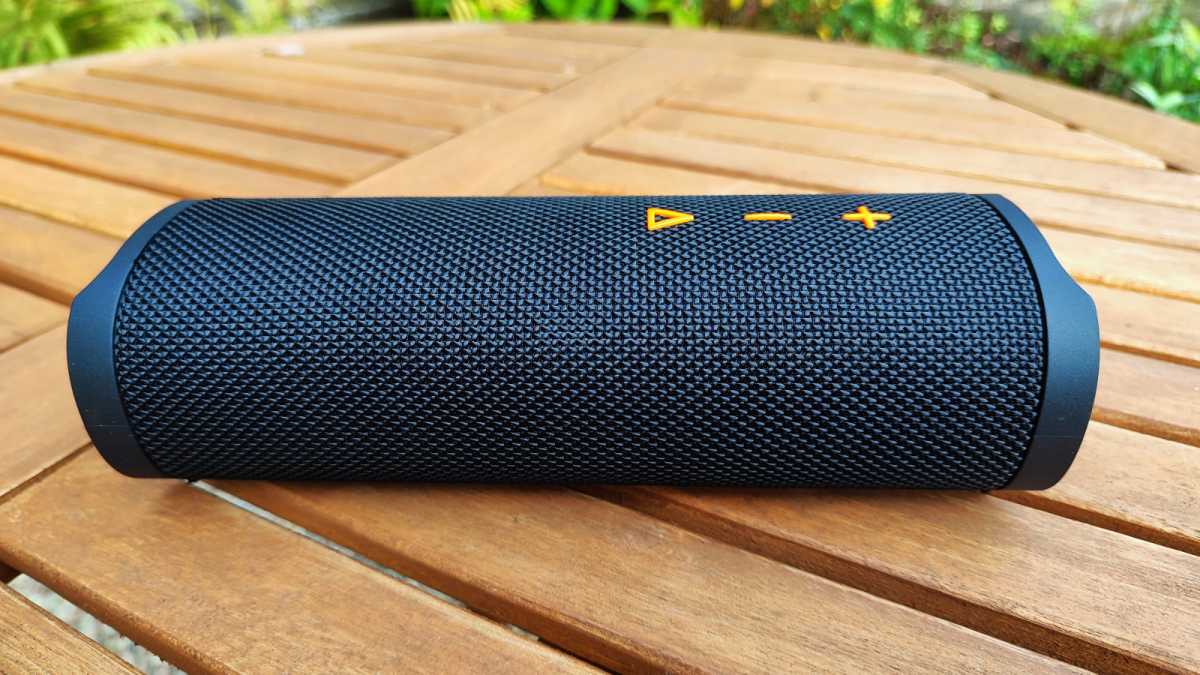 Foundry
Controls are minimal, with a plus, minus and arrow selection on the top of the grill, allowing you to play/pause music and quickly adjust the volume. On the rear side of the chassis, you'll find the USB-C charging port, Bluetooth pairing button and Power button. There's also a recess where you can attach a lanyard, although one comes already fitted so you won't have to fiddle about.
As the lanyard suggests, this is intended to be a mobile speaker, and its 204 x 73 x 61mm dimensions and 570g weight means you won't need a chunky backpack to cart it around. In fact, Creative claims that the size of the MUVO Go means it will fit snuggly into the water-bottle cage of a bike, so you can take your tunes for a ride.
If it's raining, you won't have to worry thanks to the IPX7 waterproof rating which means the speaker can survive being immersed in up to 1m of water for a maximum of 30 minutes. So, it should survive a fall in the bath, but with no official dust rating, sandy beaches may be a challenge.
I tested the durability of the MUVO Go by putting it on an outdoor table during a Cornish downpour, with the device emerging unscathed. So, not only is it waterproof, but it's already proven it can stand up to a British BBQ in June.
Connection is via Bluetooth 5.3, so you can get about 10 meters away from the speaker before the signal drops, but while the speaker supports SBC, there's no aptX or AAC codec support – a slight surprise compared to many Bluetooth speakers. Don't worry though, it will still happily play Spotify and all the other usual suspects without issue.
There are three colours available – Pine Green, Cloud Blue and Midnight Black – with the first two looking very funky, while the latter is more sedate but would probably blend in a little better with most homes.
Sound Quality
Plenty of volume
Good separation of frequencies
Can be paired with a second MUVO Go
The MUVO Go certainly isn't lacking when it comes to volume. The two 10W main speakers can easily fill a room with the sound they put out, all without distorting the signal. The tones available have good separation, with everything in its own pocket. The bass frequencies are tight rather than booming, but they are easily heard in the mix.
If anything, to my ears, it sounds like the sound profile of the MUVO Go leans prominently into the higher mids and treble frequencies. Vocals really pop out, as do acoustic guitars, pianos or other mid to higher-register instruments. This can make it a good choice for singer-songwriter styles, with those supporting lower frequencies all helping to create a rich sound.
Some genres can get a little top-heavy, but I did find an easy way to tame those harsher tones: simply, stand the speaker up. This seemed to narrow the mid/treble spread in a subtle way while having the extra bonus of bass frequencies being fired directly onto a hard surface (such as a table or chair) which acted as a substitute woofer. You can also turn the volume down to take the edge off anything that feels a little too Hi-Fi.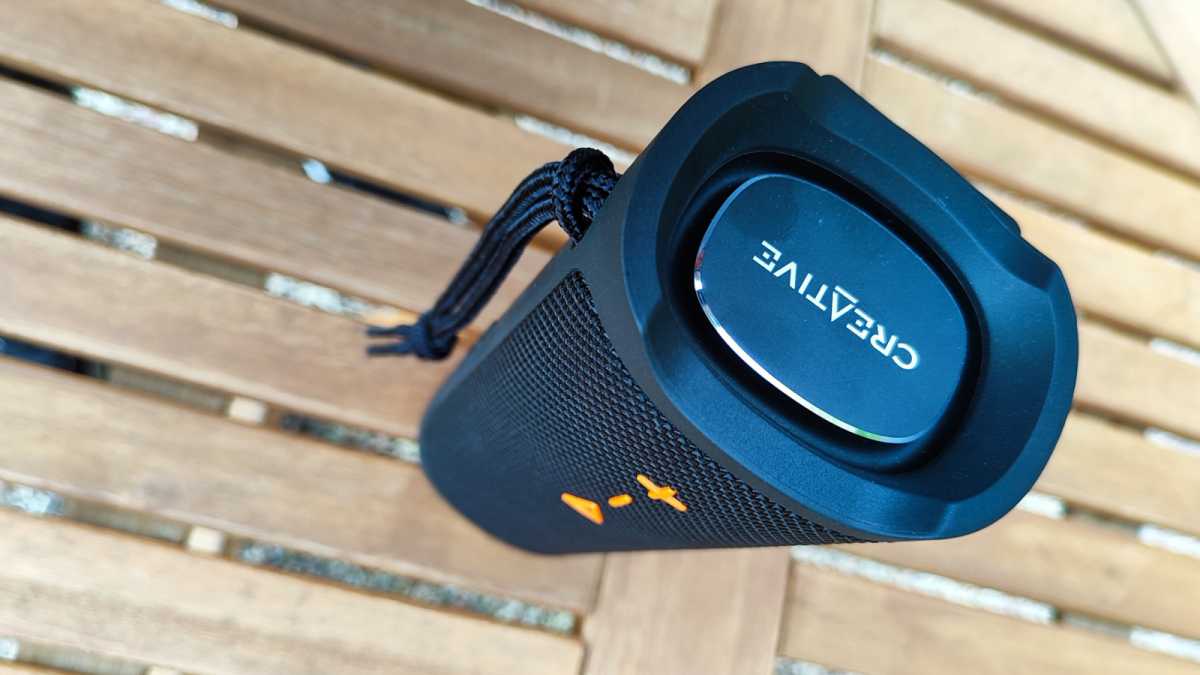 Foundry
Of course, this all depends on the music styles you prefer to enjoy, as more vintage mixes such as David Bowie's Ziggy Stardust era tunes all sounded punchy, tight and well-balanced. I was also able to enjoy rock, modern pop, instrumental, jazz and even a dash of drum and bass tunes without having to fiddle about with EQs on my phone.
Basically, it's a decent speaker that can pump out some fantastic tones at small-party-level volumes.
As a straightforward Bluetooth speaker for podcasts or audiobooks when you're in the kitchen or other parts of the house or garden, it's excellent.
Pairing a second MUVO Go for stereo
One interesting feature of the MUVO Go is the ability to easily pair it with another MUVO Go and create a stereo system where the signal is shared between them. It only requires a couple of button presses (all explained in the Quick Start Guide included in the box) and the two speakers work together to blast out some very rich tones.
Foundry
Trying a modern ambient band like Cigarettes After Sex resulted in lush audio with a wider bass profile than I got when trying the same track on just one device. This proved true of pretty much everything I put through the paired setup. Obviously, this literally doubles the price of the system, but if you have one and a friend has one, then this feature could really beef up the sounds at your next get-together.
Battery life
2x 2,600mAh battery
Long battery life
Slow charging
Creative fits the MUVO Go with two 2,600mAh Lithium-ion polymer batteries for a total capacity of 5,200mAh, with claims can last 18 hours on a single charge. Now, it should be noted that those figures are when playing audio at a moderate level, so if you want to turn it up to 11 and party all night then you may find the music stops a little sooner.
While I couldn't use the speaker for 18 hours in a single session, I did find that across a week it happily played for a few hours each day and still reported that it had some juice left in the tank at the end. You can check the battery levels by double tapping the Bluetooth button, which gives you a spoken response of either low (less than 30%), medium (30%-70%) or high (over 70%). So, it does seem that 18 hours is a realistic claim.
Foundry
Fully recharging the MUVO Go takes about four and a half hours, so you'll want to make sure you plug it in the night before if you intend to head out early the next day. There's no charger in the box, but you do get a USB-C cable to use with whichever mobile charger you have around the house.
Pricing & availability
You can pick up the MUVO Go for $79.99/£65.99/€79.99, an attractive price for a Bluetooth 5.3 speaker that's waterproof and can be paired with a second unit to create a stereo system. It's available from Creative directly, as well as from third-party retailers like Amazon.
Obviously, it's not the only show in town, as you can also get the excellent EarFun Uboom ($59.99/£59.99) which is also waterproof and includes a microphone for phone calls.
The company also offers the EarFun Uboom L ($79.99/£69.99) which has a similar setup to the MUVO Go and also can be paired with another unit to create a stereo system. There's also the smaller MUVO Play ($39.99/£34.99) which is waterproof but not quite as powerful as its larger sibling.
If you want more choice, then be sure to also check out our guides to the best budget Bluetooth speakers and best Bluetooth speakers.
Verdict
The Creative MUVO Go is a decent Bluetooth speaker and the waterproofing makes it ideal for taking out and about. Audio quality is solid, if a little concentrated in the high mid/treble frequency spectrum, and it can get loud enough to provide quality sounds for an impromptu party. The real star feature is being able to pair two of them together to create a stereo system, but obviously this requires spending twice as much money.
On its own, it's a good option for those who want tunes on the go, whatever the weather, but in a pair it's great.
Specs
2x 10W 45mm Full-range Neodymium Micro Drivers
2x Passive Bass Radiators
IPX7 Waterproof rating
Bluetooth Pairing button
Power Button
Indicator Light
Volume and Play/Pause controls
Bluetooth 5.3
SBC Codec support
2x 2,600mAh Lithium-Ion battery (5,200mAh total)
USB-C Charging port
204 x 73 x 61 mm
570g
Best Prices Today: Creative Muvo Go Bluetooth speaker