Buying the latest phone is an expensive business. The cheapest iPhone 14 costs $799, which is £849 in the UK. And that's for the model with the smallest amount of storage, too.
With finances being squeezed hard by the high cost of living, it's no wonder people are turning to refurbished phones instead.
But what is a refurbished phone? How is it any different to buying a used phone from ebay? Is it even safe to buy a refurbished phone?
We'll answer these and other questions right here.
What does refurbished actually mean?
This is one of the biggest problems right now as it can mean different things, depending upon who's selling you the phone.
In general, refurbished means that a used phone has been professionally checked over to make sure it is fully working and that there are no faults with the cameras, speakers, microphone and screen, and that the Wi-Fi, Bluetooth and 4G works as it should.
You might assume, as many people do, that a refurbished phone will have a new battery and that any other defective parts have been replaced.
But this isn't what happens in most cases. Only Apple and Samsung actually remanufacture phones to a standard where it's impossible to tell a refurbished one from a brand new one.
And hardly any companies that sell refurbished phones will replace batteries or cracked screens. Aznu in the UK is one of the only companies that does, and pitches itself as a seller of premium refurbished phones with no defects.
Not all phones need replacement parts as they have been well looked after, are fully working and in great condition. So there's no reason to avoid sellers who simply check and grade phones.
In face, you need to watch out: if a phone has been taken apart, any IP rating (for water-resistance) may no longer apply. If this is important to you, check with the seller before purchasing.
Back Market works a bit differently to most refurbished phone sellers. It's a marketplace that lists phones from hundreds of different refurbishers.
Most other companies take phones that have been traded in (or sold directly to them), carefully assess them to make sure everything functions as it should and then grade them according to their condition.
For example, it could be 'like new', 'pristine', 'very good', 'good', 'fair' or something else.
This gives you an idea of what to expect, but unlike ebay or other places where you can buy used phones, you won't see photos of the actual device you'll receive on a website that sells refurbished phones.
Instead, you'll see the same stock images as if you were buying the phone brand new. Currently, the only seller we know of that publishes example photos of what each grade is like is giffgaff – a mobile network operator in the UK.
Usually, you'll see listings like those below.
musicMagpie
Whatever you see, you must read the descriptions of each grade carefully, because you can't assume 'good' means the same from one seller to another.
For example, Envirofone says that a 'good' phone will be "An average condition product that has signs of use. This will have wear and tear to the front, back or sides."
It's a similar situation if you buy a 'good condition' phone from giffgaff, which is the lowest it sells.
Its main description for good condition reads 'noticeable wear and tear' but if you dig down, you'll find this means "Chance of some very light scratches (not visible when the screen is active)" and, for the phone's body, "Light scratches and possibly some dents or scuffs. No more than 5 deep blemishes." It also ensures that batteries have at least 80% capacity: that's the absolute minimum you'll get.
Giffgaff sent over an iPhone 12 in good condition for us to look at, and it was difficult to find any damage or defects at all. There were a few tiny scratches on the screen that proved impossible to photograph, and a single one-inch scratch on the rear glass that you should be able to make out in the photo below.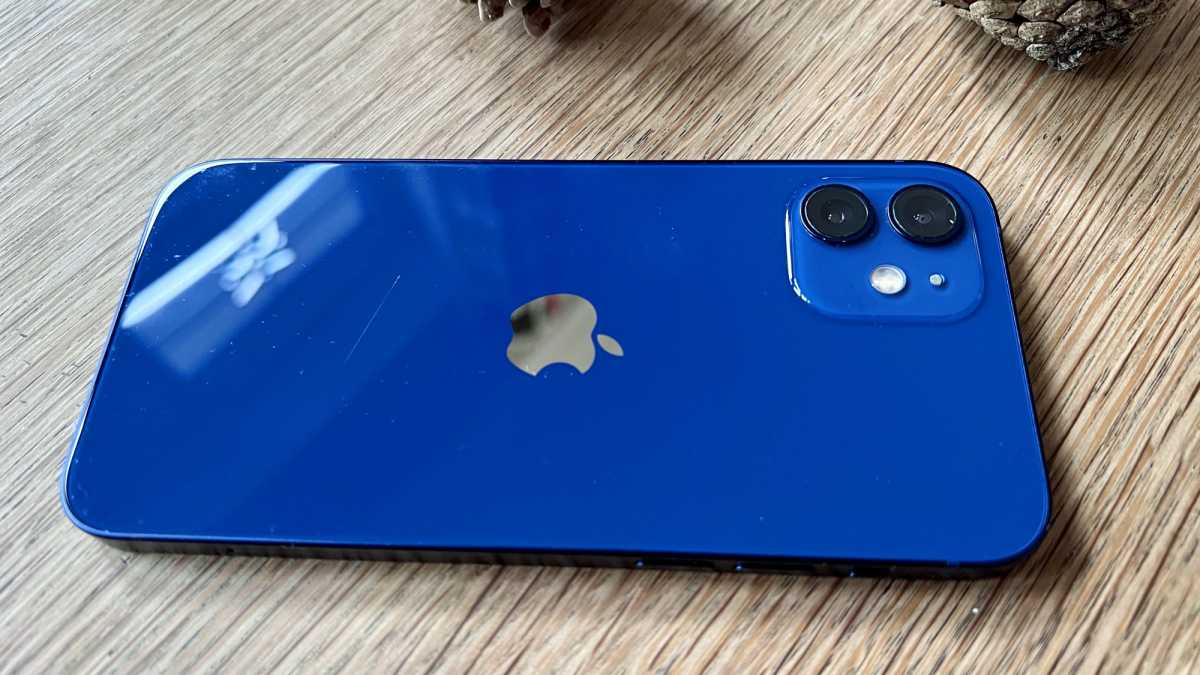 Jim Martin / Foundry
Envirofone also offers a cheaper grade. Its 'fair' condition phones will have "signs of heavy wear to the front, back or sides. This product is fully functional and will have a battery health over 70%."
The best that Envirofone sells is 'pristine', which means "a premium product which has light signs of use and is in excellent working order."
Below is an iPhone 11 in 'pristine' condition, which has only one very small scuff mark on one corner and no other visible blemishes.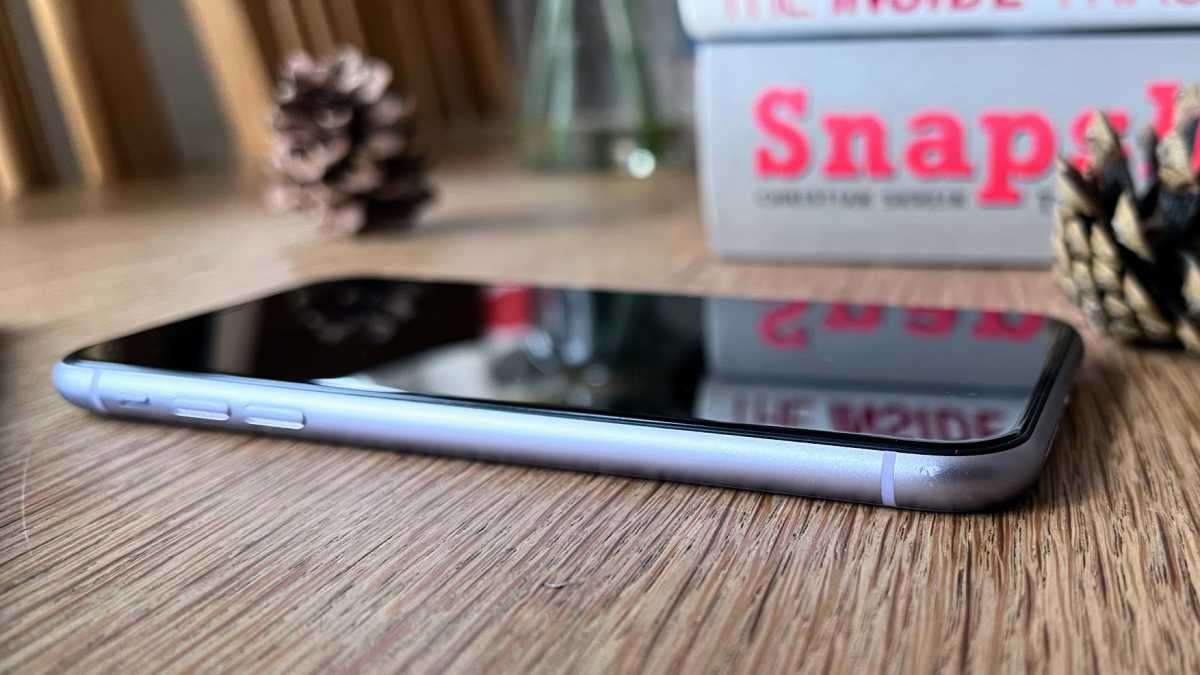 Jim Martin / Foundry
By contrast, giffgaff's best condition is 'like new' which means "Zero wear and tear: these phones look like new with no visible scratches on the screen or body".
Naturally, the prices of a refurbished phones differ according to condition, with 'like new' being the most expensive, and 'fair' being the cheapest.
Most people will be happy with 'good condition' as it's the best compromise: you save more than if you went for a phone with no visible defects, and there shouldn't be any really noticeable damage.
And if more noticeable scratches, scuffs and light dents don't bother you, you can save even more. Once you pop a case on, and perhaps a screen protector, most scratches won't be visible anyway.
In general, you should expect any refurbished phone that isn't in the lowest grade to have a battery health of 80% or higher. This means it has 80% of its original capacity, so will last 80% as long as when it was new.
Why shouldn't I just buy a used phone?
It's a great question. Why not just go on ebay, Facebook marketplace or wherever you usually turn to buy used products?
You may well find a phone on those sites that's cheaper and in better condition than those you find on refurbished phone websites.
But the big difference with a refurbished phone is that you get a warranty with it, or should do. Typically sellers offer a 12-month warranty so if one of the cameras stop working or there's some other problem you can return it and get a replacement.
That warranty won't apply if you drop it and smash the screen, of course, but that's what phone insurance is for.
Sometimes, though, you will see sellers offering extras like this. UR, for example, provides insurance against accidental damage and includes a glass screen protector, SIM removal tool, compostable phone case and a charger with every phone it sells. Yet they're comparable in price with other sellers for the equivalent phone.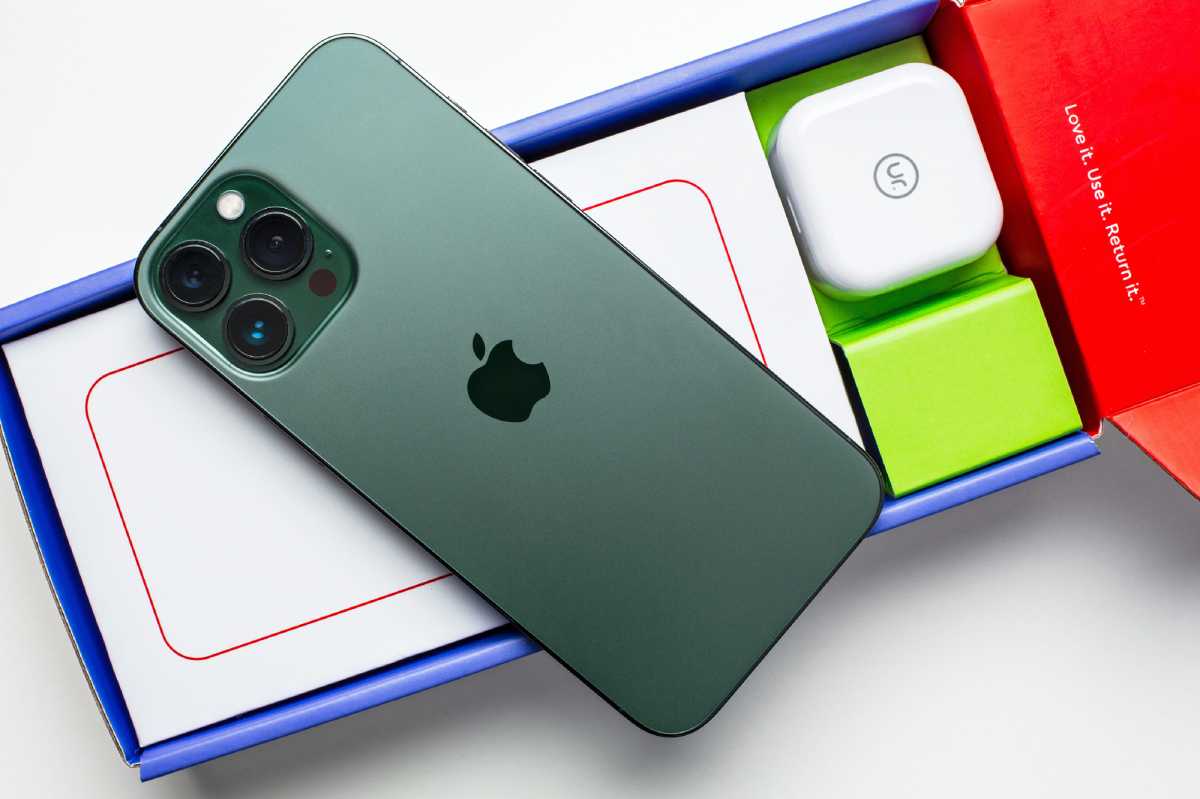 UR
Other sellers, such as Envirofone, include only a charging cable and exclude the charger because you've probably already got one, and shipping more chargers is – as Apple will tell you – worse for the environment.
Because buying a refurbished phone is not a private sale – as it would be if you purchased from an individual on ebay – you have more rights. One important one is the ability to return the phone within a certain number of days, usually a minimum of two week, and get your money back.
This means it is safe to buy a refurbished phone.
Do refurbished phones come with new batteries?
The vast majority don't and there are a variety of reasons why.
One is that putting a new battery in would increase the cost of the phone a lot because of the price of the battery and also the time it takes for someone to replace it.
Unlike the old days where batteries just unclipped from the back of the phone, they're sealed inside and are difficult to get to.
Back Market told us that it is planning to introduce the option to have a new battery installed, at extra cost. So at least you'll have the option.
Do refurbished phones last long?
That's a difficult question to answer. You'll get a warranty with a refurbished phone, so if it becomes faulty you have some comeback until that time is up.
It's impossible to say how long it will continue to work beyond the warranty, but that's the same with a new phone.
However, it is important to understand they are not new phones and have been used by someone already. The battery (if it hasn't been replaced) won't last as long as a brand new one and you also need to remember that if you're buying an older model, it won't get updates from its maker for as long as a more recent phone.
For example, your budget might stretch as far as an iPhone 11. This is a popular choice for a refurbished phone, but as it was released in September 2019, it's already over three years old.
Apple may continue to offer iOS updates for it, but potentially only for another two years.
The situation can be worse for Android phones which typically get updates for only three years anyway. Buy one from 2019 and you could well find it can't be updated to the latest version of Android, and may not get security updates either.
Which refurbished phone company is the best?
There are lots of places to buy refurbished phones, but don't assume every seller is the same, because they're not.
It is always worth reading reviews on TrustPilot, and also the terms and conditions on the website itself. What does the warranty actually cover? Under what circumstances can you return the phone if you're not happy with the condition?
You won't always be dealing with the company that you bought the phone from, either.
Some are actually marketplaces, but you may not notice this. Back Market is one of them, and uses hundreds of different "refurbishers" – independent companies that check over phones and grade them independently, although always using the same guidelines from Back Market to ensure they meet the same standards.
Back Market
When you look at a listing on Back Market, you can see who the seller is at the bottom, and you're still covered by a 12-month warranty regardless of who's selling it.
It's a similar situation with Amazon Renewed and ebay. Neither Amazon nor ebay refurbish phones. Instead, they work with companies that do, and those companies will send you a phone and provide the warranty.
In all three cases: Amazon, ebay and Back Market, you can speak to the in-house customer support teams if you need help resolving any issues. But it's worth bearing this in mind when buying from these marketplaces.
For more, read our guide on where to buy a refurbished phone.
We've also rounded up the best refurbished phone deals we can find which will save you the most on an iPhone 12, iPhone 11, Samsung Galaxy S21 and more.
Related stories