At a glance
Expert's Rating
Pros
Craft ice
UVNano water and ice dispenser
635 litres of storage
Cons
Needs to be plumbed in
Manual humidity slider
Will be pricey to run
Our Verdict
This phenomenal fridge freezer has a host of brilliant features, from a self-sanitising water and ice dispenser, to a luxury ice maker, to smart features and the InstaView Door-in-Door, which lights up when you knock. But bear in mind that you'll need to have it properly plumbed in, so you'll need to have the right spot for it.
Price When Reviewed
Not available in the US
There's so much going on with the new LG InstaView Door-in-Door American Style Fridge Freezer (GSXV90MCDE) that it's hard to know where to start.
Let's kick off with some of its main features.
Key features
Door-in-Door InstaView
Self-sterilising UVNano water & ice dispenser, plus Craft Ice
Fresh Balance drawer and Fresh Zone
It's a matt black American Style fridge freezer, which means a double-fronted appliance. The fridge is on the right-hand-side and there's a slimmer freezer on the left.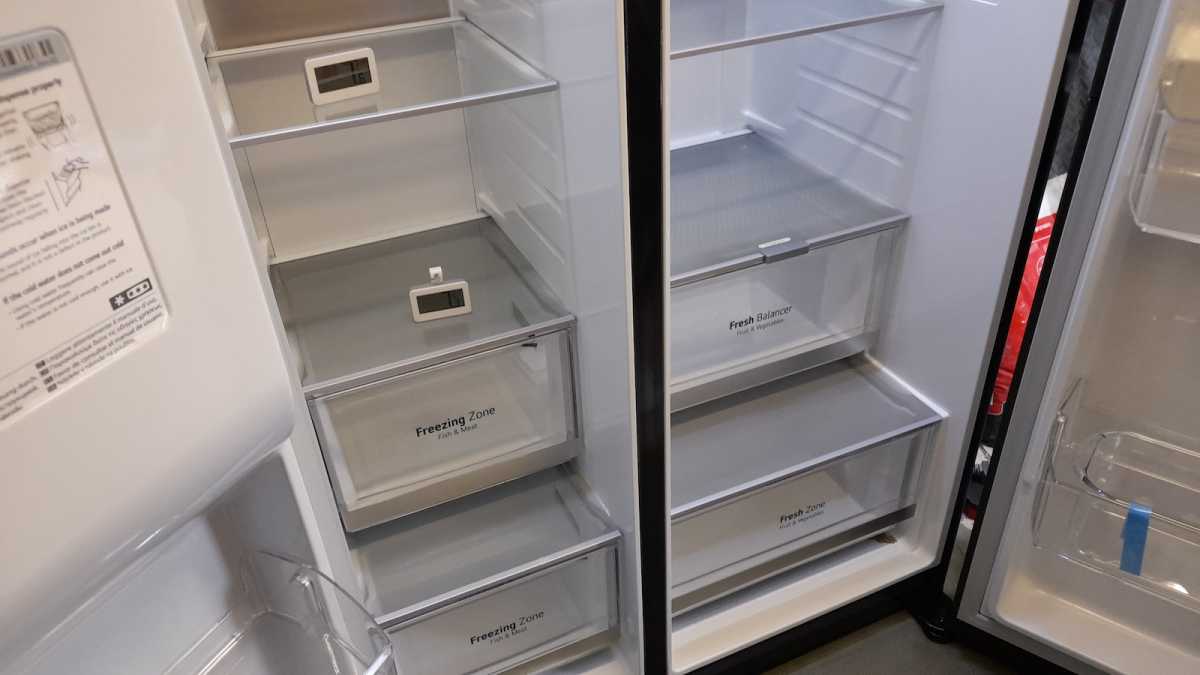 Alex Greenwood / Foundry
Both the fridge and freezer boast several fascinating features.
The standout features for the fridge are that the fridge door has both "InstaView" and "Door-in-Door".
InstaView means that the top half of the fridge door is responsive diamond glass. When you knock on this glass twice, the internal fridge lights will illuminate, so you can see what is in your door balconies, on your wine rack and on the glass shelves in the top half of your fridge.
Door-in-Door means that InstaView panel itself opens to allow you access to the door balconies without opening the full-length door. Think of the setup as a bit like a porch or a screen door to the main fridge door.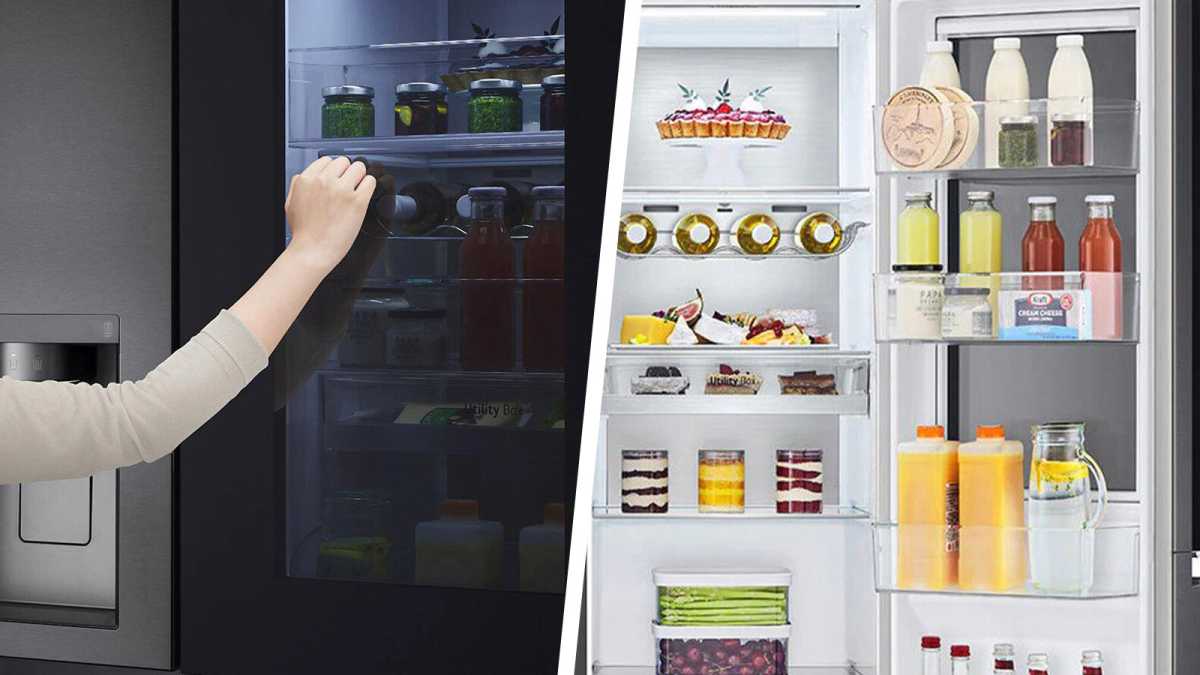 LG
Other fridge features are the wine rack, the adjustable humidity fruit and vegetable Fresh Balance drawer, the Fresh Zone fruit and vegetable drawer, the utility box, and the deep and wide door balconies.
The standout features of the freezer are its UVNano water and ice dispenser in the door, which dispenses both cubed and crushed ice. There's also a Craft Ice maker, which makes round ice balls. Not only does spherical ice look good, but it slows dilution, so ice balls are a great option for iced coffee and drinks on the rocks.
The UVNano feature for the water and ice dispenser is a little stroke of genius. Basically, it employs a UV light to sterilise the dispenser mechanism for ten minutes every hour, so you don't risk bacterial build-up.
The freezer is capacious with shelves and two Freezing Zone drawers for meat and fish, and two door balconies.
The entire appliance works off an LG Inverter Linear Compressor that has a ten-year warranty, reduces energy consumption by up to 18%, and is quieter than a traditional compressor.
The fridge freezer employs NatureFresh: a combination of LG's LinearCooling, which reduces temperature fluctuations, and DoorCooling+, a system that keeps goods stored in your doors colder and fresher through a vent at the top front of the fridge. Both the backs of the fridge and freezer compartments also have Metal Fresh panels.
And in spite of all that tech, there's a total storage capacity of 635 litres.
But what is it like to have one in your kitchen?
Design and appearance
H: 179cm, W: 91.3cm
Needs to be plumbed in
Flat-backed
Large, square and squat, this fridge freezer has a substantial presence, so you will need to think carefully about how it will work in your kitchen. You'll need a contemporary design theme and a colour scheme that will work with a significant span of flat black metal and glass.
It's tall at 179cm, but not massively so; it's not going to graze your kitchen ceiling or make it impossible for shorter users to reach the top shelves.
With the right backdrop, this appliance will look tremendous; if you get it wrong, it's going to look like a jarring anachronism, as though an alien just beamed a food synthesiser into a medieval pantry.
As this model need to be plumbed in for the water and ice dispenser, and Craft Ice maker, it would work best as part of a complete kitchen renovation, unless you already have a plumbed-in appliance of similar dimensions you want to replace.
There's a top-anchored power cord of roughly 205 cm too, largely because the appliance has a flat back. We love flat-backed fridge-freezers because dust bunnies cannot then lurk and accumulate in open cavities in the appliance shell.
Both doors open from recessed handles in the middle. The InstaView panel opens by means of a lever in the right-hand recessed handle. They are substantial doors with a good weight balance. We found it impossible to bounce them open, and the InstaView pane door is tough. We can't really see how you could damage it in any way.
Though the appliance has wheels, be warned: it weighs about 137kg (21.6 stone), so you may find you have to pay more for delivery.
Operating volume
LG states the operational sound of this appliance is 36dB, which is faint noise, roughly the sound of a whisper, and is very low for an appliance of this type. Obviously, water and ice dispensing will be louder, but we were extremely impressed by the quietness of the Inverter Linear Compressor. We couldn't hear any discernible sound from it at all.
There is a door alarm that sounds when you leave the door open: three sets of two perky pings with a reasonable space between them.
Energy consumption
LG has obviously worked hard at getting energy consumption lower in this new model. It falls into Energy Class E, and LG states that total annual energy consumption is 350 kWh/pa.
Noticeably, this is lower than an older InstaView Door-in-Door American Style Fridge freezer model we reviewed, which was Energy Class F with 376 kWh/pa for 601 litres of storage. Here, we have an appliance that requires 350 kWh/pa for 635 litres of storage, whilst also operating its water dispenser and ice makers through a plumbed in line.
We thought the older model was an eco-standout; this model is even more so – given its size and feature set. Still, this is a large appliance and it's going to be expensive to run.
Control panel and ThinQ app
The easy-to-reach touchscreen control panel sits on the right-hand side of the fridge internal cabinet. At the top are two illuminated temperatures for the fridge and the freezer. Below that, there are six touch points with a primary function, and four also have a secondary function that requires a three-second press to activate.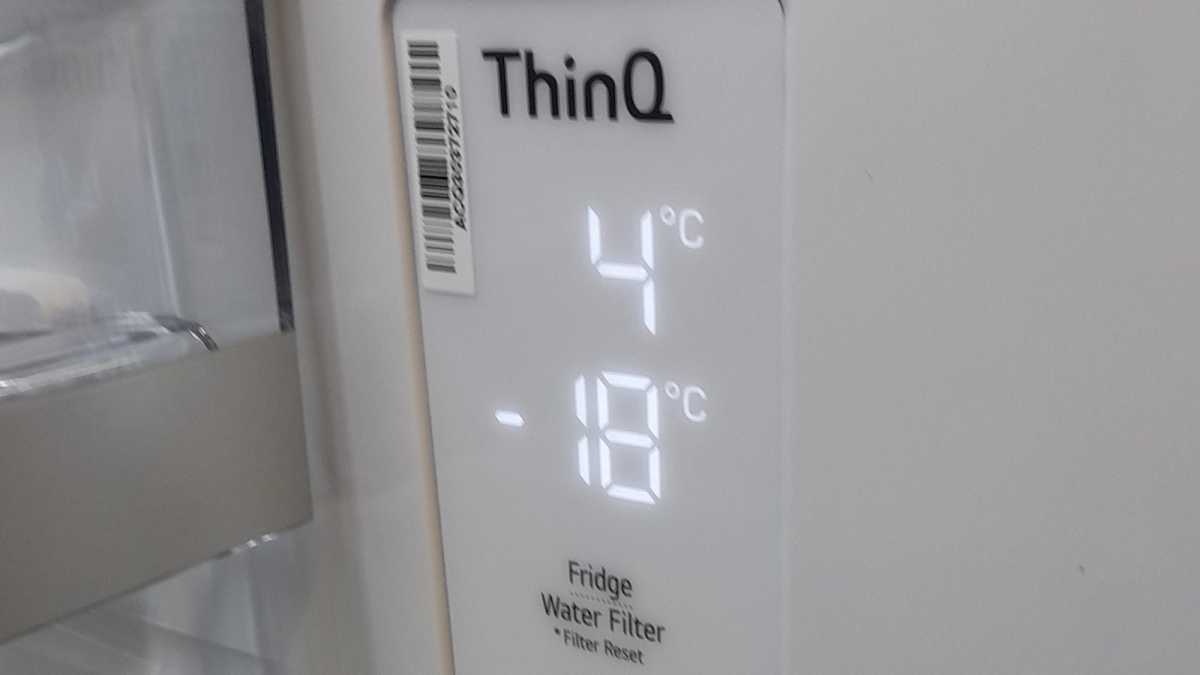 Alex Greenwood / Foundry
You set the fridge temperature by pressing the fridge button. You can set it between 1°C and 7°C, and you need to cycle through the numbers digitally. To reset the water filter indicator, you hold the same button for three seconds.
The same goes for the Freezer button, which allows you to set the temperature between -23°C and -15°C. If you press this button for three seconds, it will activate Self Care, which you use to manually set off the UVNano feature.
Then you have the Craft Ice button. You use this to turn craft ice on or set whether you want one batch of three ice balls every 24 hours or two batches. A long press of this button will activate the Wi-Fi so you can connect to the LG ThinQ app.
Next, there's the Express Cool function, which quickly cools large amounts of food. Express Freeze does the same for large amounts of ice or frozen food, and a long press of this button turns the SpacePlus ice system on or off.
Finally, there's a lock button, which will lock all your chosen settings.
A point to note is that there is no holiday mode on this appliance. Still, thanks to the ThinQ app, you can adjust the temperature remotely.
The app, which is easy to use, free and available for both Apple and Android, will also send you alerts, monitor everyday maintenance issues (like when you need to change the water filter) and track the appliance's energy usage. If you're particularly organised, you can use the food monitor function to track the life of specific food items you've bought. However, we think that for most people, this will be more effort than it's worth.
Warm up and cool down
We couldn't find a formal chill retention time and the fact that it's been pretty cold made it hard to test how long the fridge and freezer would take to warm up in the event of a power cut.
We were able to test the cool down time. Bearing in mind that the temperature was on our side, it took just an hour for the fridge to reach 3°C and the freezer to reach -18°C. The chilly air that vented through both the fridge and freezer as we conducted our tests was both noticeable and glacial.
Interior lighting
The lighting in this appliance is at the top of the internal cabinets. The fridge boasts a 30cm by 3cm soft LED strip, and the InstaView "knock" also triggers a second 24.4cm by 2cm strip at the top of the door, ensuring that the balconies are not in shadow. A 16cm by 3cm soft LED lighting strip illuminates the freezer cabinet. Visibility is excellent across all zones of the fridge and freezer; there are no hidden dark corners.
Fridge capacity
You can fit 416 litres of shopping in the fridge, which works out at 22 to 26 bags of shopping, depending on your grocery retailer. You get four non-adjustable glass shelves with a metal trim, one chrome wine rack with four notches, and three specialist drawers.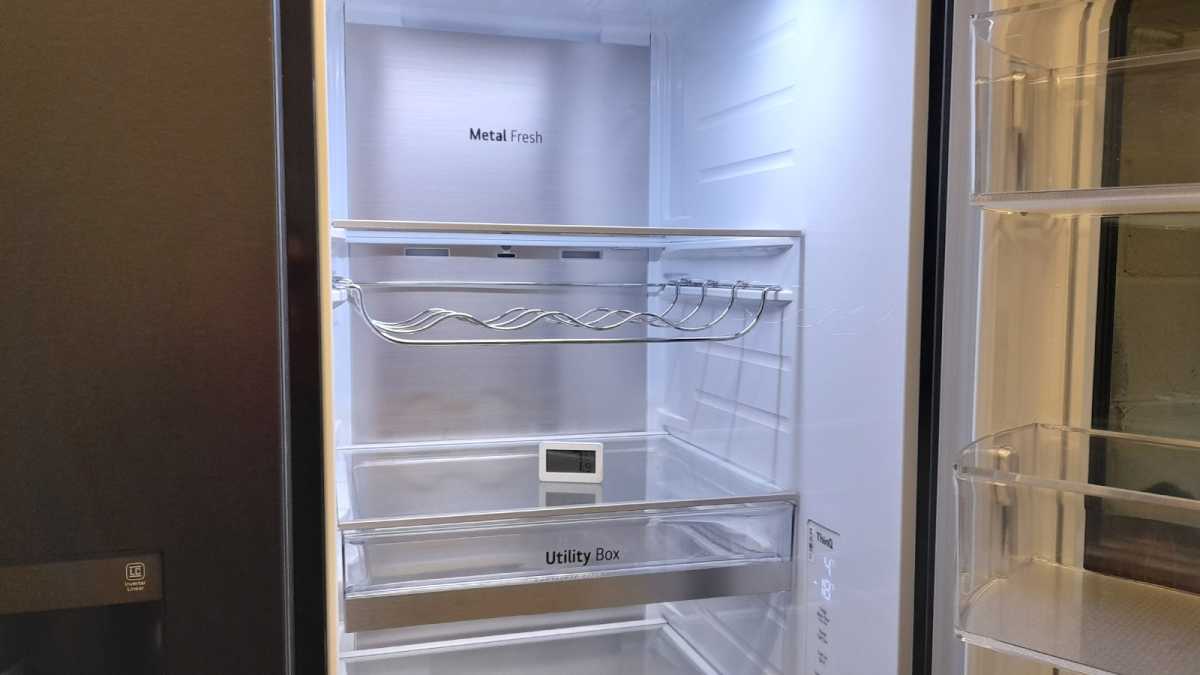 Alex Greenwood / Foundry
The first of these drawers is the mid-cabinet utility box that holds roughly 9.5 litres of shopping. A shallow drawer at 7cm deep, it would be ideal to store snacks, dairy products, charcuterie, dips or prepared dishes.
At the bottom of the cabinet, there are two fruit and vegetable drawers. The uppermost is the Fresh Balancer drawer that holds 24 litres and boasts a manual humidity slider for either fruit or vegetables.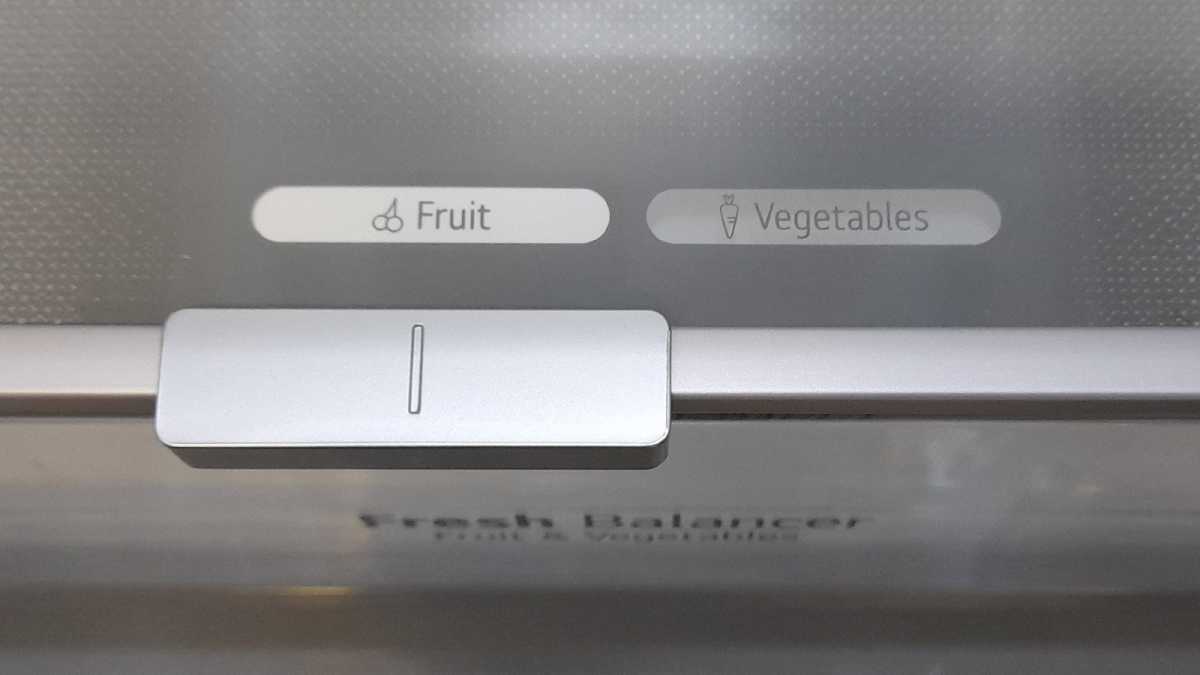 Alex Greenwood / Foundry
We are always a little surprised by manual sliders at this appliance price point, but considering the host of features this fridge freezer has, it's not a sticking point. The lower drawer is the 31-litre Fresh Zone, which is a huge amount of storage capacity for a vegetable drawer.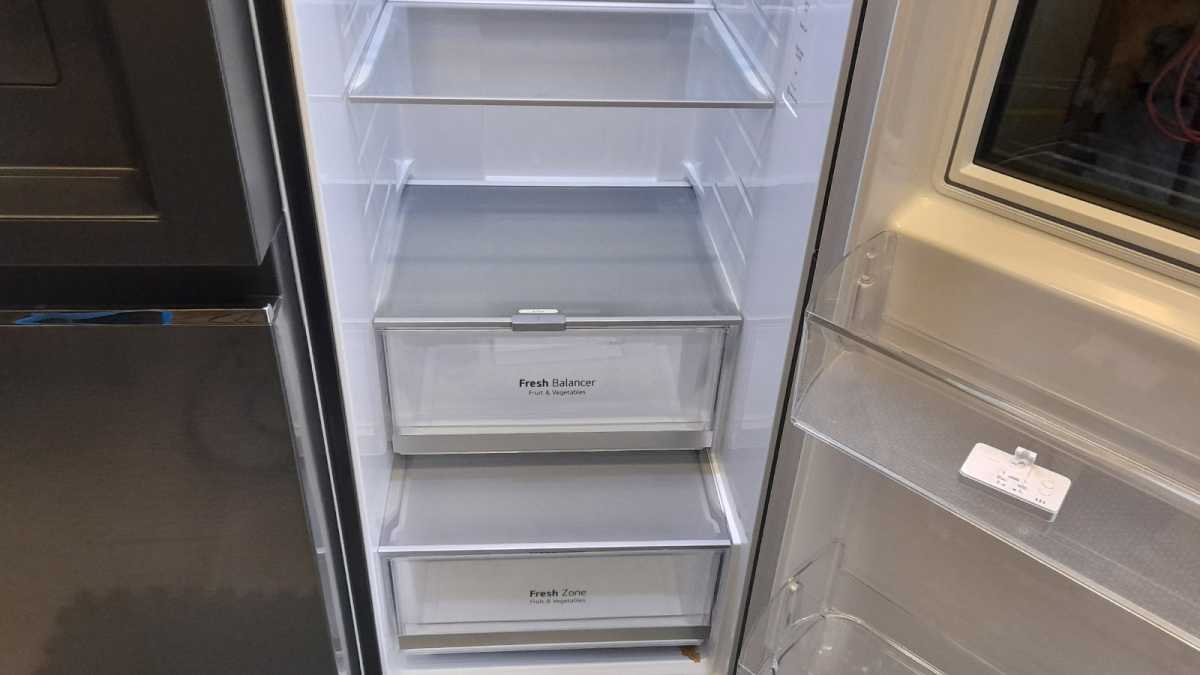 Alex Greenwood / Foundry
Interestingly, there are no egg trays with this LG model. That is not particularly surprising, considering hardly anyone uses them anymore, but LG does make up for it by supplying a 31 cm by 12 cm by 9cm transparent fridge organiser, which we think would be rather good for pickle and chutney jars.
Door storage
The fridge door is almost a mini fridge in itself. The capacity, visibility and easy accessibility of the fridge door balconies is what marks this appliance out from other brands.
There are four door balconies: every one of them is 40cm long and 10cm deep. The widths change though: the upper two are about 18cm wide, the third one down about 15cm wide, and the lowest is about 20cm wide. All in all, you are looking at a storage zones of between 600 cm2 to 800 cm2.
The top three balconies are viewable and accessible through InstaView and Door-in-Door. Unlike previous Door-in-Door LG models where it was easier to load these balconies through the Door-in-Door feature, the backs of these balconies are open to access from the main fridge cabinet in the traditional manner, and you can even reach over them through the Door-in-Door to pluck items from the fridge shelves and the wine rack. However, you can only access the lowest balcony by opening the main fridge door.
In real world terms, these balconies hold an extraordinary amount. The lowest two racks hold four supermarket four-pinters with room at the front, as does the top balcony – though you will have to tilt the bottles to get them out through the Door-in-Door. The second balcony from the top has less height but enough space for a whopping eighteen 250ml bottles.
Freezer
The frost-free freezer holds a mighty 219 litres, roughly twelve bags of shopping. The freezer cabinet is slimmer than the fridge cabinet, but the open aspect of the internal design gives the space an airy feel.
There are three glass freezer shelves with good height, and two Freezing Zone drawers for meat and fish: the upper one holds about 17 litres and the lower 15 litres. Added to this, there are two door balconies below the SpacePlus ice system: each one 17cm long by 17cm wide with a depth of 7cm.
This particular model requires plumbing in, and this means you needs a cold-water supply with water pressure between 138 kPa and 827 kPa. A qualified plumber also needs to install the water line in according with local legislation and regulations governing water quality.
You'll need to flush the water dispensing system before using any of the water; you should discard about seven cups. The SpacePlus ice maker takes about 48 hours from initial installation to produce ice, and LG also suggests that you throw away the first 20 cubes.
LG states that the SpacePlus ice maker will make between 70 to 182 ice cubes within a 24-hour period, depending on conditions, but so long as you have ice in the bin, you can use the dispenser to give you cool water, cubed or crushed ice whenever you want. To switch between the three, you simply press the appropriate icon on the top of the dispenser.
Also, do remember this dispenser has UVNano, which using UV light to reduce bacteria from the water nozzle by up to 99.99%.
The craft ice maker is at the top of the freezer cabinet, and again the appliance takes 48 hours from initial installation to begin to produce ice.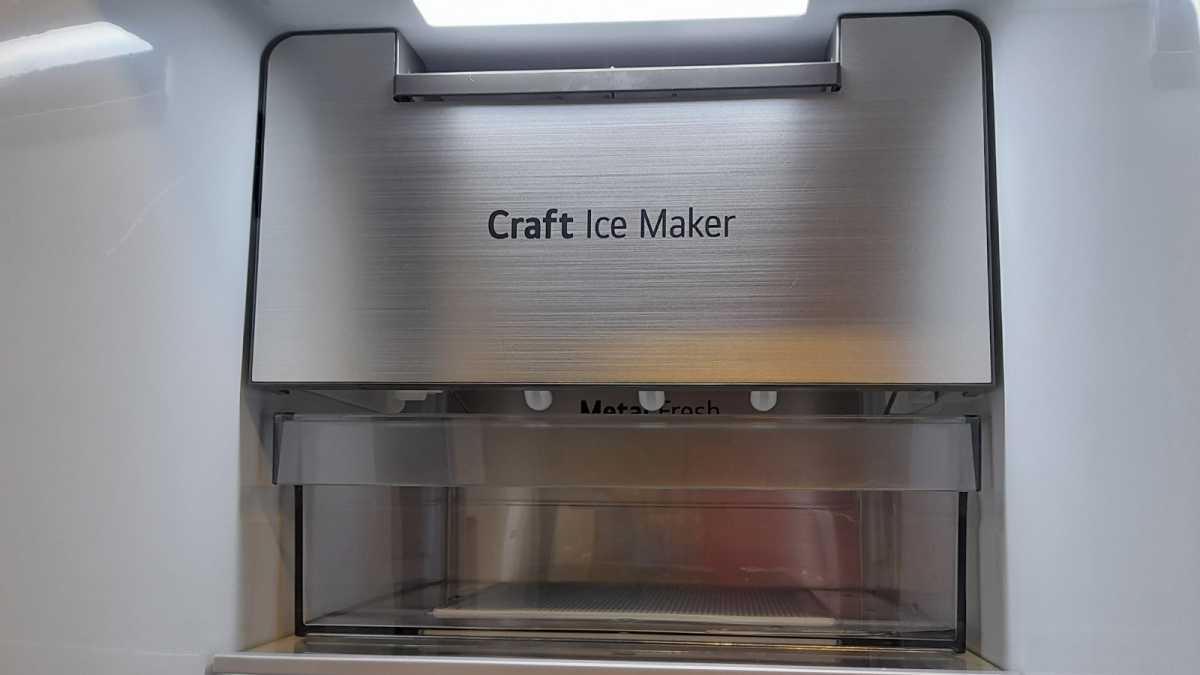 Alex Greenwood / Foundry
The craft ice process is far slower than the SpacePlus system in the door. You can choose 3ICE or 6ICE with the Craft Ice touch point on the control panel, and this will either make three round and clear ice balls every 24 hours, or six more cloudy ice balls. These ice balls then fall into the ice bin, which itself stores between twenty to thirty pieces of ice.
Price and availability
This model is not available in the US. However, you can buy a similar LG appliance, with all the same features: the 28 cu ft Smart InstaView Door-in-Door Double Freezer Refrigerator with Craft Ice.
In the UK, the GSXV90MCDE has an RRP of £2,799.98. However, it's available from LG for £2,399.98. AO.com has an even better price (£2,299), so we'd suggest comparing prices from different retailers before you buy.
LG has a range of American style fridge freezers with InstaView and Door-in-Door, some with water tanks so you don't have to plumb them in, and there are some very good deals on at the moment. Okay, some of the less expensive models do not have the Craft Ice function, and the range can be tricky to navigate online, but we think it's worth it to find what will work for you and your home.
Verdict
This new LG InstaView Door-in-Door fridge freezer is one of those appliances with quirky fun features that could initially seem a touch gimmicky. But we think that over time, those features will have a massively positive impact on your day-to-day quality of life. This is an appliance that is a joy to use, and the engineering that has gone into the build is excellent.
For more fridge freezer options and to see what we recommend, have a look at our round up of the best fridges and fridge-freezers we've tested.