At a glance
Expert's Rating
Pros
Impressive OLED display
Solid battery life
Decent audio
Cons
Poor performance
Plain design
Lacking ports
Our Verdict
On paper, the Vivobook 13 Slate OLED is a great affordable alternative to Microsoft's Surface Pro. But its sub-par performance will frustrate you every day, and that alone makes it hard to recommend.
If you're on the lookout for a new Windows 2-in-1, there's more choice than ever in 2022.
Microsoft's Surface Pro is the obvious option, but the company also makes a more affordable version – the Surface Go. Huawei's MateBook E sits somewhere in the middle, but the likes of HP, Dell, Lenovo, Acer and Asus all have versions of their own.
The latter takes a two-pronged approach to Windows 2-in-1s, with the business-focused ExpertBook B3 Detachable joined by a device aimed squarely at consumers.
It's known as the Vivobook 13 Slate OLED, and undercuts the Surface Pro on price despite including a keyboard and stylus. But does that mean you should buy one instead? Unfortunately not, as I'll explain in this full review.
Design & Build
Plain, basic design
Solid webcam and fingerprint sensor
Not enough ports
If I were to use one word to describe the Vivobook Slate's design, it would be understated – and not in a good way. The combination of plastic, glass and aluminium is something we've seen on tablets many many times before, but Asus is clearly prioritising function over form.
Dominik Tomaszewski / Foundry
It certainly still feels premium and durable, despite the tablet itself weighing only 780g. That becomes significantly heavier when you connect the cover and keyboard, of course.
Those accessories are the only way to add even a hint of colour. The Vivobook Slate is only available in black, although there are two special edition sleeves if that's important to you.
However, there is one design element you'll immediately notice – a silver metal strip which extends across the top when used in landscape mode. It adds some useful grip when holding the tablet, but Asus has used it as an opportunity for some unnecessary branding. You can 'wow the world' as a 'cultural originator', apparently.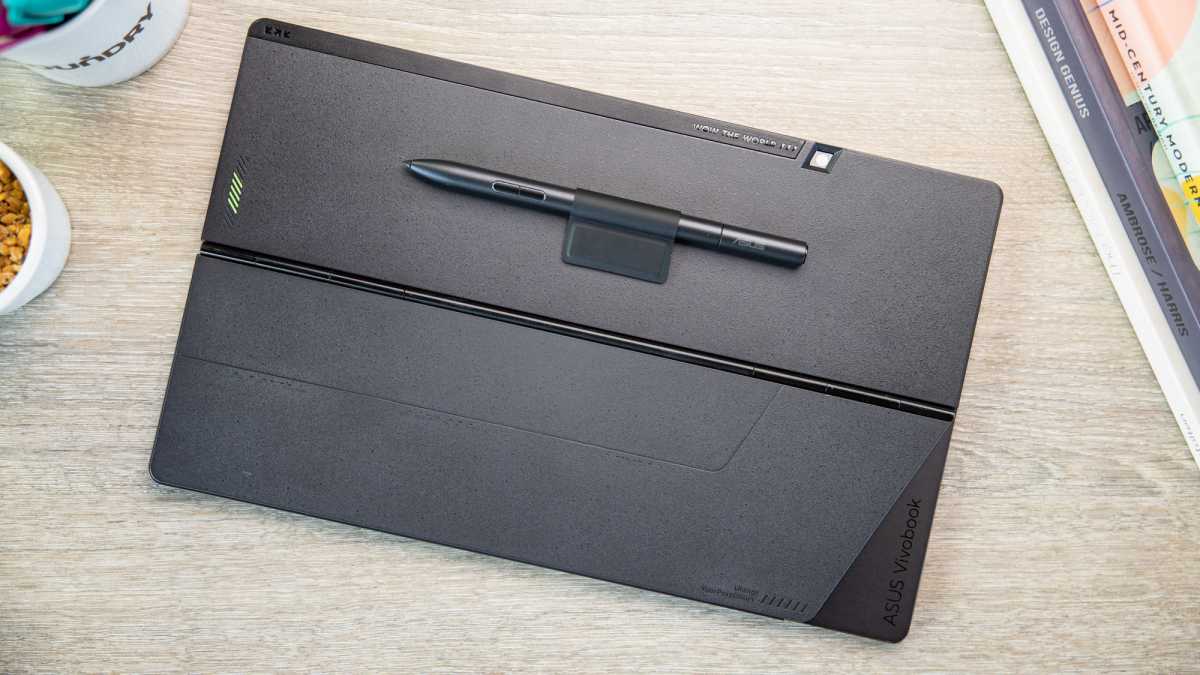 Dominik Tomaszewski / Foundry
This does at least sit flush with the back of the device, and means the 13Mp rear camera doesn't stick out in the same way as some tablets. But low image quality means it's only useful for document scanning or the occasional reference photo.
Of course, that 5Mp front-facing camera is far more important. Its crisp 1080p footage is better than your average webcam, but still very dependent on good lighting conditions. Alongside a decent microphone, it's a solid option for video calling.
They're housed within some thick bezels, which make the Vivobook Slate feel more dated than it actually is. Asus hasn't used this to include front-facing speakers, although it is still comfortable to hold without obscuring the screen.
There's also support for Windows Hello face unlock – you'll be relying on the fingerprint sensor built into the power button instead. It's easy to set up and generally reliable, but certainly not the fastest around.
The Vivobook Slate is only 7.9mm thick, so there's limited room for ports. Including 2x USB-C, a microSD card reader and a 3.5mm audio jack is more than can be said for many tablets, but I was hoping for better. If you want to use this to get work done, you'll probably need an adapter or hub.
Accessories
Basic back cover doubles as kickstand
Impressive keyboard
Not the best stylus experience
Of course, it's the accessories which can transform from a content consumption device to one which can be used for productivity. Asus has recognised that, including a back cover, keyboard and stylus in the box with the Vivobook Slate.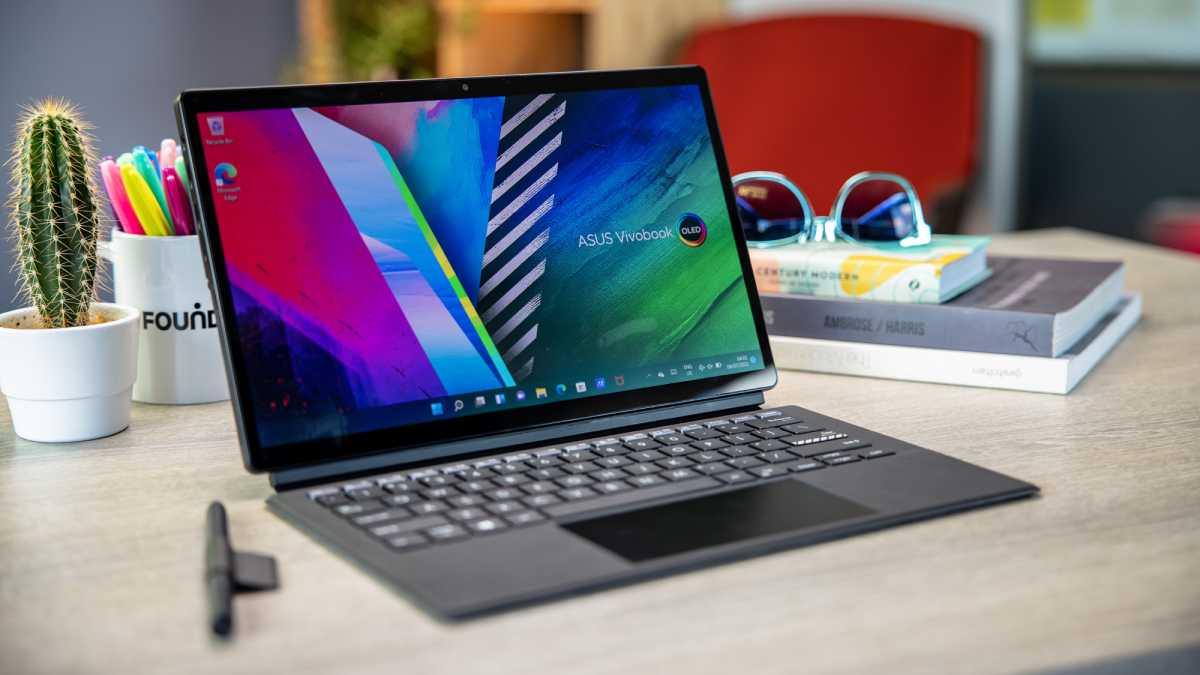 Dominik Tomaszewski / Foundry
The cover adds an extra layer of protection to the back of the device, but it certainly doesn't feel fragile without it. Instead, you'll want to use it for the kickstand, which allows you to use the device hands-free.
It works as advertised, but weak magnets mean it can easily slip off when you're adjusting the angle. A stand that's actually built into the back of the device (as you'll find on Surface tablets) is a much better option.
Fortunately, the keyboard accessory is much more successful. It connects seamlessly via pins on the bottom of the tablet, avoiding the need to always have Bluetooth turned on.
A 13.3in display means there's plenty of room for a full-size keyboard, with 1.4mm of travel delivering a convincing typing experience. It can't rival a full laptop experience, but I could comfortably use it for long typing sessions with no issues.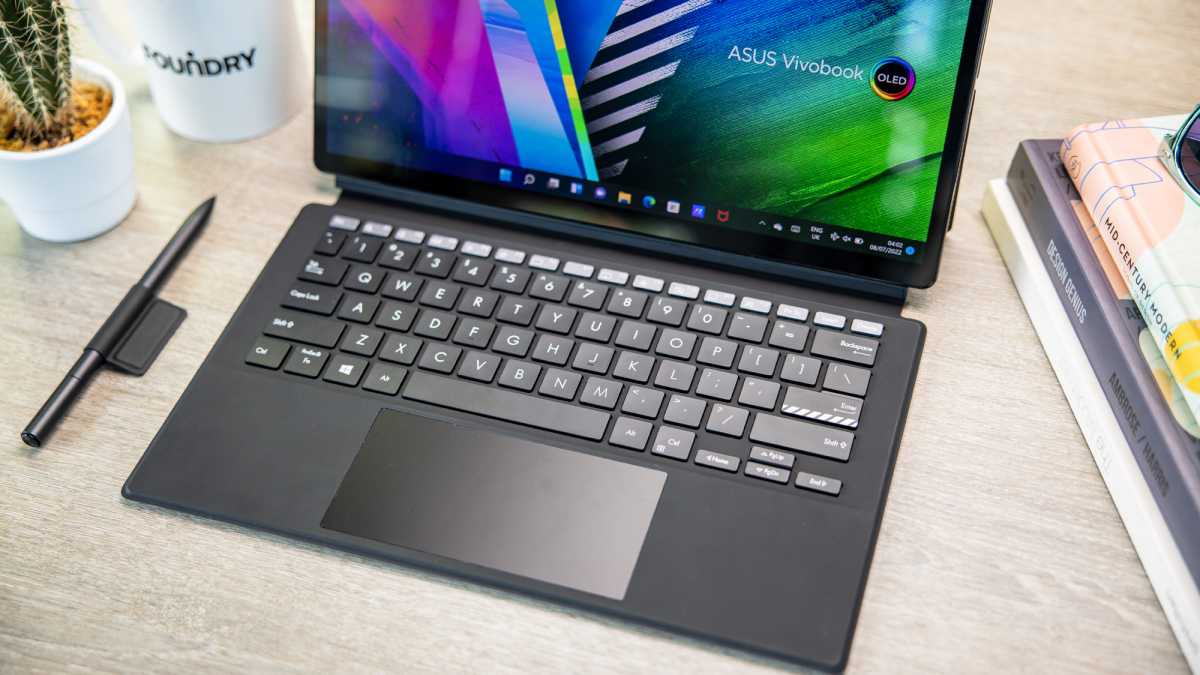 Dominik Tomaszewski / Foundry
My only complaint here is that the keys aren't backlit, so you'll struggle to make them out in darker environments. But that's certainly not a dealbreaker for a bundled accessory.
A soft-touch rubber coats almost all the keyboard, making it a comfortable place to rest your hands. The only exception is the large glass trackpad, which offers a useful alternative to tapping on the screen.
It supports the full range of Windows 11 gestures and shortcuts, but there were enough unintentional clicks during my testing time to make it frustrating. For anything more than casual use, I'd highly recommend connecting a mouse.
There's one other input method available, of course – stylus. The second-gen Asus Pen is included in the box, offering a useful alternative for note-taking or digital art.
Asus says it offers the same 4096 levels of pressure sensitivity like most digital pens, but the main problem I found was latency. There's a noticeable delay between moving the pen and it displaying on the screen – enough to make you wonder if it's registered at all.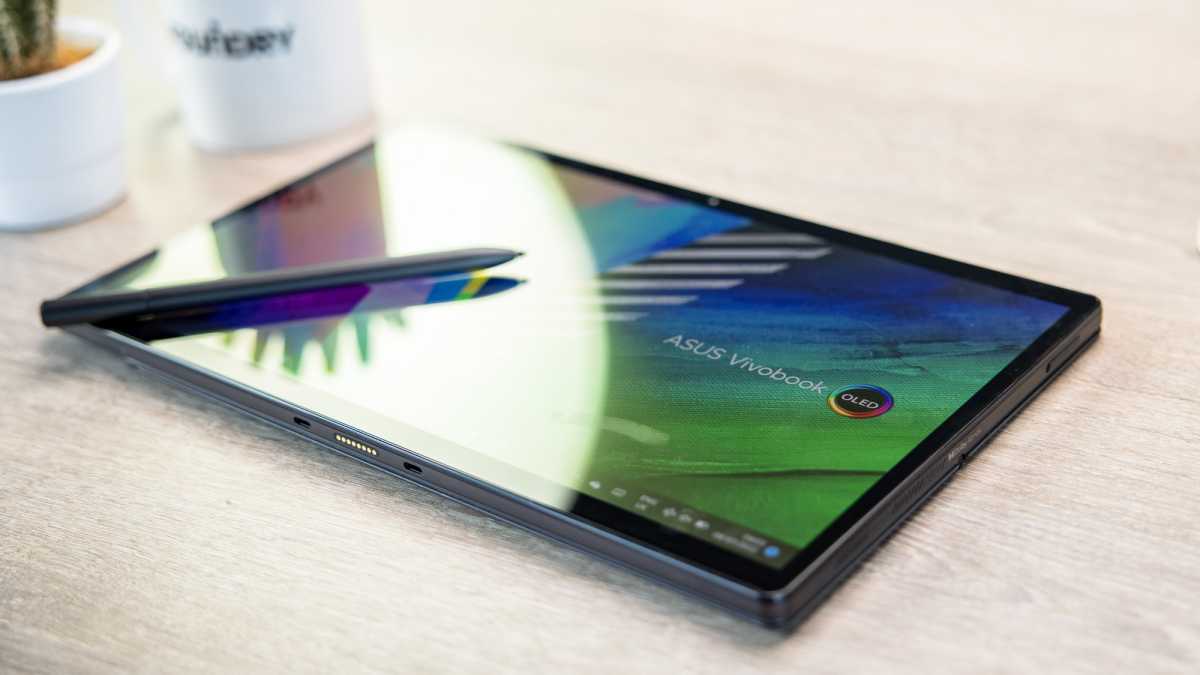 Dominik Tomaszewski / Foundry
This feels a long way from the pen-on-paper like experience many companies strive for, but it's still a useful accessory to have around. Charging via USB-C is quick and pairing is easy, and I have no reason to doubt Asus' claim of over 140 hours of battery life.
Screen & Speakers
Excellent 13.3in OLED touchscreen
Doesn't get very bright
Above-average speakers
The display is undoubtedly the highlight of the Vivobook Slate. It's a 13.3in, Full HD touchscreen panel, but the key feature is in its name.
Most tablets and laptops at this price point opt for LCD screens, but Asus has gone for OLED instead. The viewing experience benefits as a result, with rich, vibrant colours and deep blacks. That's particularly apparent when watching videos or scrolling social media, but it's nice to have all the time.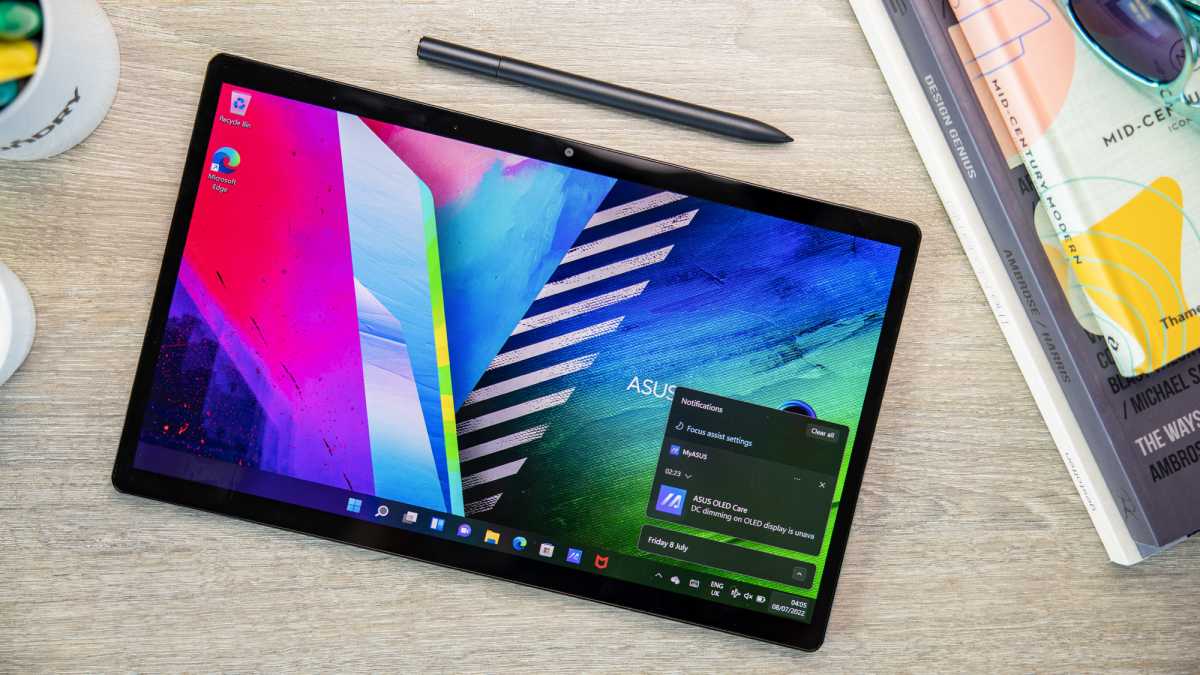 Dominik Tomaszewski / Foundry
Internal testing backs that up, suggesting it covers 98% of the sRGB colour gamut, 74% of AdobeRGB and 73% of DCI-P3. Not bad at all.
But brightness is more of an issue, hitting a maximum of 343 nits according to the SpyderX calibration tool. It's fine for most indoor environments, but you may struggle using it on a sunny day outside. A reflective screen that's prone to glare certainly doesn't help.
You might be wishing for a higher resolution, but I don't feel that's necessary. The 1920×1080 resolution delivers plenty of detail and clarity, plus the traditional 16:9 aspect ratio that's beginning to be phased out.
While Asus decided against front-facing speakers on the Vivobook Slate, the quad stereo setup here still packs a punch. Their position on either side means sound is firing either side of you, but I was impressed with their quality.
Audio is clear and crisp, with minimal distortion even at high volumes. That makes it particularly suited to voice-based content or simple music tracks, with a lack of bass very apparent on some songs.
Specs & Performance
Basic Intel Pentium Silver processor
Underwhelming performance
Worth paying more for 256GB SSD
If you're familiar with laptop CPUs, a look at the Vivobook Slate's spec sheet may have started alarm bells ringing. It uses the Pentium Silver N6000 chip, a 2021 processor which sits some way below even the Core i3 in Intel's lineup.
You'd usually expect it to power budget devices, so it's a surprise to see it in a device that's significantly more expensive. Asus has paired it with the classic UHD integrated graphics and 8GB of RAM (optional 4GB in the US) in an attempt to ensure performance is still strong, but unfortunately that's not the case.
The Vivobook Slate is certainly unsuitable for demanding tasks such as video editing or gaming, but I also noticed some slowdown during basic tasks. Everything from navigating settings to opening apps takes longer than necessary, with freezing common when you try to do more than one thing at a time.
As a result, the device isn't a good choice for multitasking. Using two or more apps side-by-side isn't an enjoyable experience, particularly if you need to quickly move between the two.
It's not totally unusable, but you'll want to focus on one task at a time and be more patient than you might be used to. Sadly, this will be a dealbreaker for many people, and it's reflected in the benchmarks below:
This doesn't include the likes of the 2022 iPad Air or Samsung's Galaxy Tab S8, which vastly outperform the Vivobook Slate on Geekbench 5.
The cheapest model of the Vivobook Slate gets you just 64GB of eMMC storage in the US. That's doubled to 128GB in the UK, but most people should step up to the 256GB model, which also uses the faster SSD standard.
The prevalence of external hard drives and cloud storage means this should be enough for most people. But many rivals are more generous in this regard.
Software & Apps
Windows 11 Home out of box
S mode on cheapest model
Few Asus-specific tweaks
Better suited to tablets than before
That entry-level Vivobook Slate runs Windows 11 Home in S mode, but you can easily swap it out for Windows 11 Home after it arrives. It's what you'll find on the more expensive configuration I tested, and means you're not limited to app downloads from the Microsoft Store.
Once that's taken care of, the software experience is almost identical to what you'll find on Microsoft Surface products – there are no big visual changes from manufacturers like on Android.
Dominik Tomaszewski / Foundry
In fact, the only additions I noticed were MyAsus and ScreenXpert companion apps, McAfee antivirus software and a custom wallpaper. All four can easily be ignored with no adverse effect on the user experience.
Windows 11 is still very much designed for cursor and keyboard, where it feels much more accomplished and intuitive than when it first launched. But Microsoft is also taking steps to improve the experience on tablets, and it's now a realistic option for touchscreen devices like the Vivobook Slate.
I still wouldn't recommend one over an iPad for pure content consumption, but Windows 11 is undoubtedly the better OS for getting work done. There's a slight learning curve if you're coming from Windows 10, but it won't take long for most peple to get used to.
The Vivobook Slate looks set to receive updates throughout Windows 11's lifespan, which may last up to a decade. Newer devices will be prioritised, but you won't be waiting long after a new version is released.
Battery Life & Charging
50Wh battery
Delivers solid battery life
65W fast charging
The Vivobook Slate is equipped with a 50Wh battery. Asus claims that'll get you around 9.5 hours of battery life, suggesting a full working day is within reach for most people.
That figure based on 83% brightness, close to the 81% I set it to for our 720p video loop battery test at 200 nits. It lasted a respectable 11 hours and 6 minutes without any battery saver mode – letting Windows 11 turn this on at 20% (the default setting) will prolong it even further. Curiously, the device only lasted 9 hours and 58 minutes during the same test at 120 nits.
Still, I'm confident most people will be able get a full day's work done and have charge to spare. But it'll be close for some, so I don't recommend being far from a power supply.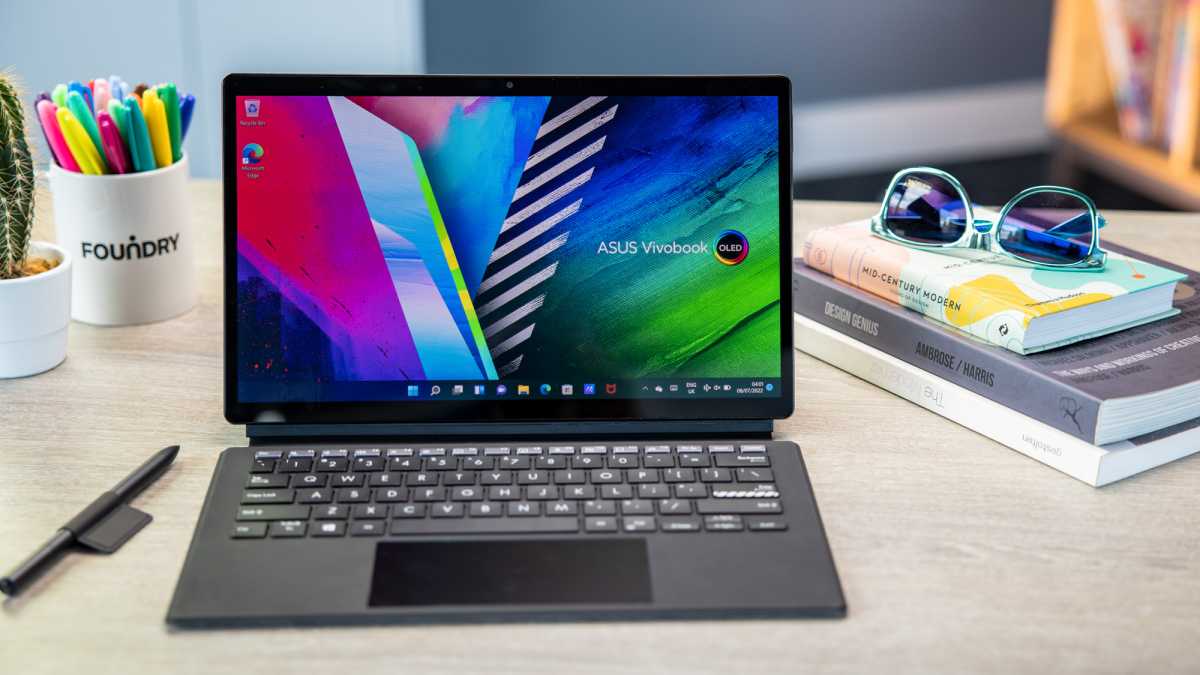 Dominik Tomaszewski / Foundry
When you do run low, the 65W USB-C fast charger included in the box will soon get you back up and running. I recorded 15% in 15 minutes and 44% in half an hour from off, with a full charge taking less than two hours.
The device also supports a wide range of portable power banks, even though it won't be as fast. Just make sure you get one which is compatible with Asus' USB-C Easy Charge tech.
Price & Availability
The Vivobook Slate has been available for a few months, but discounts are still few and far between.
You'll still pay $599/£549 for the entry-level model with 4GB of RAM and 64- (US) or 128GB of eMMC storage. But for it to be a realistic productivity device, you'll need to step up to 8GB of RAM and a 256GB SSD – that'll usually set you back $749.99/£899.99, although it's down to £699.99 in the UK at the time of writing.
Even so, most people will find better value for money my choosing something from our best 2-in-1 chart instead. In particular, the Huawei MateBook E and Surface Go 3 offer more for a similar price, although the latter doesn't include the keyboard in the box.
Verdict
The Vivobook 13 Slate OLED is a compelling alternative to more established Windows 2-in-1s, including various accessories in its relatively affordable price.
Undoubtedly, the highlight is that vivid OLED display, something you don't often get at this price point. The device also delivers decent battery life and faster than expected charging, all within a premium build.
However, most people won't be able to look beyond the poor performance which has a significant impact on day-to-day use. A lack of ports and nondescript design shouldn't be dealbreakers, but noticeable slowdown across many basic tasks probably is.
Specs
13.3in 1920×1080 OLED display, 60Hz
Intel Pentium Silver N6000 processor
Intel UHD graphics
4/8GB RAM
64/256GB storage (US), 128/256GB storage (UK)
Windows 11 Home in S mode/Windows 11 Home
13Mp rear camera
5Mp front-facing camera
Quad stereo speakers
Array microphone
Wi-Fi 6
Bluetooth 5
9.5hr battery life (quoted)
780g (tablet only)
Included in box: cover with kickstand, keyboard & trackpad, Asus Pen 2.0