Prices for tech are steadily increasing, caused mainly by economic instability, rising fuel costs and the effects of Covid around the world.
There are some great deals around from time to time, but one alternative option – if you can't find the laptop you want on sale – is to buy a refurbished one from a trusted retailer.
These often come with warranties, making a refurbished laptop a much safer way to buy one compared to using ebay, Facebook Marketplace, Craigslist or some other site where people sell stuff privately.
Refurbished laptops aren't new, but could be almost as good as new and won't destroy your bank balance.
Here's where you should look when hunting for a refurbished laptop.
What is a refurbished laptop?
These are laptops that have been bought by other people and used, or simply returned to retailers within the cooling-down period.
While refurbished could make it sound like the laptop has been fixed up (or just cleaned up), the reality is that no retailer will sell a used laptop that doesn't work properly.
It will be fully functional, but probably have signs of use – scratches or marks – but you can always choose which 'grade' you want, such as "like new", "good" or "fair".
The advantage is that you can then buy one with confidence, but at a much lower price than it would have cost when still new in a sealed box.
Is refurbished the same as used or second-hand?
In a way. As you can see from the description above, a refurbished item will probably have been used before and then traded in to a retailer who, in turn, checks them out, wipes and user data and – probably – wipes the actual device to physically clean it.
But this is different to buying a second-hand device from a private seller because they won't offer a warranty and you won't have any comeback if something goes wrong soon after you buy it.
This is typically reflected in the price though, and you'll probably find the same laptop cheaper from a private seller. So it's really about whether you want to take the risk or not.
For more on how these approaches compare, see our guide to refurbished vs used tech.
Is it safe to buy refurbished laptops?
These days refurbished devices are becoming a lot more common. Companies such as Apple and Amazon have dedicated refurbished sections on their website, not to mention many smaller firms that specialise in this kind of product.
The best part is that any purchases are usually accompanied by a one-year warranty for parts failures and 30-day money back guarantees if you change your mind, so you can return it just like if you bought a brand new laptop.
You'll also have the peace of mind that the products have been thoroughly checked and should have a good battery with at least 80% of its original capacity.
On most sites the items are graded to let you know how much wear-and-tear to expect, often ranging from pristine (as new) to acceptable (a few dings but everything works). This allows you to save more money if you aren't bothered by a few scratches to the case or chips on the corners.
Be sure to carefully check the warranties that the retailer offers and return an item immediately if you're not happy with the one you receive. In our experience though, you could be quite pleasantly surprised with the quality and condition of items you buy, not to mention the money you'll save in the process.
Is buying a refurbished laptop eco-friendly?
Absolutely. Prolonging the life of a laptop means it doesn't go to landfill before it's entirely necessary. Also, manufacturers don't need to source quite so many of those precious minerals used in the production of new devices, which can help stave off the drastic impact of climate change for a little longer.
Best places to buy a refurbished laptop
There are quite a few sites that offer refurbished laptops these days, with these being some of our favourites:
Amazon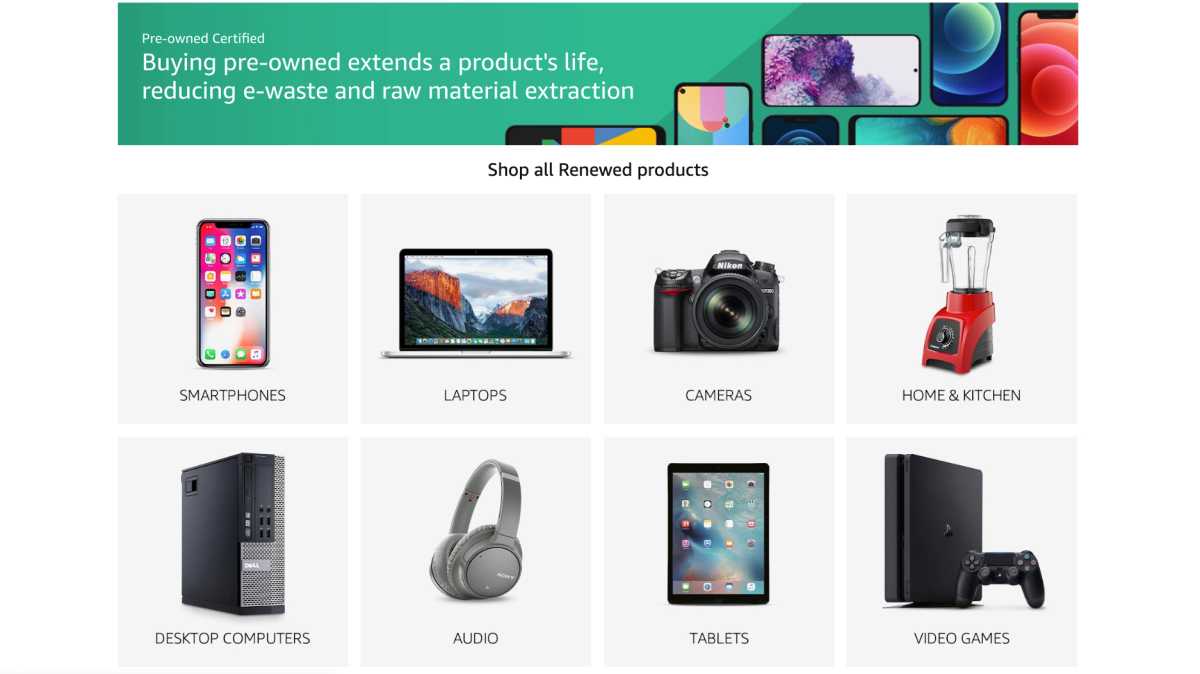 Amazon
Amazon has its own refurbished section that it calls Amazon Renewed. The products come in three tiers – Excellent, Good and Acceptable – each of which indicates the condition of the device and is reflected accordingly in the price.
Everything is covered by Amazon's one-year guarantee that states if the device becomes faulty or doesn't work as expected you can have it replaced or refunded up to one year from the original delivery date. They are also covered by Amazon's usual returns policy.
Visit Amazon Renewed
Apple
One of the best ways to buy a new Mac is to use the Apple Refurbished Store. Not only do you get devices that have been fully restored to perfect working order by Apple (using official parts), but they come with a full one-year warranty that's identical to the one offered with brand new Macs. On average you'll save around 15% off the original retail price, although usually this will be on Macs from the previous generation rather than the current models. Apple offers AppleCare support for the refurbished models, so you can cover the device for even longer if you buy that package when you order the Mac. It's a great deal if you want what is essentially a brand-new Mac from Apple all while saving a chunk of change.
Visit the Apple Refurbished Store
eBay
Like Amazon, eBay now offers refurbished laptops. On the Refurbished part of the site, you'll find plenty of brands and models that you can pick up for a reduced price, all of which are covered by a one-year guarantee against any parts failures plus there's the standard eBay money-back guarantee that you can use within the first 30 days if the item isn't as you'd expected.
Products come in four tiers – Certified, Excellent, Very Good and Good – with Certified being as good as new. You can always buy from private sellers on eBay, but the refurbished section definitely feels less of a risk.
Visit the eBay Refurbished store
Decluttr / musicMagpie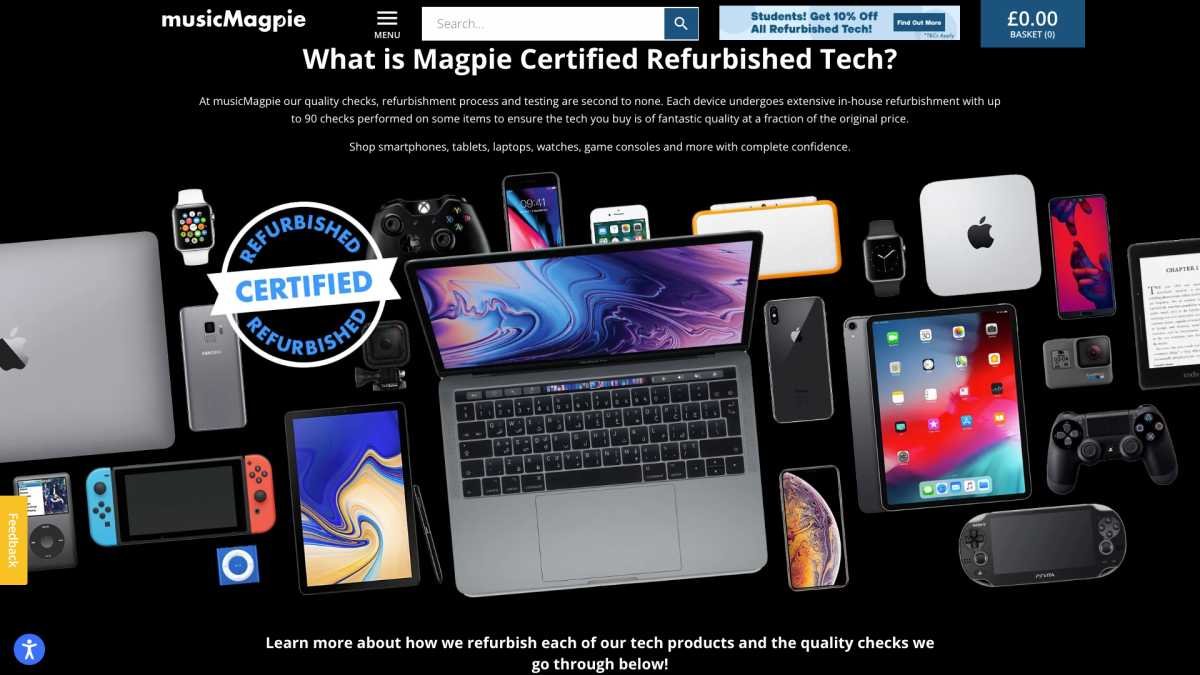 musicMagpie
One name that might not be as familiar as those listed above is DeCluttr, which is also known as musicMagpie in the UK. This is a company that specialises in used and refurbished tech as well as CDs, DVDs and games that people want to move on.
The selection of laptops is limited to Apple Macs and Microsoft Surface, but if you're looking for one of those then you'll find a variety of options, all of which are protected by one-year warranties and 14-day money back guarantees. With a Trustpilot rating of 4.5 stars from nearly a quarter of a million reviews, it seems that the public finds Decluttr/musicMagpie to be a service that delivers. Plus, there's an added bonus that you can even sell them your old tech to make way for the new model.
Visit Decluttr (US) or musicMagpie (UK)
If you're looking to pick up some new tech, but are feeling the pinch, take a look at our where to buy a refurbished phone and where to buy a refurbished tablet guides to see if you can save a bit of money.