If your Chromebook is no use to you any more or has developed a fault outside of its warranty and you want to get rid of it, what are the best ways to safely dispose of it? We'll explain what you need to know about how to wipe the data and where to take it.
How to clear off your account details and data from a Chromebook
As with any personal tech device, before you throw away, pass on or recycle a Chromebook you should wipe its hard drive so that none of your account information or personal data remains. This is very easy to do on a Chromebook, thanks to its Powerwash feature.
To use it, go to Settings > Advanced > Reset Settings then look for the Powerwash section and select Reset.
This will wipe all the account details on the device as well as deleting files stored locally. If you want to keep any of the latter, make sure they are saved to your Google Drive folder. Powerwash won't delete any of the files that are stored online, just the ones in your Downloads folder or any others you've set up on the device. If you're unsure, just go to Google Drive in your browser and check that the files you need are present.
With that done, there are a few options for disposing of it. Here are the ones we recommend.
1. Sell the Chromebook, or give it away to a friend or family member
This is the easiest option by far, as once you've followed the steps above and factory reset your device, it's safe to pass on to someone else. They'll be getting a Chromebook that's completely clean, enabling them to set it up as their own and be good to go in a few minutes.
2. Donate a Chromebook to charity
There are many charities that repurpose Chromebooks (and other laptops) to be used in schools or other areas where people need access to the internet but can't afford a device. Donating your Chromebook not only helps those who are struggling but is also good for the environment as it extends the life of a device that will otherwise end up in a landfill somewhere.
Here are some good places to consider when donating a Chromebook:
A UK charity that links together projects around Britain that takes computers, fixes them up and uses them to try and alleviate the digital exclusion that many people experience.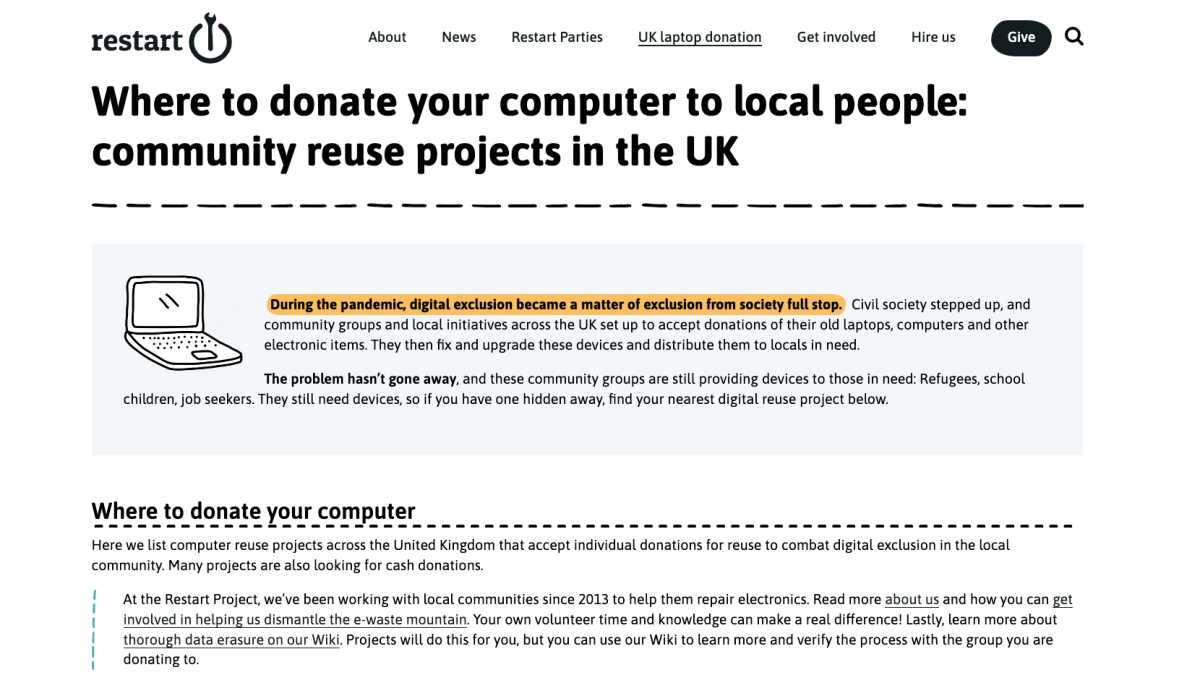 The Restart Project
Another UK-based project that works with a number of partners around Britain to reuse digital devices in ways that help local communities and individuals.
Those in the US that wish to donate their Chromebooks can do so via Computers with Causes. This ensures that the devices reach the hands of those who desperately need them.
3. Recycle a Chromebook
While a device might have reached the end of its life, there remain components within that could be useful for fixing up other machines. So, it's always a good idea to recycle, and you should never throw a Chromebook (or any other tech containing batteries and circuit boards) in with your household rubbish.
Google itself runs has a recycling program for its own products that provides free shipping and will put your old tech to good use once more.
You can also search for 'electronics recycling near me' to find other local services that will take the Chromebook off your hands and make sure the reusable parts are saved. Many local councils and authorities offer recycling or safe disposal areas at dumps and refuse centres, so if you take your device there don't just throw it in a skip, but instead look for where you might safely leave the Chromebook to be salvaged or at least professionally destroyed.
Of course, once you've given away or recycled your device, you'll probably want to consider finding a replacement. With that in mind, be sure to check out of guide to the best Chromebooks to see the models we currently recommend.
Alternatively, you might be looking for one of the best laptops, and we can help you there, too.