At a glance
Expert's Rating
Pros
Great brushing performance
Pressure sensor
Brushing timer
Cons
Not a good choice for sharing
12 hour charging time
2 week battery life
Our Verdict
The iO4 has the same great brushing performance as other iO brushes – and it's cheaper. But some idiosyncrasies mean that it's not ideal for sharing and it won't be a good option for people who want to avoid app use entirely.
Price When Reviewed
$100
Best Prices Today: Oral-B iO Series 4
There are seven models in the iO range, and this, the most budget-friendly of the lot, is also one of the newest. Oral-B has recently expanded its range at both the top (the iO10) and bottom (the iO4 and 5) and the price difference between them is huge.
There's also a big difference in features as well, with the iO10 offering a full colour OLED screen, real-time brushing feedback, a fast-charging magnetic dock and seven brushing modes.
But if you want a straightforward electric toothbrush that just does what it's supposed to do – clean teeth brilliantly – the iO4 is the brush to get. However, it has some idiosyncrasies that mean it's not a great option for sharing. Nor can you completely avoid using the app.
Brush design
Comes with a travel case
Four colour options
Light ring
In the box, you'll get the iO Series 4 handle and a brush head, a simple white plastic travel case and a charging stand. The stand is the same as the one you get with a classic Oral-B brush. You can use them interchangeably. In the US, the charger has a standard two-pin plug and in the UK, it has a shaver plug.
The brush takes around 12 hours to charge, and if one person is using it, you'll need to charge it roughly every two weeks. This is about the only way this iO is not a step up from the classic Oral-B brushes. If you want magnetic fast charging, you'll have to look at an iO7 or above.
Emma Rowley / Foundry
The iO4 shares the same fluid shape as the other iO models and at first glance, there is little to choose between them. It comes in several colour options: black, white, light blue and lavender. I'm testing the light blue model. As you'll see from the pictures, iO brush heads only come in black or white, so opt for the lavender or blue and you'll get a two-colour brush.
There are two buttons on the handle: one for on/off and one to scroll through the four brushing modes.
There's a light ring around the neck of the brush, which has a number of uses. In the app, you can choose from one of ten bright colours to personalise it. And when you're completed your assigned brushing time, the light ring will cycle through the spectrum of colours as a sort of dental health equivalent of a high-five.
The light ring's key use, however, is as a pressure sensor. It'll light up in red if you're pressing too hard and glow green when you get it just right.
As you might imagine, the iO4 has the simplest look of the series. Where the iO6 and above have a screen, and the iO5 displays its five brushing modes, the iO4 just has a grippy rubber strip – there's no display at all. This is not necessarily a problem, but it does mean you may need to go into the app to confirm your brushing mode (more on this later).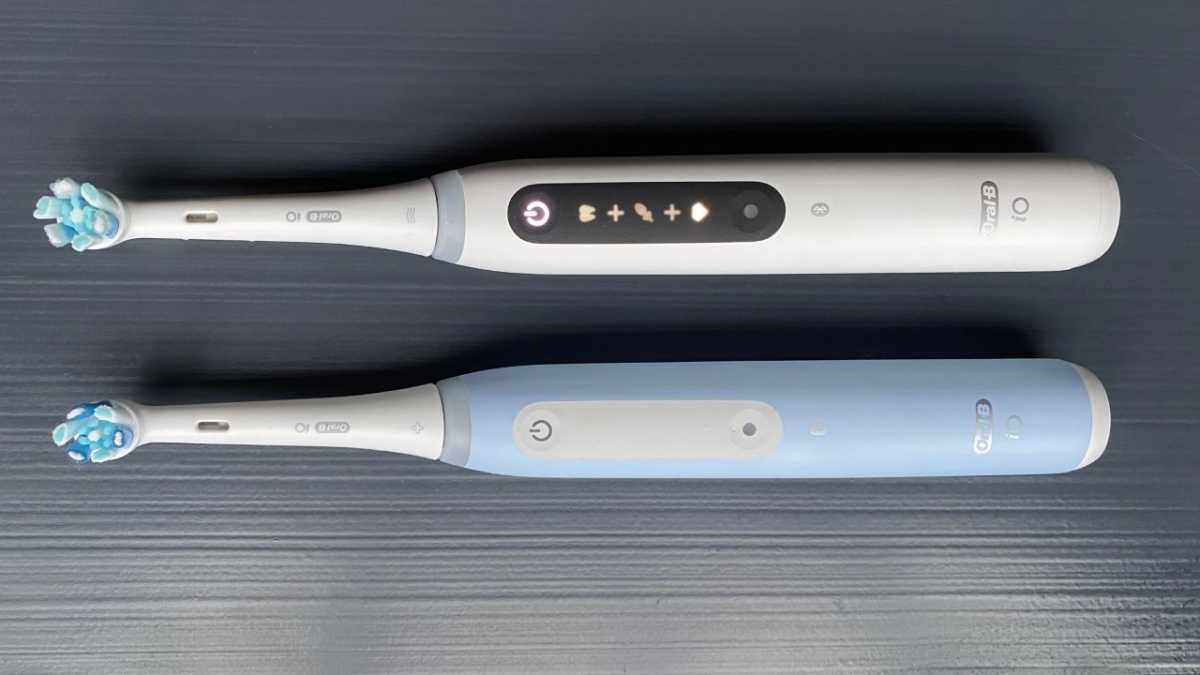 Emma Rowley / Foundry
Incidentally, I'm comparing the iO4 with the other iO models so you know what you're getting and where the compromises are, but really, I think that this brush has everything you need for really good dental care: good brushing performance, a timer and a pressure sensor.
Performance
Four brushing modes
Quiet in use
Pressure sensor and brushing timer
Most importantly, what you can expect is excellent brushing performance. We think that iO models are significantly better than classic Oral-B brushes. That's really the reason to buy one.
Switch the brush on and use a firm press on the second button to switch between modes. The iO4 is quiet in use, with just a small noticeable change in vibration between different modes.
The modes are whiten, daily clean, sensitive and gum care. For most people, this will be plenty. No, there's no dedicated tongue cleaning mode, but the toothbrushing police aren't going to come for you if you use another setting to brush your tongue.
However, there is no indicator on the brush itself to let you know which brushing mode you're using – and it can be hard to differentiate between them by vibration only. To confirm the mode, you'll need to go into the app to check.
But once in there, you can opt to re-order modes (so that the one you use most comes on first) and turn off the ones you're not using. So, you could remove sensitive and daily clean, and place whiten first. Then you'd know you were using whiten as your daily brushing mode, with a secondary gum care option. However, this does mean that if you want to share the brush, you have to agree on the same personalisation.
Incidentally, if you want to share an iO brush, the models don't have interchangeable plastic rings in different colours like those that come with the classic brush heads. Instead, there are symbols printed on to differentiate between them.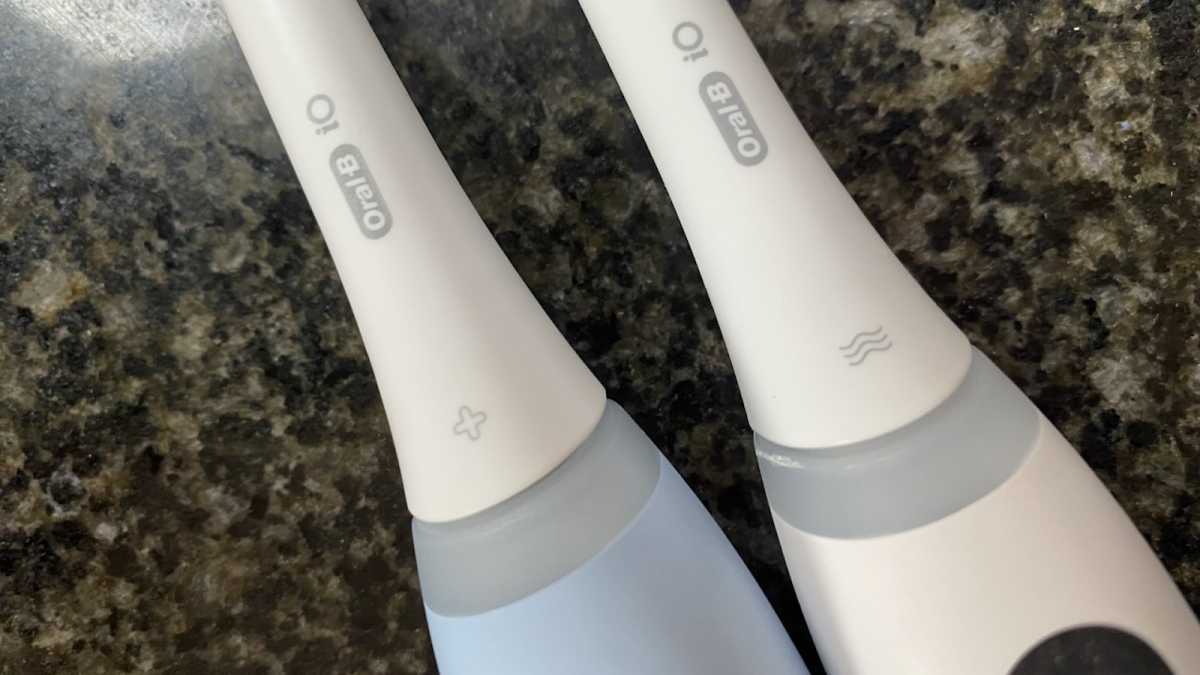 Emma Rowley / Foundry
As you brush, you'll get feedback in the form of the light ring pressure sensor, plus stutter alerts (a change in the vibration) to let you know to move on to a new section of your mouth every 30 seconds. After two minutes, there's a longer stutter to let you know you can stop.
The app
Switch brushing modes on and off
Automatically tailor brush settings for braces or other dental issues
Brushing session information
The iO brushes are all smart brushes but if you're not into that sort of thing, the good news is that you don't really need the iO4's smart features in day-to-day use.
But if you want to personalise the brush – and that is a key part of it set up – you'll need to download the app (free and available for Apple and Android), make an account and pair your brush.
This will allow you to switch on and off brushing modes, change the colour of the light ring, change the overall brushing time (from 1 to 4 minutes 30) and switch off the 30 second alerts.
You'll also be able to see information on your past brushing sessions (time and overpressure). There's also the option to embark on a "dental care journey". If you have braces or bleeding gums, for example, the app will automatically adjust your brush's settings for a specified time period, to help you to care better for your teeth.
Finally, if you do want real-time brushing feedback, you can open the app while brushing and see a countdown timer and pressure sensor onscreen.
Foundry
If you want more real-time brushing feedback, the iO Series 5 features a sensor you can use in conjunction with the app to help you to better focus on getting all-over coverage when you brush.
Price and availability
In the US, the iO10 has an MSRP of $100, although at the time of writing it's generally sold for around $79.99. You can buy it at this price from Amazon, Target and Walmart.
In the UK, things are a bit more complicated. It has an RRP of £240 but you obviously shouldn't pay that for it. At the time of writing, many retailers are selling it for around £90-£95, including Currys, Boots and Amazon.
Verdict
Where brushing performance is concerned, the iO4 is brilliant, like all the Oral-B iO brushes. The range is expensive but if you aren't too worried about the frills, the iO4 is the cheapest way to get on board.
Still, it does mean using the app, for set-up at least. And that may be off-putting. It's not unreasonable for people who've paid $80/£100 to expect to see the brushing modes displayed on the handle. But, if you're happy to use an app for set-up and can deal with the less than stellar battery life, we'd recommend it.
But the lack of brushing mode symbols on the handle does make it harder to share. If you want to personalise it, it'll mean re-pairing every time you brush. Plus, sharing it between two people means one 12-hour charging session per week – and that'll rise if kids use it as well.
For more electric toothbrush options and to find out which brushes we recommend, have a look at our round-up of the best electric toothbrushes we've tested.
Best Prices Today: Oral-B iO Series 4