At a glance
Expert's Rating
Pros
Great modern design
Good performance
USB-C
Cons
More expensive than ever
Stupid Apple Pencil connection
64GB is an insult
Our Verdict
The 2022 iPad is good, and very good if you also buy the Magic Keyboard Folio. But even on its own, the regular iPad is now more expensive than ever, and too near in price to the iPad Air to be a great deal, which is what the cheapest iPad used to be.
Price When Reviewed
$449 (64GB) | $599 (256GB)
Best Prices Today: 10.9-inch iPad (2022)
The iPad reviewed here is just called 'iPad' and is meant to be Apple's standard iPad. Not mini, Air, or Pro. It's the normal one.
But it turns out the iPad is now a messy mix of the mini, Air, and Pro, all of which are more expensive.
This is the first regular iPad to not have a home button, and it adopts the curved edge screen design of the other more modern-looking iPads.
It also costs a lot more than previous regular iPads, especially in the UK, and because of this now not only sits closer to the price of other Apple tablets, but is also not an out-and-out affordable iPad anymore.
In a vacuum on its own, the 2022 iPad is a great tablet, one of the best. But given the existence of the other better iPads, it's a flawed product that doesn't even end up being the default model because Apple is tellingly still selling the 2021 9th-gen iPad.
Design & build
Same design as iPad Air
Cool neon colour options
USB-C
If you held a gun to my head I'd find it hard to tell the difference between the iPad and the latest iPad Air. The iPad takes the Air's rounded edge screen and flat edge body design and finally gets rid of the home button.
But there's no Face ID like on the iPad Pro. Instead, the iPad has a Touch ID sensor in the power button. This works well and it's good the normal iPad doesn't have big thick bezels and look like the ancient iPad your dad still has from 2012.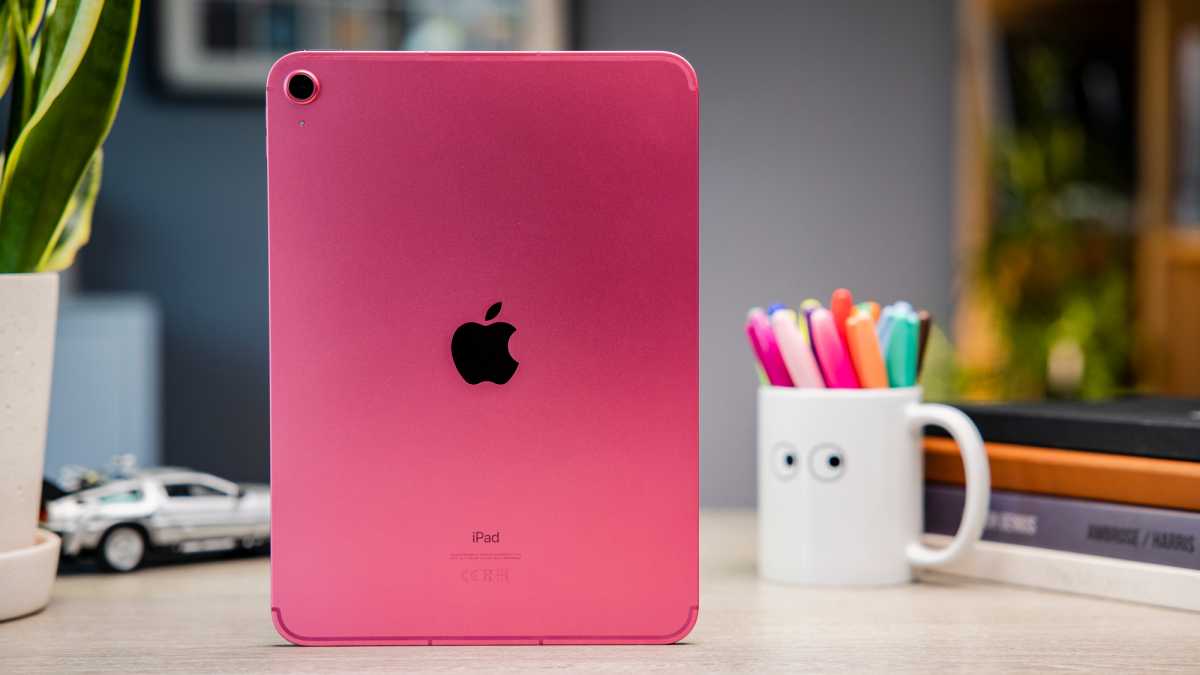 Dominik Tomaszewski / Foundry
There are also two volume buttons on the top of the right long edge and there are stereo speakers positioned on the top and bottom for best use in landscape.
Another giveaway that this is the newest iPad is the landscape position of the front-facing camera. For the first time on any iPad model ever it's on the long edge. Rejoice! It means if stood up horizontally in a case or keyboard like a laptop the camera is now in the middle like on a laptop, meaning you look normal on video calls.
Every other iPad – even the 2022 iPad Pro – has the front camera on the short edge like a big iPhone. It means in a keyboard case on a video call you are on screen off to the side and it looks odd. Putting the camera on the long edge is an admission from Apple that the iPad's camera is mainly used for laptop-like video calls. You can thank the pandemic for that.
I promise I won't keep comparing the iPad to other ones for all of this review (just some of it) but now there's an iPad mini, iPad, and iPad Air that all look the same at first glance, do largely the exact same things, but are different price points and work with different keyboard accessories is very confusing for a prospective buyer.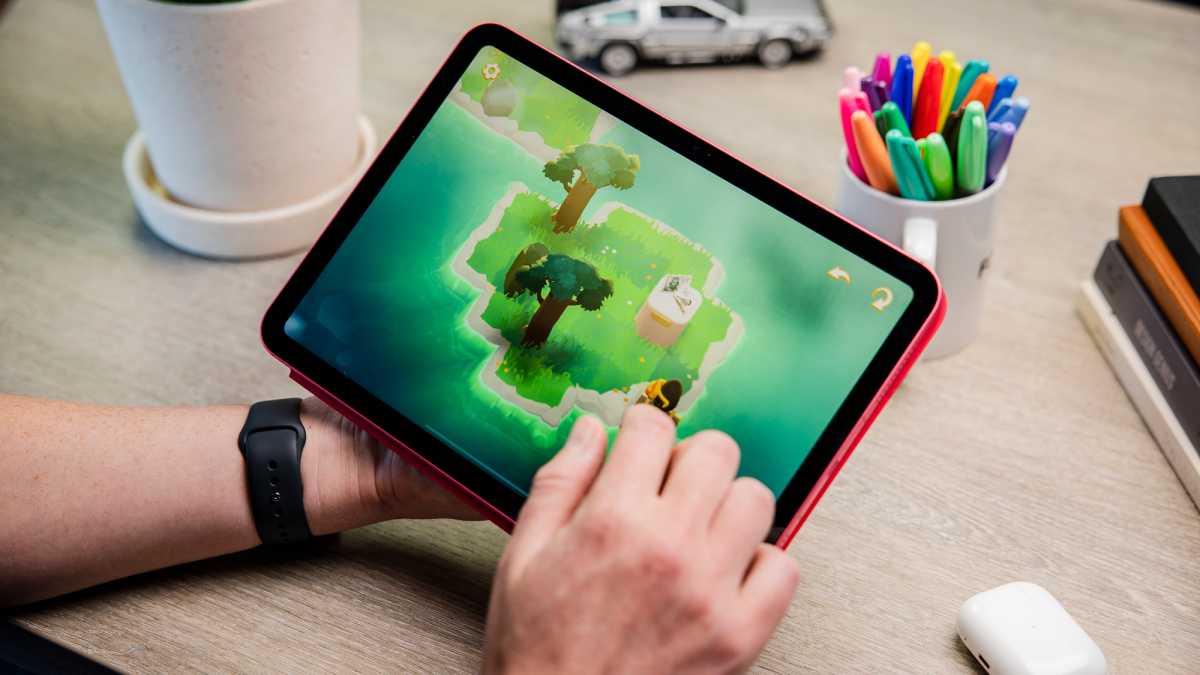 Dominik Tomaszewski / Foundry
The iPad at least comes in fun and interesting colours in a body made from nice-feeling aluminium. My pink review sample is truly neon, as is the yellow version. There's also a more muted blue and blend-in silver if you like. I think the yellow one is the best.
There's also USB-C for the first time on the regular iPad. Many might not see the big fuss about the older iPad still having Lightning, particularly as all iPhones still use Lightning. But USB-C means faster charging and better compatibility with peripherals such as monitors and external drives.
Display & audio
10.9in 60Hz LCD
Unlaminated screen
Dual stereo speakers
The iPad's screen has grown thanks to its smaller bezels. It's now a 10.9in screen, the same as the iPad Air and a feather off the 11in iPad Pro. The uninventive use of the solid design throughout the range benefits this cheapest iPad – it looks like the iPad Pro that costs twice as much.
A nitpick is the unlaminated screen. On the other iPads, the display sits up against the glass of the screen so taps, swipes, and using the Apple Pencil feels as though you are touching the buttons and lines directly.
The unlaminated screen here means there's a small air gap between display and glass. To be honest I did not really notice it for 99% of my use. But if you're an artist wanting to draw with the Pencil, the nib is very noticeably hovering above what you're drawing. It makes Pencil input less accurate. But for normal iPad stuff? Not an issue.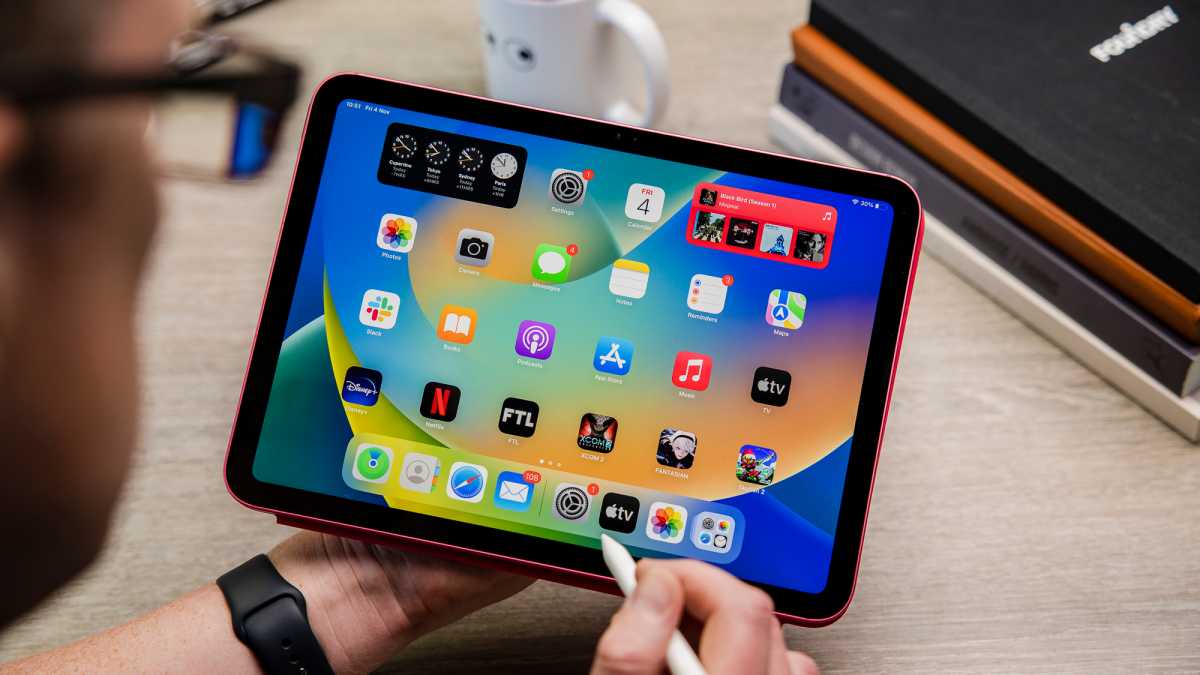 Dominik Tomaszewski / Foundry
The screen gets nicely bright indoors at up to 500 nits but is a little hard to read outdoors in direct sunlight. It's an LCD panel, not OLED, and refreshes at the standard 60Hz. It's very good, and Apple's TrueTone technology helps by adjusting the blue light level depending on the lighting conditions around you.
Having dual stereo speakers really helps beef up the sound on the iPad, making it a superb tablet to watch films and TV on, but you'll definitely want to invest in the Smart Folio case or something cheaper. I can't believe Apple's official case costs $79/£89/€89!
The headphone jack is also gone – it was on the 9th-gen iPad but is not here. You'll need a USB-C adapter for wired headphones now or, as Apple hopes, AirPods.
Accessories
All this prowess in landscape points to the somewhat essential accessories needed to get the most out of the iPad, which are said Folio case, the Apple Pencil, and the new Magic Keyboard Folio.
The case is obvious – it's magnetic and protects the front and back when not in use and props the iPad up for hands-free viewing of videos and for video calls.
The Apple Pencil is also compatible, as it was with the 9th-gen iPad, but this 10th-gen 2022 iPad similarly works with the older first-generation Pencil despite its redesign. All the other iPads in the range that also have flat sides work with the second-gen Pencil that snaps magnetically to the body of the tablet to pair and charge.
Perhaps it's because the edge that usually charges the Pencil now has the camera on it – who knows – but it does not have the magnets to charge it. Instead, you must use a first-gen Pencil, which charges via Lightning. The iPad does not have a Lightning port.
You, therefore, have to plug the included USB-C cable into the iPad, then the other end of the cable into an adapter, and then the adapter into the Lightning port of the old Pencil. The Pencil is not included and costs £99, and ships with the adapter which is otherwise £9.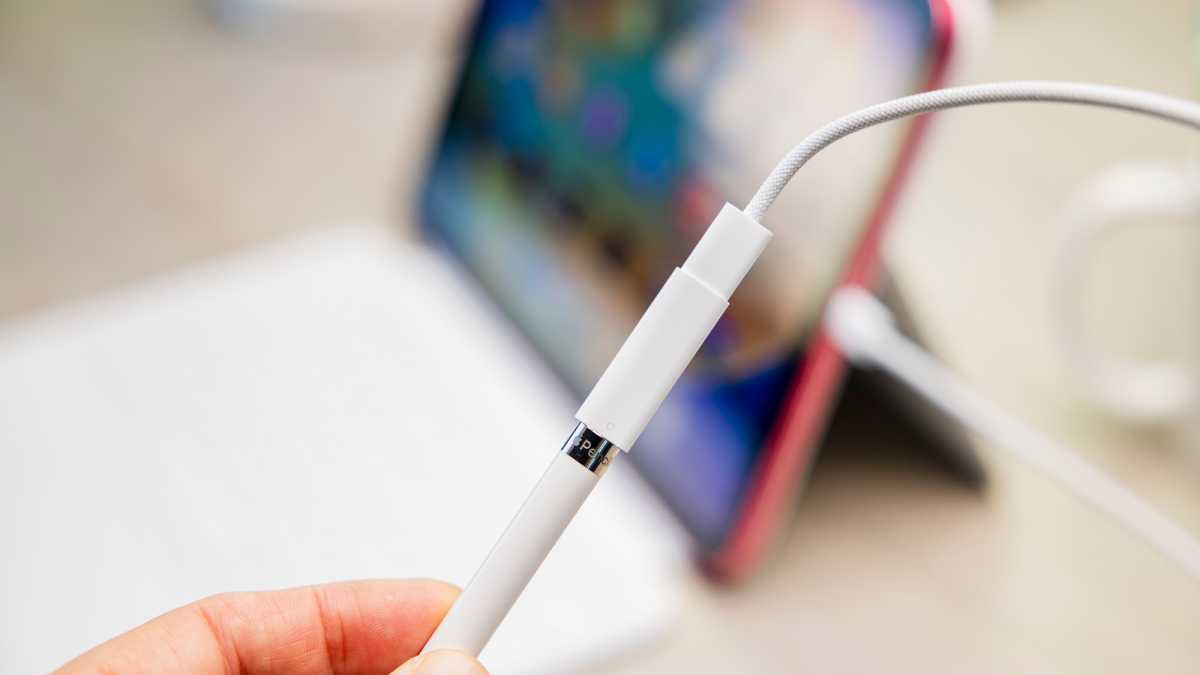 Dominik Tomaszewski / Foundry
It's a ludicrous way to charge the accessory and makes the once-ridiculed method of plugging it into the Lightning port of the iPad like a giant lollipop look elegant in comparison.
If you want to try and do some work or writing on the iPad then Apple has created a brand new keyboard that makes the iPad look like a Microsoft Surface, the Magic Keyboard Folio. It doesn't work with any other iPad, and the existing Magic Keyboard (different product) doesn't work with this iPad.
There's a magnetic connector on the left flat edge of this iPad, whereas it's on the back of the iPad Air and iPad Pro.
This new keyboard magnetically attaches to those connectors and powers it, while another piece attaches to the back of the iPad and has a kickstand. It means you can pull the keyboard section off when you're not using it.
Dominik Tomaszewski / Foundry
I much prefer the look and utility of the older Magic Keyboard, which is one piece and has a backlit keyboard. But, this new keyboard actually has more to it with a full function row for Mac-like controls that the Magic Keyboard doesn't have. It's very odd that the base iPad now has a keyboard with more functionality than the iPad Air and iPad Pro.
I've happily typed all this review on the Magic Keyboard Folio. The keys are excellent with good clacky feedback, and the touchpad for mouse control is very responsive. It makes for a chunky and heavy case, but I like it.
Dominik Tomaszewski / Foundry
Performance & specs
A14 chipset is fine for most people
Great everyday performance
64GB storage sucks
This iPad has the A14 chipset that was first seen in the iPhone 14 in 2020. It's a solid chip sell and I had no performance issues when using the iPad.
In the Geekbench 5 multicore test it scored 4175, on par with the 2020 iPad Air that scored 4210 and runs the same A14 chip.
Admittedly I'm not much of a gamer and word processing, web browsing, and the occasional dabble with GarageBand aren't going to tax this still-powerful silicon. If you want to render video or do more intense tasks on an iPad, you're going to want to look at the newest iPad Pro with the M2 chipset.
It's insulting that Apple only offers 64GB of storage on the cheapest model of this iPad. 64GB is not enough in 2022 and it will certainly not be enough if you want to keep this tablet – as well you should – for five years or so.
64GB will soon fill up with downloaded apps, photos, and other media. You need to get 256GB, but this pushes up the already high price.
I reviewed a 256GB model with cellular too, which costs more still. You only need opt for the cellular model if you want to buy a data-only SIM card and stay connected away from Wi-Fi. There's a SIM slot, or you can buy an eSIM plan. It's 5G or 4G compatible.
Dominik Tomaszewski / Foundry
Cameras
The newly positioned front-facing camera is a 12Mp ultrawide lens with a 122 degree field of view. It has Centre Stage, the Apple software that follows you if you are moving about on video calls or if you are wandering out of frame. It's good, but less needed now the camera is the middle when landscape.
It cements this iPad as the best one for video calls. If you live in Zoom for work or like to FaceTime then this is a fine option as the position of the camera means you are centred and look like you're paying attention.
The rear camera is also a 12Mp lens that's more capable with 4K video recording, slo-mo video, and auto-focus for video. It's a boon for boomers who take pictures on iPads at Disneyland. If you are one of them, more power to you.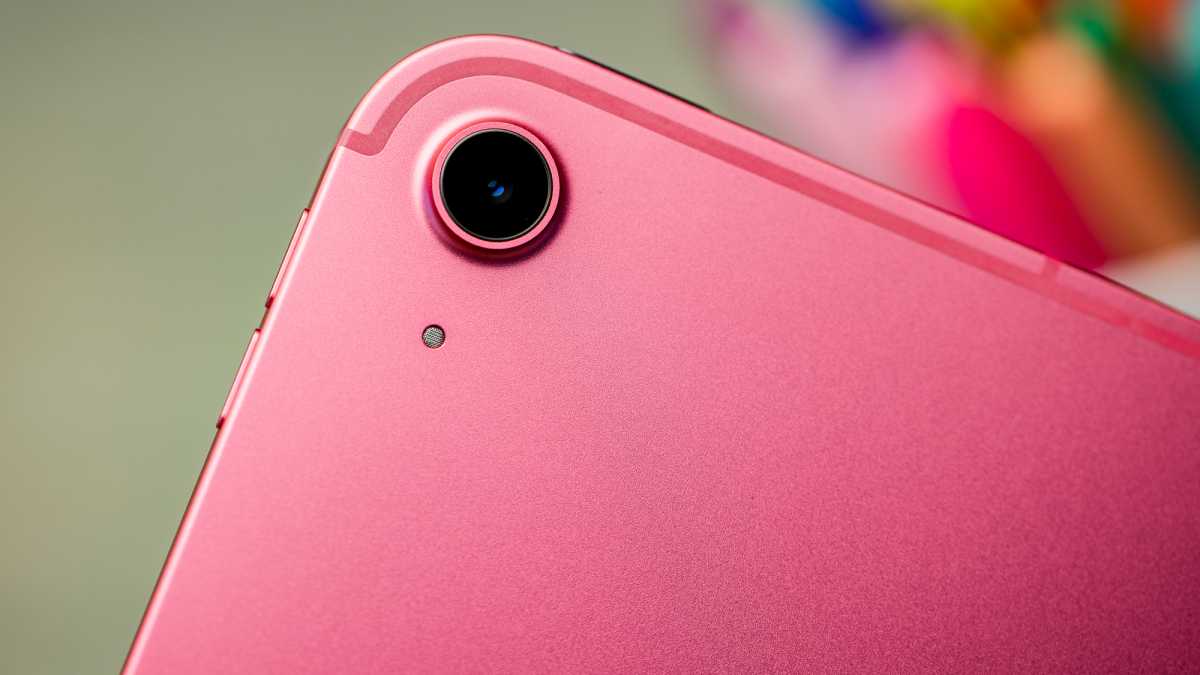 Dominik Tomaszewski / Foundry
Software
iPadOS 16 looks a lot like iPadOS 15, with many of the same features. If you want to use Apple's new Stage Manager feature, tough luck – it doesn't work on this iPad.
The main addition here if you have an older iPad or are buying for the first time is widgets, which you can now place on the home screen. They're handy for select applications and functions.
Because Apple loaned me the iPad and keyboard, I ended up using them together much like a laptop. When you do this, you don't think about the iPad's software much at all, or use its many hidden features. The 10.9in screen is too small to do meaningful work on in split screen mode, though this is more useful if you want to hold the tablet and look at two apps at once such as TikTok and Messages.
You also get handy Apple features like iMessage mirroring your iPhone's Messages, the ability to answer calls and FaceTime on the iPad, and AirDrop to wirelessly transfer files, contacts, photos, Spotify playlists, or anything else, between your devices or to someone else's. AirDrop is low-key one of the best Apple software features, ever.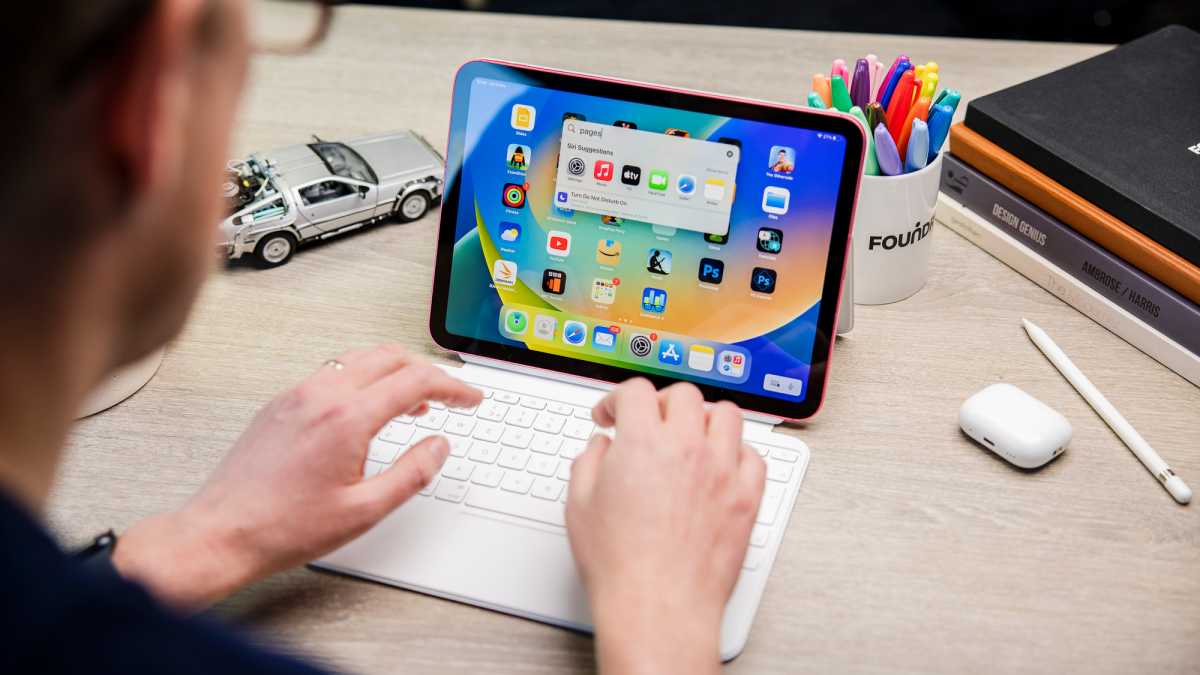 Dominik Tomaszewski / Foundry
I also love Hand Off which lets you transfer calls, FaceTime, or other apps from iPhone to iPad and vice versa, and Universal Clipboard, which you can use to copy something on one device and paste it on another. I use it solely to copy and paste funny tweets from the Twitter app on iPad and paste them into WhatsApp chats on my iPhone.
But the versatility of the iPad lies in the App Store. While you could have a decent experience just with Apple's apps (and many iPad users probably do), the thing becomes a true digital canvas with third-party apps.
You can record and edit podcasts, design a building, read any document, or remotely manage a team's workflow all from the iPad if you have the right apps.
I love the distraction-free iA Writer for getting writing done – when working on the iPad I find it much less distracting than on a PC or Mac as I tend to work in one app at a time full screen, and can't see any notifications or red dots. It's rare that happens on desktop computer these days.
Battery life & charging
I found the iPad's battery life to be quite good but not excellent. It's nowhere near as long-lasting or as efficient as the M1 MacBook Air I usually work on but it lasts me a full working day without running out of juice, which is more than I can say for most Windows laptops.
Apple says the iPad will last for 10 hours on Wi-Fi, which I found a slight overstatement. In Geekbench 4's battery test it lasted for six hours and 13 minutes, which is closer to the reality of using it all day. It lasted over eight hours of work for me without hitting 20%.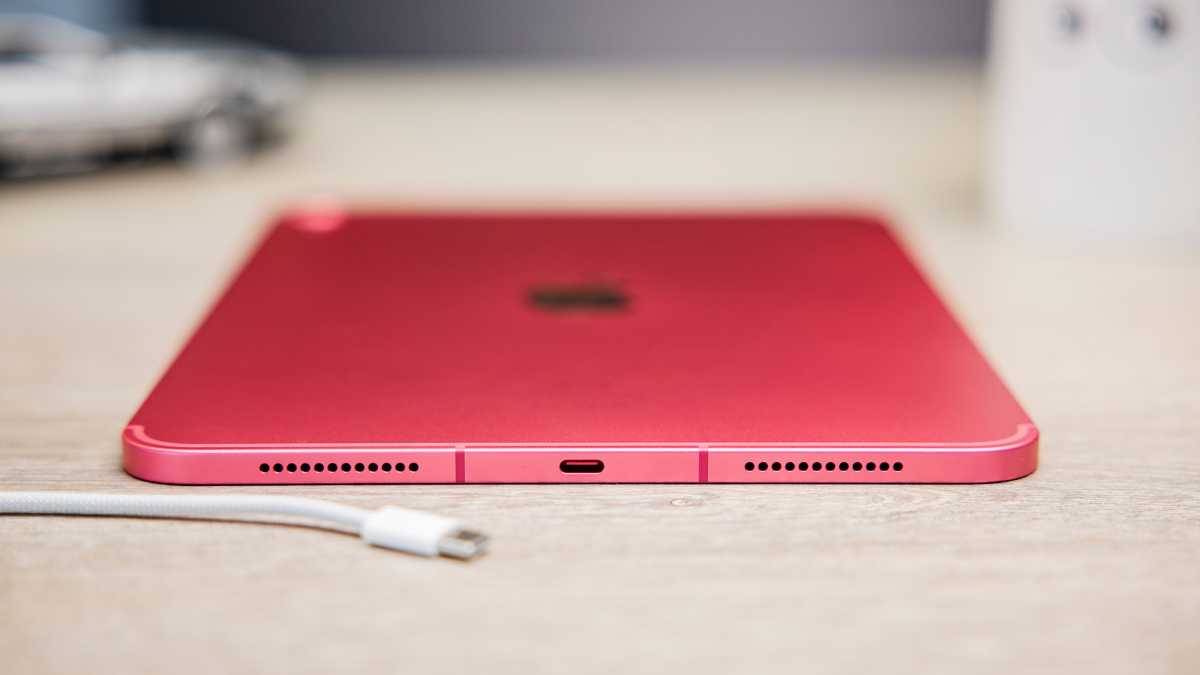 Dominik Tomaszewski / Foundry
Charging via the included USB-C cable and 20W charger is steady but not speedy. It reached 27% from empty in half an hour and then just 53% in an hour, so it'll take a couple of hours to fully charge – though you can fill it quicker with a higher wattage charger from Apple.
Price & availability
The 2022 iPad costs $449/£499/€589. You can buy it globally direct from Apple.
But the iPad's Achilles' Heel is the price, which is a lot more than the 9th-gen iPad costs, still on sale from Apple at $329/£369/€439.
For the extra money you get a larger screen, more modern design, USB-C charging, better cameras, and 5G support if you opt for cellular. On paper, the price rise makes more sense than simply saying the new iPad costs more than the old iPad.
But the $449/£499/€589 10th-gen iPad only gets you 64GB, which is too little, so you will really need to spend $599/£679/€789 to get 256GB – and even more if you want a cellular model.
The Magic Keyboard Folio, which makes the iPad a great little writing machine, is $249/£279/€299 – you can see how this is getting expensive.
It's telling that the old one is still on sale. If it were my money today, I'd still buy the 9th-gen.
If you are considering spending this much, you might consider a MacBook Air instead – unless you really want to draw with the Apple Pencil ($99/£109/€119).
The iPad Air costs more than the iPad (and has had a UK price rise due to currency rates) but their prices are still closer than ever before. Buying an iPad is confusing in 2022 – and expensive.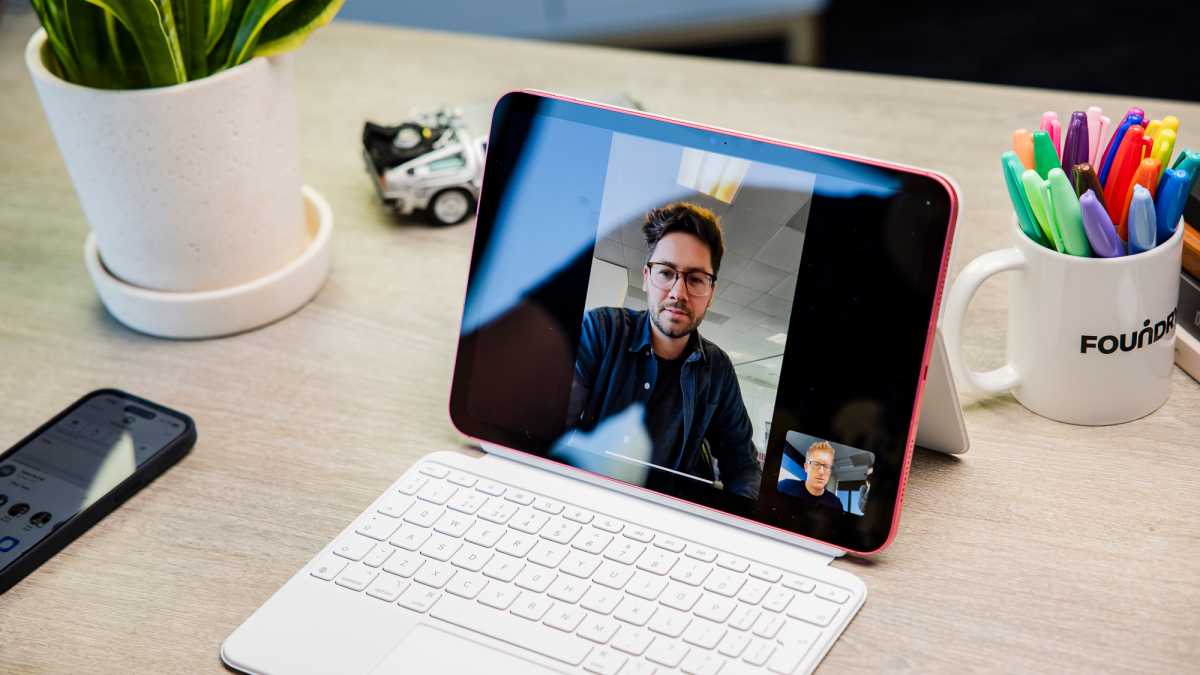 Dominik Tomaszewski / Foundry
Verdict
The 2022 iPad is a good iPad and is the go-to option if you want a tablet to watch films, have video calls, read books, and surf the web. It just costs more than the last model, which is still on sale and still a product that can do everything the new one can.
64GB is too little for most people, so the 256GB version is the one to get, pushing the price close to that of the iPad Air, which has a better screen and supports the newer Apple Pencil. Apple is in full up-sell mode with its features and pricing here and connecting the older Apple Pencil to the new iPad with an adapter is a joke.
Still, I enjoyed using the iPad with the Magic Keyboard Folio, and the new colours are very nice. But the regular iPad just isn't the great deal it used to be anymore.
Specs
248.6 x 179.5 x 7mm
477g (Wi-Fi)/481g (cellular)
A14 Bionic chipset
64GB /256GB storage
10.9in 2360 x 1640p LCD display
60Hz refresh rate
Front-facing 12Mp camera
Rear 12Mp camera
Dual stereo speakers
Best Prices Today: 10.9-inch iPad (2022)