Attention all Windows 10 users: Microsoft is ending support for version 21H1 on 13 December, so make sure your device has been updated before then. If you stick with it after that date, you'll be left vulnerable to security issues and other bugs – none of which will be fixed.
The change applies to all eight versions of Windows 10:
Windows 10 Enterprise
Windows 10 Enterprise multi-session
Windows 10 Education
Windows 10 IoT Enterprise
Windows 10 Home
Windows 10 Pro
Windows 10 Pro Education
Windows 10 Pro for Workstations
The 21H1 update began rolling out in May 2021, meaning it'll be supported for just 19 months. But that's standard practice for Windows 10 updates, and it's easy to install a newer version.
Many people will have automatic updates enabled, but checking manually is simple, too. Just head to Settings > Update & Security > Windows Update and click 'Check for updates'.
After a few seconds, a newer version should appear and prompt you to download it. Just make sure it's based on version 21H2 or 22H2 and you should be good to go.
Interestingly, the older version 20H2 (late 2020) will continue to be supported until May 2023, but it's not worth installing over something newer.
But if you're running an earlier version such as 2004 (early 2020) or 1909 (late 2019), you need to update immediately. Neither of these have been supported by Microsoft for a while, so continuing to use them is a serious security risk. See the full list of Windows 10 version end dates on the Microsoft website.
Unsure which version is installed on your device? Just head to Settings > System > About and see what it says next to 'Version' under 'Windows specifications'.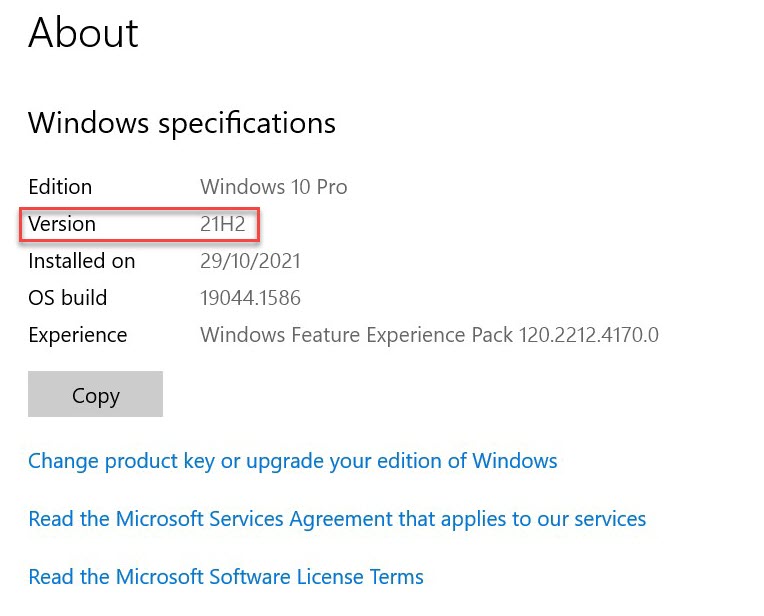 Anyron Copeman / Foundry
Of course, Microsoft would rather you updated to Windows 11, which is free and available for most Windows 10 devices. But there are a few reasons you might not have made the switch yet, most notably the fact that at least one version of Windows 10 will be supported until 14 October 2025.
A version of this article was originally published in German on our sister site, PC-Welt.
Related stories