At a glance
Expert's Rating
Pros
Superb sound quality
Astonishing noise cancellation
Clever 'Aware' mode
Secure fit
Cons
No Hi-Res audio support
No Bluetooth Multipoint
No wireless charging
Our Verdict
Though they lack some features found on other earbuds of this price, the Bose QuietComfort Earbuds 2 make up for it with astounding noise cancellation and sound quality.
Price When Reviewed
$299.00
Best Prices Today: Bose QuietComfort Earbuds II
There are a staggering number of options if you want to buy a pair of wireless earbuds in 2022. If you want to spend a decent amount to get an excellent pair, the Bose QuietComfort Earbuds 2 are a great choice.
While a glimpse on your local high street might have you believe that most people just buy AirPods, there are many earbuds out there that best Apple's ubiquitous buds in sound quality, active noise cancelling (ANC), and smart features.
The Earbuds 2 aren't the smartest on the market, but they excel in those other two areas, with awesome sound and class-leading noise cancellation is truly astonishing; it's as good as some over-ear headphones' ANC, which is a feat for earbuds to achieve.
Design & Build
Secure fit
Touch controls on both buds
Slightly bulky case
Bose has reworked the design of the clumsily named QuietComfort Earbuds 2 from the first generation, and all for the better.
Our Reviews Editor, Chris, reviewed those in 2020 and disliked the bulky outdated design of the case and the buds themselves, which stuck out your ears and looked like old school Bluetooth handsfree sets.
While Bose hasn't completely abandoned that look, the QC Earbuds 2 have morphed into something altogether more subtle. In the ear they now look like an AirPod with a flat outside edge; an edge excellently used as a touch sensitive pad to control playback, ANC, and volume.
The buds are quite fat as they incorporate a wingtip that nestles in the outer ear to keep it in place, along with a silicon tip that goes into the ear canal to form a seal.
There are three sizes of wingtip and ear tip in the box so you can get the best possible fit. I have quite small ears and so used the smallest sizes of each, and even then I find the buds make my ears ache after a couple of hours.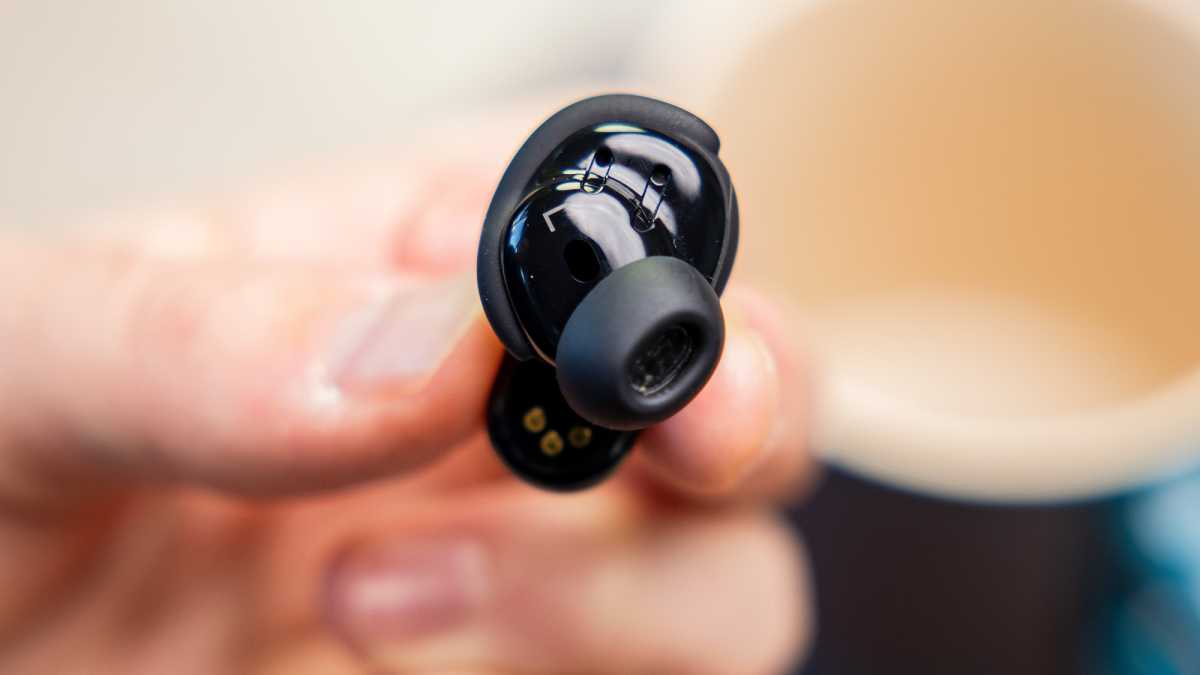 Dominik Tomaszewski / Foundry
My tiny lugholes have also proved problematic with the fit of other true wireless earbuds like the superb Sony WF-1000XM4, which I simply cannot get to stay in my ears. For what it's worth, the most comfortable in-ear buds I've ever used are Apple's first-gen AirPods Pro.
Unless you have minuscule ears, the Bose should fit you fine. They have a basic IPX4 splash-resistant rating.
The case is a little bulky, a good deal bigger than the case of any version of AirPods. Despite this, I carried it in my front jeans pocket without too much discomfort. It's a hard plastic with a flip-top opening for the buds, with a USB-C port on the bottom and a single button for Bluetooth pairing.
Two LEDs on the front and inside the case show battery life and mode, though I never paid much attention to either because they aren't that useful.
Sound Quality
Clear neutral sound
Detailed reproduction
Excellent bass
No hi-res codec support
The most important thing about any pair of wireless earbuds is how good they sound, and luckily the QC Earbuds 2 sound very good.
Unlike the Sony XM4 or NuraTrue Pro they do not support high resolution audio codecs such as LDAC or FLAC. Such support is still somewhat rare in wireless earbuds, even expensive ones. The Earbuds 2 support SBC and AAC to cover all modern consumer Bluetooth devices.
That means the Bose don't have aptX or any spatial audio support either. Bose has a habit of adding support for such in futures via software updates, but for now, they are short of features compared to Sony which boast things like Adaptive Sound Control and Speak-to-Chat.
Still, whether playing downloaded music files or streaming from a service such as Spotify or Apple Music, the Bose sound phenomenally good. They have quite a neutral sound but represent all frequencies very well.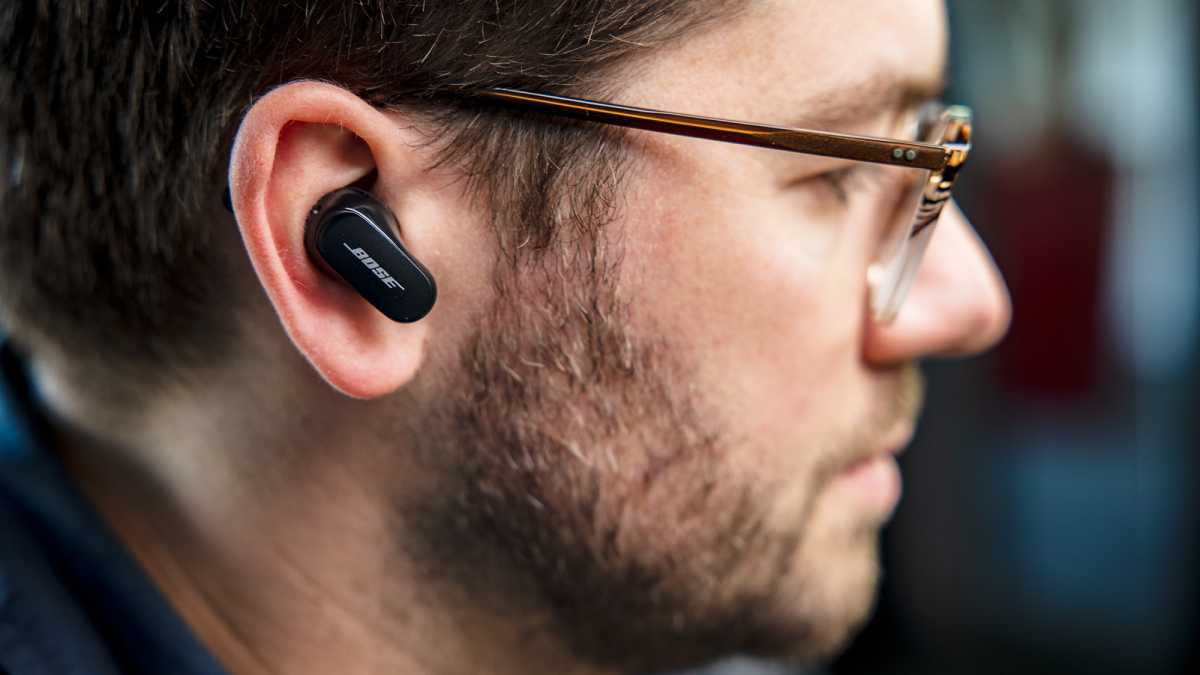 Dominik Tomaszewski / Foundry
Angels & Queens by Gabriels sounds rich with the vocals right at the fore, bass well represented, and all instruments audible in what is a busy mix. This is often where spending more on earbuds pays off as they have drivers that can properly separate different tracks. Cheaper buds sound muddier.
You can hear the string buzz of the bass guitar on Silverchair's Tomorrow which is inaudible on lesser headsets. Likewise, strings twang anew on Bob Dylan's Tangled Up In Blue.
Cannonball by The Breeders hums along with great roundness and the Earbuds 2 don't try to put a sheen on the sound or push up the bass like Beats products tend to do.
In this way, Bose says it tries to recreate songs "just as the artist intended". I would agree, though if you don't there is a decent EQ feature in the Bose Music app, which is otherwise a little barebones.
These buds can get incredibly loud, enough that I had to turn down some tracks for fear of damaging my hearing. They also have excellent signal, with a solid connection up to nine metres away from the paired device.
The ethereal soundscape of Only Shallow by My Bloody Valentine's pulsates with walls of guitars through the QC Earbuds 2, and bears repeated listens to appreciate layers I had missed when listening over the years on inferior headphones.
Hide & Seek by Stormzy sounds ridiculously good; expansive, with a powerful bass response that made me forget I was wearing earbuds rather than big over-ears with drivers three times the size.
Basically, only the pickiest audiophile will be able to find fault with these earbuds. They are on the same level of excellent quality as the Sony XM4.
Noise Cancelling & Smart Features
The best ANC around
Amazing reactive 'Aware' mode
Tap and swipe controls
This audio prowess is made all the better thanks to what I can only describe as astonishing active noise cancellation. It's the best I've ever experienced on wireless earbuds, and as good as the ANC on Sony's superlative WH-1000XM4 over-ear headphones (I've not personally tried the XM5).
With the buds nestled in my ears, outside noise is almost completely silenced. In an office environment with no audio playing, I could still hear voices but they were like faint fragments of sound on the edge of a sea of nothing. Someone speaking at normal volume two metres away was impossible to hear.
Bose has undoubtedly improved the ANC from the first-gen model of the QC Earbuds and it was already excellent. It works by playing a fairly loud chime sound into your ear when you put each bud in. The bounce back sound is read by the buds' microphones, which then adjust the level of ANC for the shape of your ears. When you play music, you feel totally isolated from the ambient sound around you.
It's also a little spooky at times, and people might think you are ignoring them. A colleague of mine thought I was, but I genuinely could not hear him with my music playing and ANC on.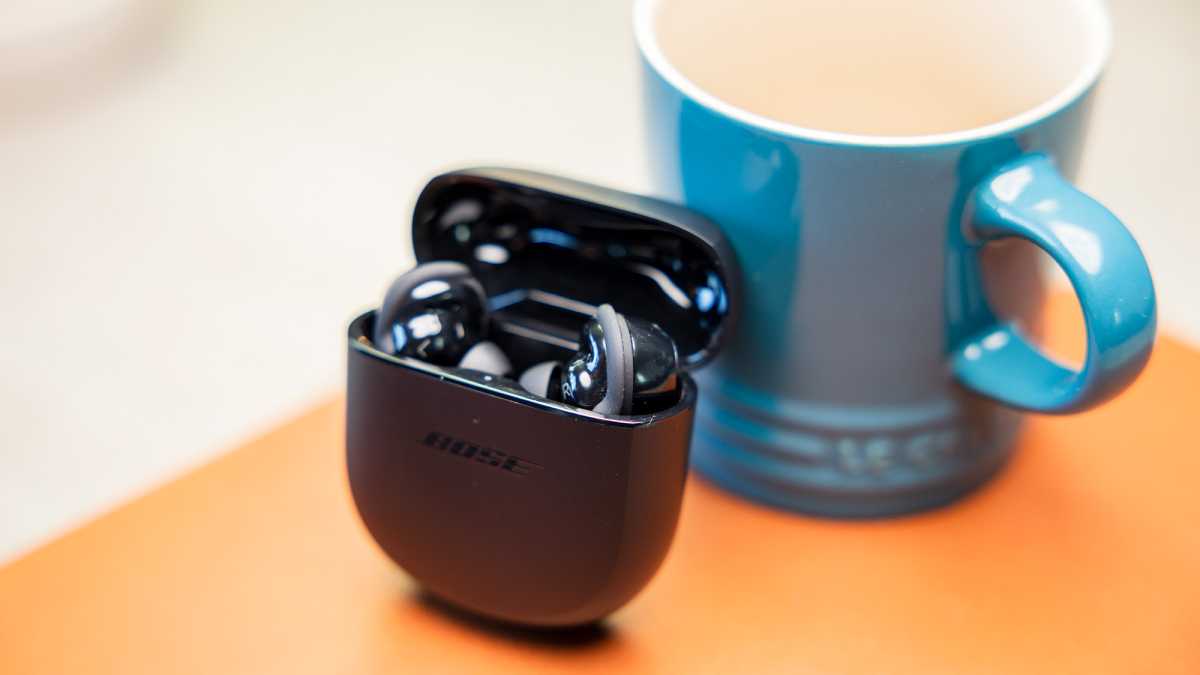 Dominik Tomaszewski / Foundry
Luckily Bose's Aware Mode is excellent. Tap and hold either earbud and they let plenty of ambient sound in so you can talk to people or be more aware of surroundings like traffic.
A great new feature is ActiveSense, Bose's tech that listens out for louder sounds and turns them down. It's incredible – on a busy road with Aware Mode on but listening to music at a medium volume, the buds easily and accurately heard an approaching police car siren and turned it right down in the mix while still letting in other ambient noise. I was very impressed, and it's similar to what Apple's second-generation AirPods Pro can do.
Unlike other buds out there you can't adjust the levels of ANC (Quiet Mode) or Aware Mode on the fly, they are either on or off. However, you can create your own modes, within which you can customise the level of noise cancellation.
Either bud can also control play/pause with a tap, and forward and back track with two or three. Volume is controlled by sliding up and down. You can also summon your phone's digital assistant.
It's great to have all this function available without getting out your phone, but the taps did tend to push the bud a little painfully into my ear.
A downside to the Bose over Sony or Apple's latest is you can only be connected to one Bluetooth source at a time.
Sony and other rivals let you connect to two with Multipoint and can seamlessly play audio from both. Apple has tech that can flick you between iPhone, iPad, Mac, and Apple TV depending on which is playing audio.
No such luck with Bose. It's not a reason not to buy the QC Earbuds 2 as the sound quality and ANC are enough for me to think they're worth the asking price, but if you want to be connected all day to two devices then you will get annoyed.
The Bose Music app can remember up to six paired devices, but you must go into the app to select which one you want as the audio source.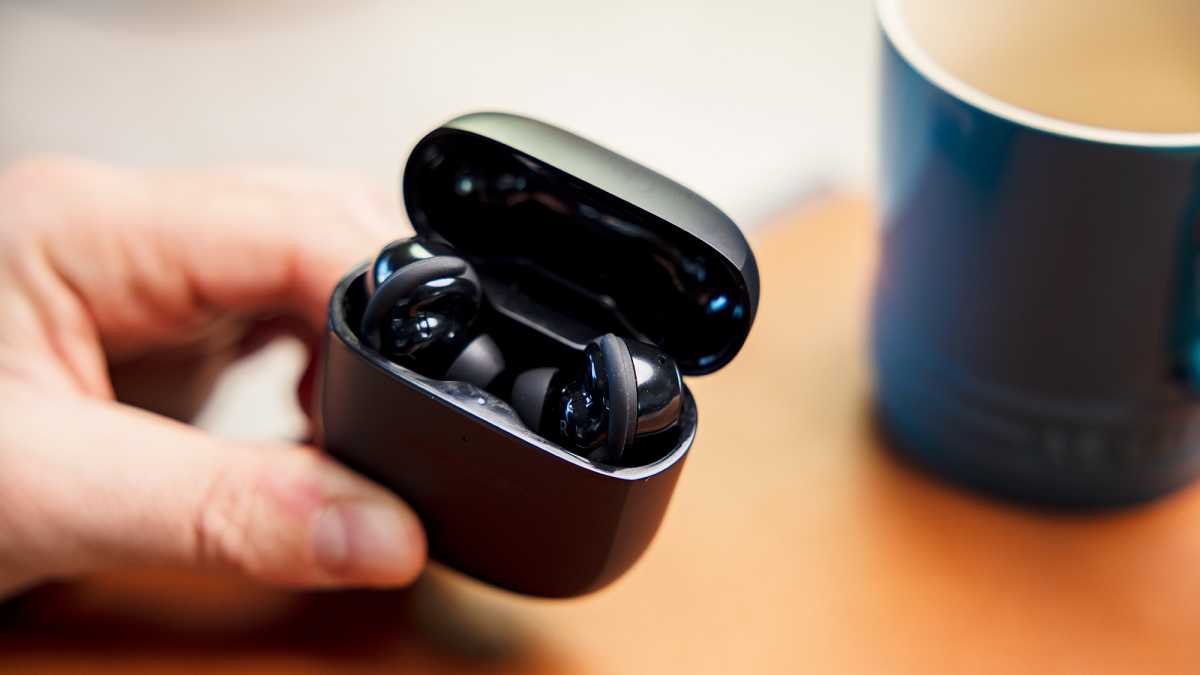 Dominik Tomaszewski / Foundry
Battery Life & Charging
6 hours on one charge
24 hours in total with case
No wireless charging
Battery life fulfils Bose's promise of six hours on a full charge, which is about average in the wireless earbuds category.
The buds take an hour to fully charge from empty and the case three hours. The case has enough juice when fully loaded to charge the buds three times. That's 24 hours with the case – but (sigh) Sony's XM4 can go 36.
You can get two hours of listening from a 20-minute charge. There's a cable in the box but as with most earbuds these days, no charging brick. There's also no wireless charging.
Price & Availability
The Bose QuietComfort Earbuds 2 cost $299/£279.95.
In the US you can buy them direct from Bose and Amazon.
You can buy them in the UK direct from Bose, Amazon, and John Lewis.
The arguably superior Sony WF-1000XM4 cost $280/£250 but can be found for much less at the time of writing. I saw them for £199 at Sony and John Lewis.
Apple's AirPods Pro 2 cost $249/£249 and are a sensible choice if you live in Apple's ecosystem.
Verdict
Bose has made some incredible progress with the QuietComfort Earbuds 2 that are a country mile better than the first generation. The sound quality is tremendous, and the noise cancellation is industry-best.
The thorn in Bose's side at the high asking price is the WF-1000XM4. Sony offers better battery life, more smart features, and support for more (and higher quality) audio codecs.
I personally prefer the fit and ANC of the Bose, but that's the issue with picking wireless earbuds – ears are all different, and how they fit and sound is highly subjective.
But with several tips and wings in the box to help with the fit, only the fussiest audiophile will take issue with the Bose's minor downsides. To highlight them is to undermine a phenomenally good product.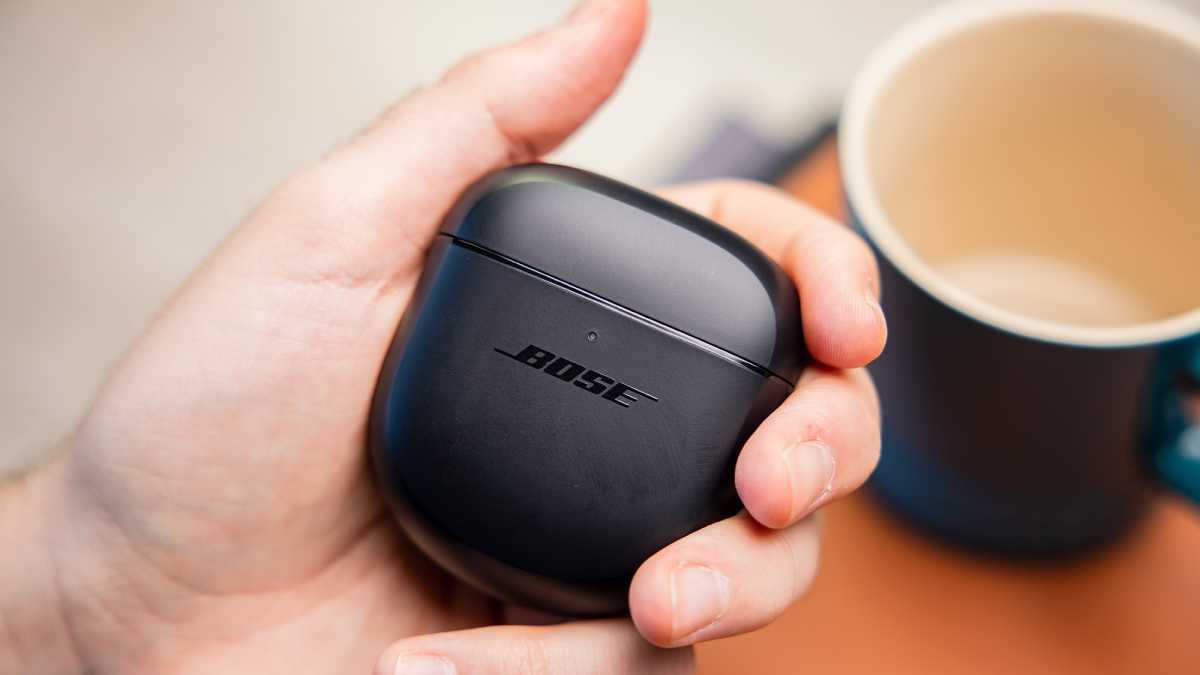 Dominik Tomaszewski / Foundry
Specs
Active Noise Cancelling
Wireless: Bluetooth 5.1, SBC, AAC
Range: Up to 9.1m
Voice control: Yes
Touch controls: Yes
Battery life: 6 hours Charging case: Extra 18 hours
Ear tips and wing tips: Three sizes
IPX4 sweat and weather resistant
Weight: 6.24g per earbud
Best Prices Today: Bose QuietComfort Earbuds II