Back in 2016, Sony announced its arrival in the world of virtual reality with the launch of the original PlayStation VR. It was the first headset built for use with a games console, and no alternatives have emerged since.
While the original PS VR is compatible with the PS5 (provided you request the separate adapter), there's always been an expectation that we'd a successor that's specifically designed for the new console.
That's now become a reality, with the official announcement of the PlayStation VR 2. It's a significant refresh, with key upgrades including a new OLED screen, wider 110-degree field of view and support for 120Hz and 4K HDR.
You'll still be waiting a while to get your hands on the device, but it's possible to pre-order one now in many countries. If you're based in the US or UK, here's everything you need to know.
When will the PlayStation VR2 be released?
Sony has confirmed that the PlayStation VR2 will be released on 22 February 2023.
That might feel like a long way away, but pre-orders are already live. It's likely to be very popular, so we'd encourage you to secure one as soon as possible if you're interested.
How much will the PlayStation VR2 cost?
In short, a lot. Not only is the PS VR2 a lot more expensive than its predecessor ($349/£349), it actually costs more than the PS5 itself ($499/£479).
Sony's recommended retail price is $549.99/£529.99, which is how much you'll pay if you decide to pre-order. That includes the headset itself, plus two Sense controllers and stereo headphones.
If you want a bundle with includes Horizon Call of the Mountain, one of the launch titles, it'll set you back $599/£569. A dock to charge the controllers costs an additional $49/£39.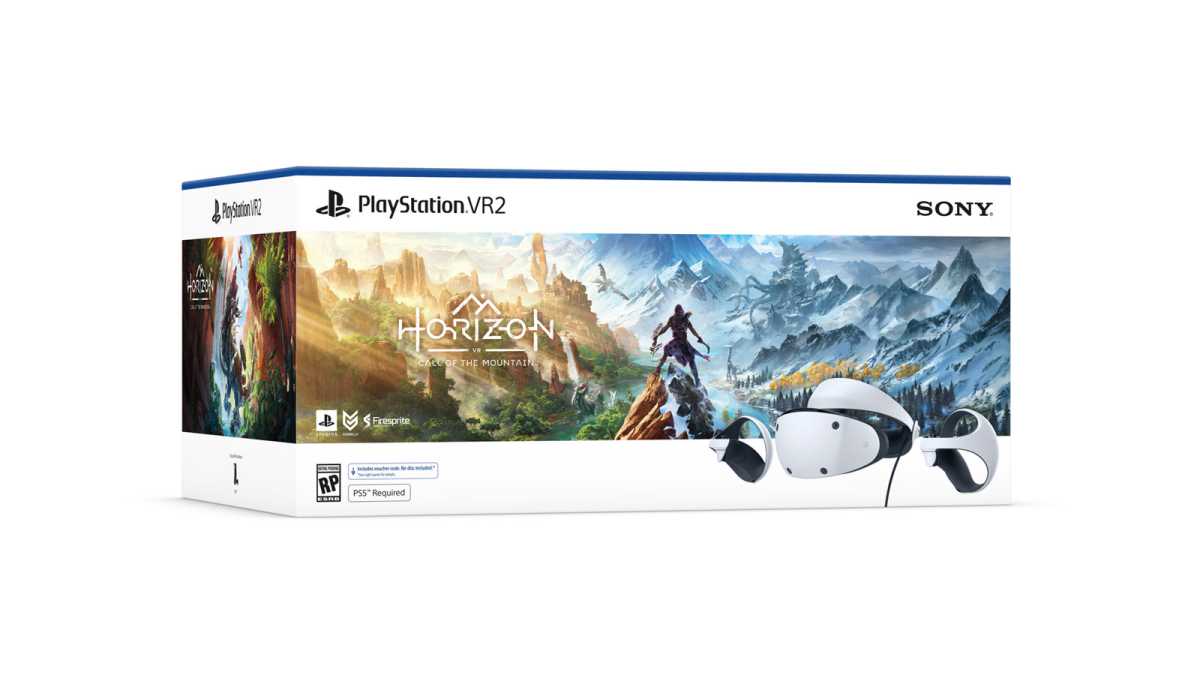 Sony
Where to pre-order the PlayStation VR2
If you're based in the US, UK, France, Germany, Belgium, Netherlands or Luxembourg, pre-orders are limited to the PlayStation Direct store during this "initial launch phase". That applies to the headset itself, plus accessories and launch games.
As it stands, the only way to pre-order in these countries is by registering on the Sony website. You'll need to sign in to the same account you use for PlayStation Network.
Even then, you'll need to wait for a pre-order invite to arrive via email. There's no guarantee you'll get one, but it's your only option for now.
Sony doesn't say how long this "initial launch phase" will last. It may stretch until the headset is released in February 2023, or other retailers may offer pre-orders between now and then.
Either way, registering right now will give you the best chance of getting the PS VR2 to arrive on release day. However, it's worth noting that Sony says orders from the PlayStation Direct store "will ship throughout the week of launch".
If you're not based in one of the seven countries listed above, Sony says the PlayStation VR2 will be sold at "participating retailers". Pre-orders are live now, but it's not clear which retailers are actually letting you buy one now. It's worth checking all the most popular gaming hardware websites to see if it's available there.
Related articles you may like