As the colder months approach, the nights are drawing in and many of us will soon be working in darker conditions. If you want to avoid eyestrain and headaches, then it's worth thinking about levelling up your home office with a monitor light bar.
Unlike a traditional desk lamp, a light bar clips on top of your screen, making one ideal if you're short on space. As the light is horizontal, it illuminates what is directly in front of you, including your keyboard and whatever you have on your desk. You can also customise brightness and colour temperature to get a light that's exactly right.
Owning a light bar can vastly improve your home office set-up. According to the NHS, digital eye strain is often caused by inadequate lighting conditions and screen glare. That's a common issue if the lighting around your PC or laptop is too dim or too bright, or if you have lights that are not positioned correctly to avoid reflections from your screen.
Fortunately, monitor light bars are specifically designed to combat these issues. BenQ, well known for its range of monitors, also offers a selection of ScreenBars.
They include built-in ambient light sensors which automatically adjust brightness to 500lux – the recommend level by the CIBSE.
The asymmetrical design means that the light won't reflect off your screen and into your eyes, eliminating glare. It's also flicker-free, so it won't give you a headache.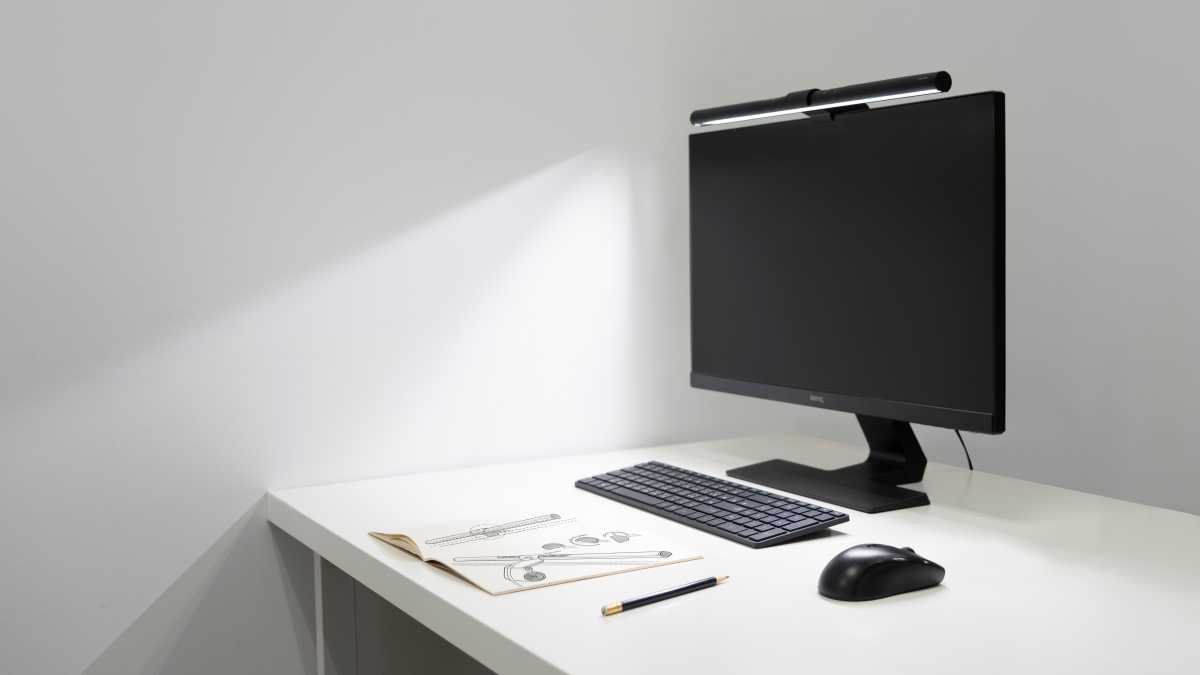 BenQ
The ScreenBar produces an oval lighting projection, covering a minimum area of 60 x 30cm on your desk. This means that your screen and the surroundings on your desk have balanced lighting, improving eye comfort.
If you don't want to use automatic brightness, there are 15 levels to choose between as well as eight colour temperatures, providing a range of options to suit your preferences.
For example, if you want a relaxing atmosphere, you can opt for warmer whites. Alternatively, you can go for cooler tones to help you focus and concentrate.
All of BenQ's light bars are fitted with foam protectors, so they won't damage or scratch your screen. The clamps on the ScreenBars can fit onto monitors from 1 to 3cm in width – except for the top-end model, the ScreenBar Halo, which is compatible with monitors up to 6cm thick.
For the ultimate setup, the ScreenBar Halo comes with a wireless controller, making it even easier to adjust the brightness and temperature settings.
The Halo can clamp onto monitors of different shapes, including curved screens. It also includes a back light, which can either be used in tandem with the front light to create a fuller illumination view, or on its own as more decorative lighting.
BenQ ScreenBars will suit a range of budgets, with prices starting from $99 in the US, and £89 in the UK. With Black Friday coming up, now is a great time invest in a ScreenBar.
PROMOTION
Suffering from digital eye strain?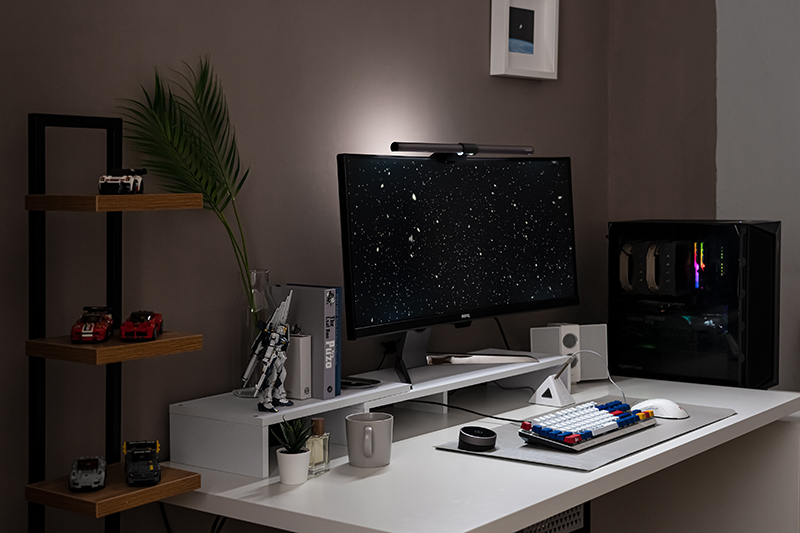 BenQ ScreenBar monitor light bar provides even and sufficient lighting without causing screen reflection. The ultimate lighting solution for eye care and leveling up your work efficiency. A must-have computer accessory you won't want to miss.
If you want to find out more about BenQ ScreenBars, visit either the BenQ US website, or the UK BenQ website.