At a glance
Expert's Rating
Pros
Dependably fast charging
Nice size and shape
Great display
Cons
Feels cheap in the hand
Poor camera quality in low light
Extra branding on the rear
Our Verdict
The Motorola Edge 30 Neo is a likeable handset that gets a lot right. Nicely sized, with a great display and decent cameras it makes a good impression and makes a case for more sensibly-sized phones. If it wasn't for the cheap design and poor low-light camera performance, it would be an easy recommendation.
Price When Reviewed
£349.99
At now over a decade in, various trends in smartphone design have come and gone – we have been through a multitude of building materials, ethos and shapes over the years. As manufacturers are trying to constantly guess the next new trend, this will only continue.
But some ideas are stubborn and refuse to die, sometimes even when the evidence is piled against them, and one such idea is the 'small' phone. Sony has tried, LG tried, Samsung tried, even Apple tried and the public has yet to take the bait, with larger and larger phones now seemingly a rule of nature.
Motorola is no ordinary manufacturer, however, having been exceptionally experimental in the past, and the Edge 30 Neo is its latest offering. At 155g and with a 6.2in screen, it feels like a toy compared to the likes of the iPhone 14 Pro Max, and the question is whether this will prove to be either enough of a strength to stand out, or a reason to avoid. Is the 'small' phone ready for a long-due comeback?
Read on for our full review.
Design & Build
Easy to use one-handed
Some issues with the finish
Feels sturdy in use
What defines a 'small' phone depends heavily on the context of the moment, for anything 'small' can only exist as the opposite of something 'big'. Ten years ago, the first Galaxy Note at 5in was deemed ungainly and massive, and surely something that would never catch on. With a screen that stretches 6.2in the Motorola Edge 30 Neo is therefore not as small as the likes of the iPhone 13 Mini (5.4in), but compared with the likes of the average 6.6in plus flagship device it is positively minuscule.
Sean Cameron / Foundry
Aided by the thin 20:9 aspect ratio, this means that the Neo is a device that can easily be used one-handed, which is a real lifesaver in situations that deny the use of two hands such as when holding an unruly toddler. Weighing in at 155g it feels like a phone from another era, back from a time when smartphones didn't add bulk every year but subtracted.
The positive impressions end with the construction however. There are a lot of good things to be said about the use of plastic as a building material, however when not done quite right its use can leave a device feeling a bit 'cheap', and that is unfortunately the case with the Neo.
Though it is sturdy and seems as though it could take a few knocks without issue, the slightly rough pattern on the rear doesn't provide the same grip as it ought to, which coupled with the plastic frame and thin buttons mean that the overall impact is negative. It feels a little toy-like and insubstantial, lacking some of the 'heft' that might be associated with being premium.
That it is made of plastic also means that there is no tendency, as there is with some phones, to dive off of any available surface with impunity, which is only a positive.
There is also some consolation in the relative breadth of colour options available, in addition to the usual white and black there are purple and green variants, which all are colours provided by Pantone. This is nice to have, though we would have appreciated the ability to remove the panel advertising this fact that sits on the rear of the device, which is large and permanent.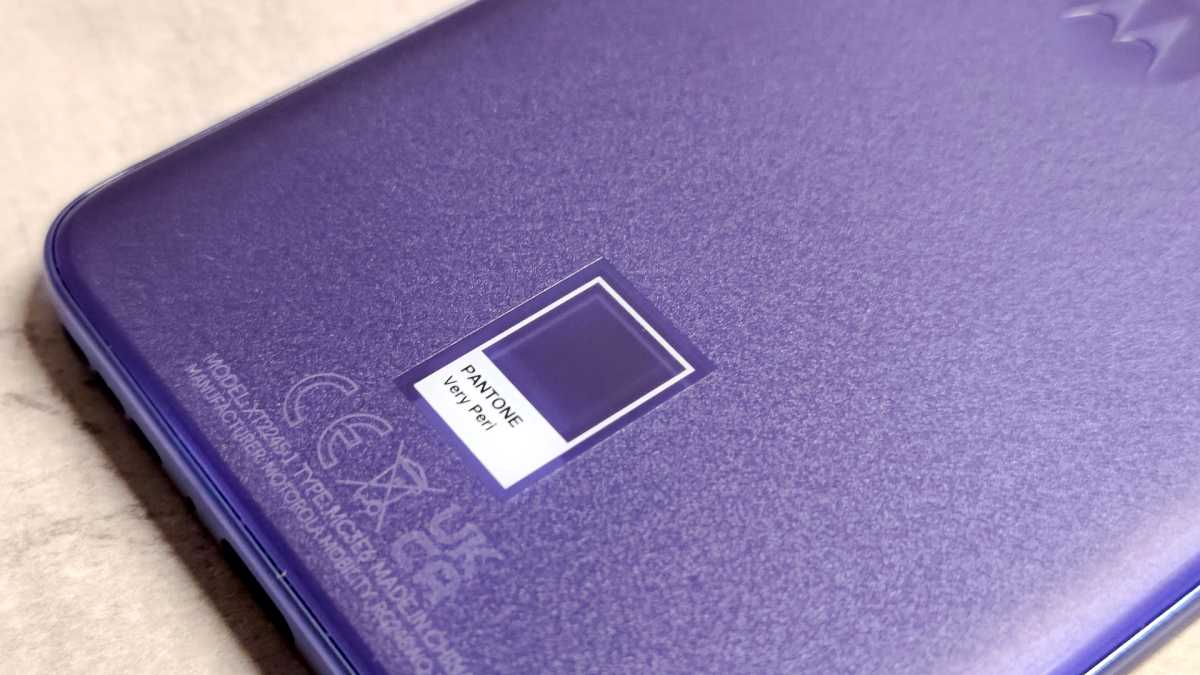 Sean Cameron / Foundry
The included under-display fingerprint sensor proved to also be quick and efficient in everyday use, offering no false positives.
In all, the Neo is successful as a 'small' phone in that its form factor is a selling point in itself, but falls down in terms of its fit and finish. For a device costing from £350 (around $350) new, it doesn't quite feel worth the price of entry, which will only serve as a weakness as the competition only continues to improve in this area. Many entrants for £100 less offer glass and metal, which isn't a good look for the Moto.
Screen & Speakers
Excellent OLED 120Hz display
Good stereo speakers
1080p resolution
Though there are many advantages to a smaller device there are a few points at which going bigger becomes desirable, and those mostly occur when watching video or similar – sometimes bigger is definitely better.
But the Edge 30 Neo's display is only small in a certain sense, as it is over 6 inches it still offers enough screen real estate to provide a comfortable viewing experience. It has also been the focus of much TLC on the part of Motorola and doesn't disappoint as a consequence.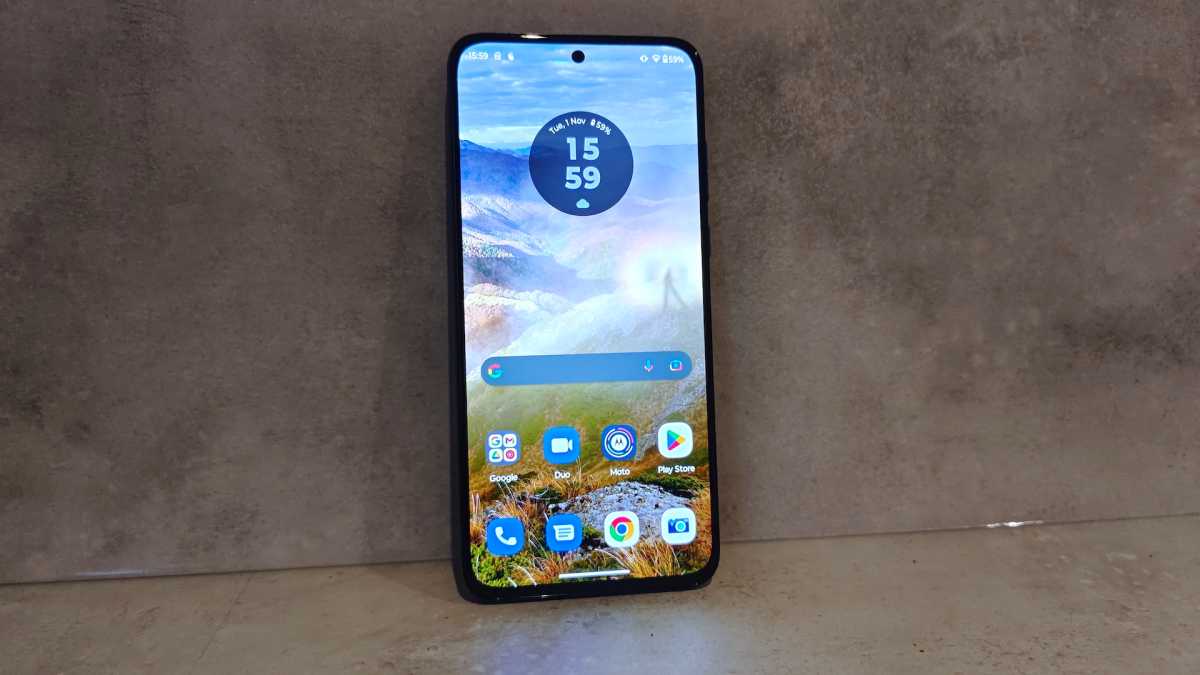 Sean Cameron / Foundry
Firstly, as an OLED panel, it exhibits all of the bold colours and inky contrast that are to be expected, and happily it also has enough brightness to combat strong sunlight – something that isn't a given for the price class. With a 120Hz refresh rate and a 240Hz touch sampling rate it feels smooth in general use, and at 1080p it has enough resolution to make most content look sharp, from video to gaming.
In all, if you spend a lot of time reading on your phone, watching video or indeed most anything else, the screen on the Edge 30 Neo doesn't disappoint.
The picture yet improves (no pun intended) with the included speakers, which are stereo and very loud. Though they won't challenge the likes of a real stereo setup, for a smartphone they offer some depth and bass, not a given, and as such are a success.
Specs & Performance
Snapdragon 695 processor on offer
Mostly decent performance
Can't handle intense loads
If the general design and display were clear areas of focus for the Edge 30 Neo, performance was not. This isn't to say that the device can't keep up, but the picture is somewhat complicated.
The Edge 30 Neo runs the new Snapdragon 695 processor, which is paired with 8GB of RAM and 128GB of storage, and in most general usage feels smooth. That is to say, when swiping through the interface or using social media, it won't break a sweat, but this is the minimum to be expected in 2022.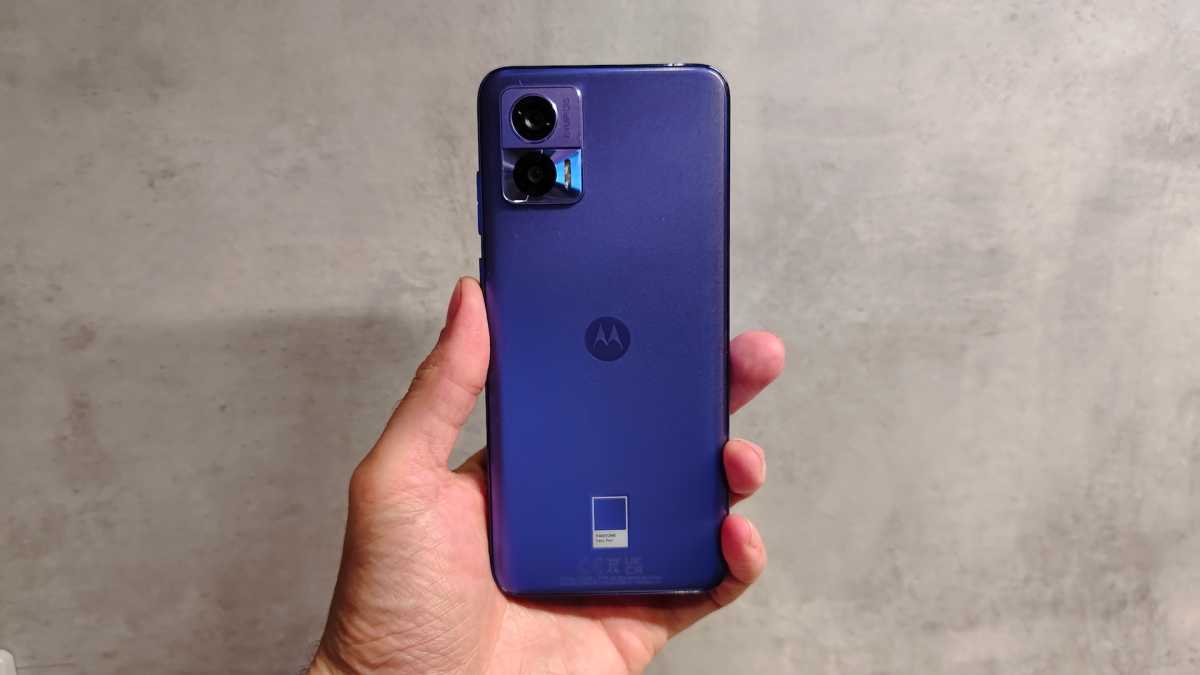 Sean Cameron / Foundry
Benchmarks reveal an interesting story, and show that the Neo doesn't have the same horsepower as much of the competition. With a multi-core of 1380, it lags behind the likes of the Realme 9 Pro and much of what the likes of Xiaomi offers, often for lower price points. As synthetic tests often don't reflect the experience of using a device, this won't matter for many, but for those who put an absolute premium on power, the Edge 30 Neo might not be the best option.
That will of course mostly mean those who game a lot on their smartphones. Though the Neo can certainly run the likes of PUBG and Fortnite, it gets hot under the collar while doing so, and doesn't provide either the best frame rates or the best visual fidelity.
Benchmarks we need are below:
Cameras & photography
Has Optical Image Stabilisation on the main sensor
Main camera has 64MP resolution, outputs 16MP images
Ultrawide camera is 13MP
The Motorola Edge 30 Neo offers something of an interesting camera situation, blending a seeming lack of ambition with nonetheless solid delivery.
To elaborate, the specifications on paper only match the competition and don't seek to exceed it. Its first sensor has 64MP, an f/1.8 aperture and optical image stabilisation, and its second has a wide field-of-view and offers 13MP along with an aperture of f2.2. As having more and more sensors becomes the norm it is interesting that 'only' two are offered on the Neo, but there is something to be said about doing more with less.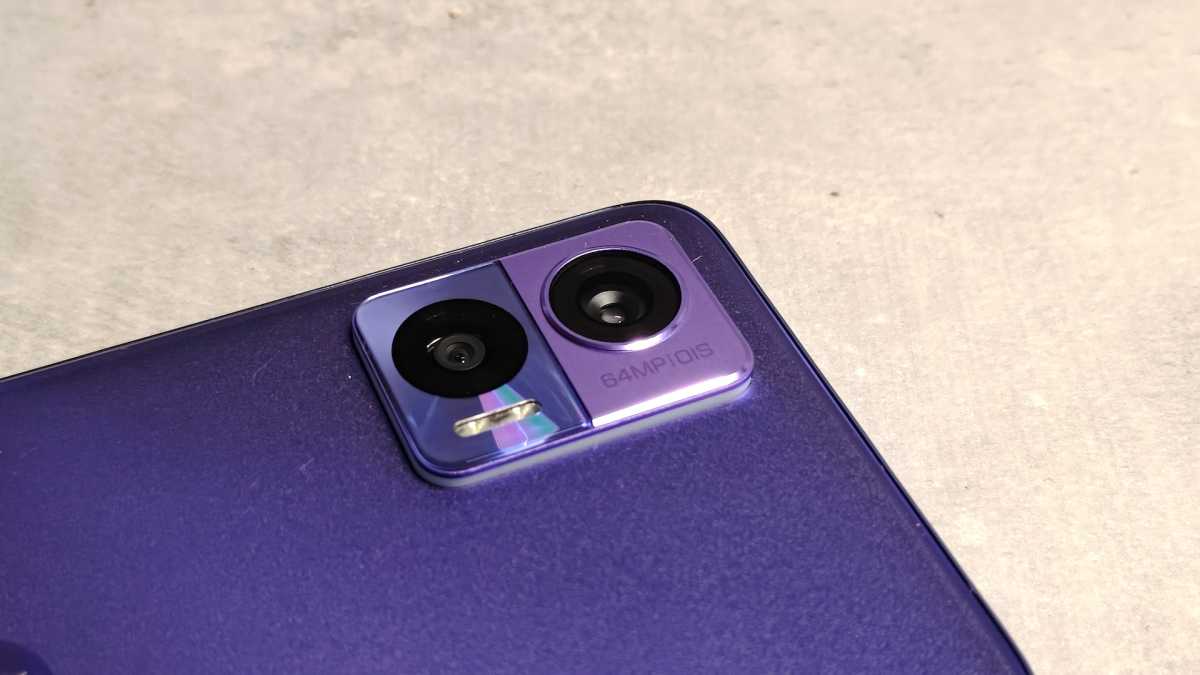 Sean Cameron / Foundry
Moving on to the camera app itself initially, it offers little to disagree with. Sporting the now 'standard' Apple layout (vertical swipes to change shooting modes, horizontal to alter details) it is correspondingly easy to navigate and should now be familiar to most. An issue does arise with the speed of said app, which is to say that it is slow.
Swiping between settings and then getting a focus lock can take a surprisingly long time (i.e. a few seconds), which often makes the difference when it comes to getting an important shot. Moreover, it makes photographing the likes of your average dog an exercise in saintly patience.
It is a good thing then that the results, when they arrive, are positive. Images from the main camera have nice punchy colours, good detail and sharpness plus decent dynamic range for the price class. This is mostly the case too for the wide-angle sensor, though with a requisite drop in levels of detail.
The picture falls apart in low light, where even with the included night mode the images produced are noisy and dull. As the competition continues to make strides in this area, it is unfortunate that the Neo fails to stand out, especially when it has the requisite hardware.
A handful of extra photo modes are included with the Neo, of which spot mode earns a mention as a fun distraction, along with a sometimes useful pro mode that allows the adjustment of various settings on the fly.
The Neo as it stands is not a camera champ, but in most situations, it is capable of turning out respectable images.
Battery Life & Charging
Charges at 68W
Achieves over 80% of charge in 30 minutes
Battery will generally last all-day
An inherent advantage in larger form factors is simple, with a bigger device comes more space, ergo more room for components such as larger batteries. It has become the general rule that a 'Plus' model of any given smartphone will outlast a 'Mini', though this isn't to instantly dismiss any phone that doesn't reach a certain size threshold.
And that is because, as ever, any expectations depend on context. The minimum battery life that any smartphone should last in the present is a full day, with 'good' battery life being that which reaches into a second, or sometimes even a third.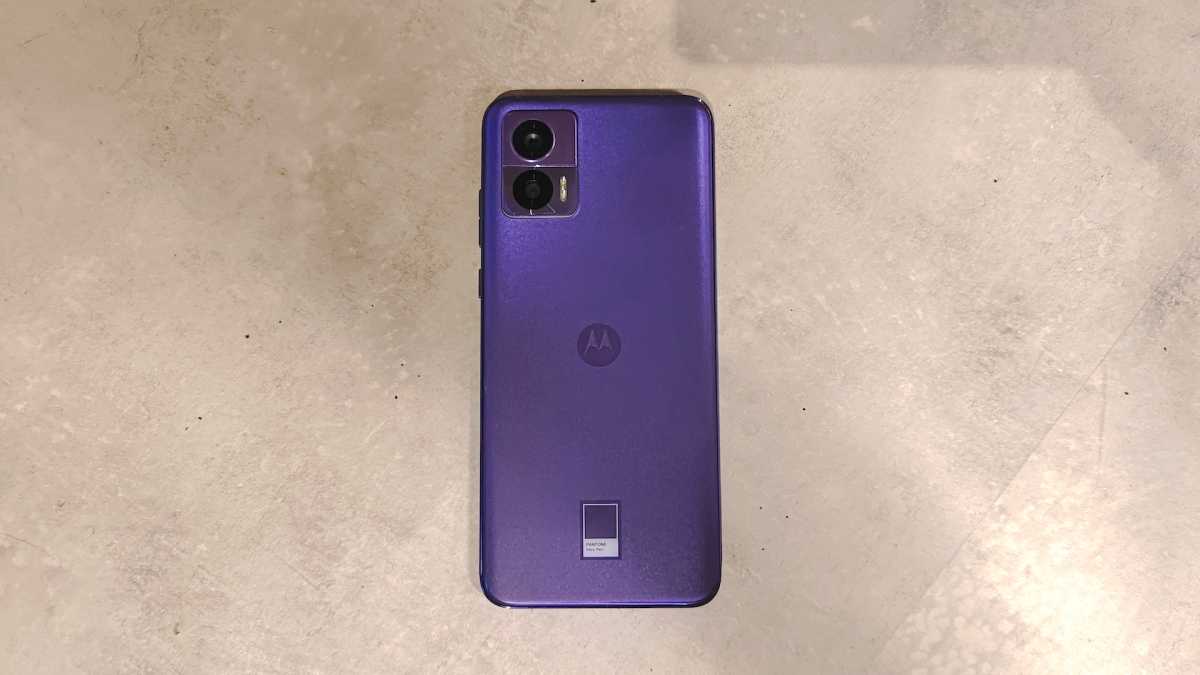 Sean Cameron / Foundry
The Edge 30 Neo certainly has the bones to achieve excellent autonomy, its chipset is produced on a modern process that promises to be energy efficient while its 4,020 mAh battery is generous for the size of the device.
In general, we found that, although it couldn't quite achieve the heights some of its bigger rivals are capable of, it could last all day without issue. That's with mixed use for messaging, internet, GPS, streaming and video calls – with around 4 to 4.5 hours of screen-on time on average.
A pleasant inclusion is fast charging at 68W, with a compatible charger included in the box. Though this doesn't quite match the best in terms of advertised speeds, we were able to get over 80% charge from flat in 30 minutes, reaching 100% in 45 minutes. If you are in a pickle and need a lot of charge and fast, this will do the trick.
Software & Apps
Offers the 'Moto experience'
Generally laid-back software
Helpful gestures included
Although the general picture has improved in recent years, there is still no guarantee when buying an Android device that the software will be a known quantity. That is to say, there are large manufacturers such as Xiaomi which opt to offer their own twist on the operating system, to often varying results.
Motorola does make adjustments to the 'stock' Android formula, but in a way that enhances the overall user experience and never gets in the way. There are the gestures for instance, a double karate-chop activates the torch or a double twist of the wrist will launch the camera – both of which are simple, quick and intuitive to use.
Then there's the ambient notifications, which quietly activate to give important information with the screen in a semi-sleep state, or Ready For which allows the phone to act as a quasi-desktop when plugged into a screen. All of these generally prove to be pleasant and unobtrusive, adding a little needed flavour to the Android experience.
The skin used by Motorola is generally paired back too, offering nothing different than what might usually be included. That is to say, a swipe to the left brings up the Google feed, a swipe up brings up the app drawer and a swipe right reveals installed apps. There's no bloatware pre-installed and no adverts for included services.
On the whole, the Moto experience proves to be a value add to the Edge 30 Neo, if not a reason to purchase outright.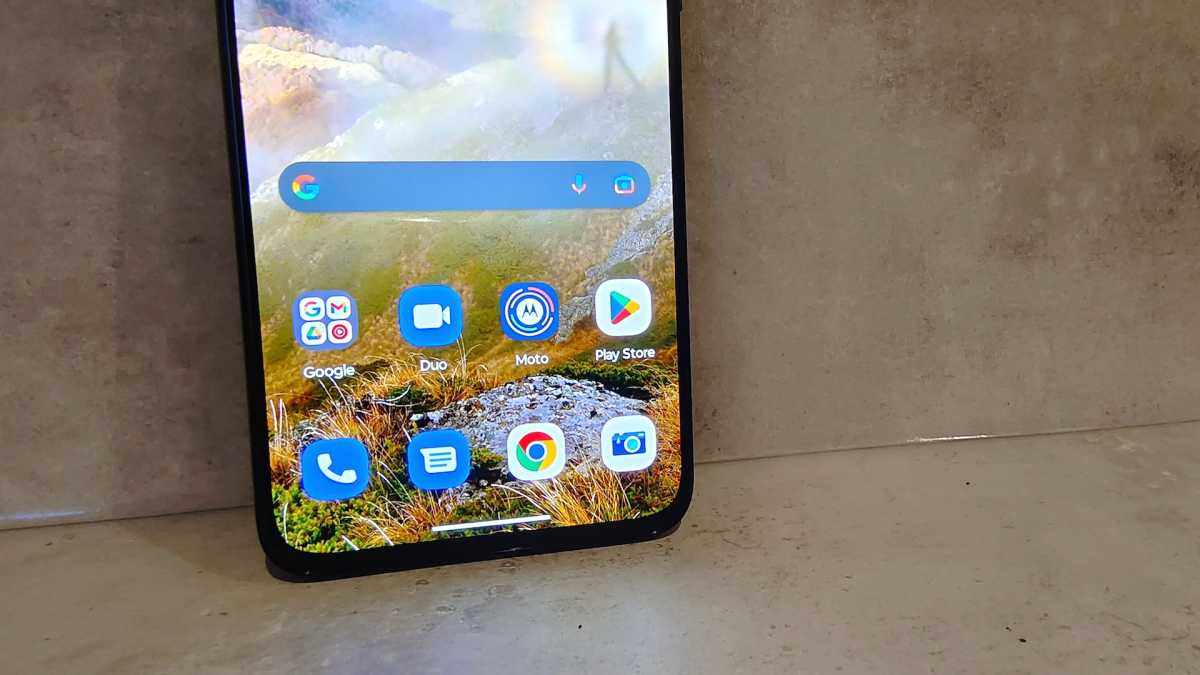 Sean Cameron / Foundry
Price & Availability
The Motorola Edge 30 Neo is available now in the UK directly from the manufacturer and major retailers for prices beginning at £349.99 for the 8GB/128GB option. Four colour options are available – Very Peri, Black Onyx, Ice Palace and Aqua Foam – and it's available right now from retailers including Motorola, Currys and Amazon, along with Carphone Warehouse if you want to go down the contract route.
It's not available in the US at the time of writing, however, with no word on whether it'll make it to the States later on.
At £349.99, the Edge 30 Neo comes in against mid-range big hitters like the OnePlus Nord 2T and Motorola's own standard Edge 30, both of which offer a big improvement in performance with very little extra cost. To see how they compare, take a look at our selection of the best mid-range phones.
Verdict
In 2022 the mid-range smartphone market is especially crowded and it is difficult to stand out to any meaningful degree. With the Edge 30 Neo, Motorola seems to have banked on a small form factor and interesting colour choices being enough to do so, and there's certainly nothing else comparable design-wise for the price.
It does a lot to impress too, with a great screen, fast charging and a generally capable camera system that makes for a likeable phone overall. If not for poor low-light camera performance and a generally less-than-premium feel, it would be an instant recommendation.
If you are in the market for a smaller phone and don't have the largest budget, this should be your first option. Should you have other priorities, the Edge 30 Neo is worth a look as a mostly charming handset that has a lot to offer, but it will likely not be the best choice for any specific type of buyer.
Motorola Edge 30 Neo specs
Android 12 with Moto experience
6.28in Wide FullHD (2400×1080) P-OLED, 120Hz
Qualcomm Snapdragon 695 processor
8GB RAM
128GB internal storage
64Mp f/1.8 OIS rear camera
13Mp f/2.2 ultrawide
32MP f/2.4 front camera
Under-screen fingerprint scanner
2D Face Recognition
Bluetooth 5.
GPS, GLONASS, GALILEO
NFC
5G
USB-C
4020mAh non-removable battery
68W fast charging
152.9 x 71.2 x 7.8 mm
155g
Launch colours: Very Peri, Black Onyx, Ice Palace and Aqua Foam