Motorola is bringing its latest foldable Razr flip phone to the UK at a price that undercuts Samsung's Galaxy Z Flip 4.
The Motorola Razr 2022 – that's its official name – will cost £949.99/€1,199 compared to the £999/€1,109 Samsung sells the Z Flip for.
So, although the Razr costs more than the Z Flip 4 in mainland Europe, in the UK Motorola is undercutting Samsung by £50. The phone will be available soon, though the company frustratingly has not set official release dates.
The 2022 Razr is the third generation of the company's foldable design that is a direct call back to the classic flip Razr flip phones of the early 2000s. The original Razr V3 launched in 2004 and stood out for years with its revolutionarily thin, slick design.
Fast forward to 2022 and the new Razr phone sports a matte finish with a distinctively large 2.7in outer display, probably its main differentiator against the design of Samsung's Z Flip series, which have much smaller displays when closed.
The Razr's lets you read and send messages as well as make payments all while keeping it snapped shut. Open it up and you've got a 6.7in FHD+ P-OLED with a refresh rate up to 144Hz – higher not only than Samsung's Flips but also most mainstream flagships that only go to 120Hz.
Motorola, which is owned by Chinese tech giant Lenovo, says the screen is HDR10+ certified and can display 100% of the DCI-P3 colour gamut, so it should be a top quality panel. We hope it doesn't suffer the same reliability issues as previous folding Razrs which necessarily pulled the display away from the body of the phone when folding, leaving parts exposed and making the phone very delicate.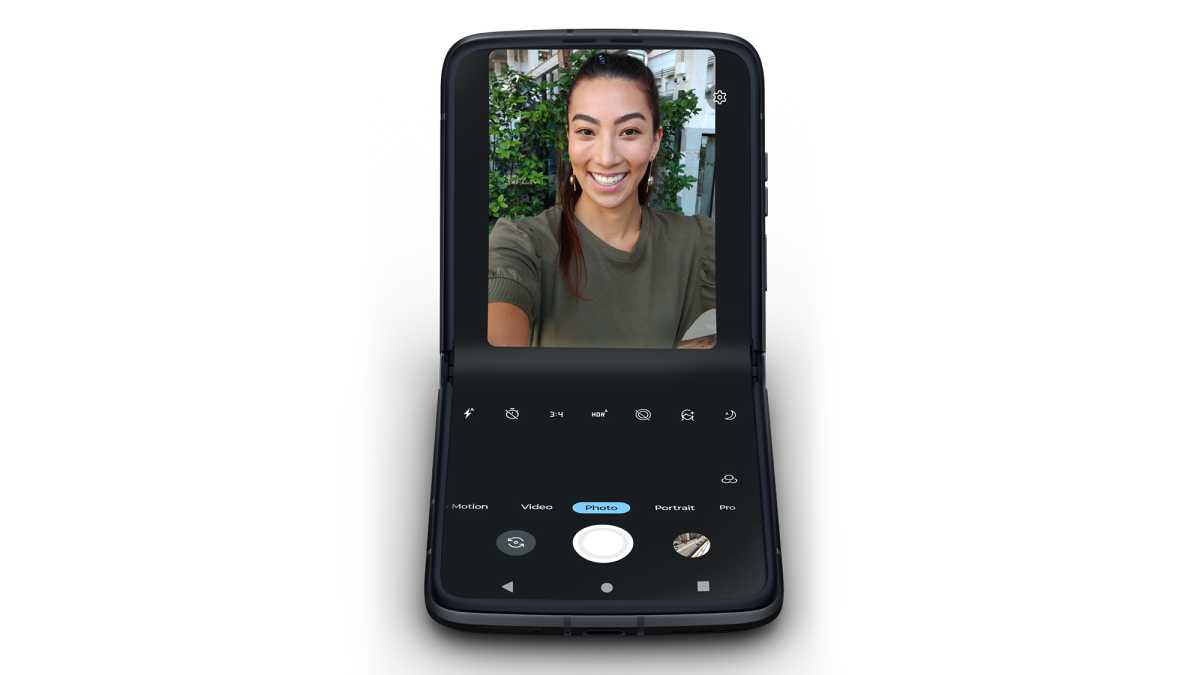 Motorola
A new redesigned hinge on the Razr 2022 can be folded to stay open at several angles to do things like take a video call hands free or take a photo on a timer. Moto is also pushing the phone's split-screen function, though this will work just as it does on regular Android smartphones.
What's cuter and more functional is you can prop the phone open at nice and use the outer display as a bedside alarm clock.
Motorola also claims the new Razr has the "most advanced camera of any flip phone" – when based on what it says is the "unique" feature combination of its 50Mp main sensor's 1/15" size, larger Ultra Pixel size of 2.0μm, a wide f/1.8 aperture, OIS, and its Instant All-Pixel Focus feature.
This claims to shoot photos with more focusing pixels than other phones for better focus in differing lighting conditions. We'll have to put that to the test when we get the new Razr in for review, alongside the other rear 13Mp ultrawide lens and 8K video recording.
The phone is powered by Qualcomm's latest high-end end Snapdragon 8+ Gen 1 chipset, with 8GB RAM, 256GB storage, and a 3,500mAh battery. The latter looks a little on the low side, so hopefully battery life won't be the Razr's downfall.
It's also only IP52 water repellent, which is better dust protection but worse water protection than the IPX8 rating of the Z Flip 4.
If Motorola doesn't get it right this time with the Razr, as well as sell a fair few, it will lose even more ground to Samsung in the great foldable race.
For now, Samsung is leagues ahead.