In a world where most smartphones tend to provide around a day's worth of use, most of us have gotten into the habit of charging our phones every night when we go to bed. While that'll set you up with 100% battery by the time you wake up, you might actually be doing more harm than good.
That's not a new idea – tech experts have been advising against leaving phones on charge for hours at a time for years – but new anecdotal evidence from TikToker @shoandtech sheds new light onto just how much damage it can do and, more importantly, how much better your battery life could be if you break the overnight charging habit.
In the TikTok video, Shomes explains that he very rarely puts his iPhone 13 Pro Max on charge every night, claiming that he can "count on two fingers" how many times he has done it since he bought the phone at launch back in 2021. He then shows the iPhone Battery Health menu in the Settings app, where users can find out just how well (or badly) their battery is doing, and to everyone's surprise, his capacity is still at 100%.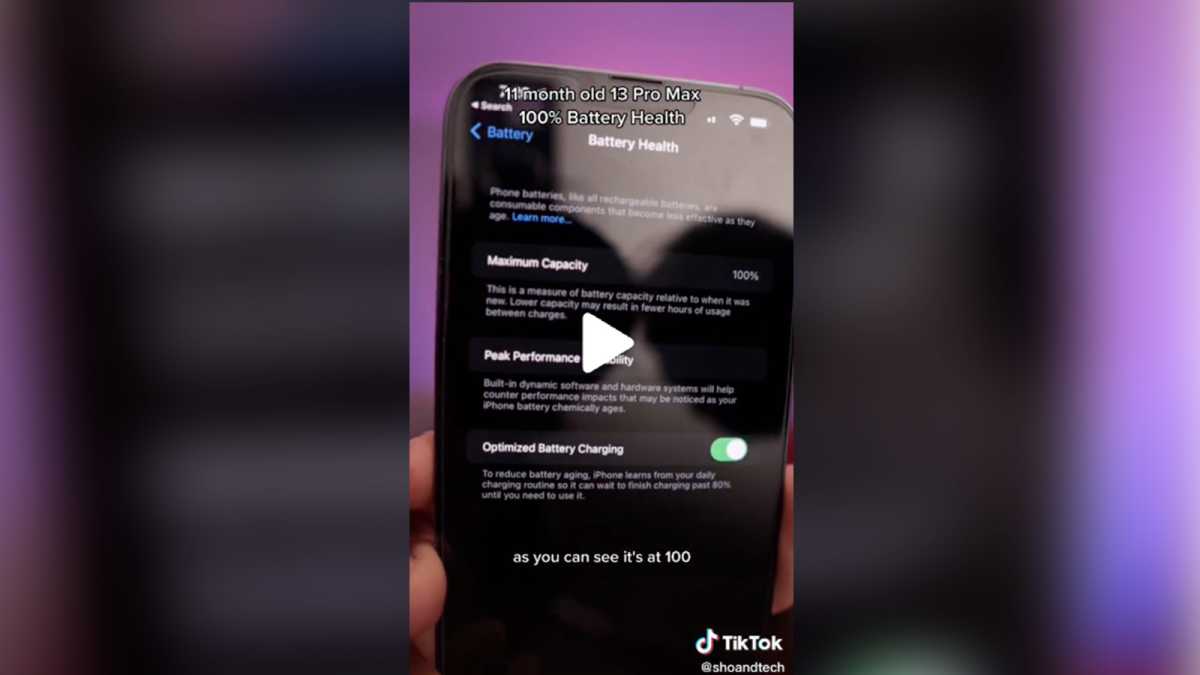 @shoandtech (TikTok)
He then compares that to his wife's regular iPhone 13, which was bought three months after launch. With nightly charging and Apple's optimised battery charging enabled, his wife's battery capacity has dropped to 93% in just nine months.
To further prove his point, the TikToker then shows an iPhone 12 Pro that he bought a year before the iPhone 13 Pro Max, and that too is still at 100% capacity. That's a particularly impressive feat considering the phone is around two years old at this point.
He wraps up the TikTok by explaining "So if you care about your battery health, whether it's for resale or getting maximum battery life on a day-to-day basis, then you need to stop charging your iPhone overnight."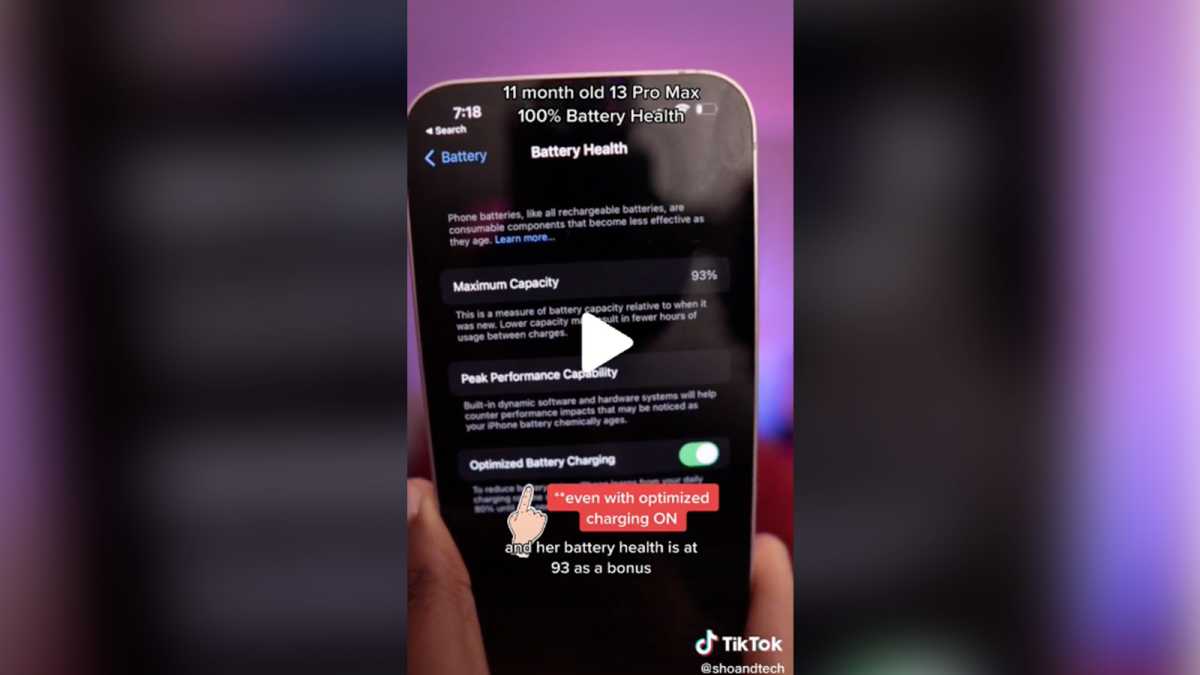 @shoandtech (TikTok)
There's a very simple explanation as to why our phone batteries degrade over time with excessive charging.
As explained in very technical terms by Battery University, once your phone hits 100% charge, it switches to what's called a 'trickle charge' to maintain the full charge until unplugged. The issue is that this keeps your battery in a high-stress state for much longer than its needs to be, and over time, the battery simply gets worn down.
Companies like Apple have tried to combat battery degradation with features like Optimised Battery Charging, a feature introduced to iPhones with iOS 11.3 back in 2018. The idea is that your iPhone will sit at around 80% charge for most of the night, only receiving a full 100% charge when it's close to when you usually wake up.
It's certainly better than charging your iPhone to 100% capacity at the start of an 8-hour sleep, but, as shown in the TikTok, it's still not as good as only charging your iPhone when needed. It'll still trickle-charge at 100% until you eventually wake up and unplug it, after all.
So, what are we to do instead? The ideal solution is to only charge your iPhone for as long as needed, and to not leave it charging excessively for hours on end. The ideal solution would be to wait until it's completely drained of battery, or close to that. If your iPhone's battery is still at 70/80% before you go to bed, it's probably a better idea to leave it off charge until the next day. After all, you can always give it a quick top-up in the morning if need be – as long as it's not left for hours on end.
It's worth noting, however, that the dangers of overnight charging are not universally accepted among those in the tech industry. There's a particularly techy and in-depth discussion among techies on Quora that throws the concept into question, claiming that "Any device that uses a Lithium Ion or Lithium Polymer battery must incorporate a charging circuit that cuts off charging power when the battery reaches 100%".
However, with contrary evidence from Shomes on TikTok and the fact that most of us are probably sat with less than 100% battery capacity, it's hard to argue that the battery optimisation tech is perfect.