At a glance
Expert's Rating
Pros
Exceptional battery life
Top performance
Superb dual cameras
Light for its size
Cons
Overpriced
60Hz screen
Slow charging
No RAW photo shooting
Our Verdict
The iPhone 14 Plus is the oddest iPhone in 2022 as it is very capable but misses out on several features the iPhone 14 Pro gets while costing nearly as much.
Price When Reviewed
$899
Best Prices Today: iPhone 14 Plus
Apple has ditched the mini version of the iPhone for this, the iPhone 14 Plus. It's a larger version of the regular iPhone 14, which itself is practically an iPhone 13 both inside and out.
Rumour has it Apple wasn't happy with the low sales figures of the iPhone 12 mini and 13 mini and has decided people want the option of a big or bigger screen.
It means we now have two 6.1in iPhones (the 14 and 14 Pro) and two 6.7in models (the 14 Plus reviewed here and the 14 Pro Max).
But in this situation, the iPhone 14 Plus ends up worst off because of the features it misses out on and its price. It's only $100/£150 cheaper than the iPhone 14 Pro, a phone with a high refresh rate screen, an always-on display, the Dynamic Island redesigned notch, a new 48Mp main camera, a telephoto camera, and the latest A16 chipset.
The iPhone 14 Plus has none of those features. It's a big iPhone 13. It's a good phone, but it's the worst value in 2022's iPhone line-up.
Design & build
Apple pressed Select All on the iPhone 13 and copied and pasted it to make the iPhone 14. It then clicked and dragged one corner of the iPhone 14 and made it a bit bigger. That's the iPhone 14 Plus.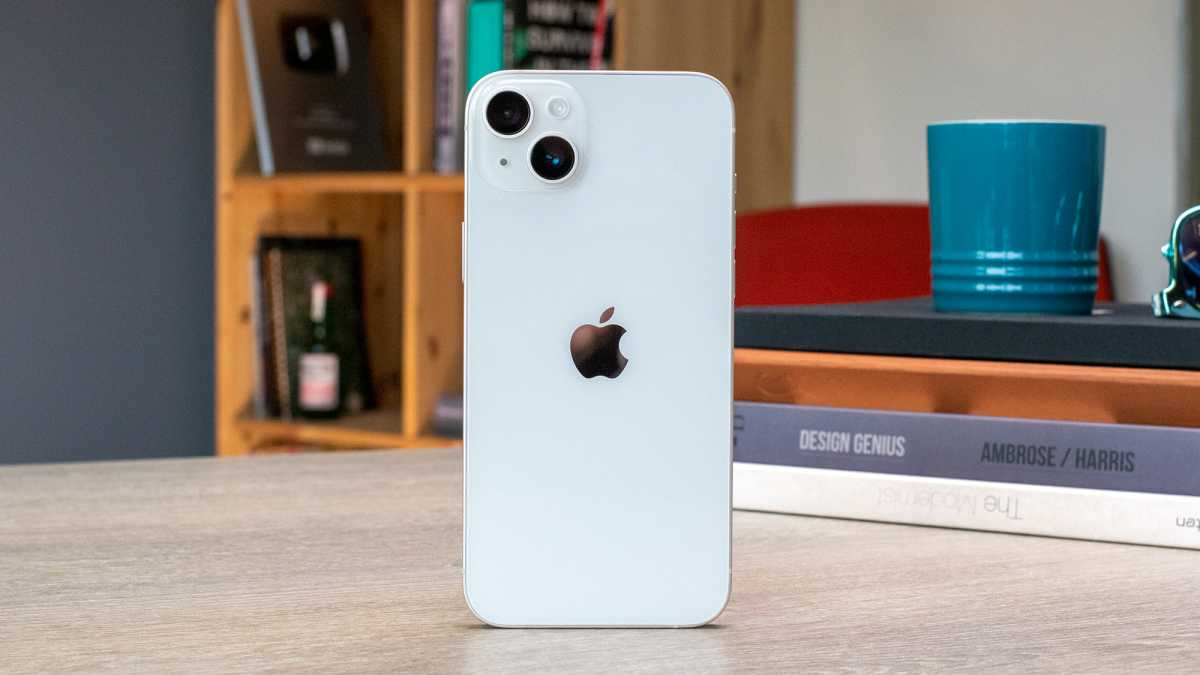 Henry Burrell / Foundry
It's too big, really. The flat edges on a phone 7.8mm thick with a large screen make this a pocket buster. I didn't really mind on days I was at home, but once I went out with a case on the thing, I spent all day wishing I had a smaller phone.
Despite the iterative design (it could be mistaken for 2020's iPhone 12 from a distance) the Plus is a well-built piece of tech that is surprisingly light for its size at 203g. I like the design despite its ageing, and the camera module is as small as they get for dual lenses these days.
The phone has aluminium rails and a glossy glass back, but that glass is grippy and the starlight (white) colour of my review unit shows barely any fingerprints. My favourite colour is the Product Red version.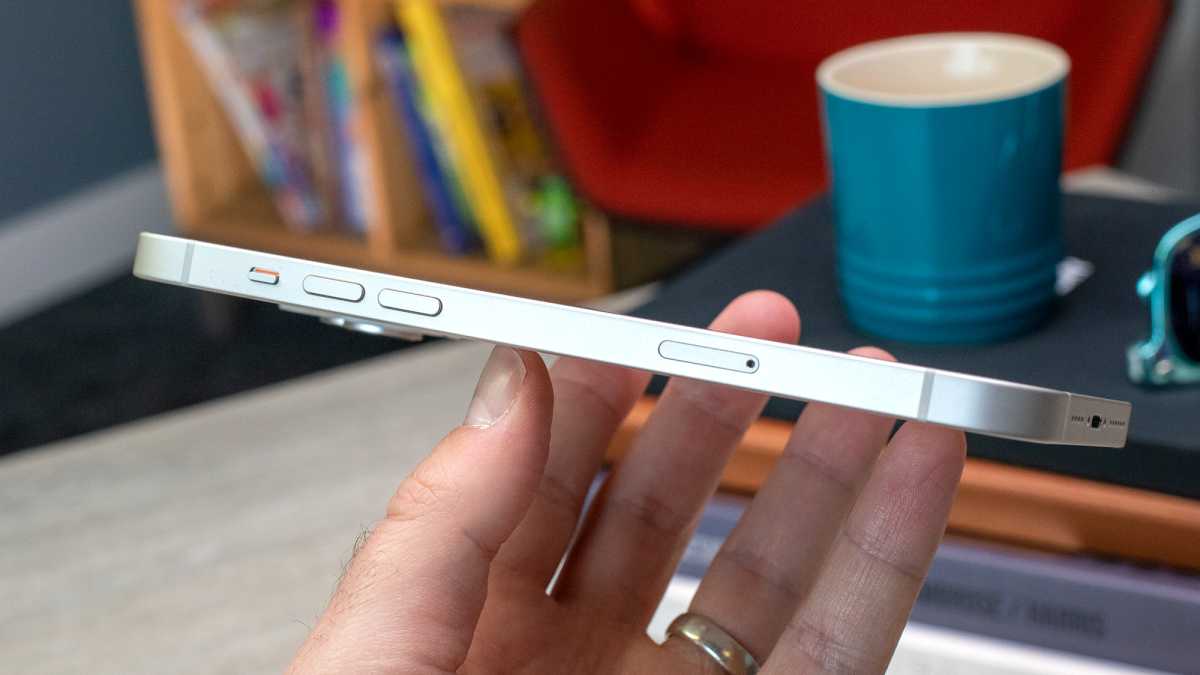 Henry Burrell / Foundry
I still think the regular iPhone models of the last three years feel nicer to hold without a case than the Pro models. The Pros have glossy side rails that look dirty with fingerprints, and their steel construction makes them pocket paperweights. If you want the biggest iPhone possible this year, the 14 Plus is a good pick if you also want it to be as light as possible.
This is still a huge phone though and I struggled to ever use it with one hand. The familiar notch is at the top of the screen for Face ID and the front-facing camera, with the usual mute switch, volume buttons, power button, and Lightning port on the edges.
On US models of the phone there is no SIM tray, with Apple forcing North Americans to go all-in on eSIM. This is very annoying. For the rest of the world, the single SIM tray is still there.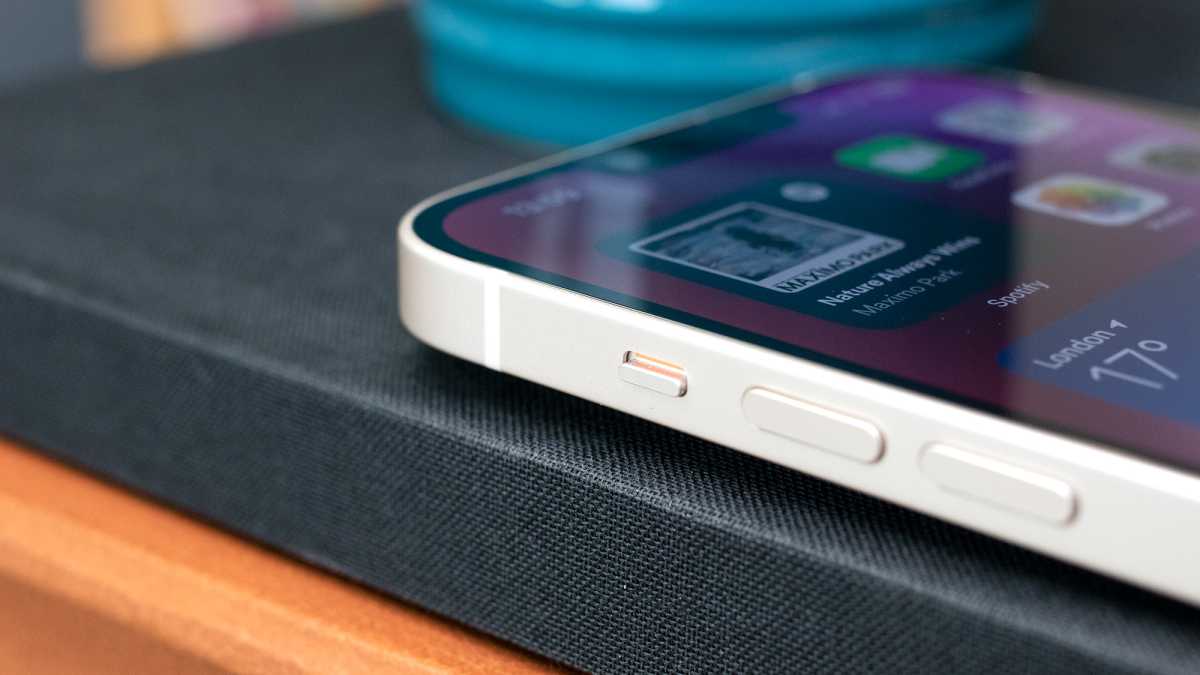 Henry Burrell / Foundry
Display & audio
The iPhone 14 Plus has a 60Hz display, which for the $899/£949/€1,169 asking price is insulting. Every other smartphone on the market that costs as much as this phone has either a 90Hz or more likely 120Hz refresh rate. This means menus, apps, and text scrolls and looks smoother, with less ghosting.
Apple still won't put its 120Hz ProMotion display from its Pro models on the regular iPhones, but 60Hz in 2022 on a screen this large looks dated. This is a premium phone without a key premium feature.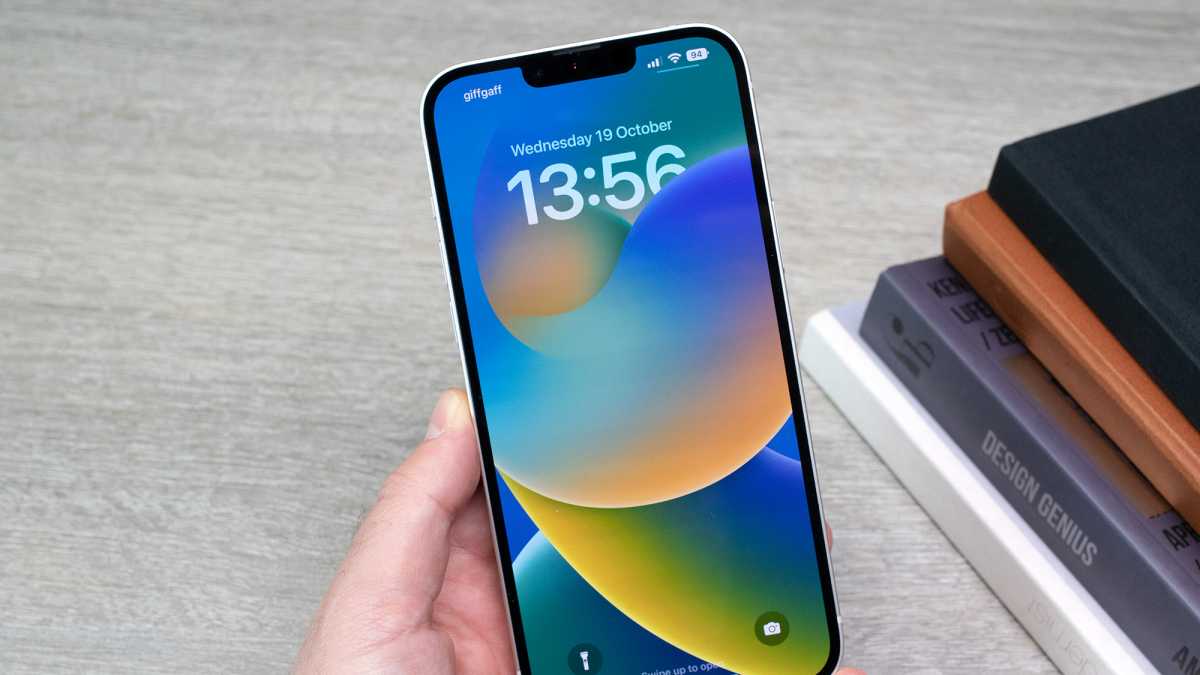 Henry Burrell / Foundry
It's a good OLED panel at least, with good colours and viewing angles. It supports high dynamic range (HDR) and has Apple's excellent True Tone tech that adjusts the blue light level depending on the ambient lighting.
But you could have it so much better with the 120Hz iPhone 14 Pro, or the Google Pixel 7 Pro, a 120Hz phone with the same size screen as the 14 Plus. That Pixel also costs the same or less than the 14 Plus depending on where you live.
I also reviewed the smaller iPhone 14, and I preferred using that phone daily for its more pocketable size but I ended up appreciating the 14 Plus when I wanted to blob and watch YouTube or read books and articles at length. Aside from that for my personal phone usage, I prefer a smaller device.
If you spend a lot of time on Instagram and TikTok, or indeed make content for those platforms, the 14 Plus's extra screen size will be a no-brainer.
It's also a superb phone for audio as Apple's speakers are still best in class. Music has surprising depth, and for podcasts, gaming, and TV shows the stereo speakers are more than good enough.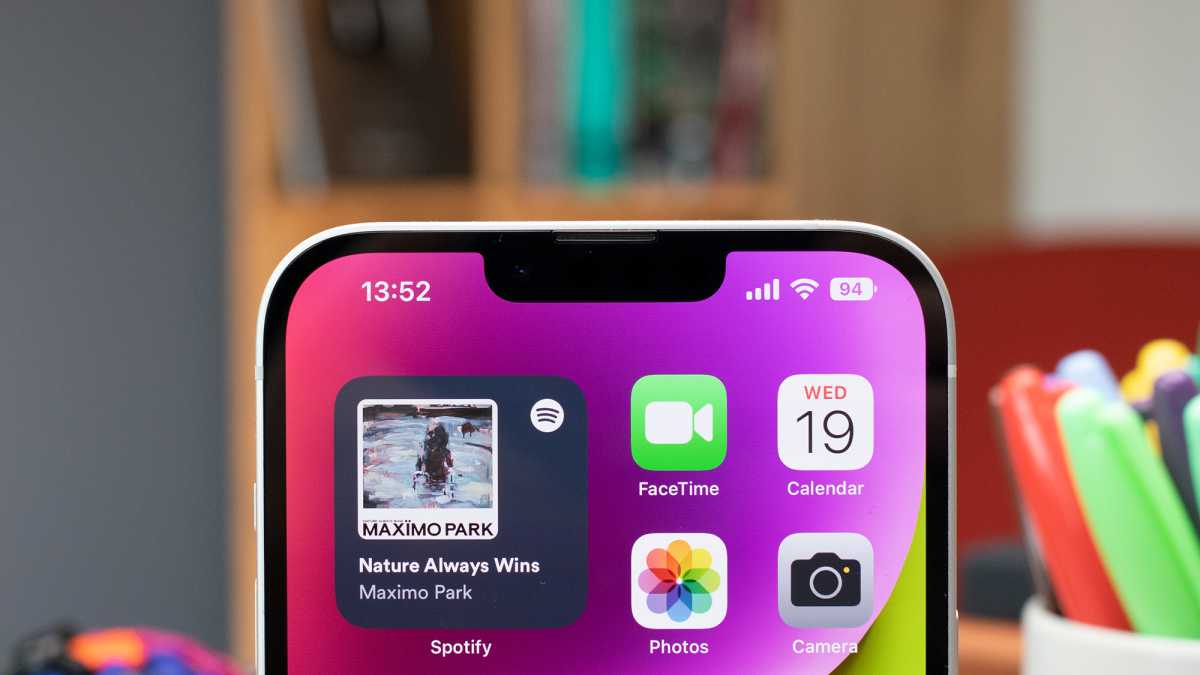 Henry Burrell / Foundry
Specs & performance
The 14 Plus will perform at an excellent level for absolutely anyone. It is whip-fast, with the same A15 chipset as the iPhone 13 Pro from 2021.
But it's the first time Apple has put a new chip, the A16, in its Pro phones and left the regular iPhone models with last year's. It is nearly impossible to tell the difference, but it is another galling detail considering the high price of the 14 Plus and what you actually get for the money.
You can see the slight dip in raw benchmark results, both for the GFX Bench tests for frame rate due to the higher resolution display compared to the iPhone 14, but it's a little odd the 14 Plus scores about 800 points less on the Geekbench 5 score. This measures the CPU performance, and both phones have the same A15 chip.
Thankfully you don't have to read into these results too much, and neither do I having used the iPhone 14 Plus for more than a week as my main phone. I did not once have to quit apps or restart it. Games, multitasking, taking photos and videos, light photo and video editing, recording music – this phone can do it all.
I tested the 512GB model but you can also get it with 128GB or 256GB. Apple doesn't disclose how much RAM is in its phones, but Geekbench reveals it to be 6GB, which is more than enough here.
Battery & charging
The best thing about the iPhone 14 Plus is its battery life. Just like RAM, Apple keeps tight-lipped on its battery sizes but it looks as though the Plus has a 4323mAh cell. This is quite large and with Apple's good iOS optimisation, the phone lasts for absolutely ages.
With normal use this is a two-day smartphone, easily. I only once dipped below 30% when using the phone on one day where I used the camera, WhatsApp, and Google Maps extensively.
Henry Burrell / Foundry
Along with the larger display, the battery life is the only reason to pick the 14 Plus over the iPhone 14 or iPhone 14 Pro. The 14 Plus outguns them both, and aside from video playback, Apple claims the 14 Plus is the longest-lasting iPhone ever. I found that to be accurate. I barely thought about charging the thing, and never once got battery anxiety.
It's a shame it charges slowly compared to Android flagships. With a Lightning cable the Plus charges at up to 20W with a compatible charger according to Apple (there's only a USB-C to Lightning cable in the box, no brick). In 30 minutes the phone charged to 45%, which is very slow compared to a phone like the OnePlus 10T that can fully charge from dead in under half an hour.
The phone also has wireless charging via any Qi pad or Apple's MagSafe standard at speeds of up to 7.5W and 15W respectively.
Camera & video
Everything that I said about the camera and video capabilities of the iPhone 14 in my review of that phone applies to the iPhone 14 Plus, because they have exactly the same camera system.
That means you get a 12Mp main f/1.5 lens with optical image stabilisation (OIS) and a 12Mp ultra-wide f/2.4 lens with a 120-degree field of view – not the new 48Mp main sensor found on the iPhone 14 Pro. There's also a 12Mp selfie camera with autofocus, which is great.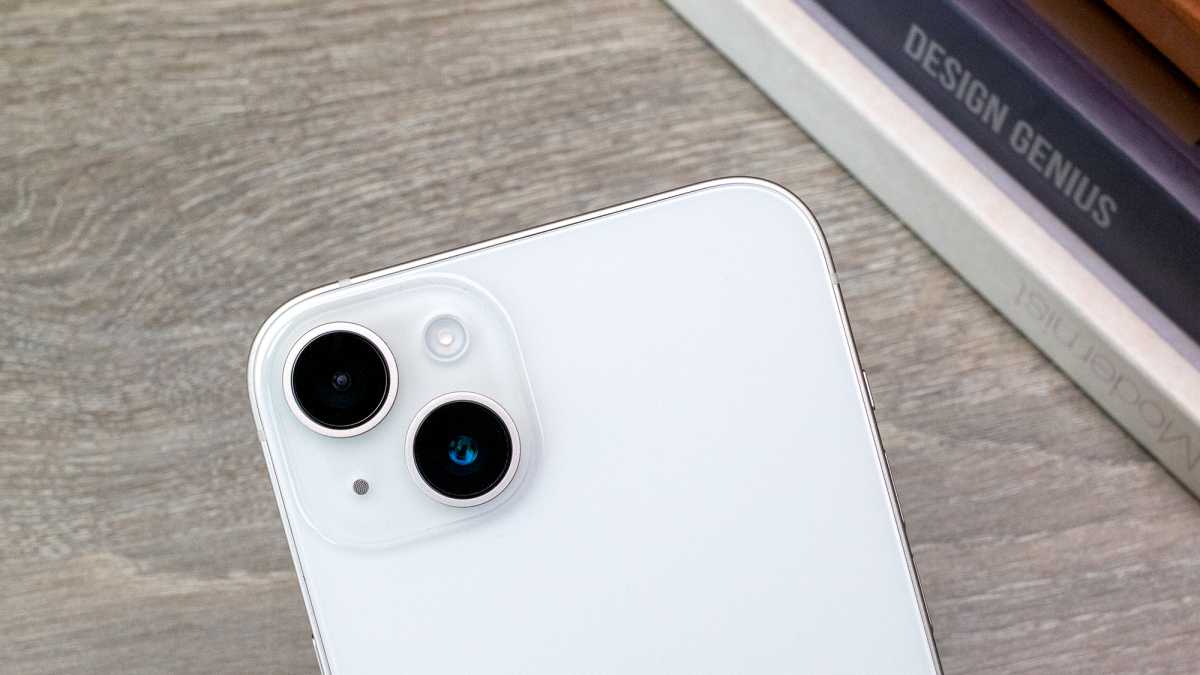 Henry Burrell / Foundry
The rear cameras are a tiny bit different to those on the iPhone 13 and are apparently the sensors used on the 13 Pro. Marginal gains are the name of the game. I took several comparison shots with an iPhone 13 and this 14 Plus and could see no real differences.
Shots are a little over-sharpened to the point of looking hyperrealistic and I prefer the contrasty, moody look of the Pixel 7. But this is a very good camera setup, despite the lack of an optical telephoto lens. You won't want to do much zooming with digital zoom on the 14 Plus as things soon get shaky.
If you're coming from an iPhone 11 or older then you'll appreciate the new features that have accumulated over the years such as improved portrait mode with lighting effects, photographic styles that let you tweak the contrast of still images, cinematic mode for moody blurring of video, and action mode that does a superb job of creating stabilisation for videos.
I hate that Apple does not let you take photos in its ProRAW RAW file format on this phone, a feature this hardware and software can easily handle but something the company saves for the Pro line. For such capable cameras to not be able to take RAW shots in the native camera app means many people will have to pony up more cash for the Pro if they want to use it as a camera in a professional setting. Much cheaper phones than this can shoot in RAW.
Software & updates
Despite all my gripes with the 14 Plus I have to say I enjoyed using it and that's largely down to iOS. Apple's software makes the iPhone look and feel great, and there are lots of excellent features such as Face ID, AirDrop for files between iPhone, iPad, and Mac, and the general feel of a very well optimised operating system that works seamlessly.
Apple Wallet is an excellent place to put your payment and loyalty cards, and though yes, Android had widgets first, iOS widgets are more attractive and better built. Along with the new customisable lock screen update for iOS 16, the 14 Plus feels suitably new.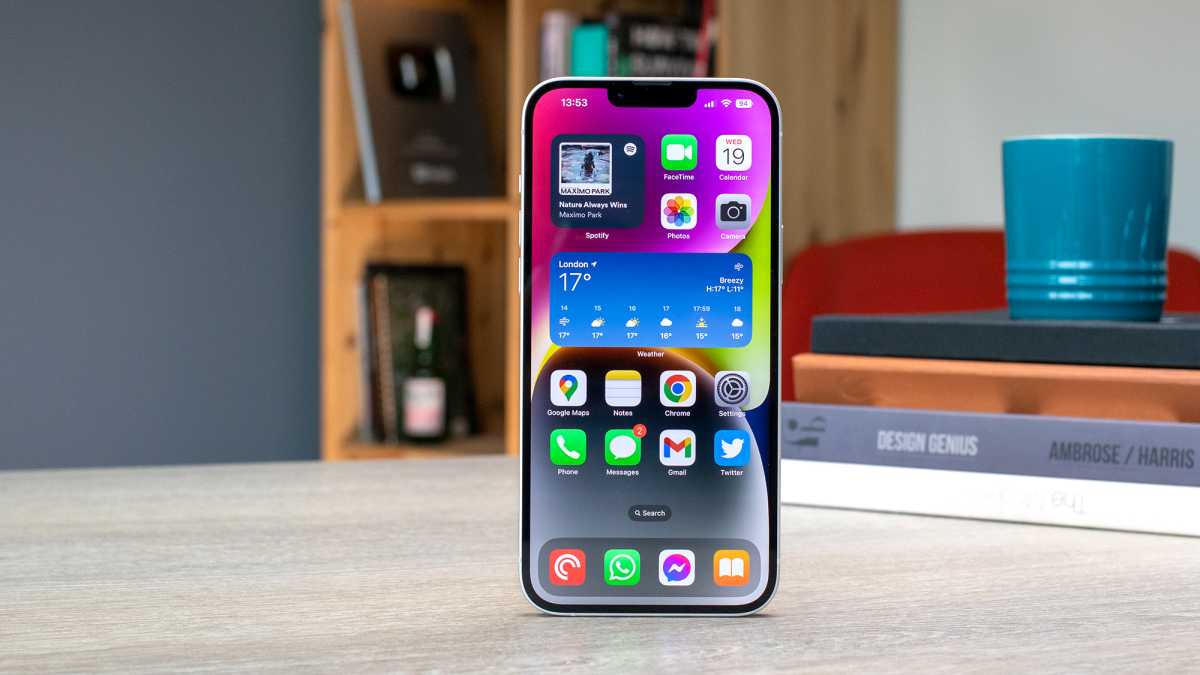 Henry Burrell / Foundry
This is a cunning trick because it really is nothing new at all. If you have an older iPhone, update it to iOS 16. It will feel newer and you might not want to buy a new phone.
I switch between iOS on Android depending on what I'm reviewing but I quickly settled into the 14 Plus's large screen and using the very pleasant Apple Books app to read – a much more enjoyable experience on this size display compared to any smaller iPhone. It's also great for any text-heavy app for reading news or articles. I despise the phrase 'content consumption', burn it down – but this is indeed a phone for reading and watching things on.
It's just when you're doing other things like social media, texting, phone calls, or simply trying to hold the thing with one hand, it's too big.
Apple will likely support the 14 Plus for five or six years of updates, which is industry-best levels of support and a very good reason to buy an iPhone.
Henry Burrell / Foundry
Price & availability
The iPhone 14 Plus costs from $899/£949/€1,169. You can buy it directly from Apple in all regions.
There's no two ways about it, the iPhone 14 Plus is bad value in 2022. It costs the same in the US and UK as the Pixel 7 Pro, which is a superior smartphone with a higher refresh rate display and far better cameras.
The iPhone 14 Pro is more expensive than the 14 Plus at $999/£1,099/€1,329 but packs in so much more new stuff like a 120Hz screen, the Dynamic Island notch, better cameras, and a telephoto camera.
If you want a large-screen iPhone, the 14 Plus is admittedly $200/£250/€310 cheaper than the 14 Pro Max, but if you can stretch to it the Pro Max is again a more fully featured upgrade with all the 'pro' new things.
Another option is 2021's iPhone 13 Pro Max, which is also a better phone than the 14 Plus. It's worth seeing if you can pick that up discounted rather than buy the 14 Plus new.
Verdict
The iPhone 14 Plus is the odd one out in 2022's iPhone range despite having excellent battery life.
It is an unwieldy size compared to the much more pocketable iPhone 14, though the extra screen and battery are improvements that many will value.
But the phone is ironically bad value when it's already so expensive and you can pay a little bit more upfront or on contract and get the far-superior iPhone 14 Pro.
I've enjoyed using the iPhone 14 Plus for reading books, watching videos, and taking photos. But I get to enjoy it without having regretted paying for it. While it isn't a bad phone by any means, in the context of the market it is overpriced, and the iPhone 14 or iPhone 14 Pro are better buys for the money saved and features gained respectively.
Unless you want the largest iPhone possible and can't stretch to the more expensive iPhone 14 Pro Max, the 14 Plus is in no man's land.
Specs
160.8 x 78.1 x 7.8mm
203g
6.7in Super Retina XDR display (2778 x 1284)
IP68 dust and water resistance
A15 Bionic
Main 12Mp camera, f/1.5, sensor-shift OIS
120-degree 12Mp ultrawide, f/2.4
4K@60fps with Dolby Vision HDR support
12Mp f/1.9 front-facing camera with autofocus
Bluetooth 5.0
Wi-Fi 6 with 2xMIMO
NFC
Satellite connectivity
Car Crash detection