At a glance
Expert's Rating
Pros
Stunning design
Easy to use
Smooth performance
Packed with features
Cons
Inconsistent battery life
Old chipset
Lacks proper automatic workout detection
No Qi wireless charging
Our Verdict
The Pixel Watch is an excellent all-rounder for a smartwatch with only small caveats stopping it from getting full marks. This is the Apple Watch for Android.
Price When Reviewed
From $349.99
Best Prices Today: Google Pixel Watch
It has finally happened. Having made a smartwatch operating system for almost a decade, Google has finally made its own smartwatch.
In almost every way, the Pixel Watch was worth the wait.
When I first saw the LG G Watch in 2013 ahead of its official launch I was excited, but having been a fan of Google's own hardware for a while, I've always wondered what an own-brand smartwatch would be like.
Google makes Wear OS after all, and while I'd almost given up hope various times over the years, the Pixel Watch is finally here.
Starting at $349/£339/€379, it is priced in between the Samsung Galaxy Watch 5 and Watch 5 Pro as well as the Apple Watch SE and Series 8. For a first-generation device, Google has done an excellent job to make something that finally feels like a true Apple Watch rival for Android fans, but it's not without its flaws.
Design & Build
Recycled stainless steel
Custom 3D glass
50ATM
The design of the Pixel Watch is one of the main lures for me. It really is a thing of beauty and somehow lives up to the renders we saw before the official launch which is very rare.
Google has made the body out of 80% recycled stainless steel and the front is custom 3D Gorilla Glass 5. I've got the Polished Silver colour and it looks every bit as premium as you'd expect though I think this might be the worst colour, with Matte Black and Champagne Gold also on offer.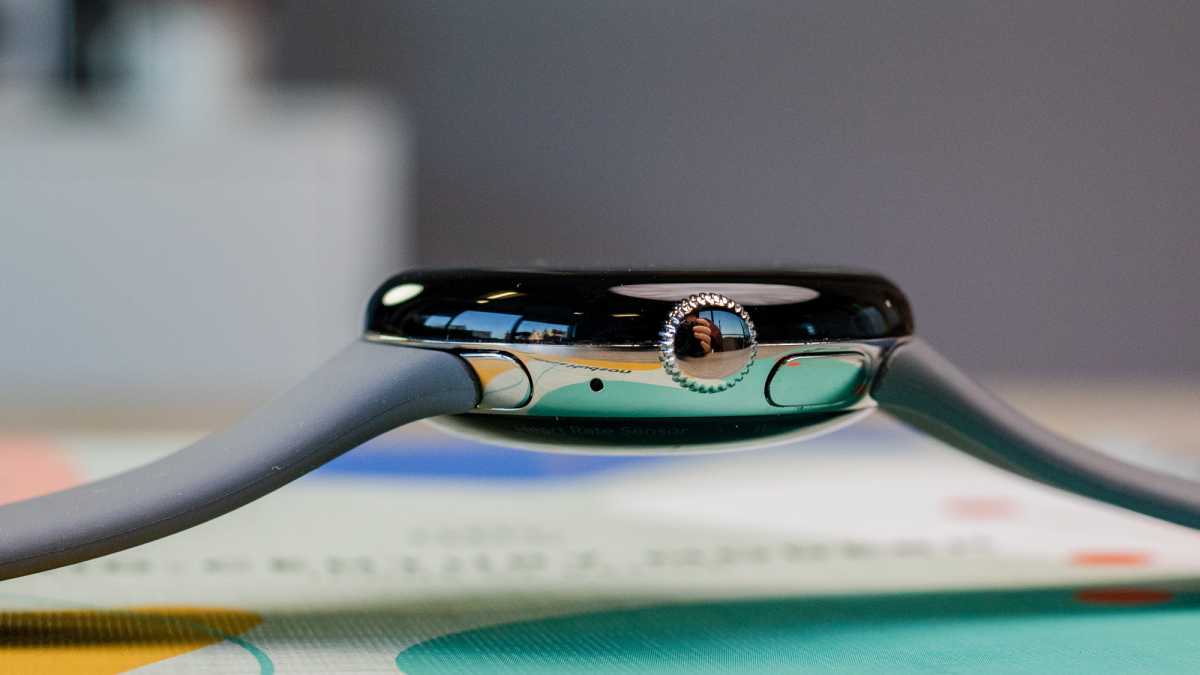 Henry Burrell / Foundry
The rounded and smooth pebble-like design gives the Pixel Watch a luxurious quality, especially when you add in the way the proprietary band seamlessly flows into the main body. The whole aesthetic just looks stunning and makes other smartwatches look boring or even ugly.
Google supplies two sizes of band in the box to ensure you can get the right fit. The standard Fluoroelastomer band works well with a metal nodule you can put through any of the holes.
There is a range of additional straps you can buy from Google including Stretch, Woven and Leather.
Dominik Tomaszewski / Foundry
I was a tad worried about how thick the watch is at 12.3mm but it sits perfectly well on my wrist and is also lightweight at 36g not including the band. Overall, this is a dinky smartwatch which is great if you find others on the market too big.
That Gorilla Glass front won't be as durable as sapphire, but I've not had a single mark or scratch in over a week. The Pixel Watch is also waterproof to 5ATM (50m) so can go just about anywhere with you unless you're a deep sea diver.
Dominik Tomaszewski / Foundry
Around the sides of the body you'll find a mic, speaker, button and a digital crown. You can wear the watch in any orientation so the crown can go on either side depending on your preference.
Screen & Audio
AMOLED
1000 nits brightness
Mic and speaker
The compact design of the Pixel Watch does mean the display is on the small side and a reasonable bezel around it doesn't help matters, although most of the watch faces and UI hide it well.
Google doesn't list a size for it but as far as I can gather it's 1.2in which is the same as the Galaxy Watch 5.
The AMOLED screen has a decent pixel density of 320ppi and DCI-P3 colour, though Google doesn't say to what accuracy level. Regardless, the screen is crisp and colourful with up to 1000 nits brightness, according to the firm.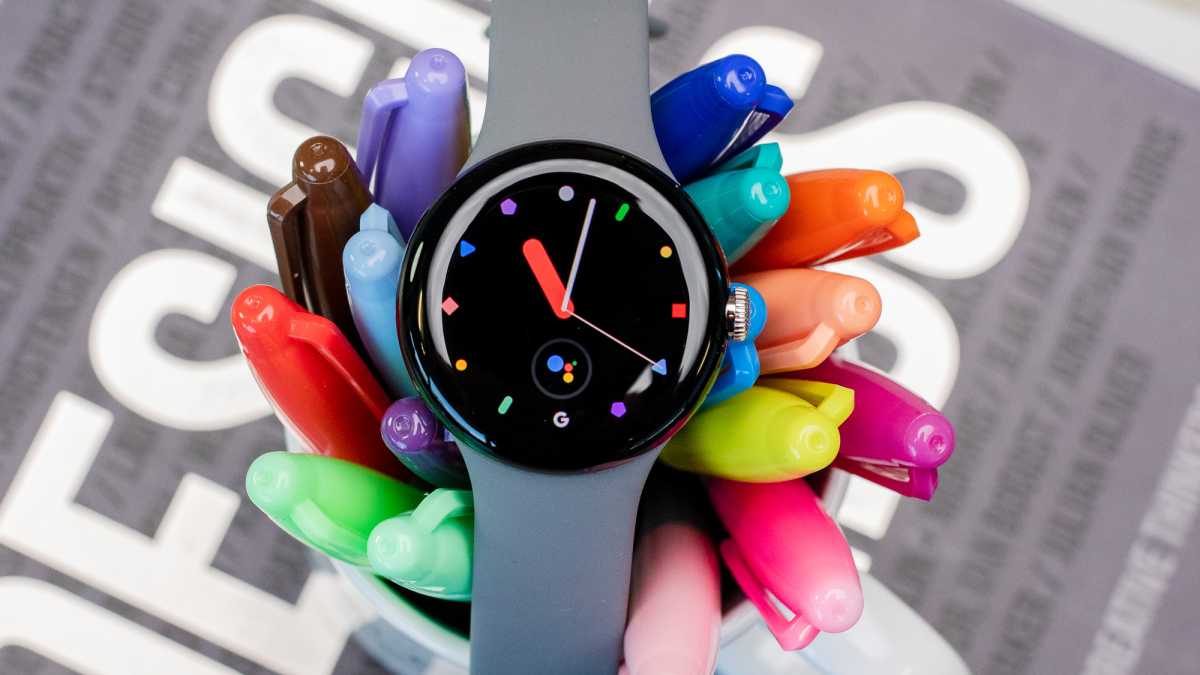 Henry Burrell / Foundry
I certainly haven't had any problems viewing the Pixel Watch outdoors in strong sunlight. You can select three levels of brightness in the settings, but the watch also has adaptive brightness thanks to an ambient light sensor, so I haven't needed to adjust it manually.
There are also Bedtime and Cinema modes you can switch on for certain situations to avoid annoyance and to save battery life.
I'll talk in detail about battery life later but it's worth noting now that there is an always-on option for the display but it's off by default as it will shorten the life significantly. Otherwise, you have tap-to-wake or raise-to-wake as you'd expect though I found the latter not always reliable.
As mentioned, there's a microphone and speaker on one side of the watch and the mic does a solid job of picking up my voice for things like commands or dictation. The speaker is limited in quality due to the size of the Pixel Watch.
Henry Burrell / Foundry
I switched off audio notifications almost immediately, but you can also use it to have a phone call if necessary, though you will struggle if you're not sat in a reasonably quiet room. Oddly, you can't use it to listen to music.
Software & Features
Wear OS 3.5
Useful 'Tiles'
Excellent Google integration
There are no prizes for guessing that the Pixel Watch runs Wear OS. However, this Pixel-tinged version of Wear OS 3.5 isn't something we've seen before and is similar to how if you buy a Pixel smartphone, you get the pure uninterrupted Android experience.
Google has been working with Samsung on the software but the Galaxy Watch 5 range comes with a One UI overlay, for example.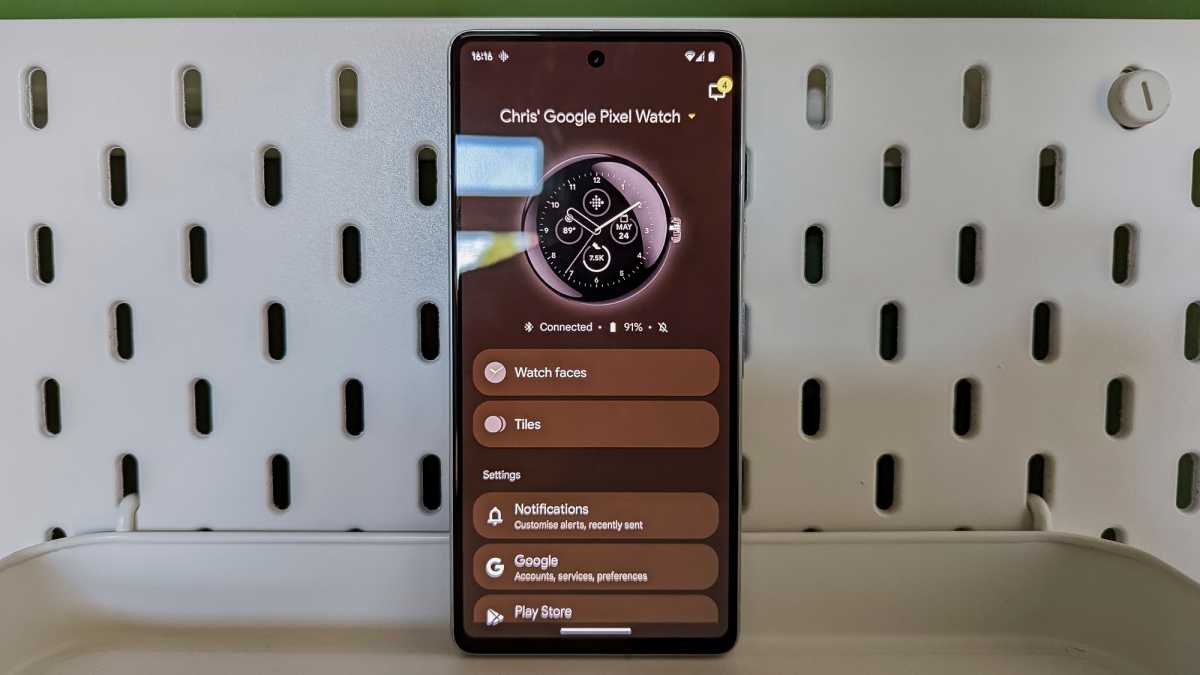 Chris Martin / Foundry
Setting up with Pixel 7 is a breeze as you get an automatic pop-up and the aptly named Pixel Watch app gives an excellent tutorial on how to use the device's hardware and software. But thankfully you don't need a Pixel phone to use the Watch – just an Android phone running Android 8.0 or above. iPhone users are out of luck.
From the main watch face, you can swipe up for notifications or swipe down for quick settings and information such as battery level. Scrolling can also be done with the digital crown which is suitably smooth and satisfying with excellent haptic feedback. And haptic feedback is great elsewhere, too.
Dominik Tomaszewski / Foundry
You will need the touch screen to select things though as well as swipe left or right from the watch face to access Tiles. These are essentially widgets for things like weather, calendar, sleep, heart rate and more.
They are customisable in terms of the order they sit in, and you can even do this on the watch itself rather than the companion app, as well as add or remove them to your liking.
By default, there are eight watch faces to choose from and you can edit various elements to get things just right. There are also plenty more via the Pixel Watch to choose from if you like. Some hide the bezel better than others.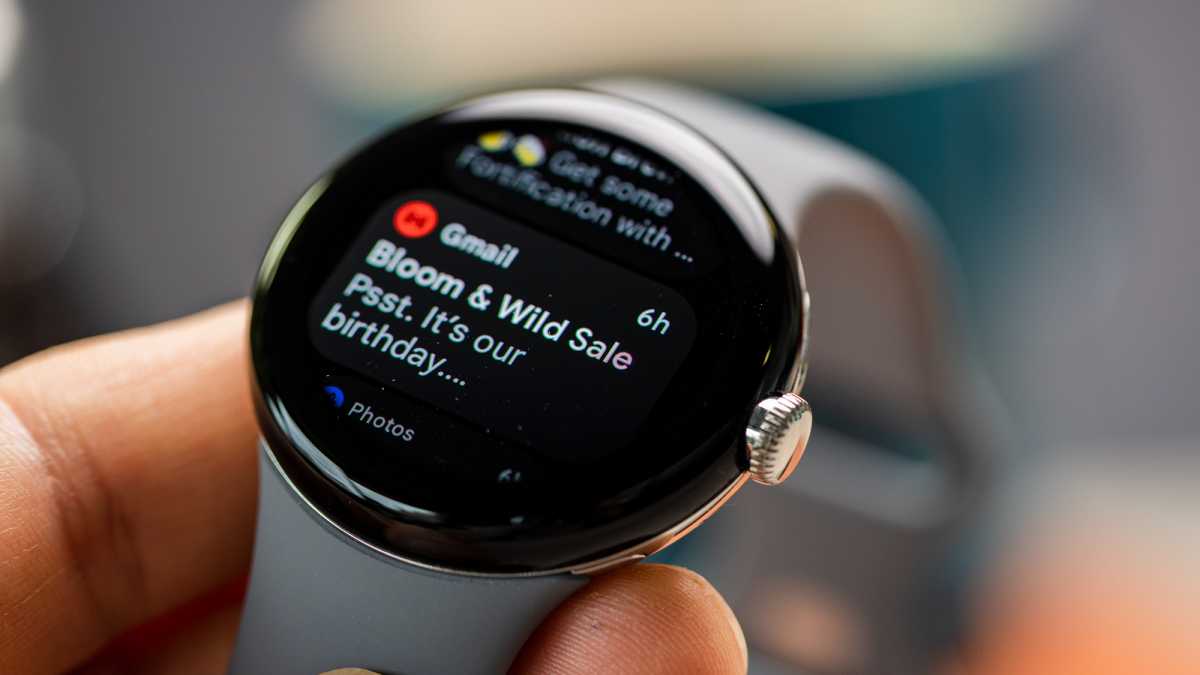 Dominik Tomaszewski / Foundry
You can reply to message notifications straight from the watch by dictation or using the screen to choose an emoji. I was also surprised by how well the on-screen keyboard worked to compose a message using swipe input.
Pushing the digital crown goes back to the watch face or opens a list of apps depending where you are in the UI and the button above opens recently used apps or a long press summons Google Assistant.
It's all very neat and intuitive and the integration with Google services, as you might hope, is excellent.
I've already mentioned Google Assistant can be accessed by long pressing the side button but you can also say "Hey Google" or make a complication shortcut on some watch faces. It works really well and meant I didn't really need the Google Home app to do things like turn lights on and off.
Dominik Tomaszewski / Foundry
The Home app on Wear OS is in beta and a little basic so you can't do things like view Nest cameras, adjust the volume of a speaker, or control a Nest thermostat. Most taps result in a message asking you to get your phone out.
There's also Google Maps for on-wrist directions, meaning you don't need to keep getting your phone out when finding your way and this even includes a mini-map which works surprisingly well on the compact screen.
You also have Google Wallet to make payments via NFC, although you will need to set up a PIN for security.
The pre-loaded apps cover most bases but you can head to the Google Play Store to get more with lots available including Spotify, Calm, Outlook and many more.
Fitness & Tracking
Fitbit integration
Plenty of sensors
The other Google service that's tightly woven into the Pixel Watch is Fitbit, since Google recently acquired the company. In a way, the Pixel Watch is the most premium Fitbit device you can buy with Google saying it has "Fitbit's most accurate heart rate tracking yet."
This means you must track your stats on your phone using the Fitbit app, which you must have an account to sign into – you currently can't sign in using your Google account. It's another nail in the coffin for the Google Fit app, which is left out of the whole equation.
As usual, the optical heart rate monitor is found on the back of the watch and presses up against your skin. The digital crown is then used as somewhere to place your index finger if you want to do an ECG (electrocardiogram).
Dominik Tomaszewski / Foundry
The Pixel Watch will be able to track blood oxygen levels in future – there's a sensor built in but it isn't functional yet. That should come with a software update. It also has plenty of other sensors for tracking such as an accelerometer, gyroscope and altimeter.
All this means you get extensive tracking whether you just want to count steps and calories or much more. Link the Pixel Watch with the Fitbit app and you'll get all kinds of information with graphs of your heart rate and Zone Minutes – i.e. when you've reached certain heart rate zones during exercise such as 'fat burn' and 'cardio'.
There are more than 40 different activities to choose from and although some rival watches offer a lot more, these cover the most common. Your most used ones will appear on the Fitbit tile and built-in GPS means you can go out without your phone and still record your route.
Oddly, automatic tracking in the same way as certain Fitbits like the Sense 2 – with Auto Start, Stop and Pause – is not available on the Pixel Watch. The device can still automatically track certain activities and you will find them in the Fitbit app after you've finished.
Dominik Tomaszewski / Foundry
This is a shame and doesn't really make sense considering Google owns Fitbit. In a comment to 9to5Google, the firm said, "Over time, we will work to bring more on device workout recognition to our watch portfolio." I hope this is added sooner rather than later but until then, you'll want to deliberately start an activity to make sure.
Something that is definitely on the way is fall detection which Google says will arrive 'this winter'. It's a feature common on Apple Watches that can tell if you've fallen and help you alert contacts or emergency services.
If you wear the Pixel Watch at night, which is comfortable to do in my experience, you can also get detailed sleep tracking. This uses more battery, of course, and I'm of the opinion that I don't want to be told how badly I've slept as it can make me feel worse.
Considering the battery life (more on that below) you might want to leave the Pixel Watch on its charger while you slumber.
You're not restricted to Fitbit though and other popular fitness apps are available for the Pixel Watch including Strava. You do get to try out Fitbit Premium for free for six months which includes various tutored workouts and mindfulness sessions as well as a deeper dive into your data. After that though, it costs $9.99/£7.99 per month – a little galling.
Specs & Performance
Exynos 9110 processor
2/32GB memory and storage
GPS, NFC and optional LTE
Kicking off the core specs is a Samsung Exynos 9110 processor which is built for wearables. On the one hand, this a bit surprising as this is the chip that was seen in the first Galaxy Watch back in 2018.
The latest Galaxy Watch 5 has a newer Exynos W920 also seen in the Galaxy Watch 4 but it uses a 5nm manufacturing process rather than 10nm of the Exynos 9110.
The chip is paired with 2GB of RAM which is more than the Watch 5 and, despite the old chip, I've found the performance of the Pixel Watch perfectly smooth and serviceable apart from a couple of very minor blips – mainly opening a notification to read the entire thing and being presented with a blank grey box.
The bigger impact of having this chipset, it seems, is on battery life (see below).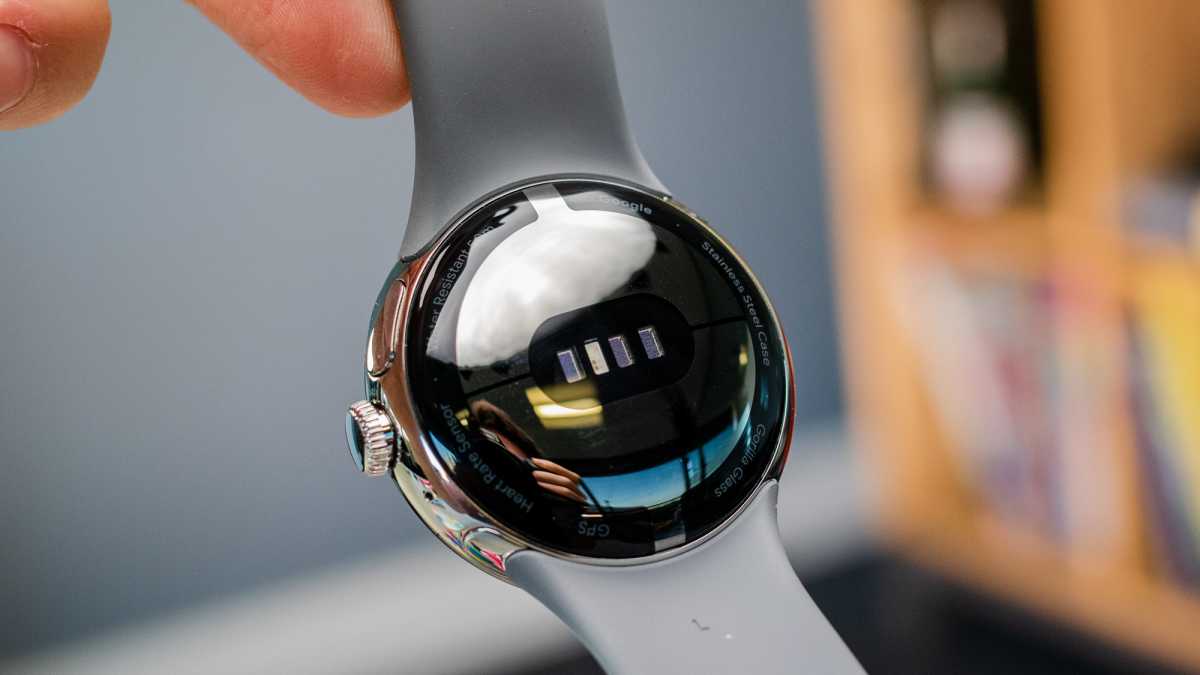 Henry Burrell / Foundry
There's also 32GB of storage on-board as standard giving you more space than key rivals for apps and downloading music. You can do this with YouTube Music or Spotify.
In terms of other specs, you get all the kinds of things you'd expect from a premium smartwatch including Wi-Fi, Bluetooth, NFC, GPS and the sensors mentioned in the previous section.
Those wanting data on the go without the need for pairing with a smartphone can opt for the 4G LTE model of the Pixel Watch for an extra $50/£40 over the Wi-Fi only model. Of course, data plans come at an additional cost and networks are limited to EE and Vodafone in the UK but there's a much wider choice in the US.
Battery Life & Charging
294mAh cell
Sporadic battery life
Quick charging
Sadly this is where we hit the Pixel Watch's Achilles heel. It's not a total battery failure but it is inconsistent.
The Pixel Watch has a small 294mAh battery, which is not uncommon for a smartwatch of this size and while Apple claims 18 hours for the Series 8 and Google quotes 24 so on paper it beats a key rival while being cheaper.
The problem here is that you might not get to that figure. As mentioned, 'inconsistent' is the key word here as a weekend at home saw me get almost 48 hours of battery life, while a day trip into London saw it last just over 12 hours.
And I wasn't even using the Watch much more apart from filming a video about it in the afternoon and by that point, it had already dropped to below 20%. There are various factors that will affect battery life, of course, so things like running with GPS, Spotify and using the always-on screen feature will suck juice.
Perhaps a newer chipset on a smaller manufacturing process will help in this department, rather than the ageing Exynos 9110.
Luckily, charging is pretty quick and with the supplied charger and a 15W wall plug, I got to 39% after 15-minutes and 53% after 30.
The charger itself is much like many out there and comes in the form of a small magnetic puck. However, I'd prefer a stand like Motorola has done.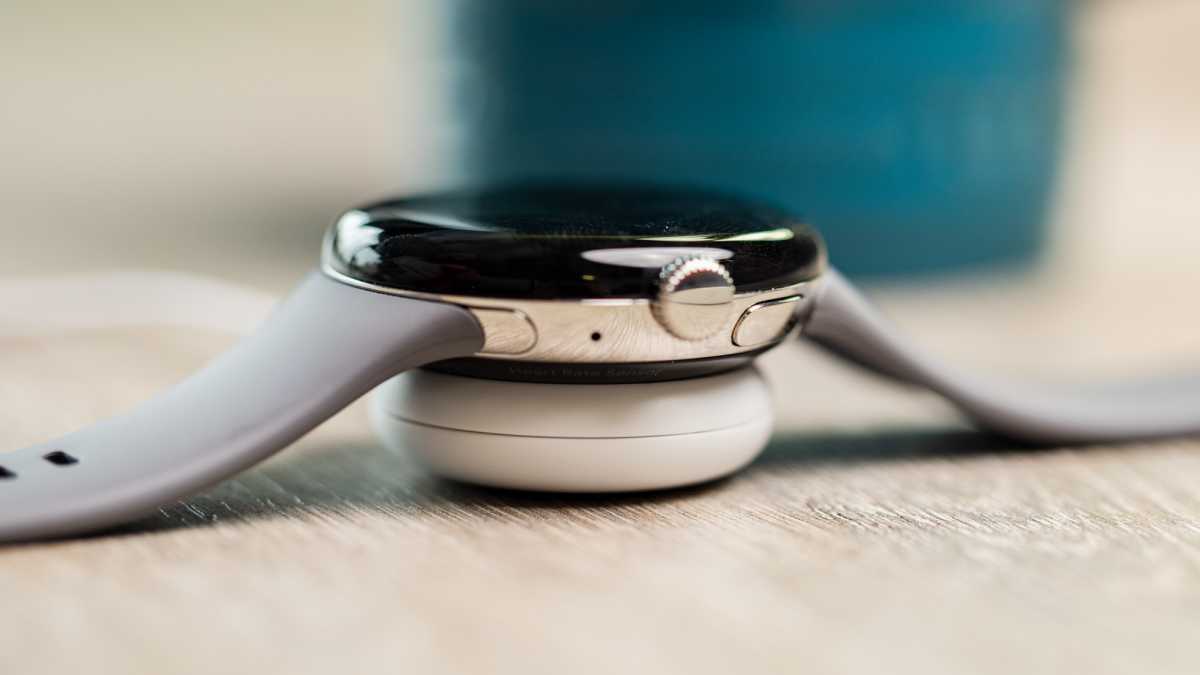 Dominik Tomaszewski / Foundry
Another issue is that you can't use other chargers as the Pixel Watch doesn't support Qi wireless charging. So even if you have a Pixel Stand 2, or want to use the reverse wireless charging on the back of a Pixel 7, you can't.
Note that even if you see a charging animation and appears to be working, the watch isn't actually being topped up which is poor form from Google.
Price & Availability
The Pixel Watch starts at $349/£339/€379 for the Wi-Fi/Bluetooth model with a choice of any colourway. If you want LTE connectivity (additional network costs apply) then you'll need to pay $399/£379/€429.
You can buy it directly from Google as well as the likes of:
US
UK
This makes it more expensive than the Galaxy Watch 5 and Apple Watch SE 2022 but cheaper than the Galaxy Watch 5 Pro and Apple Watch Series 8.
Of course, there are plenty of other options out there so check out our chart of the best smartwatches and best Fitbits to see more.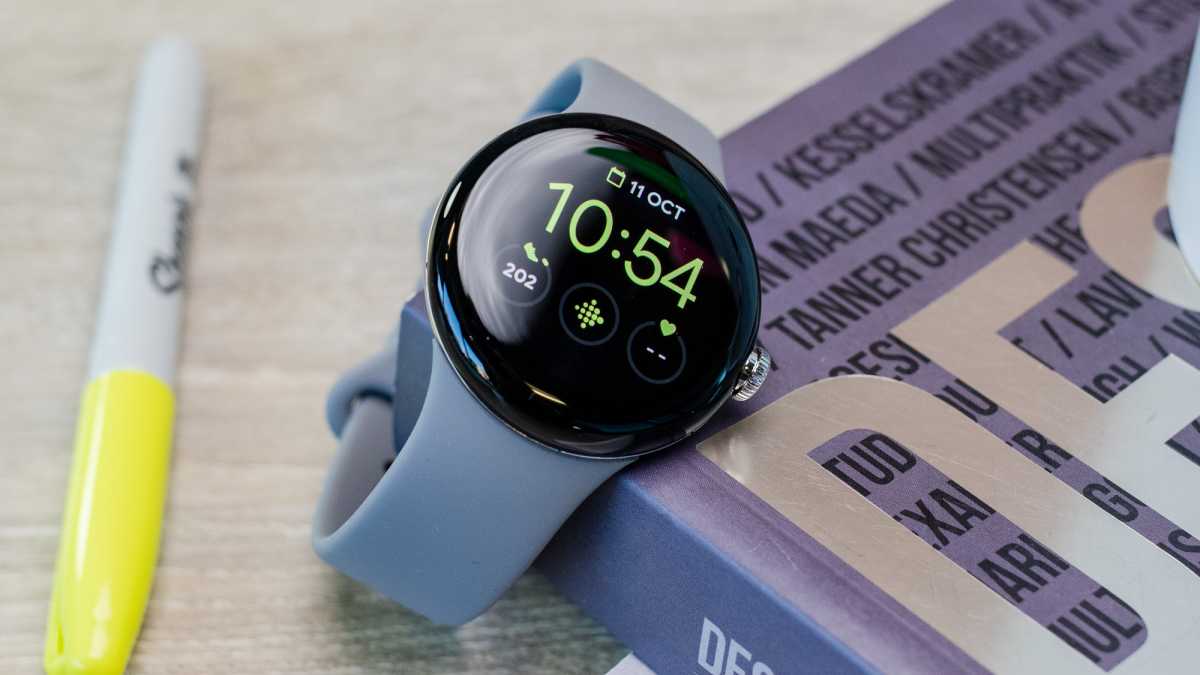 Henry Burrell / Foundry
Verdict
When you wait so long for something, it becomes harder for it to live up to expectations. However, the Google Pixel Watch has gone beyond mine in many ways.
It really is the only smartwatch I would consider wearing beyond the review period and this largely comes down to its beautiful design. Not only does it look and feel great, with its own personality, but it's also compact, light and comfortable, too.
The build quality is also exceptional so all of this combined makes it very desirable indeed. It is packed with loads of great tech and works brilliantly well thanks to the combination of intuitive Wear OS 3.5, a digital crown and dazzling screen.
Sadly, Google hasn't nailed it in every department with unpredictable battery life, restrictions when it comes to charging and, most odd of all, lacking proper automatic workout detection which you'll find on other Fitbits.
I can forgive most of this for my personal usage, especially when most rivals can't go much longer in the battery life department. But I'd also understand if you feel like waiting for the Pixel Watch 2.
Specs
Wear OS 3.5 (compatible with Android 8.0 or higher)
1.2in AMOLED, 320ppi, 1000 nits
Exynos 9110
2GB RAM
32GB storage
Wi-Fi 802.11b/g/n 2.4 GHz
Bluetooth 5.0
GPS
NFC
LTE (optional)
Mic
Speaker
Optical heart rate monitor/ECG
Blood oxygen sensor
Accelerometer, altimeter, gyroscope, ambient light sensor, compass
Fall detection
40 workout modes (Fitbit)
294mAh battery
Up to 24 hours of battery life
Water-resistant to 5ATM / 50m
80% recycled stainless steel body
Custom 3D Gorilla Glass 5 front
Digital crown
Side button
36g (body only)
Launch colours (body): Matte Black, Polished Silver, Champagne Gold
Best Prices Today: Google Pixel Watch