No parenting book can prepare you for just how much a new baby will change your life. It's a joyous thing, but along with it comes huge responsibility and – usually – plenty of stress.
One way to reduce the stress is to invest in a smart baby monitor that doesn't simply allow you to see and hear your child but actively alerts you when they cry, move or – when they've grown up a little – attempt to climb out of their cot.
Take EZVIZ's BM1 for example. It does all of that, and can even be proactive, playing calming music when it hears your baby cry. Perfect for those moments when you can't attend to them immediately.
Unlike a traditional baby monitor, the BM1 is a baby-focused security camera that's designed to do everything parents want.
This approach offers several advantages:
No strings attached. Despite being very compact, the BM1 is battery powered, which eliminates the risks associated with corded appliances. This also means it's easy to install, can be moved around your home quickly and doesn't require a conveniently placed mains socket.
It's completely safe for your baby. The silicone cover is non-toxic and there are no sharp edges anywhere. Unlike some cameras, the BM1's night vision doesn't rely on visible red lights, and there are no flashing LEDs. It blends into the room unobtrusively during the day – and night.
It's smart. Not only can the BM1 recognise when your baby is crying and play soothing music, it'll send an alert to your phone when the baby moves out of an area you define in the app. This adds peace of mind whether your baby is sleeping or playing.
Thanks to two-way talk, you don't just hear your baby: you can comfort them through the camera's speaker while you make your way to the nursery, or when you're training them to sleep without you.
It records! It's not just a monitor: it can record those precious moments that you might otherwise miss, all in sharp HD video. The BM1 supports up to 256GB microSD cards, or you can opt for EZVIZ's cloud recording service.
You can see your baby from anywhere, not just at home. Because the BM1 connects over Wi-Fi, you can watch your baby even if you're at work and someone else is taking care of him or her.
And to cater for boys and girls, the BM1 comes in two traditional colours called Peachy Bunny and Aqua Bear. Plus, it has a flexible stand so you can adjust it to get the perfect view of the cot.
Its clamp is designed to be mounted directly to the bars of a crib, but you can also detach the camera from the bracket and place the BM1 on a table to keep an eye on your bundle of joy as they play on the floor beside their crib, in the playroom or somewhere else in your home.
EZVIZ's app, for Android and iPhone, will notify you of three different things: when your baby is crying, when they're active and moving around, and an out-of-crib alert which can also be used to tell you if they've crawled away from their play area.
If you use Amazon Alexa or Google Assistant, you'll be able to ask them to show the BM1's live video feed on compatible devices such as smart displays. And in the app itself, you can zoom in up to 8x to better see what's going on.
PROMOTION
EZVIZ Battery-Powered Baby Monitor 1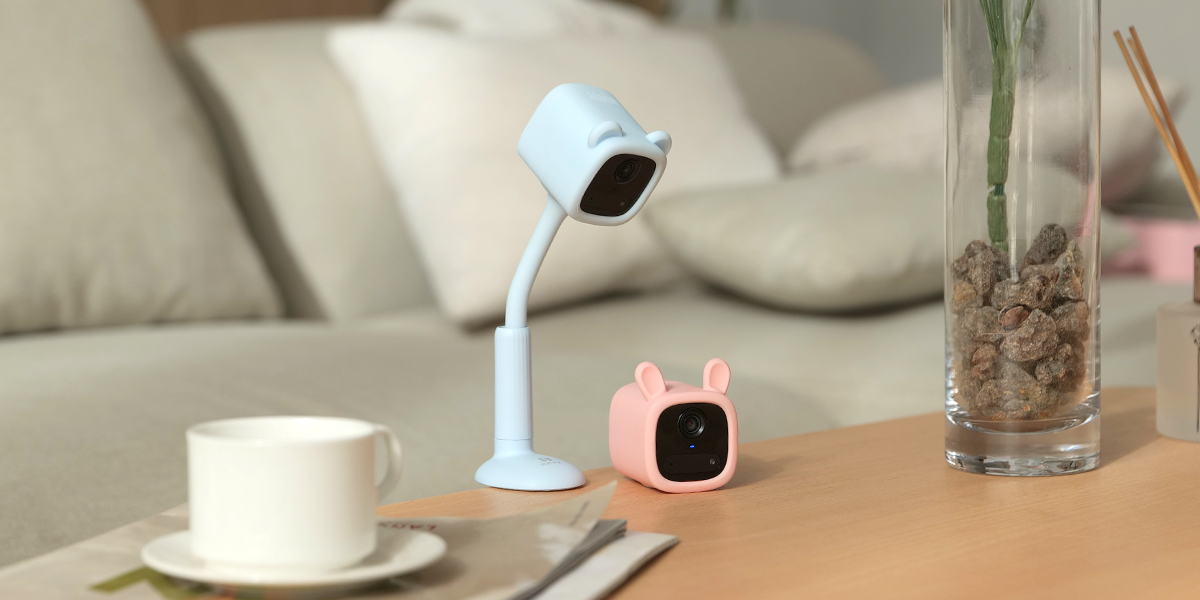 Keep your eyes on your little one with EZVIZ's first Baby Monitor. Enjoy immediate notifications when your baby needs you or an important moment takes place.
Find out more
The BM1, then, is a powerful, thoughtfully designed baby monitor that offers all the features you'd expect from a modern, smart device. And that's because it has inherited so much from EZVIZ's well-established range of security cameras, including the outdoor, battery-powered BC1C and indoor C6 camera that's ideal for pet owners.
And the good news is that you can buy a BM1 right now. It costs £149.99 from Amazon.
There's no subscription fee to pay if you don't use EZVIZ Cloud and instead record to a microSD card.
For more information, visit EZVIZ's website.