We've spotted a genuinely fantastic deal on the Oral-B iO Series 9. It was until recently Oral-B's flagship toothbrush, with an RRP of £500. But you can get it for just over a third of that price today – and you don't need even Prime membership. Sadly, it's available for UK readers only. If you're in the US, the best deal price we can find is $239.99 on Amazon, down from a list price of $329.99.
Electric toothbrush pricing in the UK is wild. Brushes are given a recommended retail price (RRP) which is often twice what they're worth. They'll then go on sale for "half price" – which seems like a huge discount but actually isn't one at all.
Although the iO9 has an RRP of £500, we don't think you should ever pay that. £250 is the standard price you should buy it for – but if you do, don't feel like you're getting a great discount.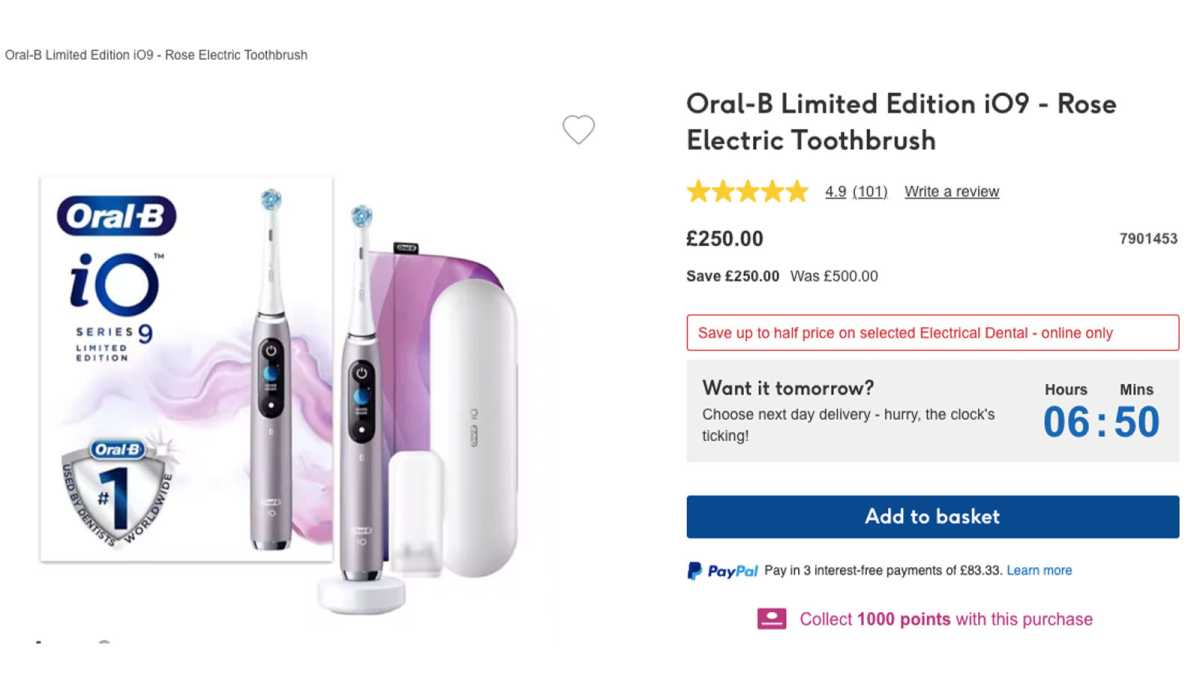 Boots
Right now, the Oral-B iO9 is on "half-price sale" at Boots (see above screenshot) and for £323 from Oral-B. But as we explained, that's no deal at all.
However, we have found a genuinely good offer. Right now, you can buy the Oral-B iO9 for £186 on Amazon. That's a real saving of £64 from its lowest usual price point.
This deal is on the rose quartz colourway. Bear in mind that as Oral-B only makes black or white iO heads, only the handle is rose-quartz. Essentially, you'll be getting a two-tone brush.
We rate the Oral-B iO Series 9 as one of the best electric toothbrushes we've tested. It has spectacular brushing performance, a fun, full-colour OLED screen, as well as state of the art smart features that will give you real-time brushing feedback. It has a battery life of (just about) two weeks but it comes with a fast charge magnetic dock that'll let you top it up to 100% in three hours. This is a great feature as the standard charging time for Oral-B brushes is a lengthy 12 hours.
This is what I said in my review of the brush: "Performance-wise, the iO Series 9 is a winner. As far as I'm concerned, it's earned its stars right there. And if you've been meaning to take your dental care in hand, its feedback, via both handle and app, will help you to remember to brush properly and well."
If you've wanted to get your hands on one, don't miss this deal.
For more of the best prime Early Access Day deals, have a look at all of our Prime Day deals and buying advice.