At a glance
Expert's Rating
Pros
Inexpensive
Portrait mode on top model
Narrow bezels
Good colour performance
Cons
No speakers or headphone jack
Insufficient brightness for HDR
Brightness uniformity is poor
Our Verdict
An elegant and flexible design that is equally practical at home or the office. Some features are more useful than others, but for the low price, this is a good choice for home working or connecting a games console. However, at only 250 nits, including an HDR mode is highly optimistic on Huawei's part.
Price When Reviewed
Unavailable in the US
Huawei is better known for phones, laptops and tablets, but it also makes a small range of monitors.
Under the MateView branding, Huawei has a range of both curved and flat displays made for home and business customers, with a few designs like the MateView SE on test here.
The objective of the MateView series is to deliver affordable panels with sophisticated features that not long ago would have classified them as premium products.
Today we're looking at the MateView SE, a 23.8in monitor that comes either with a basic stand or, as in our review model, one with height and rotation adjustment.
Considering the low price of this solution – starting at just £139.99 – and the features it purports to have, is there a catch with the Huawei MateView SE?
Design & Build
The two versions of the MateView SE have an identical panel, from what I can ascertain, so everything that's said about this design applies to the 'Standard Edition' model except for being able to move vertically on the stand and rotate.
As monitors go, the Huawei MateView SE Adjustable Stand Edition is impressively thin and has a remarkably narrow border on most sides. Slim bezels make it ideal for those looking to create an edge-butted multi-panel widescreen, as it minimises the gaps between adjacent MateView panels.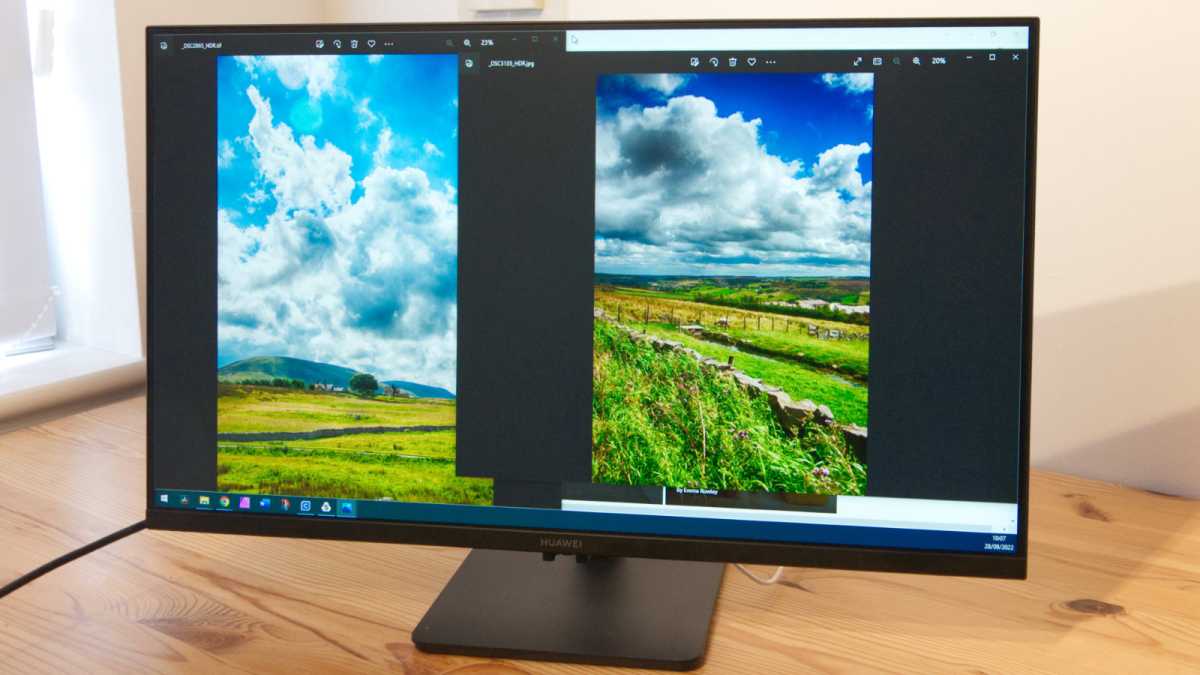 Mark Pickavance / Foundry
Assembling the screen from the packaging is very straightforward, as the support comes in two parts which can be joined without tools. Once the support arm is assembled, that can be attached to the panel with a spring-latching connector.
Where the arm attaches are VESA mounting holes, so alternatively, the MateView can be attached to a custom support structure.
Included in the box are a small power socket PSU and a single HDMI cable. The MateView SE supports both HDMI and DisplayPort inputs, but those wanting to use the second option must provide their own cable.
What is very welcome on a budget monitor is a joystick to access the OSD (on-screen display) menu rather than a line of buttons where you invariably pick the wrong one three times over. One curiosity about this feature was that initially, I found this difficult to use due to a foam collar that Huawei had placed around it on three sides.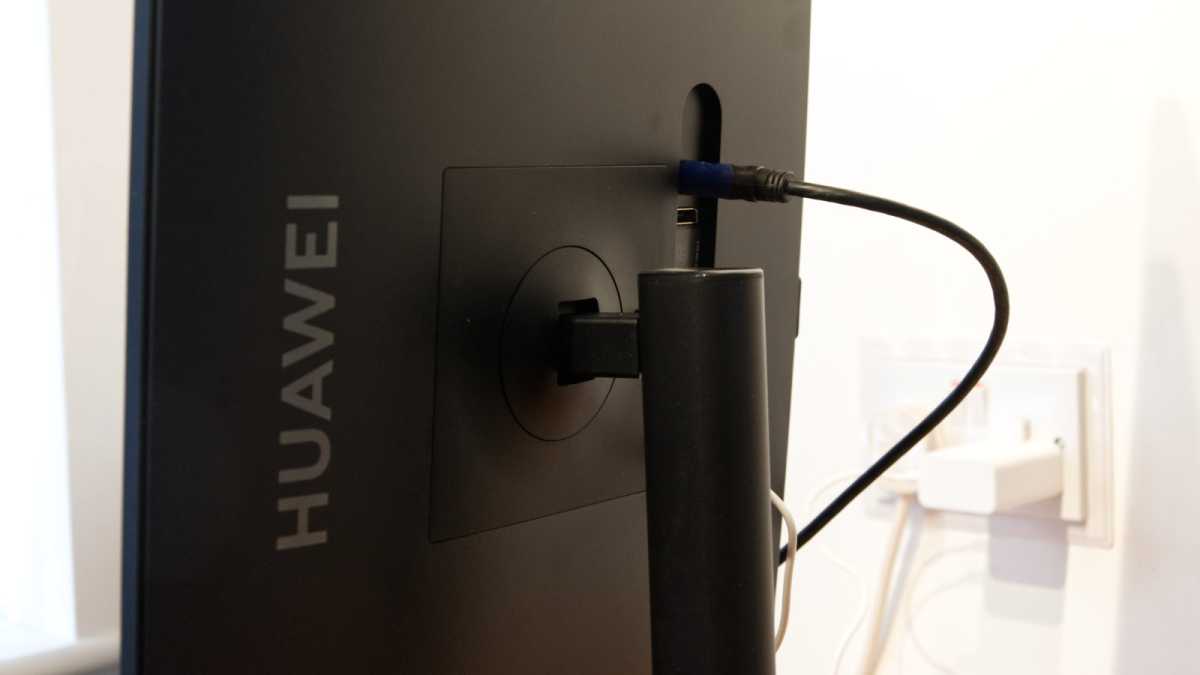 Mark Pickavance / Foundry
I've since been informed that this was to protect the projecting stick in transit and needs to be removed to allow full access to the control. The foam is attached with a strong adhesive, so be careful removing it.
The only other comment I'd like to make about the MateView SE design is that there was a time when screens of this size were considered big, but those times have long since passed. These days unless ergonomics is a significant problem, this isn't a large monitor, and because of that, it was meant to be observed at a relatively short range.
Specs & Features
When IPS panels first appeared, they suffered compared to TN technology displays due to increased lag and a longer refresh but discernibly better colour.
Advances in IPS have all but addressed those differences, and monitors using this technology are being used by gamers and business users with equal success.
The IPS panel in the MateView SE has a Full HD (1920 x 1080) native resolution in a typical 16:9 aspect ratio, a quoted 1,000:1 contrast ratio and a peak brightness of 250 nits.
At this price, expecting 1440p or higher resolutions is unrealistic, although wishing it was a little brighter certainly isn't so think about how bright the room is where it will be used.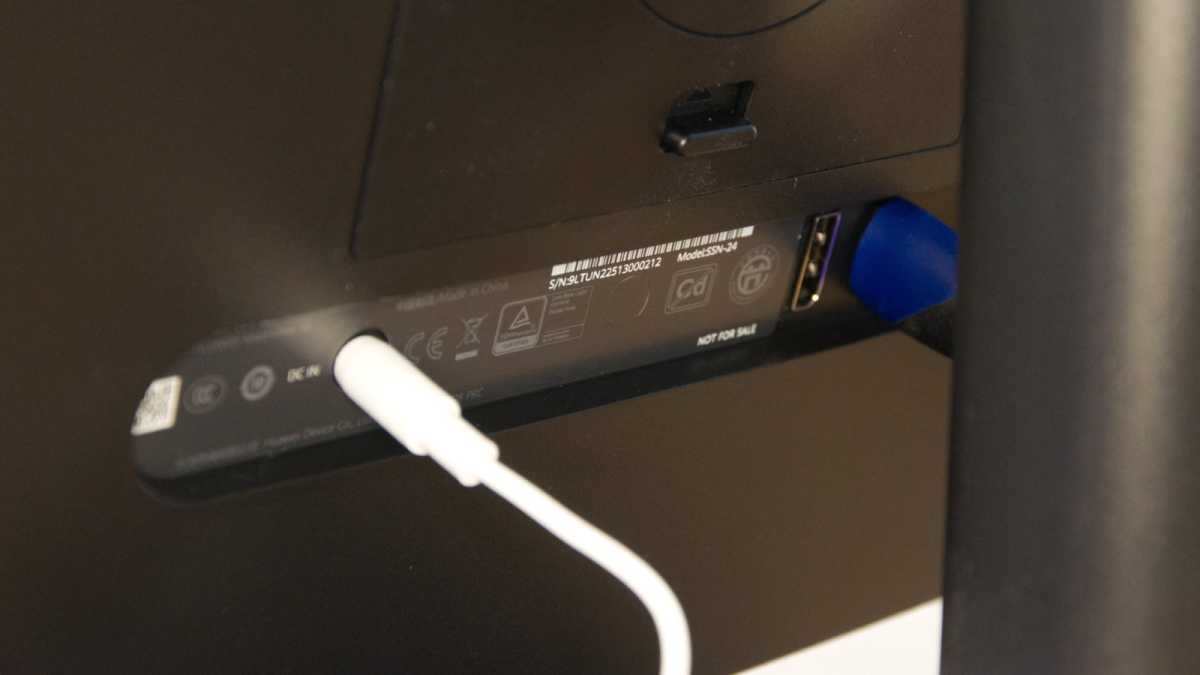 Mark Pickavance / Foundry
However, the maximum refresh is 75Hz, and while that isn't perfect for professional gamers, it does support FreeSync allowing the monitor to adjust refresh to avoid screen tearing automatically.
Being able to exploit this feature assumes that you have a discrete GPU capable of using this variable sync technology and that you have a framerate that nominally varies between 40-75fps.
There are a few missing features that need to be outlined since Huawei simply avoided mentioning them in any of its specifications. The MateView SE has no speakers, and it also doesn't offer a 3.5mm audio jack to take sound from the HDMI cable to headphones. Therefore if you want sound, you'll either need to provide external speakers or connect headphones directly to the computer.
Display Quality
In Huawei's promotional material, the contents talk at length about the colour capabilities of the MateView SE, and it turns out they are pretty good for a budget monitor.
The quoted gamut is 90% P3 and 100% sRGB, and my review sample hit both these levels when tested with a DataColor SpyderX calibrator. Using DisplayCAL, the gamut coverage was 89.7% of P3 and 99.7% of sRGB, supporting the DataColor analysis.
If this was on a higher resolution monitor, it might make this screen suitable for working with photography and video, but the 1080p resolution isn't ideal for those objectives.
Out of the box, the default Gamma is close to 2.1, and there are no Gamma changes available in the OSD menu. What that menu does offer is specific modes for gaming, colour accuracy and even a paper white document reading setting.
Mark Pickavance / Foundry
The quoted brightness of 250 nits was exceeded, with almost 275 nits being achieved in my testing. However, this is still way too low to take the HDR mode seriously. Contrast peaked at 880:1, not very far from the quoted 1000:1.
If this display has a genuine weakness, it's the backlight's lack of uniformity. The brightest part of the panel is the bottom centre, and the darkest is the top right. The variance is only 5.4% at maximum, but this could have been better and less lop-sided between left and right.
In the specifications for this display, Huawei doesn't quote a response time, but I estimated it to be around 5ms. Not bad, but nothing special either. In the OSD Menu, there are options to reduce this value, but the trade-off is a reduction in image quality. The choice is yours, but this isn't the sort of panel a serious gamer would choose.
Overall, for a budget monitor, Huawei should be delighted with the MateView SE. It has better colour representation and contrast than many more expensive designs and, in many respects, lives up to its billing.
Price & Availability
In the UK, the review model with the adjustable support costs £179.99, and the standard version with simpler support is just £139.99. As the display is the same, that's an extra £40 for the adjustable support, although it is often discounted.
You can buy it from Huawei, Amazon, Argos and Currys.
The European pricing is €169.99 for the standard version with online retailers. Currently, Huawei doesn't sell its monitors in the USA, making it an import-only option.
Check our chart of the best monitors for more options.
Verdict
As affordable monitors go, the Huawei MateView SE is a refreshing contrast to many typical basic Full HD offerings.
While the functionality for gaming is limited, and the resolution isn't ideal for colour work, it can be used in both scenarios at a pinch. For those that game seriously or work with photos or videos professionally, you'll need to look elsewhere, but it has potential for those who occasionally need something better than the cheapest displays.
However, the lack of a speaker or even a 3.5 mm audio jack is a bit annoying and offering an HDR mode when the screen brightness of 250 nits (even though it measured a little higher) represents a mismatch between ambition and capabilities.
A menu feature for HDR mode does not constitute the same impact as 1000 nits or brighter TV using OLED screen technology. The contrast levels aren't enough to create the optimal HDR experience in whatever way you choose to calibrate the MateView SE.
Expectations must be adjusted, even if this panel was significantly better than the price hints. Despite these practical limitations, for the asking price, the MateView SE is a decent budget solution.
Specs
Panel Size: 23.8in (60.5 cm)
Curve: Flat
Display Technology: IPS LCD
Resolution: 1920 x 1080
Aspect Ratio: 16:9
Response Time: 5ms
Viewing Angle: 178°(H)/178°(V)
Maximum Refresh: 75Hz
Static Contrast Ratio: 1000:1
Maximum Brightness: 250 Nits
Video Ports: 1x HDMI 1.4, 1x DisplayPort 1.4
Speakers: N/A
Variable Sync: AMD FreeSync
Weight: 4.5kg (with stand)