Amazon has released an updated Fire HD 8 tablet. It's much like the 2020 version, but with a faster processor, stronger screen and longer battery life.
Alongside it is a new Plus model as well as new Kids and Kids Pro versions.
Here's everything you need to know.
When is the Amazon Fire HD 8 (2022) release date?
Amazon announced the new range of tablets ahead of its annual devices event on 28 September.
You can buy a Fire HD 8 from Amazon.
What is the Amazon Fire HD 8 (2022) price?
As with the new Fire 7, the HD 8 has had a price hike for the first time in years.
When the last generation was launched in 2020, it cost $89.99 / £89.99, but the 2022 model starts from $99.99 / £99.99.
Amazon has kept the Fire HD 8 Plus, which costs $20 / £20 extra, just as it did in 2020. But as the base model is more expensive the Plus now costs $119.99 / £119.99.
Similarly, the Kids versions have had a price hike, from $139.99 / £139.99 to $149.99 / £149.99. You have a choice of Kids and Kids Pro. These are based on the new Fire HD 8 (in black with 32GB of storage), and offer a choice of different cases. As ever, they have a two year warranty (instead of one, and covering accidental damage) plus a year's access to Amazon's Kids+ subscription service which includes apps, games, videos, books and more.
What's new about the Amazon Fire HD 8 (2022)?
Six-core processor (30% faster)
13-hour battery life (1 hour extra)
Tougher glass screen
Despite the 'all-new' rhetoric, this is basically the same tablet Amazon launched in 2020.
It looks exactly the same, comes in very similar colours (the non-black options now called Blue and Rose instead of Twilight Blue and Plum) and has the same screen and cameras.
The upgrades include a hexacore processor (two extra cores and said to be 30% faster), stronger aluminosilicate glass, and an extra hour of battery life (now up to 13 hours).
Amazon also says it's thinner and lighter, but that's stretching the truth. The previous model was 9.7mm thick, and the new one is 9.6mm. Amazon quoted a weight of 335g for the 2020 Fire HD 8, but quotes 337g for the 2022 model, which means it's actually heavier.
Really, then, it's the extra performance that makes the new tablet different and Amazon says this is good for multitasking. You can use the split-screen feature to run two apps side by side (email and Zoom, say) or watch Amazon Prime Video picture-in-picture while looking up a recipe.
Storage options remain the same at 32GB and 64GB, as do the 2Mp front and rear cameras. All models have a microSD slot for up to 1TB of extra storage.
If you want a better rear camera, the 2022 Fire HD 8 Plus now has the 5Mp camera as used by the existing Fire HD 10.
Amazon
Otherwise, the main differences between the standard and Plus models are that the Plus has 3GB of RAM instead of 2GB, built-in wireless charging, and faster USB-C charging using the included 9W power supply. It also comes exclusively in grey (as shown above). These are exactly the same differences as between the 2020 standard and Plus models.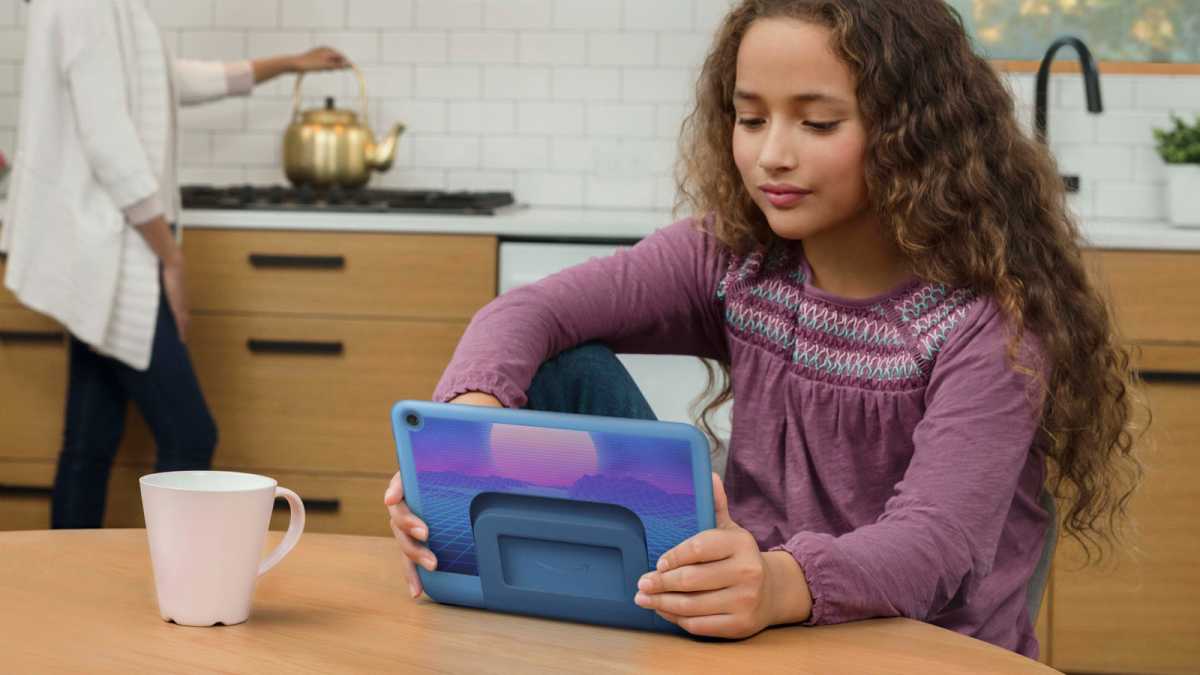 Amazon
As mentioned, the two Kids editions use the 32GB Fire HD 8 (2022) and offer a choice of different colours for the case only: the tablet itself is black. For the Kids, that's Red, Blue or Purple, while for Kids Pro the designs offered are Arcade Hero, Rainbow Universe and Hello Teal.
The Fire HD 8 Kids is aimed at younger children from three to seven, while the Kids Pro is more suited to kids from six to 12.