At a glance
Expert's Rating
Pros
Customisable touch controls
Impressively punchy sound
Good performance across music, videos & gaming
Cons
Infuriating companion app on Android
May not fit smaller-eared humans
Intermittent connectivity issues
Our Verdict
The CX Plus True Wireless are excellent all-rounders, with impressive out of the box sound and customisable touch controls. The only problems are the potential connection issues on Android and the frustratingly temperamental Sennheiser companion app.
Price When Reviewed
$179.95
Best Prices Today:
While Sennheiser's latest true wireless earbuds, the CX Plus, may look identical to their predecessor, the upgraded earbuds sport new features including active noise cancellation and a transparency mode that allow them to better compete with the likes of Samsung and Apple.
But while the audio performance is no doubt impressive, connectivity issues and a higher price tag than the more capable Samsung Galaxy Buds 2 make the CX Plus wireless earbuds a challenge to recommend.
Design & Build
Available in either black or white
Customisable touch controls
Chunky buds, not a great fit for those with small ears
Design-wise, the Sennheiser CX Plus are very much the same chonky little bois we've come to expect from Sennheiser. While they thankfully aren't any bigger than the kaiju-bothering CX, these buds are still noticeably fatter than similarly-priced rivals. While for most this won't really be much of a problem, it does mean they may not be suited to those blessed with adorably small ears.
Thankfully, for those with moderate to large hearing flaps, Sennheiser's done its best to ensure you'll be able to find a nice fit. Coming with earbuds ranging from extra small to large, the CX plus ensures that crucially snug fit inside the ear canal.
Tom Regan / Foundry
Once you adapt to some of the more bizarre quirks, the CX become a surprisingly brilliant piece of kit. All controls on the headphones themselves are touch operated. From a single touch allowing you to hear the world around you, to the tap-and-hold volume switch, it's all slick and fairly intuitive stuff. It's a system made even better by these controls being completely adjustable, although that comes with some issues of its own. But, more on them later…
Specs & Sound Quality
Strong sonics
Decent ANC
Transparency mode
Right out of the box the CX Plus delivers admirably – no matter what genre you throw at it. From the sub-heavy thump of Banks' broody banger 'F*ck With Myself' to the chaotic low-fi swagger of Glassjaw's 2000 anthem 'Ry Ry's Song', Sennheiser's latest offers up a consistently clear and captivating audio performance.
As you may expect from mid-range earbuds, the audio profile and sonic space aren't exactly the widest, yet while you're unlikely to get lost in a galactic-bothering mix, snare hits, vocals and bass drops all fit snugly into place, lacking the cramped tinny profile of some cheaper rivals.
For Audiophiles, these may appear a bit heavy on the treble, but when they churn out vocal hooks and guitar lines with such sheer confident swagger, it's hard not to be impressed.
Almost every genre sounds crisp and clear, with only the real sub-bothering dance floor fillers lacking the groove you'd expect. The brass-led beat of Injury Reserve's 'S on Ya Chest' impresses while Sennheiser's commendable isolation technique separates you from your surroundings, transporting you right into the midst of your vibey playlist.
For the gamers among us, the CX Plus function as a superb Nintendo Switch companion. From Kazuya's unhinged grunts in Super Smash Bros Ultimate, to the haunting snarls of the undead in Resident Evil Zero, CX Plus offer up a surprisingly atmospheric, filmic performance.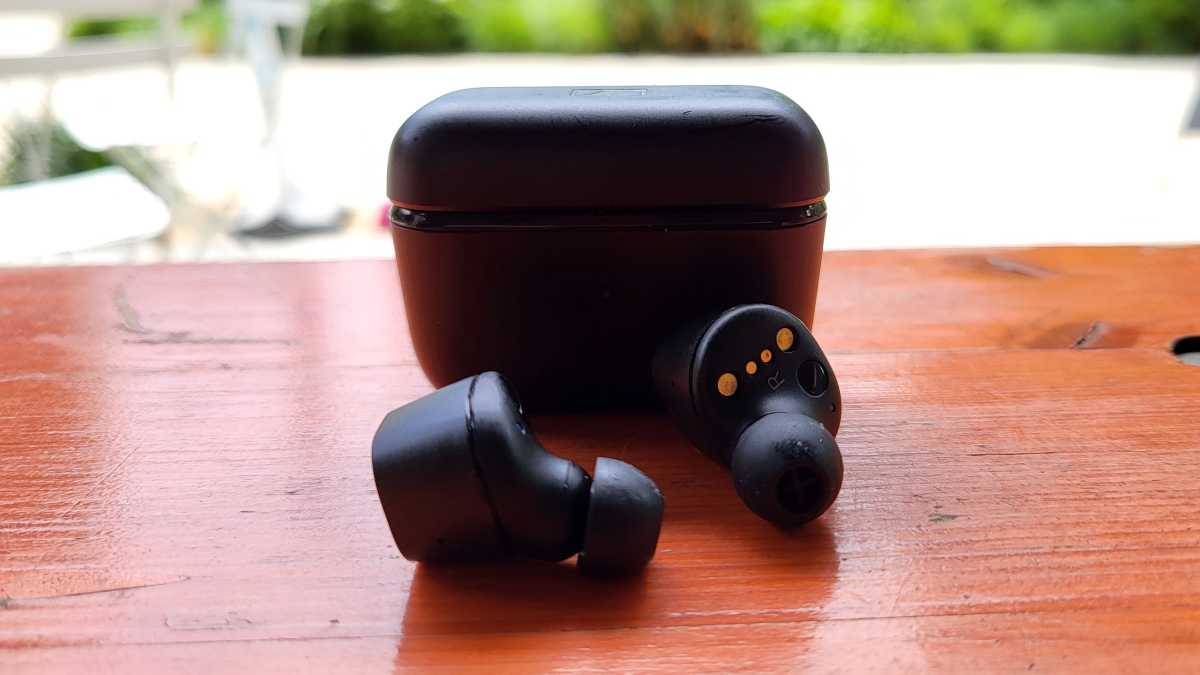 Tom Regan / Foundry
Somewhat predictably, less impressive is the mic. Offering up a muffled and distant voice capture, I could not successfully take calls on these buds, having to swiftly disconnect them and resort to taking a call the traditional way. It's a shame, but poor mic performance sadly seems to be the norm on most wireless buds.
Battery Life & Charging
Fairly average battery life
Charging only possible with an open case
As expected from wireless earbuds, the battery life on the CX Plus isn't anything to write home about. With each bud churning out five and half hours use out of a full charge – and the charging case managing a more impressive 16 – they do the job. Still, it's a far cry from the promised 24 hours Sennheiser whacked on the box.
Unlike Samsung's Galaxy Buds 2, there is no wireless charging on offer here. Instead, you'll be supplying juice to the charging cradle via the now industry-standard USB-C connection.
As such, charging the CX Plus is fairly straightforward, if unnecessarily unintuitive. Bizarrely, the buds only charge if the case lid is left open – feeling counterintuitive to pretty much every other wireless set of buds – and I encountered a frustrating issue where the buds would connect to my phone but refuse to play any audio through them.
Connectivity & Smart Features
Infuriating bugs on Samsung phones
Customisable touch controls & EQ
Instant 'real hear' audio mode
Like almost every audio product on the market, the CX plus true wireless work in tandem with an app. Dubbed Sennheiser Smart Control, this digital companion app looks refreshingly slick. It's surprisingly extensive, too, allowing users to customise individual touch controls on each bud – remapping double tap, swipe, etc – as well as letting you set up custom EQ and even location-specific noise-cancelling profiles.
When it works, the smart control app is genuinely brilliant, the problem is, however, that syncing your buds to Smart Control often causes a slew of infuriating issues.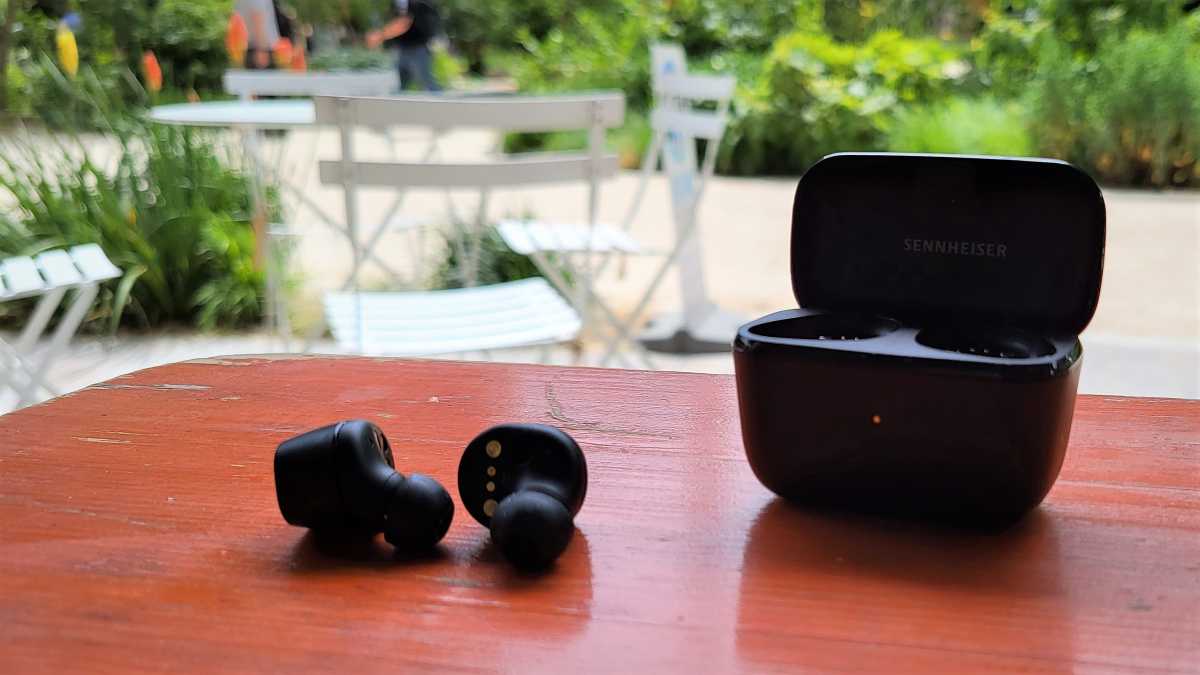 Tom Regan / Foundry
Bizarrely, connecting via Bluetooth to your phone seems to confuse the smart control app. On multiple occasions, I'd be listening to music, only to attempt to change a setting in the app – and then lose all audio entirely. The solution? A factory reset of the earbuds, costing me all my saved profiles and settings.
While this may be a problem relegated to Samsung phones (I encountered the issue on both an S10 and S21) It's an undeniably infuriating issue, and one that largely renders what could be a fairly useful app, redundant.
What does work without a hitch though, is Sennheiser's transparency mode. With just one touch, you can leave your music behind, allowing you to tune into the hustle and bustle of your real-world surroundings. It's a nice feature, allowing you to instantly chat with your bus driver, answer a passerby or simply eavesdrop, should you be so inclined. It's a feature that feels aimed squarely at commuters, and as countries increasingly return back to the office, it's a welcome addition.
Price & Availability
The CX Plus True Wireless are available now worldwide for $179/£129/€139.
Coming in just £10 cheaper than Samsung's Galaxy Buds 2 and $20 more expensive than Samsung's buds in the US, the potential app issues and lure of wireless charging may make Samsung's bud the superior option. Yet, app issues aside, Sennheiser's latest undeniably offers an admirable array of features for what is ultimately a reasonable price tag.
If you're tempted, you can pick up the Sennheiser CX Plus wireless earbuds from Sennheiser directly alongside retailers including Amazon in the US and Amazon and John Lewis in the UK.
To see how they compare to the wireless competition, take a look at our selection of the best true wireless earbuds and best headphones too.
Verdict
From slick touchy controls on either bud to a brilliant default EQ profile, it's hard not to be impressed by Sennheiser's latest. Sure, the overly large look and feel of the buds may be off-putting for some, but look past the so-so aesthetic and the CX Plus True Wireless offer up a surprising amount of bang for their buck.
Samsung users may find themselves battling with the frustratingly buggy companion app, but for everyone else, these earbuds are an utter delight. Somewhat predictably, the mic is a disappointment, offering up muffled poor sound. When at home, it's usable, but when roaming a crowded street or pushing past a bustling throng of commuters, they're inaudible.
Despite these caveats, the CX Plus' admirable audio performance makes them a worthy contender for your hard-earned cash. For Android users, the Galaxy Buds 2 may be the better option, but otherwise, there's a lot to love with these chunky little buds.
Specs
TrueResponse Transducer 7mm dynamic driver
Transparent hearing/ Active noise-cancellation
Customisable touch controls
Bluetooth 5.2 with Aptx adaptive
IPX4 water-resistance
Charging case with USB-C and wireless charging
Earbud: 5 and a half hour battery
Charging case: 16-hour battery
Black, White
Best Prices Today: Sennheiser CX Plus True Wireless