At a glance
Expert's Rating
Pros
Big sound for small size
Brilliant sound profiles and EQ presets
Wide ranging connectivity
Dolby Atmos and DTS:X
Cons
Eye-sore subwoofer design
Middling optical performance
More expensive than predecessor
Our Verdict
Polk's Magnifi Mini AX offers up a pricey but pleasingly premium soundbar experience. While the sound bad itself certainly lives up to the mini moniker, its room-filling sound defies its stature. There are plenty of connectivity options but the huge subwoofer and asking price might put you off.
Price When Reviewed
$499
Best Prices Today: Polk Audio MagniFi Mini AX
Polk's Magnifi Mini is a great soundbar for those on a budget, but what about consumers that want more bang for their buck? Polk's new Magnifi Mini AX looks to offer the same compact design with a performance boost and smart features like Google Home and AirPlay 2 support and Dolby Atmos.
The issue is that it's much more expensive than its predecessor, putting it up against heavy hitters from the likes of Sonos and JBL. Does the Magnifi Mini AX have what it takes to compete?
Design & Build
Available in black or white
Small, but mighty
PC-tower-esque sub is a bit unsightly
The first thing that may surprise you about Polk's latest is just how compact it is. Measuring in at just 365 x 104 x 78mm, the dainty soundbar demands surprisingly little precious space on your TV unit. Still, don't let it fool you.
Thanks to its deep, concave design, it's wide enough to create a sound that fills the room – and all while looking surprisingly sleek. Available simply in black, it's hardly a speaker that embraces the full-colour spectrum, but when the core unit looks this slick, it's hard to complain.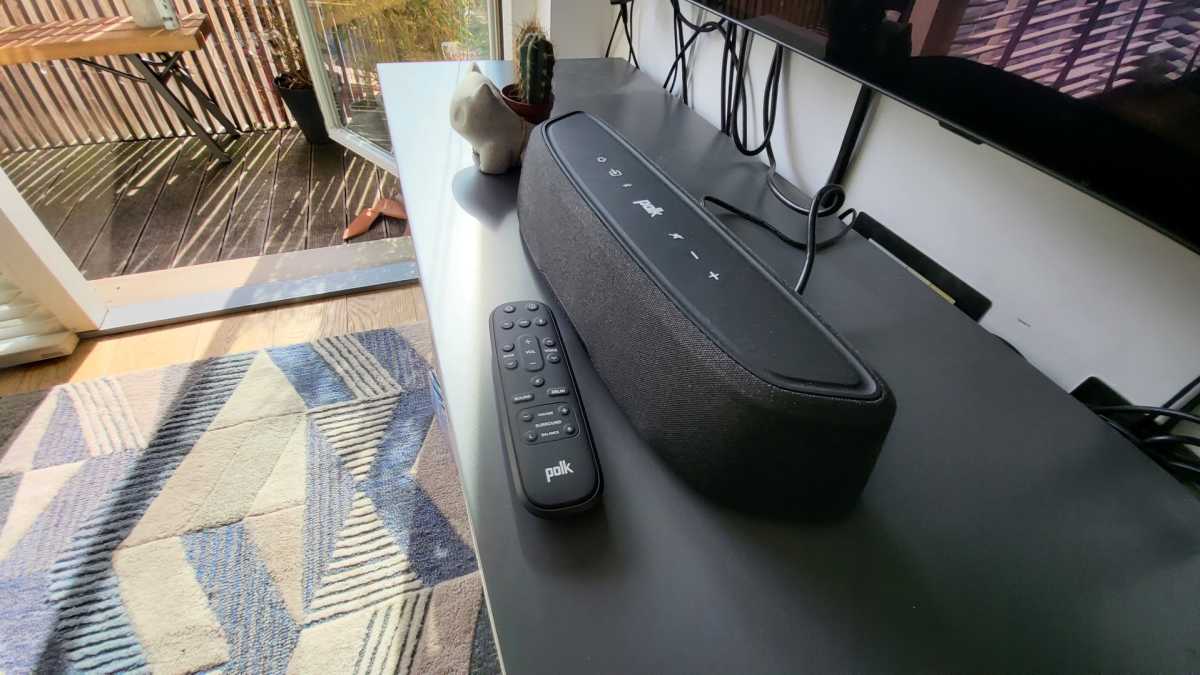 Tom Regan / Foundry
While the soundbar itself looks impressively chic, the towering four-legged sub is less than elegant. Channelling the energy of a miniature PC Tower, it's a bizarre and clunky-looking shell for the Polk's low-end, sticking out like a shrunken piece of furniture.
Thankfully, what it lacks in good looks, it more than makes up for in sonics. Despite its abrasive design, the subwoofer delivers where it counts – but more on that later.
Sporting a matte black finish, the standalone sub isn't offensive, but thanks to the sheer amount of space it demands, those with a penchant for interior design may want to nestle it behind plant pots or more aesthetically pleasing furniture.
Tom Regan / Foundry
Eyebrow-raising subwoofer design aside, the rest of the Magnifi AX Mini feels pleasing premium. While many manufacturers offer a page or two of 'quick start' documentation, the Polk refreshingly comes with a full-on manual, making setup a painless affair. It's this kind of premium feel and care that defines the Polk AX Mini.
Coming with a pleasingly slick and sturdy remote, you can easily do everything from switching sound profiles, to boosting the bass on your favourite Boiler Room set.
Connectivity
Optical, Ethernet, and Wi-Fi
HDMI eARC
Bluetooth and AUX
Dolby Atmos and DTS: X
Thanks to the aforementioned manual, setup is pleasingly easy. For Android users, the Polk Mini AX syncs effortlessly with Google Home, immediately connecting it to the Wi-FI, downloading firmware updates and allowing you to slot it into any existing multi-room speaker setup.
Like most modern soundbars, the Polk AX Mini offers up a wealth of connectivity options. From the ye olde AUX port, to the middling optical and vastly superior HDMI eARC port, there are a multitude of ways to route your TV's audio to Polk's latest soundbar. It works perfectly with both Dolby Atmos and DTS:X too, effortlessly syncing with compatible TVs or audio receivers in order to offer up a rich and detailed sound.
Once connected via HDMI eArc, the system links seamlessly with your existing TV remote, allowing you to adjust the Polk's volume with a simple click of your TV remote.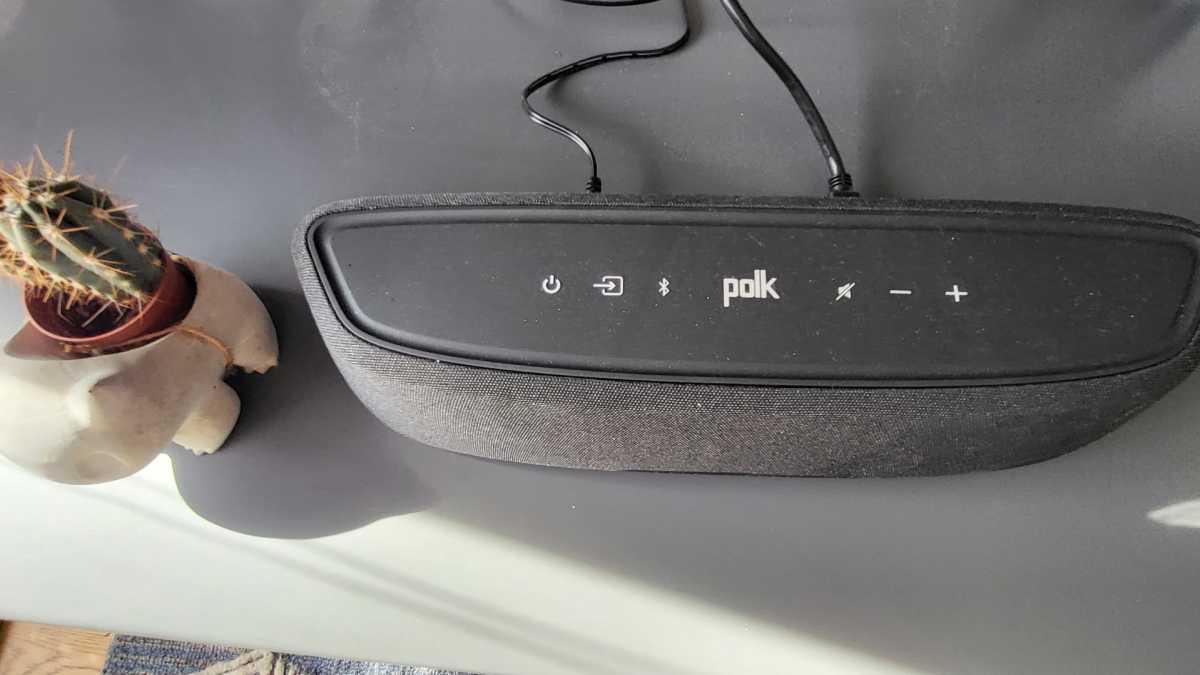 Tom Regan / Foundry
Sound Quality
Clean, balanced sound
Decent but limited bass output
Impressive clarity and detail
Despite the speaker's modest size, it has a big reach, and when paired with the unsightly sub, it does an admirable job at filling even the largest of living rooms. Yet it's the different audio profiles that really help make this system sing.
Armed with a deluge of different audio settings, the default 'Movie' mode does exactly what it says on the tin, allowing your chosen popcorn flick or TV show to punch across with aplomb. As the sub-bass snarls during the height of DVader's rampage in Obi-Wan, I'm immediately immersed in the CG-led carnage. It's an audio performance that's enhanced when switching to the pre-set audio modes.
The movie mode offers up a surprisingly cinematic performance, feeling grandiose and hitting all the right notes It's all admirably well-balanced and can easily hold its own against the angry snarl of a filled-to-capacity washing machine mid-cycle.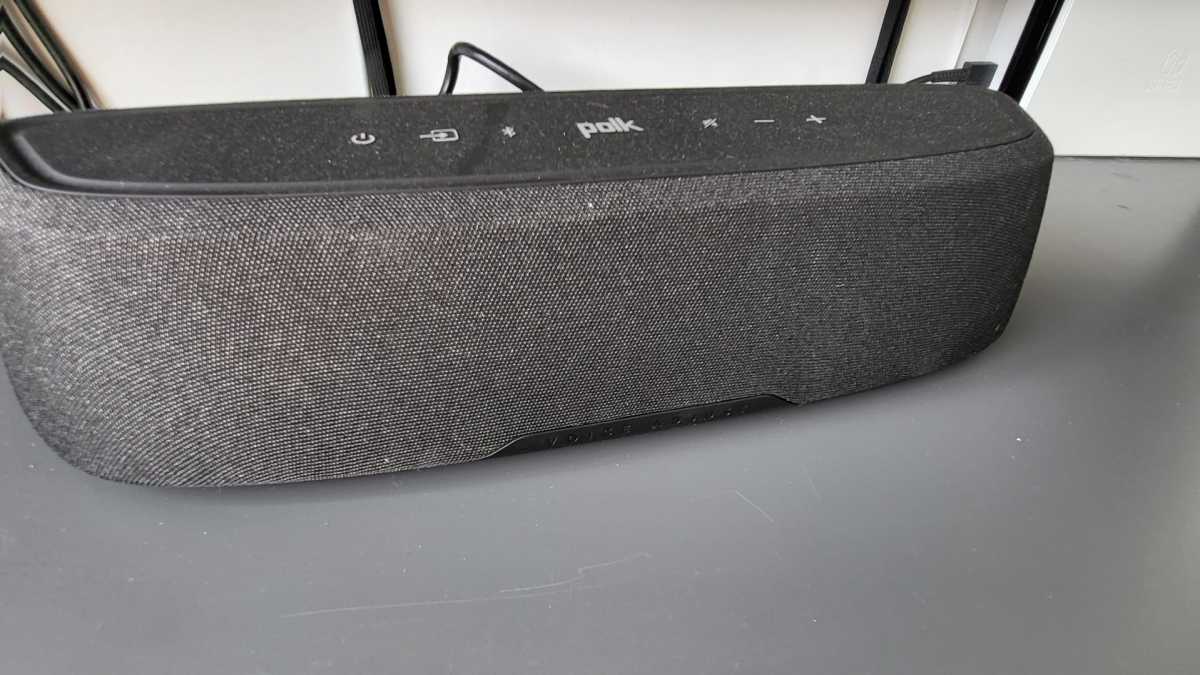 Tom Regan / Foundry
The AX's music setting is equally impressive, amplifying a live version of Thundercat's 'Them Changes' in all its groove-ridden glory. Where many subs simply produce an overly low and distorted rumble, here the sub and speaker work wonderfully in tandem, ensuring the bass tones hum warmly as the staccato vocals purr satisfyingly over the mix.
It feels like a sound system built for enjoying a band's studio sessions and YouTube rips of concerts, with the AX Mini admirably delivering everything from melancholic Tiny Desk's to distortion-soaked Audiotree Live sessions.
For the gamers out there, the 3D mode does an admirable job at creating a wider audio profile, stretching atmospheric audio to impressively broad levels.
For those who have to be conscious of neighbours, Polk has you covered. Including a late-night mode that amplifies voices and lowers bass tones. Night mode makes a post-Midnight watch of Stranger Things a refreshingly non-neighbour-bothering experience. Quieting the roaring sub and boosting the treble, the earnest teen dialogue is delivered with crystal clarity, and when the scares come, I no longer have to worry about any floor-shaking sonics.
Price & Availability
Costing $499/£429/€479, the Polk Magnifi Mini AX isn't the cheapest soundbar around. Priced at over $200/£130 more than its predecessor -the Magnifi Mini – the AX is far more of an investment than its younger sibling, putting it up against premium bar-and-sub combos like the $499/£549 JBL Bar 5.1 or Polk's own $499/£499 Magnifi 2.
If you're interested, you can pick up the Polk Magnifi Mini AX directly from Polk (at a slight discount at the time of writing) alongside retailers like Amazon both in the US and the UK.
To see how it compares to the competition, take a look at our hand-picked selection of the best soundbars.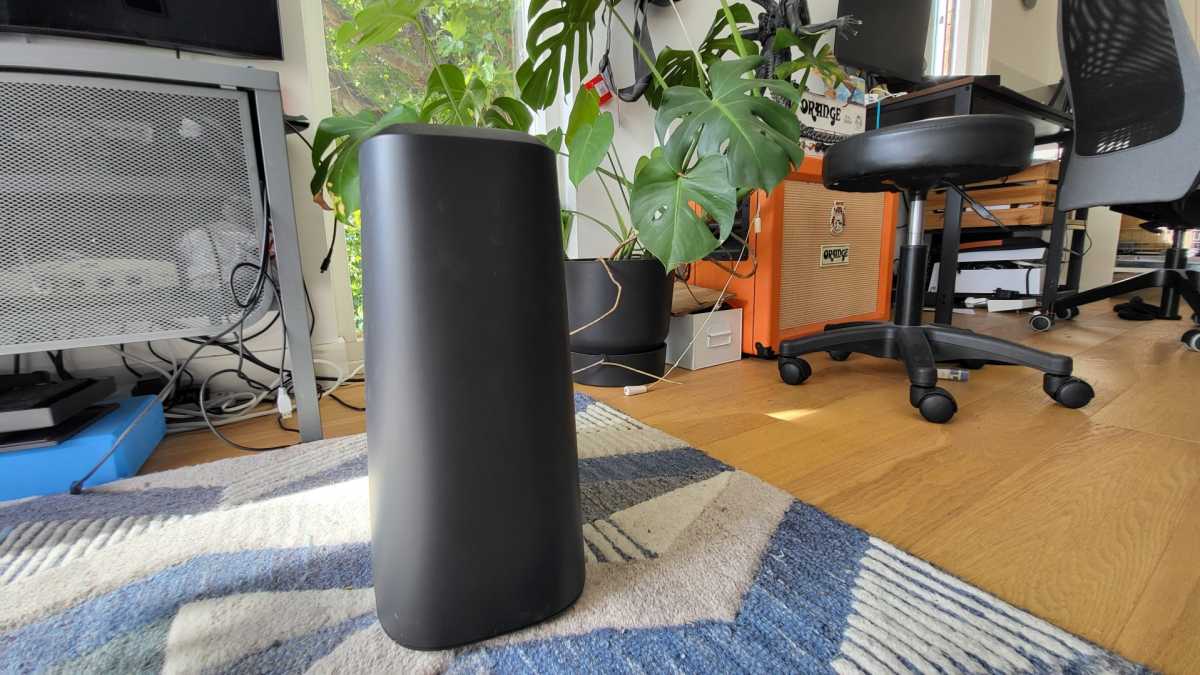 Tom Regan / Foundry
Verdict
For those light on space that want big sound, you'd be hard-pressed to do better than Polk's latest. While its tower-like subwoofer may be a sight that leads to sore eyes, if you have an HDMI eARC connection, the audio satisfaction you'll gain more than negates the wonky aesthetic.
Thanks to its clever use of well-considered audio profiles, and options for various connections, the MagniFi Mini AX feels suitably premium – a system built to last. The optical performance, however, is disappointingly lacklustre.
For those without an eARC-compatible TV, the middling audio won't be enough to justify the AX's hefty price tag. For everyone else, however, the clever smart features, room-filling sound and ease of use make the Magnifi Mini AFX an utter delight.
If you aren't light on space, however, the impressive Dolby Atmos performance of the Vizio M-Series M512a-H6 might make it a better option.
Still, If you are looking for a small soundbar with big sound, then look no further.
Specs
Speakers
3x 2-inch mids (soundbar)
2x 0.8-inch tweeters (soundbar)
5 x 7-inch woofer (sub)
Ports: HDMI (eARC), optical digital, 3.5mm, USB-A (updates only)
Dolby Atmos
DTS:X
Polk SDA 3D Audio
Google Chromecast for Audio
Apple AirPlay2
Spotify Connect
Bluetooth 5.0
365 x 104 x 78mm (soundbar)
Colours: Black
Best Prices Today: Polk Audio MagniFi Mini AX