At a glance
Expert's Rating
Pros
Lightweight, premium build
Fixes most complaints about the Pure One S12
Powerful suction
Large motorised anti-tangle brush
Cons
Middling battery life
Random mode switching
465ml bin is on the small side
Our Verdict
The Tineco Pure One S15 Pro is a high-end stick vac capable of competing with the likes of Dyson. It fixes most of the complaints about its predecessor while upgrading overall functionality, though the small 465ml bin could've been a bit larger.
Price When Reviewed
$599
Best Prices Today: Tineco Pure One S15 Pro
The Tineco Pure One S15 Pro is the latest cordless stick vac from the company, and it has its sights set firmly on Dyson with a premium build, impressive performance and great ease of use. It fixes many complaints about its predecessor, the Pure One S12, but with it comes a notable price hike.
Can Tineco tempt consumers away from more established brands like Dyson at the high end of the market? Well…
Design & build
Sleek, premium build
Fixes design issues of its predecessor
Upgraded LCD display
The Tineco Pure One S15 Pro is a premium cordless stick vac, and that's immediately apparent in its design. The sleek combination of black, white and silver looks high-end while not boasting the bright, in-your-face colours of competing vacs like the Dyson V12 Detect Slim.
It's an evolution of the Pure One S12, which we reviewed a few years ago, sporting the same modular design as its predecessor with a few notable improvements.
Lewis Painter / Foundry
The most notable upgrade is in the display department. It still sports Tineco's signature circular display, embedded front and centre on the vac making it easy to see at all times. While previous displays were rather basic, the S15 Pro comes with a fully functioning LCD display that not only looks good but can be genuinely helpful.
The first time you turn on the vac, for example, the display will take you through a complete tutorial on how to connect the parts and operate the vacuum. It's a really nice touch that means you don't need to spend time with your head buried in a manual.
In general use, the upgraded display looks great. It plays on-screen animations depending on your level of suction, as well as displaying bright, vivid icons for suction mode, battery life and any blockage issues. There's also a voice prompt that'll give you a heads-up on modes and power status.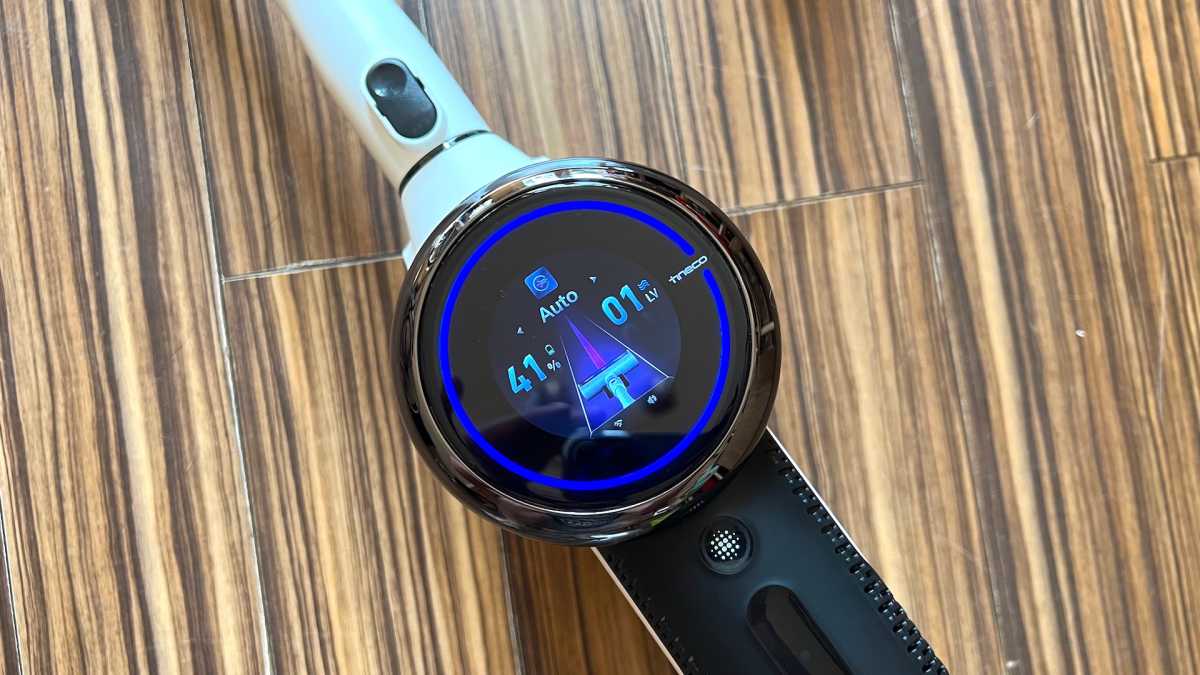 Lewis Painter / Foundry
The company's LED ring surrounding the display is back once again, changing from blue to red in a gradient to give you a visual representation of how much dust and dirt the vac is detecting in real time. It's a genuinely helpful feature, especially for vacuuming carpets where dust and other debris can be harder to spot, and helps deliver a more thorough clean overall – but more on that in a bit.
The vac is trigger-operated and only needs a single push to start and another to stop, unlike some that require you to constantly hold your finger on the trigger to deliver power. That can become quite achy after a long vacuuming session, believe me!
The S15 Pro's 470ml bin is a little on the small side, even when compared to other premium stick vacs with a 650ml bin, and I found I'd have to empty it more than once when vacuuming multiple rooms at home.
The plus side is that Tineco has finally built in a handy slide mechanism that'll dislodge most of its contents without having to remove the pre-filter, as with its predecessors. You'll still have to use your hands to remove the last few straggling strands of hair, but it's much nicer than grabbing handfuls of dust to empty the bin.
Lewis Painter / Foundry
In its standard form, the Pure One S15 Pro connects to a large direct drive power brush with front-facing LEDs to help spot bits of dust as you clean, especially helpful in darker areas of the room. It can connect to the main unit directly, or via a 670mm tube for stand-up cleaning, though the tube isn't height adjustable like you'd expect.
The 265mm-wide brush sports Tineco's ZeroTangle technology with V-shaped bristles and a dual comb design that'll stop hair getting tangled from the roller. There might be a few wrapped around, but they're not tightly tangled like with cheaper rollers, and the provided hair cleaning tool means they're easy to remove.
Accessories
Comes with a handful of accessories in the box
New charging station is easier to use
No spare battery
The Tineco Pure One S15 Pro comes with a handful of accessories that make the cleaning experience more pleasant.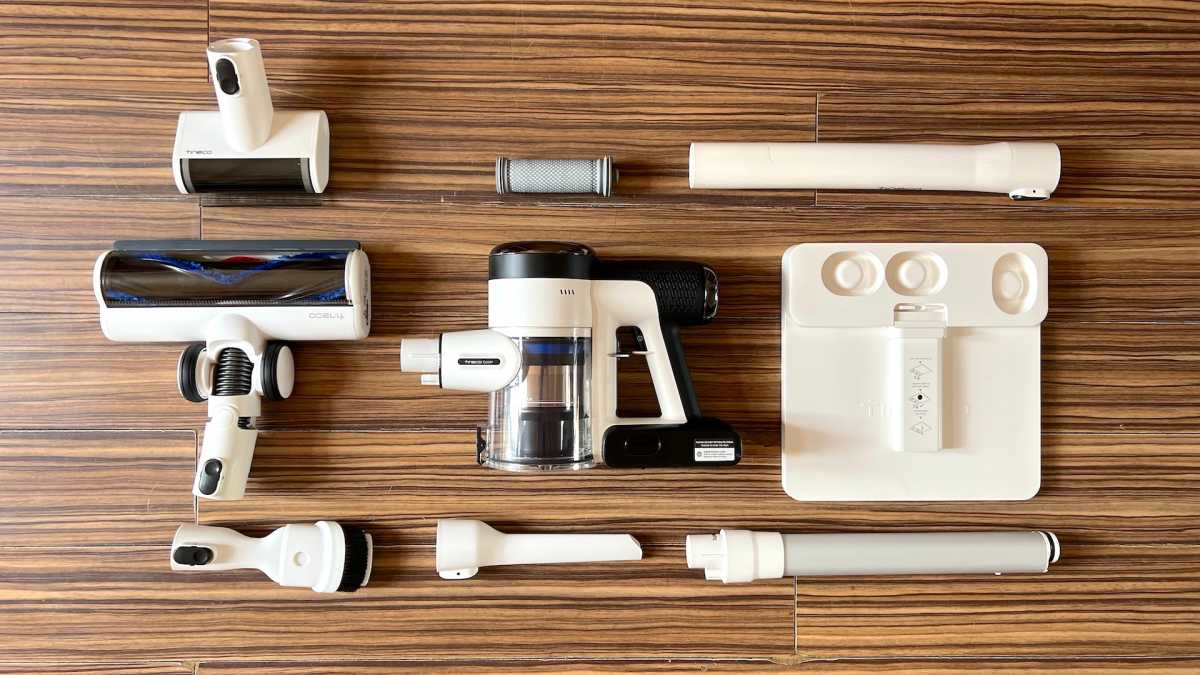 Lewis Painter / Foundry
Alongside the stick vac, you'll find a mini power brush designed for smaller spaces like beds, car seats and sofas, as well as a slimline crevice tool for reaching the nooks and crannies like between the sofa cushions, a standard 2-in-1 dust brush, a hair cleaning tool, and an extra pre-filter.
There's also an improved charging stand. While previous Tineco charging units had to be wall-mounted, the new floor-based system is much easier to use with 0 installation needed. Despite a relatively small footprint, the dock houses most accessories provided with the kit, and the vac slots into the centrally placed mount easily.
While that does improve the overall experience, it's a bit of a downgrade compared to the swathe of accessories that shipped with its predecessor, the Pure One S12 EX.
The older model included additional accessories including a flexible long crevice tool, a pre-filter cleaning tool and even an extra battery to double the amount of time you could use the vac before needing a top-up. These are still available for the S15 Pro, you'll just have to buy them separately.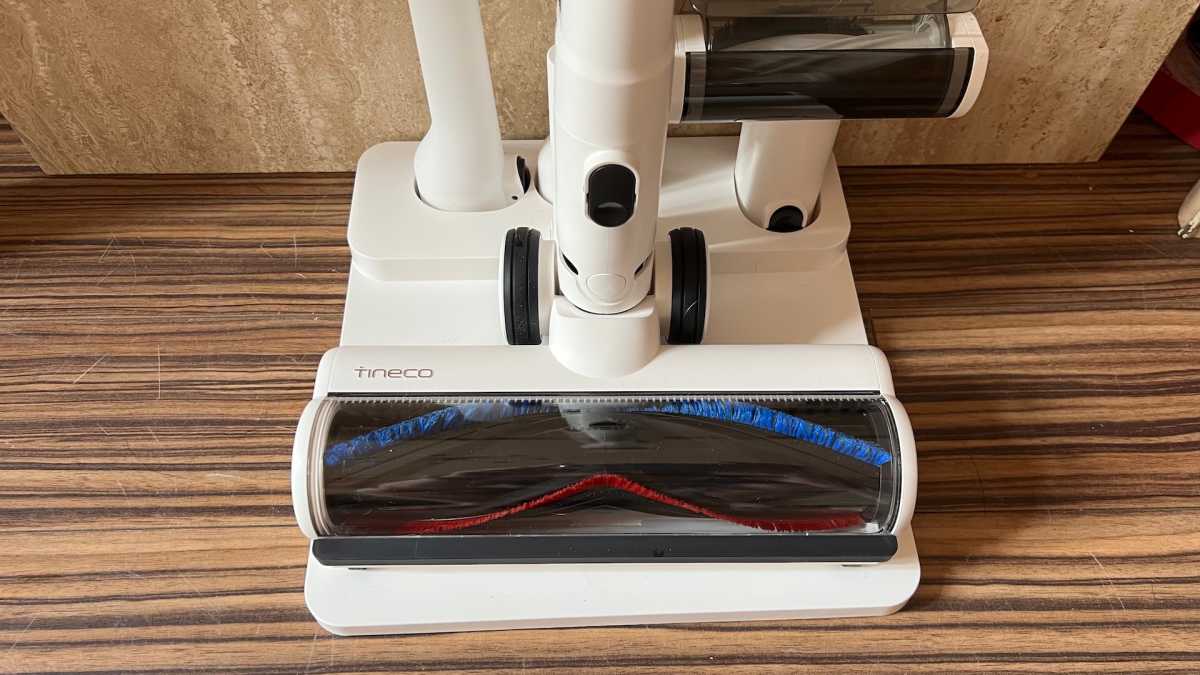 Lewis Painter / Foundry
Performance
Impressive suction performance
Automatic mode provides a good balance of power and efficiency
Middling battery life of around 20 minutes
As you might expect from such a premium stick vac, the Tineco Pure One S15 Pro is impressive in use both on hardwood and carpeted surfaces. When used with the full-size motorised brush head, the S15 Pro has no issue dragging up embedded pet hair from carpet and sucking up dust, even with fairly quick passes.
In fact, I've been surprised at just how much hair the vacuum can pick up from a carpet that, to the eye, looks clean. Its lightweight nature makes it easy to manoeuvre, and it's relatively quiet in use compared to some at an average of 75dB in testing. It's the only vacuum I've tested that doesn't make my dog bark furiously, and that's saying something.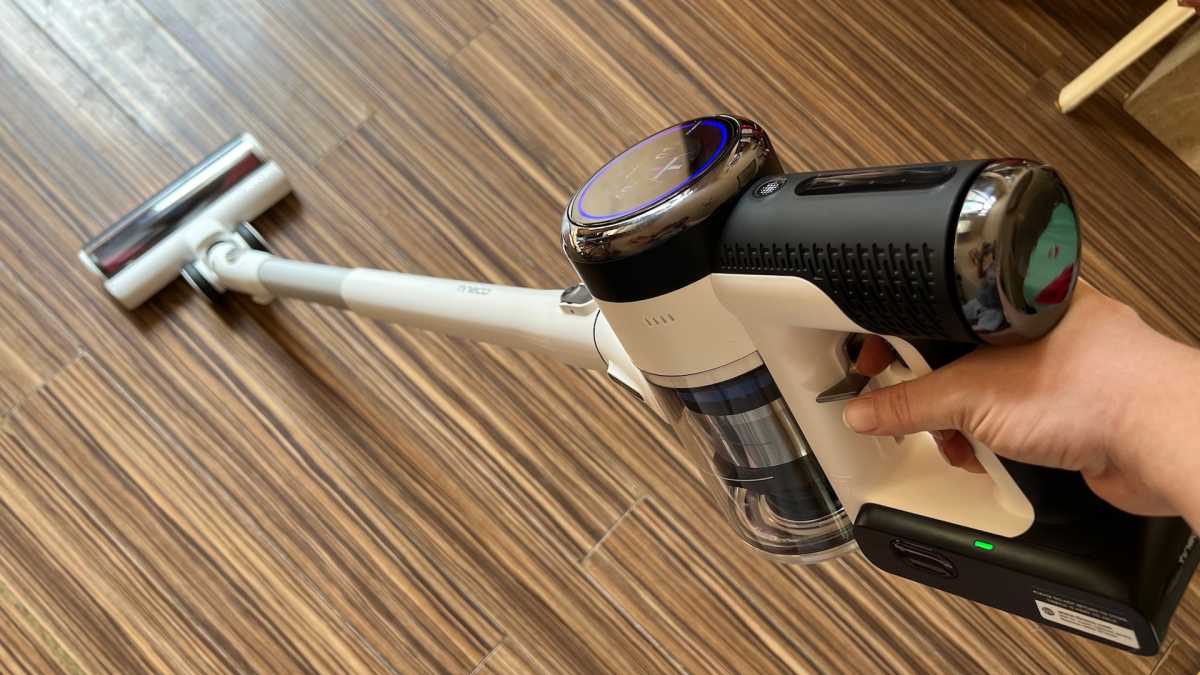 Lewis Painter / Foundry
There's a manual mode that lets you control the 500W of suction power via a touch slider beneath the display, but the S15 Pro truly shines when used in its automatic mode.
The vacuum uses Tineco's proprietary iLoop Smart Sensor tech that can automatically adjust the suction power depending on how much dust and dirt is detected by the vacuum in real time. The benefit to this is that it'll ramp up suction power on particularly dirty areas of carpet for a more thorough clean, especially when paired with the motorised brush head that really digs out embedded hair.
The other benefit is battery life, with the company claiming that the iLoop tech can allow the vacuum to operate for up to 40 minutes on a single charge, compared to just 10 minutes if it were at maximum suction.
That is somewhat true in my experience, with the ramping up and down of suction getting me comfortably past the 10-minute mark, but I've not hit a full 40 minutes before running out of battery. It depends on the amount of dust in the room of course, but I find that it'll usually last around 15-20 minutes before needing a charge.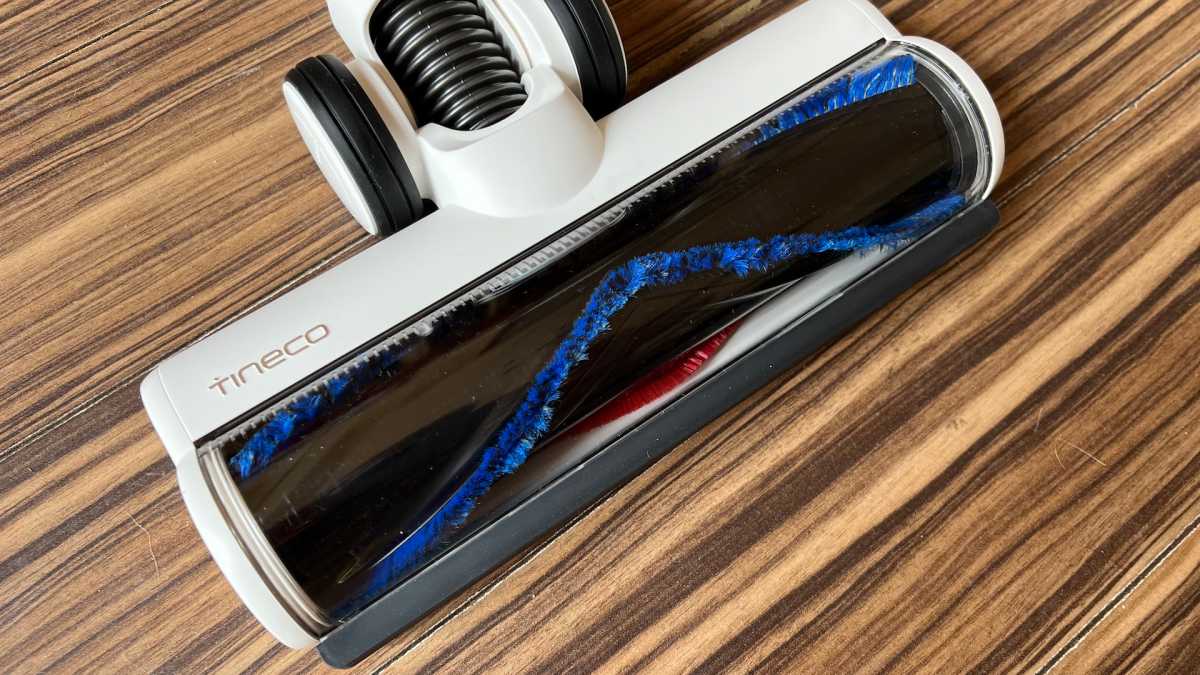 Lewis Painter / Foundry
That's fine if you're just vacuuming a room or two, but it likely won't suffice for a multi-floor home. The battery is removable so you could in theory swap it out for a second fully charged model to extend runtime, but you'll need to pick that up separately.
The one annoyance with the auto mode is that it'll sometimes switch to manual mode without prompt. It's easy to switch back via a tap of the touch-sensitive mode button on the top of the vac, but it's a little annoying for a vacuum that costs $599/£599.
Smartphone connectivity
Works with Tineco app for iOS and Android
Can track cleaning progress, get reminders to clean your bin
As with other recent Tineco vacuums – including the Floor One S3 Wet & Dry – the Pure One S15 Pro is compatible with the company's companion app for iOS and Android.
The setup process is as simple and takes no longer than a minute to connect to the vacuum, though the bigger question should be, is it really necessary?
Tineco says you can use the app to track your cleaning progress, but I can't imagine anyone vacuuming with one hand while watching a smartphone app in the other. It does provide reminders to clean the bin once its full, but again, you can simply look at the bin to see that it needs emptying.
It also reminds you to clean on a set schedule, which is fine, but certainly not needed.
So yes, while the Tineco Pure One S15 Pro does have smartphone connectivity, it's not something I imagine many people will actually use.
Price & availability
The Tineco Pure One S15 Pro is a comfortably premium stick vac that looks to compete with the likes of Dyson not only in tech but pricing, with a $599/£599 price tag that matches Dyson's top-end V15 Protect. That is expensive, but the cleaning performance is impressive and meaningful updates to its design make it a better vac than its predecessor, the Pure One S12.
If you're tempted, you can buy the Tineco Pure One S15 Pro from Tineco directly in the US and the UK.
To see how it compares to the competition, take a look at our selection of the best vacuum cleaners.
Verdict
The Tineco Pure One S15 Pro is a great all-round cordless stick vacuum cleaner that fixes some of the biggest complaints with its predecessor. It's lightweight and powerful with plenty of suction, and the upgraded display is a nice touch too.
The bagless design means there aren't any ongoing costs, and with anti-tangle tech in the brush and a hair removal tool bundled in the box, it's easy to maintain.
It's undoubtedly a premium option, but if you can afford it, chances are you won't be disappointed.
Specs
Up to 40 minutes of battery life
4-hour charge time
465ml bin
Five-stage air filtration system
500W of suction power
iLoop Smart Sensor
Best Prices Today: Tineco Pure One S15 Pro