At a glance
Expert's Rating
Pros
Amazing battery life
Practical lightweight design
Crisp OLED screen
Cons
No 120Hz refresh rate
Patchy camera
Slow charging
Our Verdict
The Sony Xperia 10 IV is a good choice for anyone who wants an affordable 5G Android that does a little bit of everything. It combines a practical and attractive slimline design with enduring battery life, a sharp OLED display and simple software but falls behind rivals in various ways.
Price When Reviewed
Unavailable in the US
Best Prices Today: Sony Xperia 10 IV
Sony has introduced a new pair of phones for 2022, the flagship Sony Xperia 1 IV and the mid-range Sony Xperia 10 IV. Leaving aside the somewhat curious logic of christening a less premium phone with a higher number, the Xperia 10 IV boasts some very solid specs for a device in its mid-range bracket.
Priced at £429/€499, the Xperia 10 IV marries a huge battery with a nice 6in OLED display, a lightweight design and a triple-lens rear camera setup. The question is: do these specs translate to highly usable features?
Design & Build
Slimline dimensions, lightweight build
Clean rear with vertical camera module
Plastic frame and rear
IP 65/68 rating
Aesthetically, the design of the Sony Xperia 10 IV isn't all that much to shout about. Its front is defined by an edge-to-edge display with a punch-hole selfie camera at off-center, as well as a very slim notch that accommodates the top speaker. On the plastic back, there's Sony's logo in the middle and the triple-lens camera module alligned in a narrow vertical line.
This is hardly remarkable, but Sony has designed the Xperia 10 IV with slim dimensions, in that it's only 63mm (or 2.64in) across, as well as only 161g. This makes it a really comfortable phone to use and stow away, with its 21:9 meaning that it can provide a relatively big screen while still providing an antidote to oversized phablets. Though reaching the top is quite an effort.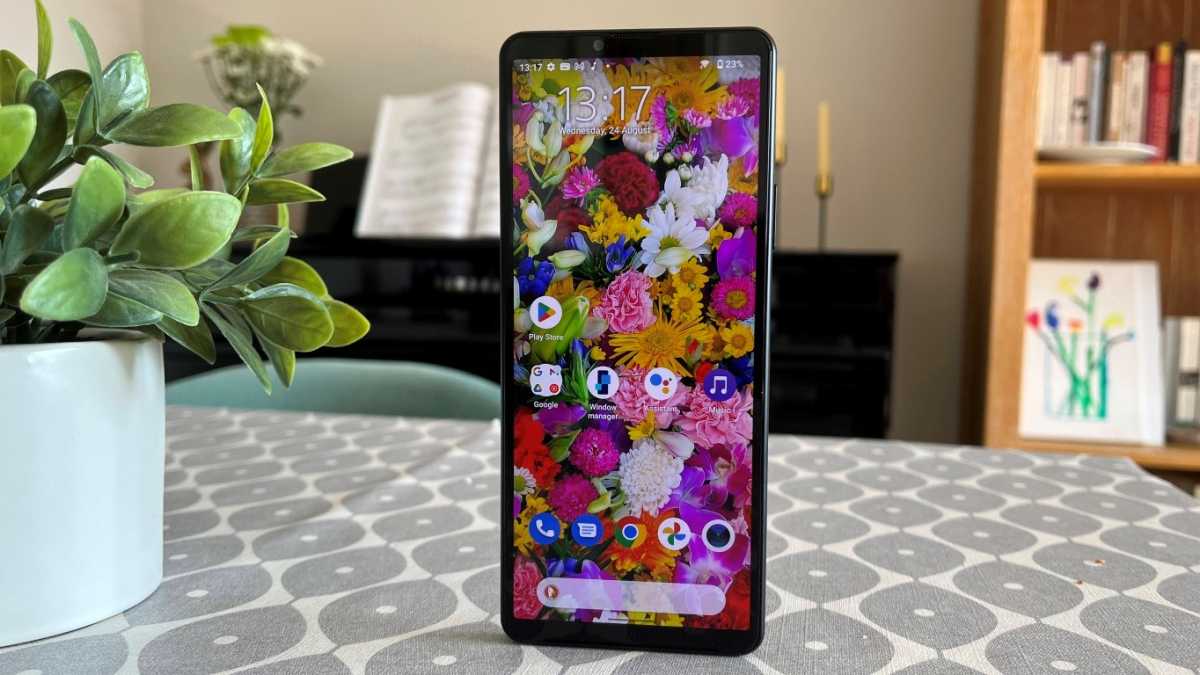 Simon Chandler / Foundry
Other features of the design include the fingerprint sensor built into the power button on the right-hand side of the phone, as well as the volume up/down button just above it. On the opposite side, there's the SIM/microSD slot, while you have a 3.5mm jack at the top and a USB-C port at the bottom. All in all, the layout is basic, but you could also say it's pleasingly minimal and uncluttered.
In terms of durability, the plastic chassis will mean that you won't have to worry about cracks or splinters, while it has also been reinforced by glass fiber. At the same time, there's a Gorilla Glass Victus screen to keep the front of the phone insured against any accidents.
Simon Chandler / Foundry
Likewise, the phone comes with an IP65/68 rating. In other words, it has been rated IP65 and IP68, meaning the phone is protected against immersion in shallow water and spray from jets of water. It's also dust-proof, so users can be confident taking it to most places.
If you don't like the look of my black review sample, the phone also comes in White, Mint and Lavender options.
Screen & Speakers
6in OLED display
Stereo speakers
60Hz refresh rate only
The Xperia 10 IV's screen doesn't quite have the high-end specs of the Xperia 1 IV, naturally, but it isn't too far off. Its 6in OLED panel squeezes in 2520 x 1080 pixels, while it also supports over one billion colours and HDR. This makes for some vibrant and crisp watching, with images and videos coming through well in the vast majority of cases.
One downside, however, is that there's no support for a higher 90- or 120Hz refresh rate. This mightn't seem surprising, but when the OnePlus Nord 2T and Poco F4 come with 90- and 120Hz displays (respectively), you begin to wonder whether Sony hasn't shortchanged you a little. For anyone not used to higher refresh rates yet, this probably isn't a problem, but if you were to run the Xperia 10 IV next to a Nord 2T or F4, you'd see the difference and you shouldn't have to miss out.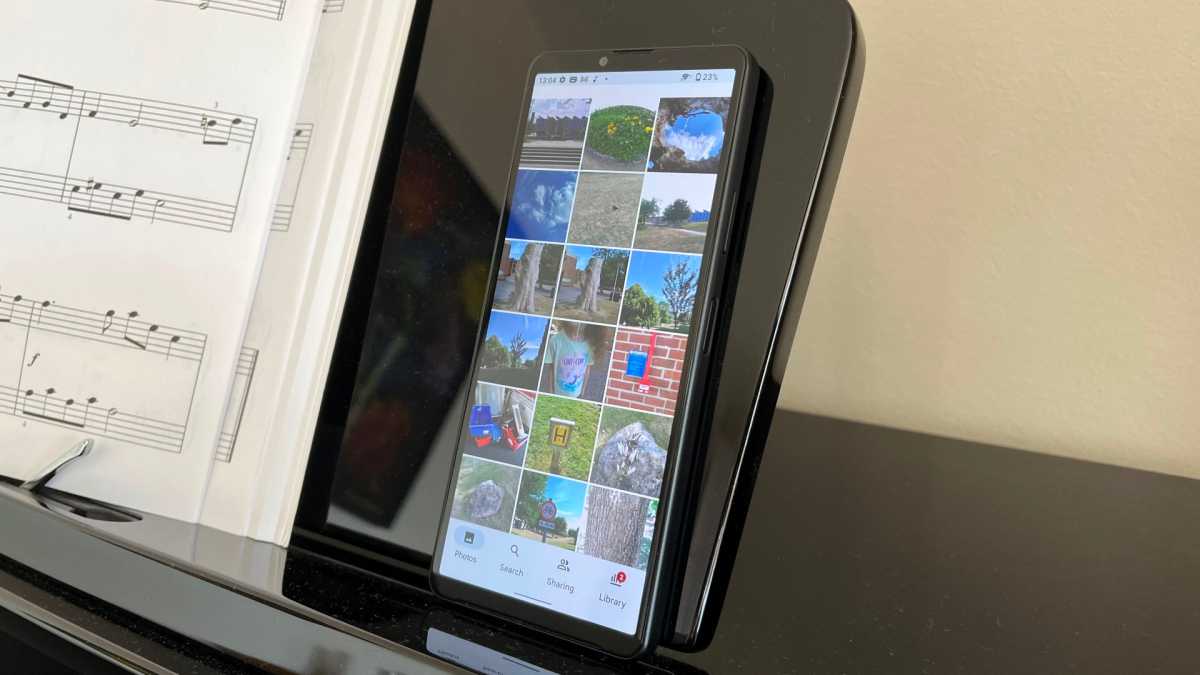 Simon Chandler / Foundry
Turning to audio, things are also a bit of a mixed bag. The phone's speakers running on their own tend to break up a little when playing music at higher volumes, meaning they aren't really a substitute for a good pair of headphones or speakers.
Still, the use of High-Resolution Audio and Bluetooth 5.1 enables the phone to serve as a decent source audio device.
Specs & Performance
Qualcomm Snapdragon 695 chipset
Average speed, occasional lag
5G
Qualcomm's SM6375 Snapdragon 695 5G processor drives the Sony Xperia 10 IV. Built using a 6nm manufacturing process, it's a mid-powered chip you can also find on the similarly priced Poco X4 Pro 5G, OnePlus Nord CE 2 Lite and the Xiaomi Redmi Note 11 Pro.
Neither of these phones are noted for lightning-fast performance, and it's a similar story with the Xperia 10 IV. The phone is available only with 6GB of RAM, which means that it's okay handling most tasks, but you will notice occasional lag and pauses when opening/using apps.
Simon Chandler / Foundry
You'll also notice that it doesn't run the latest games as smoothly as flagship phones. One of our usual go-to games, Asphalt 9, showed some subtle slowdown in places, and given that it's now four years old, I imagine that more recent and demanding releases will perhaps cause more problems for the device.
Still, the phone's performance is decent for its price and can handle split windows and multiple open apps pretty well. But as the following benchmarks show, it isn't the quickest Android in its price range.
Cameras
Triple-lens rear setup
Video maxes out at 1080p
Good main camera, inconsistent ultrawide and telephoto lenses
When mid-range and budget Androids are coming with 50Mp (and bigger) main rear lenses, you'd be forgiven for thinking that the Sony Xperia 10 IV is somewhat underpowered at 12Mp. This is the size of its wide lens, while its ultrawide and telephoto lenses measure at only 8Mp a piece.
However, while the latter two lenses are arguably undercooked (more below), the 12Mp lens more than holds its own against more well-endowed counterparts. Sure, it doesn't always cope well with low-light situations, but this reviewer personally had lots of fun taking a variety of shots during daylight.
Simon Chandler / Foundry
Colours are well-balanced, natural and not overly saturated, with landscape shots turning out particularly well. Shots of people also reflect well on the phone, with enough detail and dynamism.
That said, it can occasionally struggle in too much light (overexposure), and not just in too little. On top of this, the telephoto and ultrawide lenses lack power, with their smaller megapixel count resulting in images that would benefit from more clarity and definition.
The same goes for the Xperia 10 IV's video capabilities. It can shoot moving images only at 1080p and 30 frames per second, which is not too bad, but when (again) the Poco F4 takes 4K video at 60fps, it seems like this is a phone from many years ago all of a sudden.
Battery Life & Charging
Large 5000mAh battery
Fast-charging is not that fast
No wireless charging
The 5000mAh battery housed by the Xperia 10 IV is indisputably the phone's strongest point. It's large on paper, and given that the device is relatively undemanding in terms of its screen size and specs, it really does go a long way.
During periods when I used the phone lightly it could go for a couple of days without needing to refuel, whereas heavier usage will still run down the battery only after a full day. Our standard battery test using PCMark ended with a time of 24 hours and 52 minutes, which is pretty jaw-dropping for any kind of smartphone, let alone one so affordable.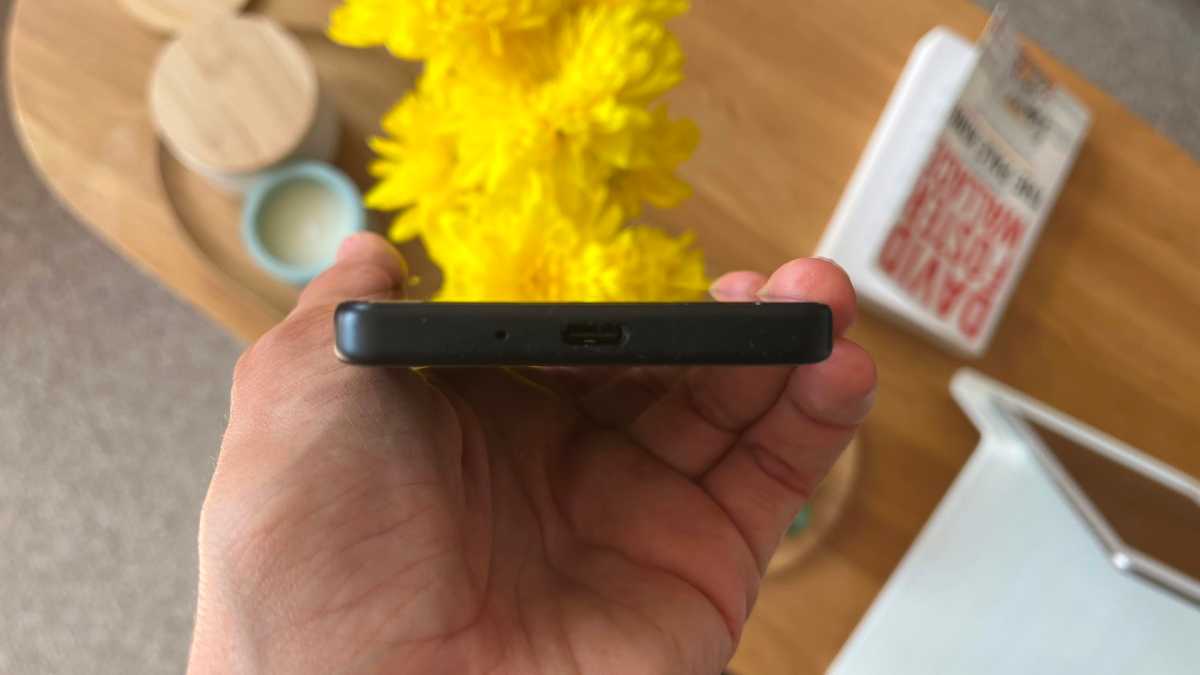 Simon Chandler / Foundry
But as with most other areas of the phone's performance, there are some bad things as well as good. While advertised as offering 'fast charging', just 21W doesn't feel particularly fast in practice.
Again, many similarly priced phones now flaunt fast charging at 65W or even higher, so having to wait nearly three hours for a full recharge from the 10 IV can sometimes stretch your patience.
Software & Apps
Android 12
Some welcome Sony-exclusive mods
Possibly only one core update
The Sony Xperia 10 IV uses Android 12 out of the box, with some Sony-exclusive modifications that can make it more practical, depending on your needs. What's probably most laudable about Sony's implementation of Android 12 is that there's an absence of bloatware and excess, with very few unnecessary apps preinstalled on the device.
In addition, the phone offers a variety of customization options, but not so many that users will end up feeling overwhelmed. Its UI is clean and simple to navigate, while the aforementioned Sony modes make navigation even easier.
Simon Chandler / Foundry
In particular, the Side Sense feature offers a shortcut to access various important apps, while it can also be used to take advantage of the phone's 21:9 aspect and split its screen into two. This is useful if you need to do two things at once, while if you're a non-subscribing YouTube user, it also means you can listen to music and check your emails/surf the web at the same time.
One downside is that, at the moment, it seems as though Sony has committed to only one core Android update. This will take you up to Android 13, but we're not sure if Sony will promise any further main updates, so the phone might not have an especially long shelf life.
Price & Availability
The Xperia 10 IV officially retails for £429 in the UK, as well as €499 in Europe. It's not officially available in the US, but you can buy an international version from Amazon at $379.
As well as the official UK site, you can get the phone from retailers including John Lewis, AO, Laptops Direct, Ebuyer, Very and Argos. Amazon has the lowest price if you don't mind the white colour. This makes the phone even more value for money, and given that it faces some very stiff competition in the mid-range category, it could sell at sub-RRP prices indefinitely.
Of course, the thing with the 10 IV is that there's currently no shortage of similarly priced phones in the mid-range market offering some great specs. This includes the following:
Simon Chandler / Foundry
Verdict
The Sony Xperia 10 IV is a decent mid-range phone overall, combining a number of attractive features into an appealingly designed package. Its slim dimensions make it comfortable to use, while its lasting battery, focused display and friendly software also make it very practical.
The thing is, in a busy market of mid-range Androids, it doesn't quite stick out from the crowd enough. While its main camera is good enough, its so-so additional lenses don't add much, while its performance isn't anything special and charging is slow in comparison to rivals.
Handsets such as the Poco X4, Poco F4 and Samsung Galaxy A53, all of which enable a 120Hz refresh rate, too. If you can find the Xperia at a discounted price online, it's definitely worth considering, since its strengths outweigh its weaknesses.
Specs
Android 12
6in FHD+ OLED wide display, 21:9 aspect ratio
Qualcomm SM6375 Snapdragon 695 5G (6 nm)
6GB RAM
128GB internal storage
microSD card slot (up to 512GB)
12Mp wide, f/1.8, 27mm, 1/2.8″, PDAF, OIS rear camera
8Mp ultrawide, f/2.2, 120˚, 16mm, 1/4.0″
8Mp telephoto, f/2.2, 54mm, 1/4.4″, PDAF, 2x optical zoom
8Mp f/2.0, 27mm (wide), 1/4.0″ front camera
Side-mounted fingerprint sensor
11ac dual-band Wi-Fi
Bluetooth 5.1 with aptX
GPS
NFC
5G
Headphone jack
USB-C
5000mAh non-removable battery
21W fast charging
IP65/68 dust & waterproof rating
153 x 67 x 8.3 mm
161g
Launch colours: Black, White, Mint, Lavender
Best Prices Today: Sony Xperia 10 IV