At a glance
Expert's Rating
Pros
Stunning OLED display
Superb versatility
Great speakers
Excellent battery life
Cons
Very expensive
Heavy and bulky
No discrete GPU
Limited ports
Our Verdict
The Zenbook 17 Fold OLED is a compelling first-gen foldable that works well as a laptop, tablet or something in between. But most people will want to hold off on buying one for now, especially at this price.
Price When Reviewed
$3,499.99
Best Prices Today: Asus Zenbook 17 Fold OLED
Most of the laptops people buy have the same core design, but there are no shortage of companies trying to change that. The release of Microsoft's original Surface a decade ago kick-started a wave of Windows tablets with detachable keyboards, and it looks like the next revolution is upon us.
Lenovo announced the very first foldable screen tablet/laptop hybrid back in 2020, and two years later it finally has genuine competition. Despite being announced at CES in January, Asus has taken its time getting the new Zenbook 17 Fold OLED ready for release.
While it's far from perfect, Asus' first foldable has undoubtedly been worth the wait. Here's my full review.
Design & Build
17.3in tablet when unfolded
Can become 12.5in laptop
Bulky design, limited ports
The Zenbook 17 Fold has an extraordinary design, but that's not immediately clear when you take it out of the box. When closed, it looks like either a small laptop or 2-in-1, both of which we've seen many times before.
However, opening the device reveals its key selling point – a huge 17.3in display that can fold in half horizontally. That creates two 12.5in panels, although you can magnetically attach the included keyboard to the bottom half for a laptop-like experience.
Dominik Tomaszewski / Foundry
This versatile design means the Zenbook 17 Fold can realistically be used in up to six different modes, each with its own unique benefits and drawbacks. It's worth exploring each in more detail.
The first, and perhaps most obvious, is as a regular tablet. At 17.3in, it's one of the largest slates you can buy. Only a handful of scenarios take full advantage of such a large screen, but it does make the Zenbook 17 Fold a great device for multitasking.
Thick plastic bezels extend around the perimeter of the screen, although they're needed to ensure the hinge is as durable as possible. It allows plenty of room for a 5Mp webcam, with its detailed 1080p footage and dual mics making for a great video calling experience.
A separate depth sensor means the device supports Windows Hello face unlock, which is easy to set up and works well in most lighting conditions. With no fingerprint sensor, this is your only alternative to manually entering a PIN or password.
However, at 1.5kg, the device is uncomfortable to hold for more than a few minutes. You could use it face up on a table instead, but the built-in kickstand is the obvious solution here.
This allows the Zenbook 17 Fold to be used hands-free, making it a great option when watching videos or with a Bluetooth keyboard and mouse connected. The latter delivers a surprisingly compelling desktop experience, especially given the extra screen size compared to most laptops.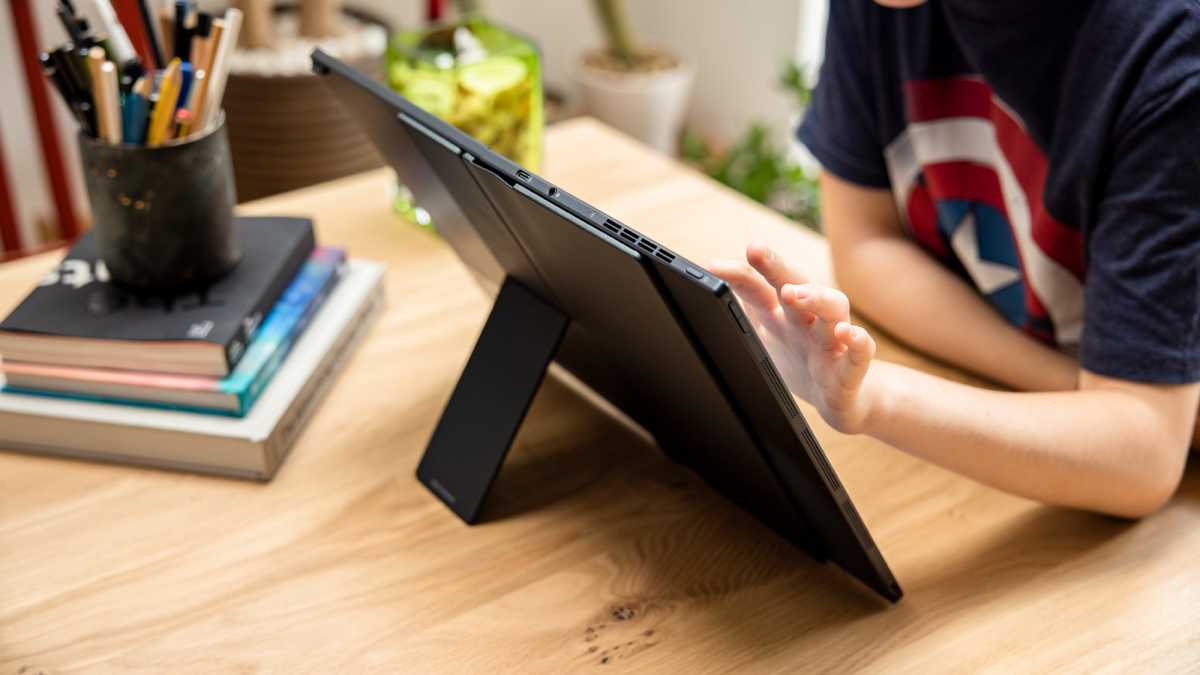 Dominik Tomaszewski / Foundry
However, the kickstand is limited to one fixed position. The stand itself isn't the most durable either, so I wouldn't recommend touch input in this mode.
But it's folding the display in half that takes the Zenbook 17 Fold to the next level. This makes the device much more compact and portable but also enables three other potential modes.
In landscape orientation, it means the Fold can adopt a book-style design. This is a great option for eBooks and other long-form written content, provided the crease doesn't obscure any important information. It was fun to try, but I found myself using some of the other modes much more often.
Dominik Tomaszewski / Foundry
That includes as a laptop replacement, one of the big reasons to buy the Zenbook 17 Fold. In portrait mode, attaching the keyboard to the bottom half of the display creates a compact 12.5in PC.
The large bezels become even more obvious here and things feel a bit cramped, but it works significantly better than most tablets with detachable keyboards. In situations where I didn't need multitasking features, it worked very well.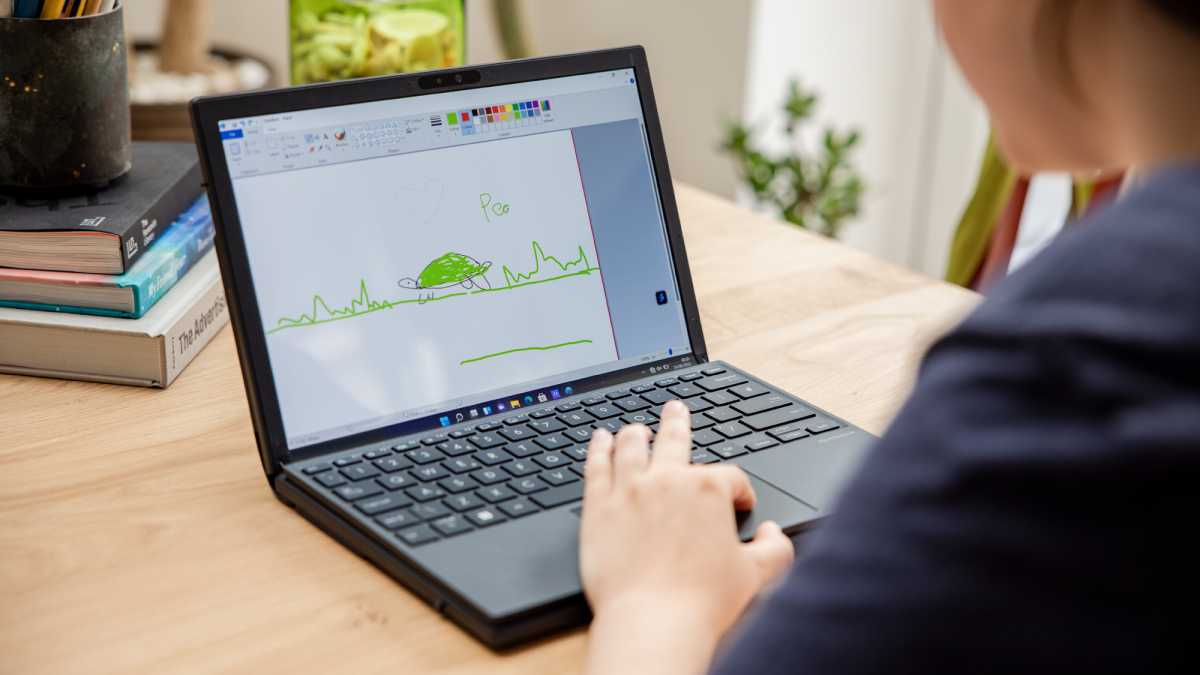 Dominik Tomaszewski / Foundry
Even with the keyboard removed, I was impressed with how the device performed. Browsing the web and scrolling social media was slick and responsive, with content smoothly transitioning across the crease. Even without the extra 300g weight of the keyboard, it still feels very sturdy.
Unlike the new Lenovo ThinkPad X1 Fold, the Zenbook 17 Fold doesn't sit flush when closed. This isn't quite as impressive aesthetically but means there's plenty of room to keep the keyboard attached when not in use (see below).
It's understandable to be concerned about the long-term durability of a large folding display, particularly on a device that's so expensive. But Asus says the hinge on the Zenbook 17 Fold is good for at least 30,000 opening and closing cycles – the equivalent of 10-15 per day for five years.
Most of the device has a plastic coating, but both the hinge and kickstand are covered in leather. This adds crucial grip to the back of the device, meaning there's no need for a case. It still looks less premium than an all-glass design, but the limited folding ability of glass means Asus had no alternative here.
Dominik Tomaszewski / Foundry
At 8.7mm when unfolded, the Zenbook 17 Fold is relatively thin by laptop standards, but I'm still disappointed with the port selection. You only get two Thunderbolt 4-enabled USB-C ports and a 3.5mm headphone jack, although Asus does include a USB-C to USB-A adapter in the box.
Screen & Speakers
Huge OLED display that can fold in half
Excellent viewing experience
Great speakers
The design of the Zenbook 17 Fold is what makes it stand out, but the display is its main strength. When unfolded, it's a 17.3in, 2590×1920 OLED touchscreen – that's one of the highest quality panels you'll find on any tablet or laptop and this isn't Asus' first foray into OLED laptops.
Dominik Tomaszewski / Foundry
As expected, the display is a joy to use. It delivers rich, vibrant colours and an incredible amount of detail, allowing me to pick out specific elements of a photo or video that aren't noticeable on most laptop screens.
What's more, internal testing suggests colour accuracy is among the best you'll find. Using the SpyderX Pro, I recorded 100% coverage of sRGB and DCI-P3 gamuts, plus 96% of AdobeRGB. No complaints here.
Asus claims the Zenbook 17 Fold can reach up to 500 nits of brightness, although I only recorded 335 in testing. It's still fine for most indoor environments, but outdoors is much more of a struggle.
For the most part, Asus has done a good job of hiding the crease. You'll generally only notice it with a black background, and even then, it's not too distracting. The same can be said for interacting with the touchscreen – you'll feel the crease there, but it's not a real concern.
Dominik Tomaszewski / Foundry
However, that resolution mentioned above gives the screen a boxy 4:3 aspect ratio, meaning almost all videos have large black bars on either side. This is particularly noticeable for widescreen content (including many films), and it takes away from the viewing experience slightly.
As a result, you may be tempted to fold it in half and add the keyboard. This creates a 12.5in, 1920×1280 laptop display. Content doesn't look quite as good on the smaller screen, but the 3:2 aspect ratio significantly reduces the size of those black bars. I'd still recommend the full-size 17.3in panel for most videos, though.
Considering the size of the display, you may be tempted to use a stylus with the Zenbook 17 Fold. But Asus warns against it, saying the screen can be damaged even with the company's own pen. However, you can use a classic capacitive stylus as an alternative navigation method.
Another minor complaint is the lack of a high refresh rate – you're limited to 60Hz here. But considering this is a plastic screen and it can fold in half, this is easy to excuse, particularly from a first-gen device.
Audio is a big reason why the device is so good for content consumption. It features quad stereo speakers, which extend down both sides of the device. This becomes the top and bottom when used in laptop mode, so the keyboard never gets in the way.
Dominik Tomaszewski / Foundry
Given they're tuned by Harmon Kardon and feature Dolby Atmos support, it's hardly surprising that sound quality is excellent. Most music is rich and full-bodied, offering an impressive hit of bass for a device of this size. Vocals are clear and crisp, while punchy sound effects really help content come alive.
Things aren't perfect though as the speakers do miss out on some background details, particularly at high volumes.
Keyboard & Trackpad
Dedicated keyboard accessory in the box
Great key travel, but no backlight
Small but responsive trackpad
To get the most out of the Zenbook 17 Fold, you'll need to pair it with Asus' dedicated keyboard accessory. The company has helpfully included this in the box, which is not just welcome but crucial for getting the most out of this device.
Dominik Tomaszewski / Foundry
It connects via Bluetooth, meaning almost any wireless keyboard is compatible with the Zenbook 17 Fold. But the ability to seamlessly attach to the bottom half of the folded display is the key advantage of the official version.
This transforms the device into a compact laptop, with strong magnets keeping it securely in place. Considering its slimline design, I'm impressed with the quality of the keyboard Asus has created.
Each key is clicky and responsive, offering a decent 1.4mm of travel. It's still full-size, and I quickly got used to the keys being slightly closer together than normal. Alongside regular volume and brightness controls, the row of function keys is also used to adjust Bluetooth and launch the MyAsus companion app.
However, the keys aren't backlit. This is a problem that often affects detachable keyboards and means you can only use the keyboard in well-lit environments. As good as the face unlock is, it'd also have been nice to have a fingerprint sensor too.
Dominik Tomaszewski / Foundry
Below the keyboard, you'll find a small trackpad, which is impressively responsive and supports the full range of Windows 11 gestures. But it's awkward to use for long browsing sessions, so I'd recommend connecting a Bluetooth mouse most of the time.
Asus doesn't say how long the keyboard will last, but it'll be much longer than the device itself. You will have to charge this separately, though – via the USB-C port on the side.
Specs & Performance
12th-gen Intel Core i7 CPU
Solid everyday performance
No discrete GPU
Unlike most tablets and laptops, there's just one model of the Zenbook 17 Fold available.
It's powered by a CPU from Intel's 12th-gen range – specifically, the Core i7-1250U. As the name suggests, this chip is from the U-Series, which is specifically designed for thin and light laptops. It isn't quite as capable as the equivalent P-Series or H-Series processors, but still offers plenty of power for most people.
Alongside Iris Xe integrated 16GB of DDR5 RAM, everyday performance is excellent. My typical workday includes frequent web browsing, word processing and managing email – often all three at the same time. I noticed no slowdown whatsoever, including when I occasionally needed to watch a video or play some audio.
The Zenbook 17 Fold is adept at multitasking and can stretch to more challenging workloads such as photo editing or light gaming. But without a discrete GPU, I wouldn't recommend it for anything more demanding. It's a shame not to see this on such a premium device, but Asus' priorities have understandably been elsewhere.
Direct performance comparisons are difficult, especially as we have no data from the ThinkPad X1 Fold – the Zenbook 17 Fold's only real rival. However, the figures make for interesting reading alongside other 2-in-1 devices.
Asus has been generous with internal storage – the device features a 1TB SSD under the hood. That'll be plenty for most people, especially with the focus on cloud storage these days.
Battery Life & Charging
75Wh battery
All-day battery life
Fast 65W charging
Given the size of the display, it was important for the Zenbook 17 Fold to have a large battery capacity. Asus has obliged by including a decent 75Wh cell which it says can deliver 9-10 hours of typical usage.
That's roughly consistent with my experience. The device can comfortably last an eight-hour working day with juice to spare, something which can't always be said for thin and light computers.
Of course, running demanding apps or playing games will deplete the battery much more quickly, but that's not what the Zenbook 17 Fold is designed for. What's more, there are some simple measures you can take to extend battery life further.
Dominik Tomaszewski / Foundry
Dropping the brightness to a relatively low 120 nits, I recorded an impressive 15 hours and 42 minutes in our 720p video loop test. That was with Windows 11's battery saver mode turned off – activating it at the default 20% will mean the device lasts even longer.
When you do finally run out of charge, Asus includes a 65W fast charger that can be used with either of the USB-C ports. Within 15 minutes, I recorded 21% battery, then 40% by the half-hour mark. Charging speeds slow down the closer you get to full, but 95% after 90 minutes is still impressive for a battery of this size.
Software & Apps
Choice of Windows 11 Home or Pro
Not fully optimised for touch input
Useful Asus software tweaks
Consumer versions of the Zenbook 17 Fold run Windows 11 Home out of the box, but there is the option to step up to Windows 11 Pro – that's what Asus recommends for businesses.
Windows 11 is a big step forward for touch input compared to Windows 10, but it still works best with a keyboard and mouse or trackpad. Some elements of the UI are too small to allow precision with your finger, including some multitasking features and icons on the taskbar.
But Asus has decided against adding lots of software of its own – you'll find just two additional apps pre-installed. MyAsus provides a hub for device-specific settings, tools and support, while ScreenXpert allows windows to be intelligently arranged across the entire active display – whether it's folded or not.
Dominik Tomaszewski / Foundry
Combined, they help smooth the transition of Windows 11 onto foldables. The OS isn't entirely optimised for this form factor yet, but it's something Microsoft is expected to continue working on.
Price & Availability
The pricing of the Zenbook 17 Fold is very straightforward, but it's also the main reason not to buy one. It costs $3,499 (not the $3,999 initially stated) or £3,299 for the only model available, which combines a 12th-gen Intel Core i7 with 16GB of RAM and a 1TB SSD.
You can now order it in the US from Newegg or B&H but we're still waiting for it to launch elsewhere.
As it stands, the company's only rival right now is Lenovo and its ThinkPad X1 Fold. A second generation is arriving in November 2022, but at $2,499/€2,999 it's significantly cheaper.
On paper, that looks like the better all-round device for most people. But at these prices, most people will just be buying a regular laptop or 2-in-1 devices.
Verdict
The Zenbook 17 Fold is a fascinating vision of what laptops of the future might look like, but we're not quite there yet.
Having a 17.3in tablet that can seamlessly become a desktop replacement or 12.5in laptop is genuinely impressive, especially as they're just three of six distinct modes available. Each posture has its own benefits and drawbacks, but the device's versatility is unmatched.
The excellent OLED screen is a real highlight despite the sometimes awkward aspect ratios, especially when combined with great battery life and solid audio. Performance is decent, albeit limited without a discrete GPU. Ports are also limited, while the heavy, bulky design certainly isn't for everyone.
A high price tag means only enthusiasts will consider buying one, but that's to be expected for a first-gen foldable. It's a leap of faith for Asus that will hopefully pay off in the long run.
Specs
17.3in, 2560×1920 flexible OLED display (open)
Dual 12.5in, 1920×1280 OLED display (folded)
Intel Core i7-1250U CPU
Intel Iris Xe integrated graphics
16GB DDR5 RAM
1TB SSD
75Wh battery
65W fast charging
Windows 11 Home or Pro
5Mp webcam
2x Thunderbolt 4 USB-C ports
1x 3.5mm audio jack
1.5kg (tablet only), 1.8kg (with keyboard)
Wi-Fi 6E
Bluetooth 5
378.5 x 287.6 mm
8.7mm thick (unfolded), 12.9mm thick (folded)