Sonos has followed up this spring's budget-friendly Ray soundbar with an almost-as-affordable subwoofer dubbed the Sub Mini.
The long-rumoured Sub Mini is, as the name suggests, a smaller variant of the company's full-size Sub speaker. Like the original subwoofer, it's intended to be paired with the company's other soundbars and speakers to up the bass and add some oomph to music, film, and games.
At $429/£429/€499 the Sub Mini is hardly a budget buy, but it's a fair bit cheaper than the $749/£749/€849 Sub. Still, this will only be a temptation to those willing to invest a decent amount into a home cinema or speaker setup.
Sonos
Unlike its blocky big brother, the Sub Mini is a slim cylinder and stands 12in tall with a 9in diameter. It shares the same choice of black or white finishes though, as well as the central cut-out design where the hole goes all the way through.
Audio is delivered by a pair of 6in woofers, both facing inwards in a force-cancelling arrangement that helps to neutralise vibrations and distortion, all packed into a sealed cabinet design.
As it's a Sonos speaker, it connects over either Wi-Fi or Ethernet, with no Bluetooth option – or any analogue wired connections either.
As a smaller subwoofer, Sonos says the Sub Mini is best suited to what it calls "small or medium-sized rooms," and it recommends pairing the Mini with the Ray or Beam soundbars, Sonos One speakers, or its Symfonisk collaborations with Ikea.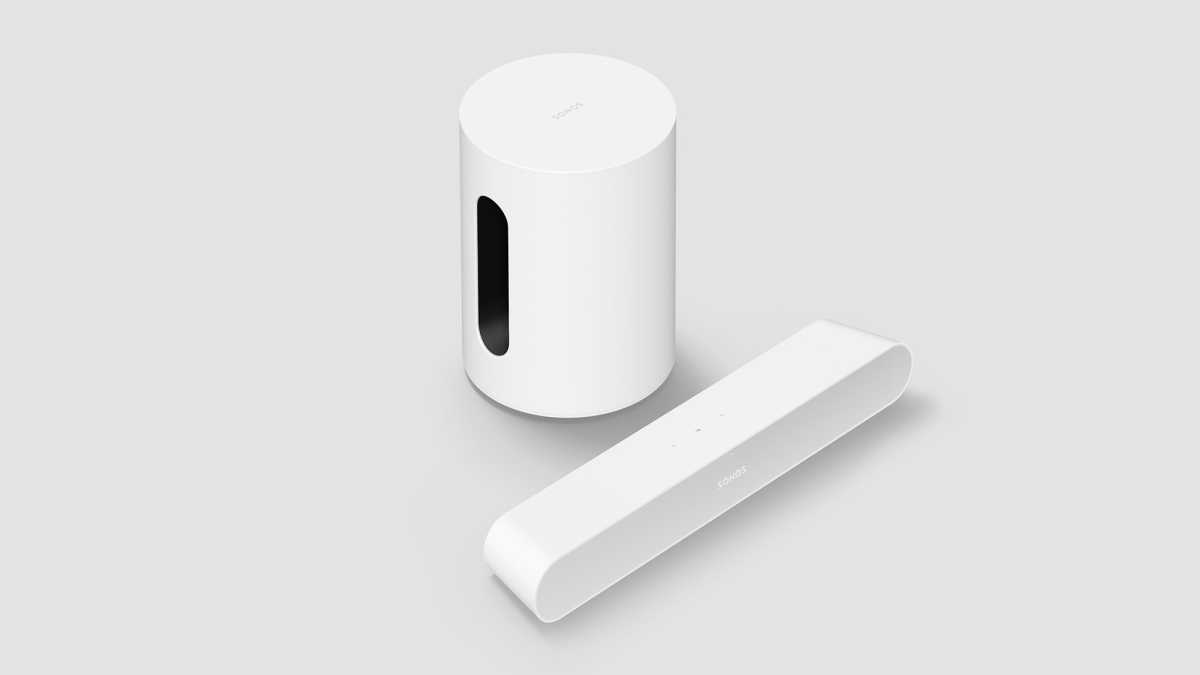 Sonos
It'll happily connect to other Sonos speakers like the larger Arc soundbar, but for those, the company says the original Sonos Sub is better suited unless it's in a smaller room and used at "low-moderate volume".
Once paired its volume will automatically adjust in sync with the speaker it's linked to, but you can also tune bass levels yourself from within the Sonos app. An NFC chip also ensures that linking the Sub Mini to your system should be a doddle by tapping your phone on it.
Optimally you'd position it near and below your TV, but support for Trueplay means that it can adapt its audio to suit whatever spot it fits into your room – though bear in mind that you'll need access to an iPhone or iPad to set Trueplay up the first time.
The Sub Mini goes on sale worldwide from 6 October for $429/£429/€499, but if you're tempted then be sure to check out our ranking of the best Sonos speakers before then to see what to pair it with.